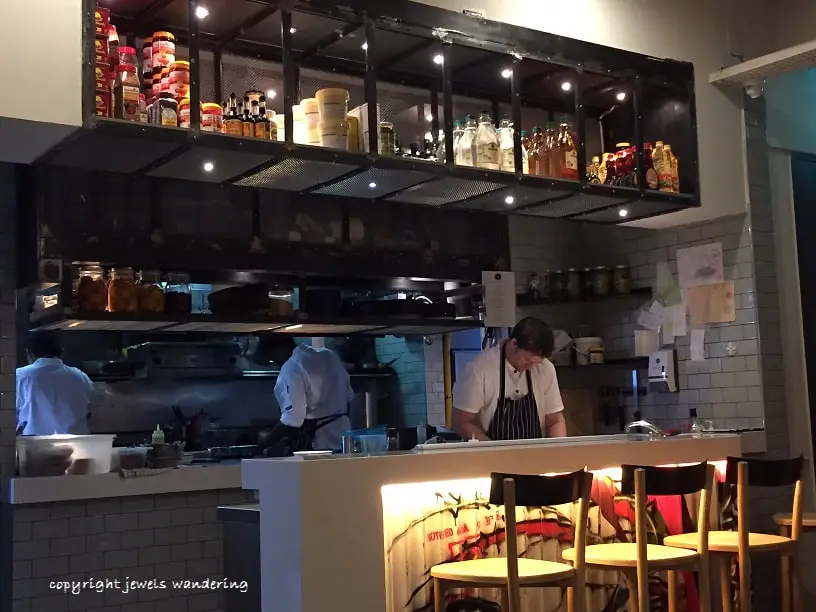 Eat Singapore: The Lokal
The restaurant scene in Singapore continues to buzz, with new restaurants opening up almost daily it seems…! Last night, I went to The Lokal with my girlfriend for some wholesome, made with love deliciousness.  Our friend Darren, the executive chef, prepares all the ingredients daily and rotates the menu depending on seasonal availabilities.  Unfortunately he was not working last night, but our friend, affectionately dubbed Super Dave, was there to greet us with a big hug and kiss.
I was hoping to go in for their amazing beef goulash with homemade spaetzle, but unfortunately it was no longer on the menu.  I'll probably have to have a word with him…  Need to get my beef goulash craving satisfied!!   But instead, I ended up having the grilled pork chop with endives, celery, bacon and baked apple sauce.  Yummy! The pork chops were perfectly cooked, moist, tender and very moreish.  And I don't like celery, but I ate it and barely even noticed the taste.  The bacon, the bacon!! Of course, it was cooked to perfection and perfectly crispy.  The apples gave it that tangy, sweet kick that tied the whole dish together.  Ali had the wiener schnitzel with cucumber potato salad.  She finished the schnitzel like no one's business, despite initially saying the portion was too big.  Her cucumber potato salad was delicious.  Loved the unexpected pairing, and the lemon juice gave it a nice tang. Sorry, no pictures!
After the main, we both tucked into the sticky date pudding.  Heaven in your mouth, I tell ya! Didn't take a picture though because I couldn't wait to get involved.  But take my word on it, its definitely worth saving room for.  In fact, maybe you should just start off with dessert?!?! 😉
The Lokal is the bigger sister to Sarnies (my home away from home in Sing) and is owned by our good friend Ben Lee. I think Darren is also an owner.  But if you are ever in Sing, definitely go check out The Lokal.  The Lokal is located at 136 Neil Road and is close to the bars of Keong Saik Road, so your night is sorted!