Formula 1 Singapore
Happy Friday!! Today kicks off the Formula 1 weekend here in Singapore and let me tell you, it is possibly the party weekend here.  And you can betcha that celebrities galore have flown in to not only see the race on Sunday but also to partake in the crazy parties happening the next few nights.  The F1 teams are already in town and I'm seeing pictures pop up on FB, getting up close and personal with the Ferrari teams and checking out Sebastien Vettel's car.  #notjellyatall
Formula 1 weekend needs to be done at least a couple of times! It also helps that Singapore does put together a great event, bringing in amazing musical acts throughout.  I am SO sad to be missing it this year as I will be heading back home to the US of A to see the family. Hmm, I'm sure they'll understand if I accidentally miss my flight because I was at the Pharrell concert on Friday…?  Or Maroon 5 on Saturday? Or BON JOVI on Sunday? And let's not even talk about the amazing after parties happening.  Which actually, I only hear they're amazing because I've not been to any of them – way too expensive to get in and the company I work for doesn't have the budget to entertain our clients.  But in all honestly, I couldn't be bothered to get all dolled up and try to get in.  But the concerts are always good fun, well when Rihanna played a couple of years ago, she actually sucked. Very disappointing, but The Killers were ah-mazing!
Anyway, here are some pictures from the past two years.  The first year I went, we bought tickets and watched the race from the stands.  You'll definitely need ear plugs throughout the weekend as man, those cars are incredibly loud, but oh so cool! And sorry, these aren't the greatest quality of pictures, all were shot on my ancient iPhone 4, but you get the gist!
And one of the cars drive by, too fast for me to handle…!
Race is over and another brilliant fireworks show is put on.
The following year, my friend had booked a room at the Swissotel and we had a party.  The views from the 4oth whatever floor was off the hook.  Such a different perspective of the race.  It's quite common to book rooms at hotels that have good views of the racetrack, although it's a pretty penny!  But if you get 30 people in a room and split the costs, it becomes palatable.  Or a lot of the companies book rooms for client entertainment.  I thought I was working in the right industry, but obviously I am not as I've yet to be invited! 🙁 #firstworldproblems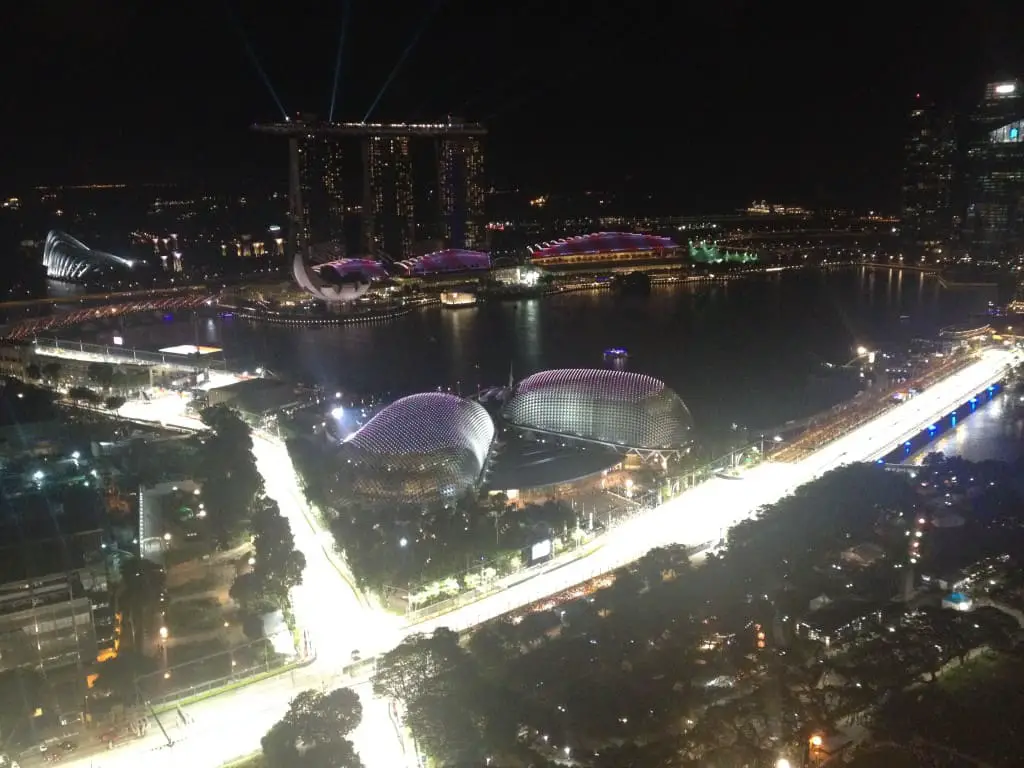 If you can make it out on the picture, there is a massive crowd all waiting for Robbie Williams to play. It pissed it down with rain that night, so I was quite happy to catch warbles of songs in the comfort of our hotel room.

I'm not sure if you're into Formula 1, but I did grow up watching it with my Dad.  Brazilians are really into it! And the Singapore circuit is one of the coolest on the racing calendar as it's a city track at night.
Vroom, vroom…! And the weekend is here…! Have a great one!!