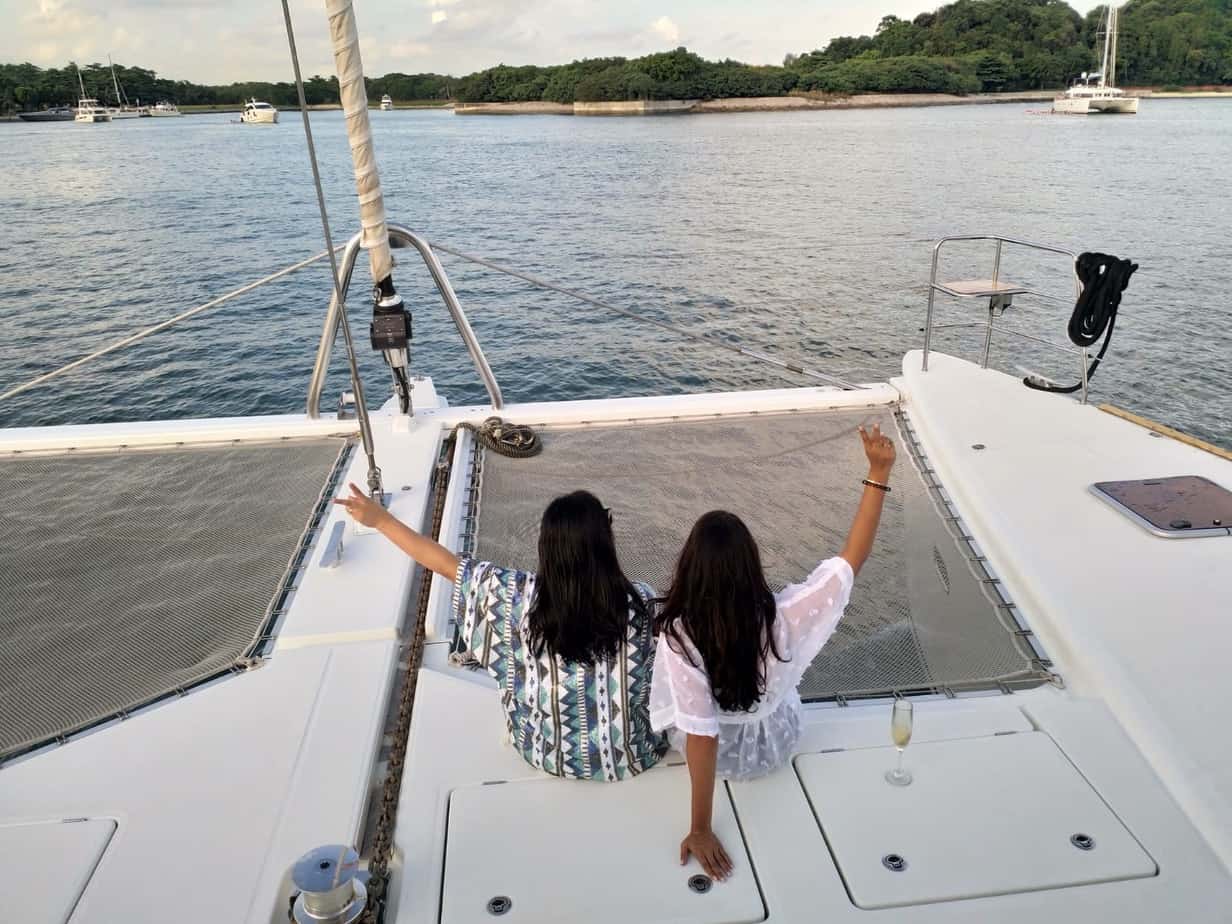 Boat Days and Life Lately
It's the dog days of summer and being out in the water is just so delicious. Which unfortunately I don't do enough of despite living on a tropical island. I always joke that I move to the wrong island, because let's face it. Singapore is just not Hawaii, for example! But every once in a while, we manage to get our acts together!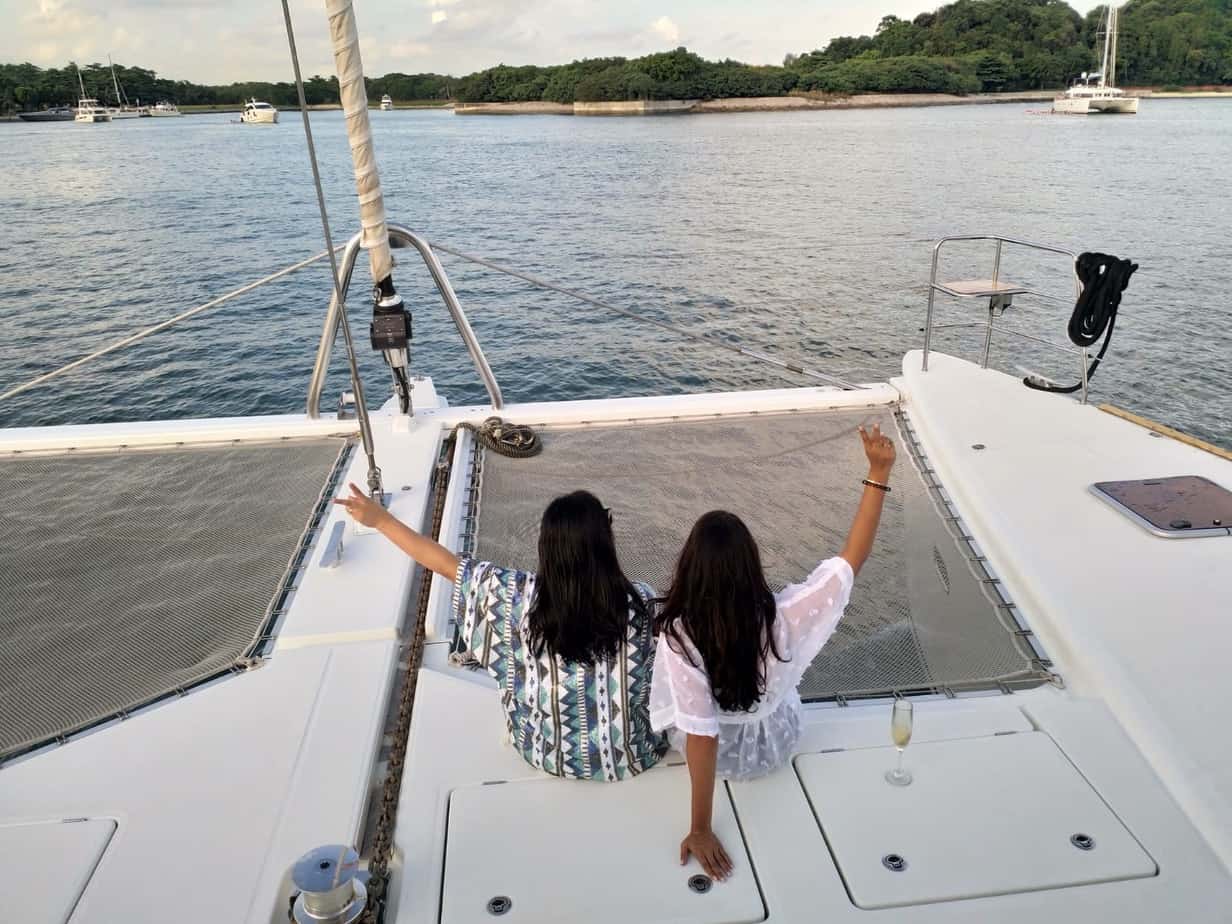 In this instance, it was a surprise birthday party for Ana's man.  Have you ever thrown a surprise party? It was quite hard trying to figure out how we would get him down to the marina without giving it away, but in the end we managed and he only figured out something was up when he go on the boat. So I say, mission accomplished!
I wish we could do these boat days more often as it's always a guaranteed amazing day out. Even though it looked like it was going to piss it down, we would be heading south so we only caught a bit of the rain. We had some Brazilian snacks to munch on and lots of booze. We would also have a BBQ prepared by the boat crew when we made it down to Lazarus Island.
We had a solid group of friends and it was just such a fun day out. And in some ways, this was kind of like the last hurrah as some of our friends would soon be moving to New York. Such is the expat life…
Birthday boy is unfortunately taking a sip from him drink!! Oh well. And just as that picture was taken, we hit a massive swell and the boat just dropped and so did we all… Yikes, it could have been a lot worse then it was and luckily no one was hurt.
And well, speaking of moving… Life is super funny in how it works out, isn't it? I briefly touched on it on my latest Instagram post so if you saw it, then you may have a clue as to what I'm talking about! Since it's been a super hot minute since this post, my life was entering a season of change and uncertainty. I was definitely ready for it and I remained super calm throughout that period. I have to say, I am so impressed with myself and how composed I was! 😉
Thing is, I was definitely looking to move internally, but unfortunately that role did not come through. I have a good network in Singapore, but if there are no roles available then there's not much you can do. As an expat in Singapore, your network is your most important asset when looking for a new role, especially if you're trying to do something different. In this case, I was and am. So the whole job search was pretty bleak and I was gearing up to move back to New  York in October. My current job was soon ending and I had nothing lined up. I was looking forward to a break and doing some traveling – I was contemplating doing a weeks diving trip down in Komodo/Flores in Indonesia, or going to the Great Barrier Reef/Whitsundays before the wedding I'm attending in Byron Bay. But then I got massive wanderlust for Africa, most specifically Botswana and Namibia. But I didn't book anything.
All those plans? Out the door. Other then the wedding in Byron Bay. I've now got the month of August free and I'll be heading back to New York for pretty much the whole month. Not quite Botswana, but I'm so excited to be going home and spending time with the family before I start my next job.  In Singapore!
It all happened super quick. I had found an awesome job posting on LinkedIn and randomly emailed one of the guys that work in that team and asked to meet him for a coffee because I wanted to discuss the role, etc. I figured, what's the harm? He could just ignore me or say no. Well…! He not only replied almost right away, he then told me he would find out if the role was still available. He came back to me a week or so later and had me email the hiring manager. I  emailed her right away and she replied right away asking when I could come in for an interview.
I went in for an interview on a Tuesday, on Wednesday they made me an offer! I'm so excited!! Especially since it's the dream job, the job I've been trying to get to for the longest time. Like years! I have to admit, I am a bit sad that I'm not moving back home, but it's definitely time to get my career back on track.  Honestly, I'm still in a bit of shock that I'll be staying after all. This whole year I was mentally preparing to move back home and well, guess the universe had other plans for me!
So aside from that, I am so excited the World Cup is over. I'm sad my team crashed out in the quarter finals, but I'm glad I can finally get back to a normal sleep schedule!! Lastly, I'm just patiently waiting for my last day at the office and looking forward to almost a month in NYC. I need to do a massive wardrobe overhaul so I'm online shopping/browsing like crazy!!
How's your summer going?