Gotchaversary 3!
Today marks George's three year Gotchaversary! I can't believe it's been 3 years since I brought that little bundle of fur home with me!
George came to me as a scared, sort of kitten. I think he was about 1 year old when he was abandoned on the streets of Sing and luckily his funny face markings caught my eye one evening while I was browsing Facebook.  I was looking to foster a cat and well, there he was! Before I knew it, what was meant to go and meet George ended up with him coming home with me!
The first night he spent at my house resulted in him taking a nice big dump on my bed. Lovely! But I can happily report he has used the litter box since then, save one day when he took a piss on my bed because there was no litter box for him. It's always nice to come home, delayed from a trip and your friend couldn't get into your house but was able to let the cat in.  Of course I had emptied the tray out before the trip but as she wasn't able to get into my house, she couldn't put the litter in the tray for him and when I got home many hours later, he had business to take care. On my bed. Joy!
When I first got George, he was definitely an insecure kitty who lashed out. I had so many scratches on my legs and arms; I got bit more times then I care to remember and unfortunately, a couple of my friends also got kissed by those fangs. Sorry Tim and Bhavesh! 😉
Three years later, I'm happy to report that the scratches and bites are few and far in between. If anything, he'll give me a little nip to remind me to pay attention to him. Now, if he wants attention, he'll just come and sit on my lap or my chest. I much prefer this then the little nip! He was never a lap cat, and he still isn't really, but this little development is super sweet. And there's nothing like some cuddles and kisses from this little bundle of fur. 
He loves chasing balls and running after the feather wand. He loves wet food and will try and trick you to feed him more. He loves to hold your arm when he's sleeping and licking your face before going to sleep. He's very chatty. He will chat you up a storm! He loves to greet you when you come home with miaows galore.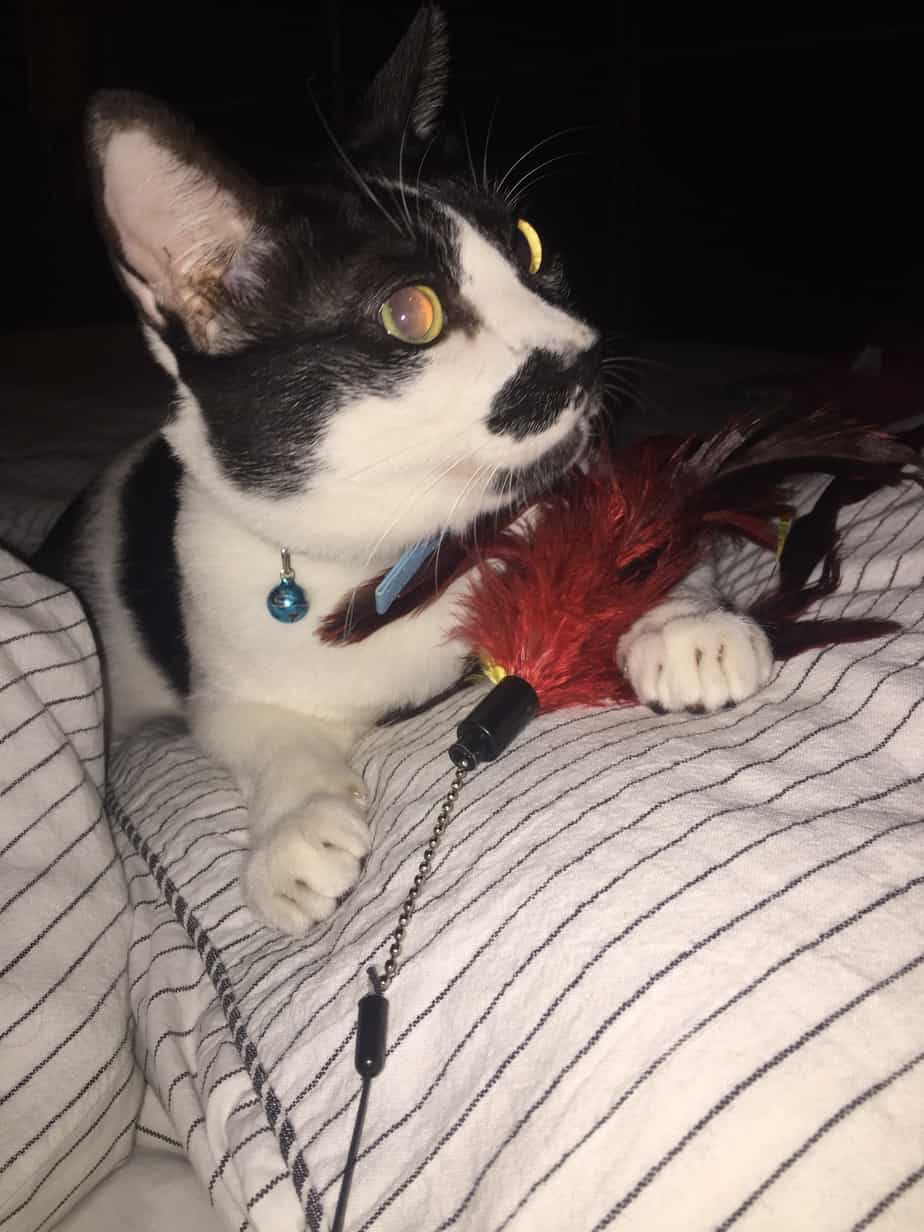 Like a typical cat, he loves being high up. There's nothing like having a cat stare at you while you're taking a shower!!
Anyway, today marks 3 years of George! You will be a well traveled cat, this being the 3rd house we've lived in together and there's a bigger adventure coming up ahead! So today, I will spoil you with lots of wet food and kitty crack!
I hope you're a happy little cat!
Ok, no more gushing over a cat. I am definitely turning into that crazy cat lady! 😉 On that note, George wishes everyone an amazing 4th of July!! Have some yummy BBQ for us!