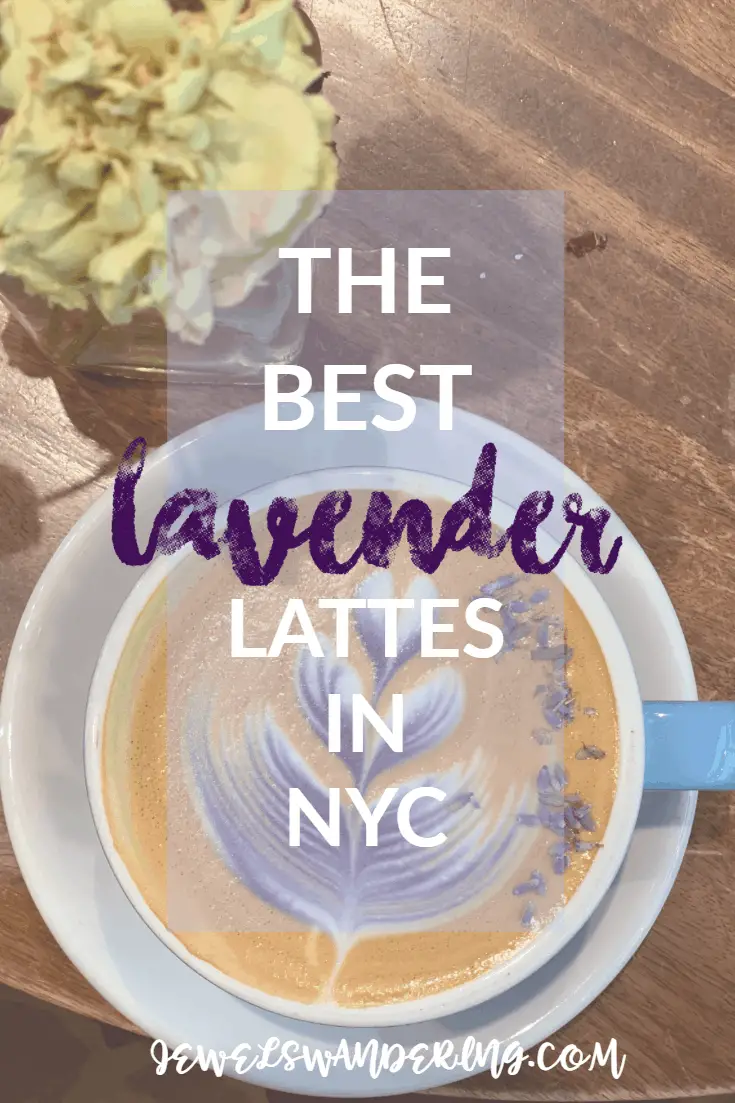 Lavender lattes: Yay or Nay? Or WTF? I'm ALL for lavender lattes and if I see it on the menu, I'm most definitely ordering it. Unfortunately it's not a common occurrence on a cafe's menu, so I had forgotten about this lovely drink until a few months ago. And then I was on the hunt for the best lavender lattes in New York City so you don't have to.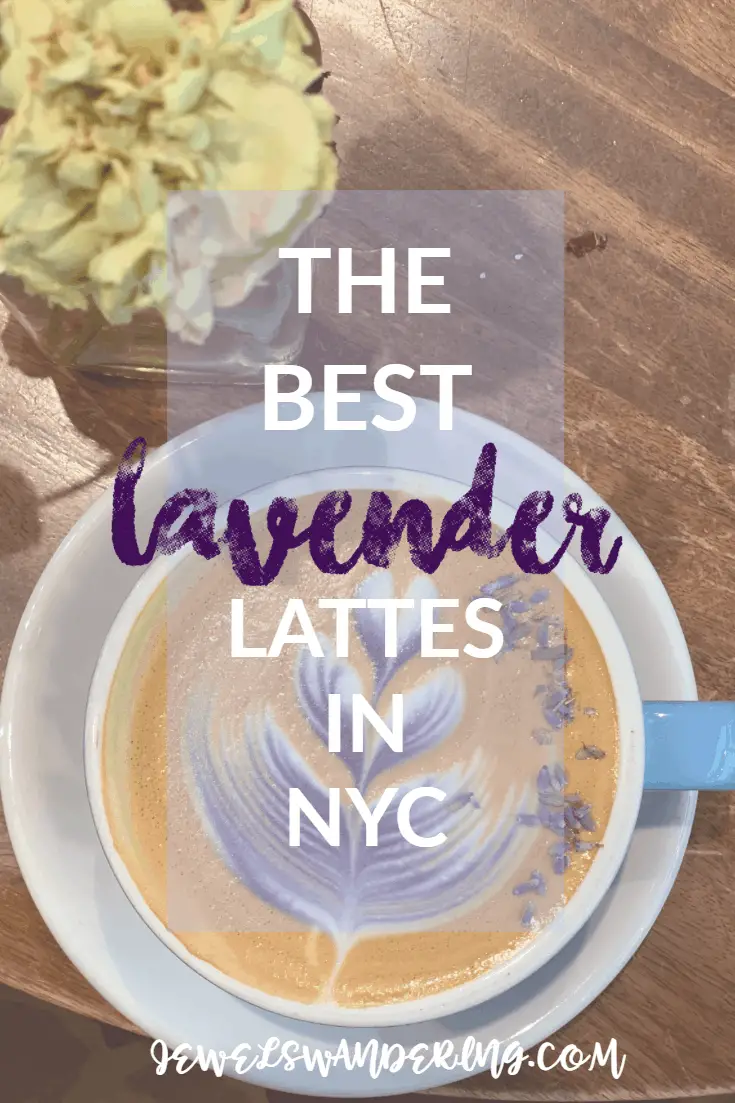 **This post may contain affiliate links where I may make a very small commission if you buy from my link.  Best of all, it doesn't cost you any extra! I appreciate your support very much!**
I first discovered the joy of a lavender latte when I was living in Lavender in Singapore. There was a cafe by my house – The Bravery – that I would go to every once in a while and their signature drink is the lavender latte.  I had no idea when I first went there, but when I saw it on the menu, I was 100% intrigued.  Needless to say, I HAD to try it and I fell in love.  I loved the subtle notes of lavender in my latte, it wasn't overpowering but those floral notes elevated the latte drinking experience. And they also had little bits of dried lavender in the latte so when it went inside your mouth, there was a bigger explosion of lavender. I know, sounds weird, but actually it's really nice!!
So now that I'm back in New York, I went around Manhattan looking for the best lavender lattes. I'm sure my list is not 100% exhaustive but I hit up as many places as I could and these are where you can find them ranked in no particular order, but I definitely have my favorite. Also, I should mention that I'm picky when it comes to how my lattes are made. I prefer them to be smooth and creamy and I don't do skim milk. Full fat milk all the way for me as I find skim milk to be quite watery. Lastly, I do want to say that how good a latte or a flat white is really depends on the skill of the barista!!
Le Cafe Coffee – several locations
I didn't hit up all their locations, but went to their Midtown East location as I happened to be nearby at Bloomingdale's. This location is quite small with only two or three stools. I went quite late in the day so there was no one there and I did stay to have my latte. The presentation was standard and the latte was nice enough but my immediate thought was, this must be lavender syrup.  Nothing wrong with Monin Lavender Syrup but I guess I was hoping for a more natural flavor. If I'm in the area and in need of latte, I'd come back.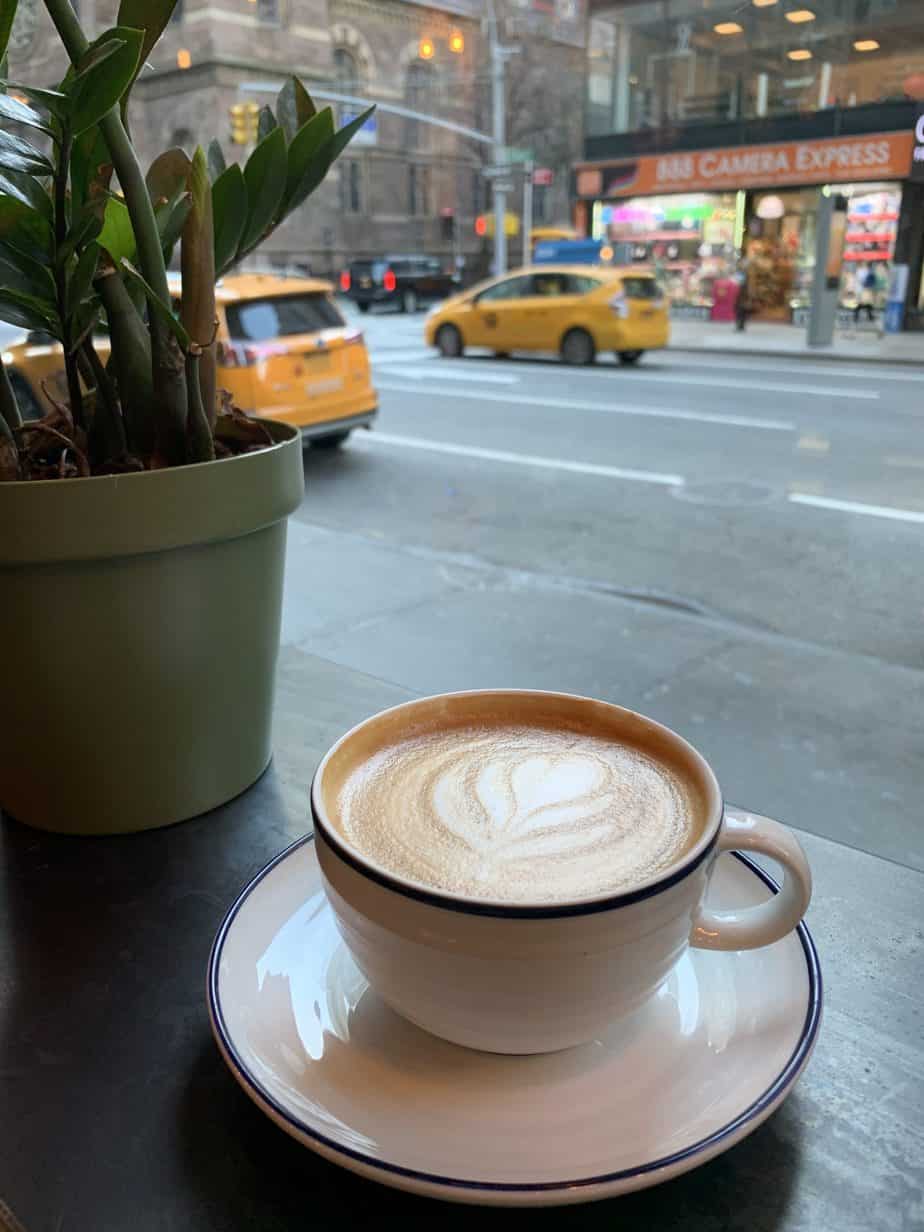 City of Saints Coffee Roasters – 79 East 10th Street / close to 4th Ave
It's a cute cafe that seemed super chilled and I really loved the decor. Definitely a cafe I could see myself hanging out in.  I didn't see lavender latte on the menu, so I did ask if they had it and they do, so ask!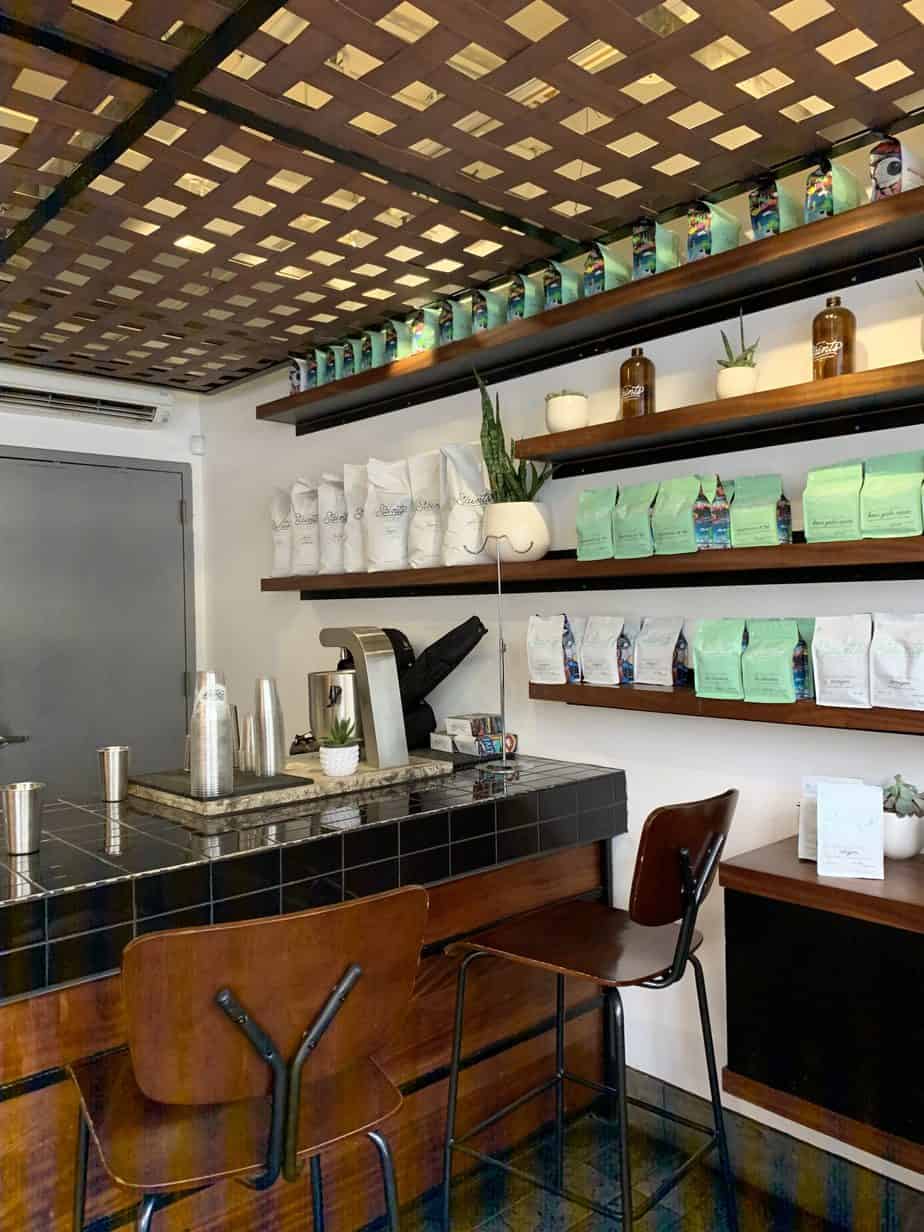 The lavender was super subtle and I found the latte to be more on the watery side so truthfully not my favorite. I'd come back because I liked the cafe and they also had pao de queijo (cheese bread) which I love! Maybe the lavender latte would be better from a different barista!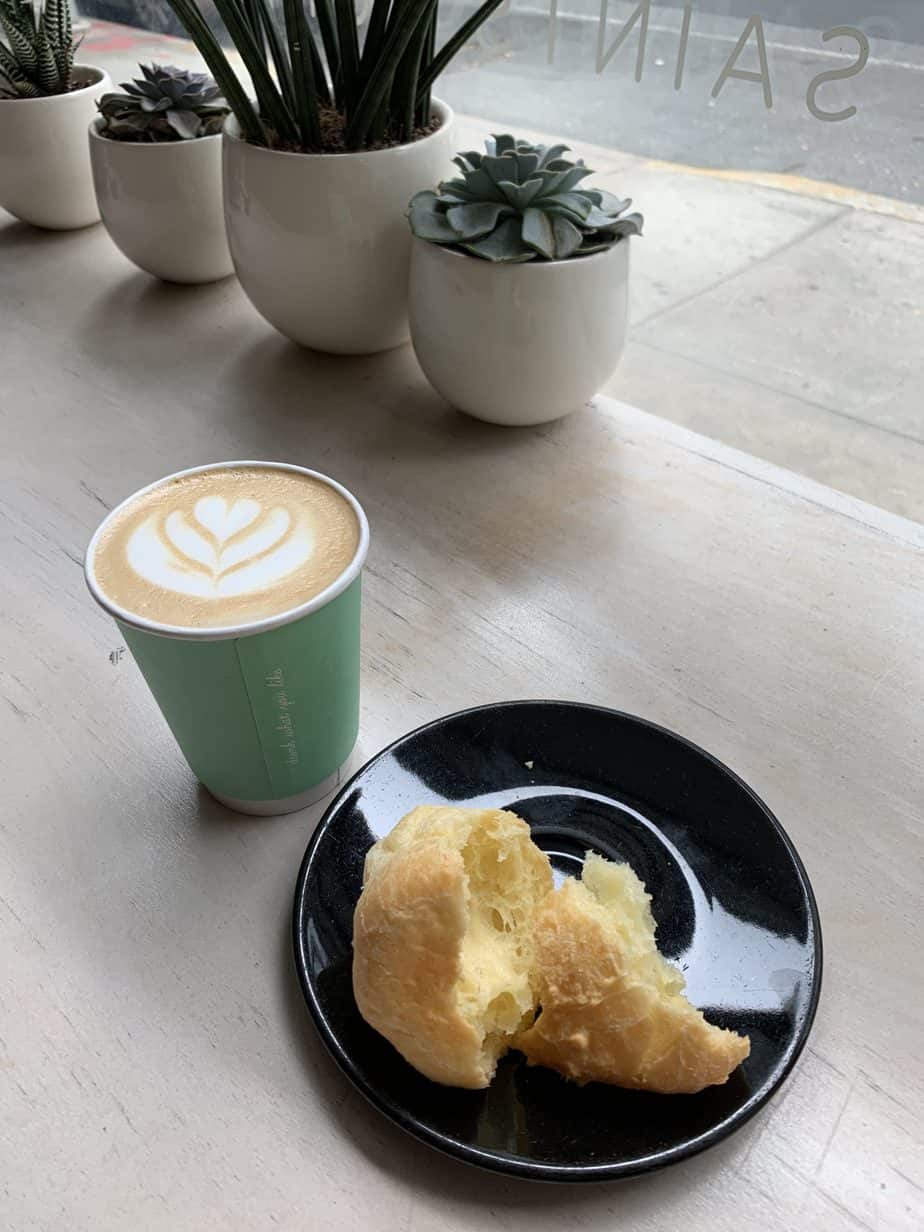 Lucid Cafe – 311 Lexington Avenue (38th and Lex)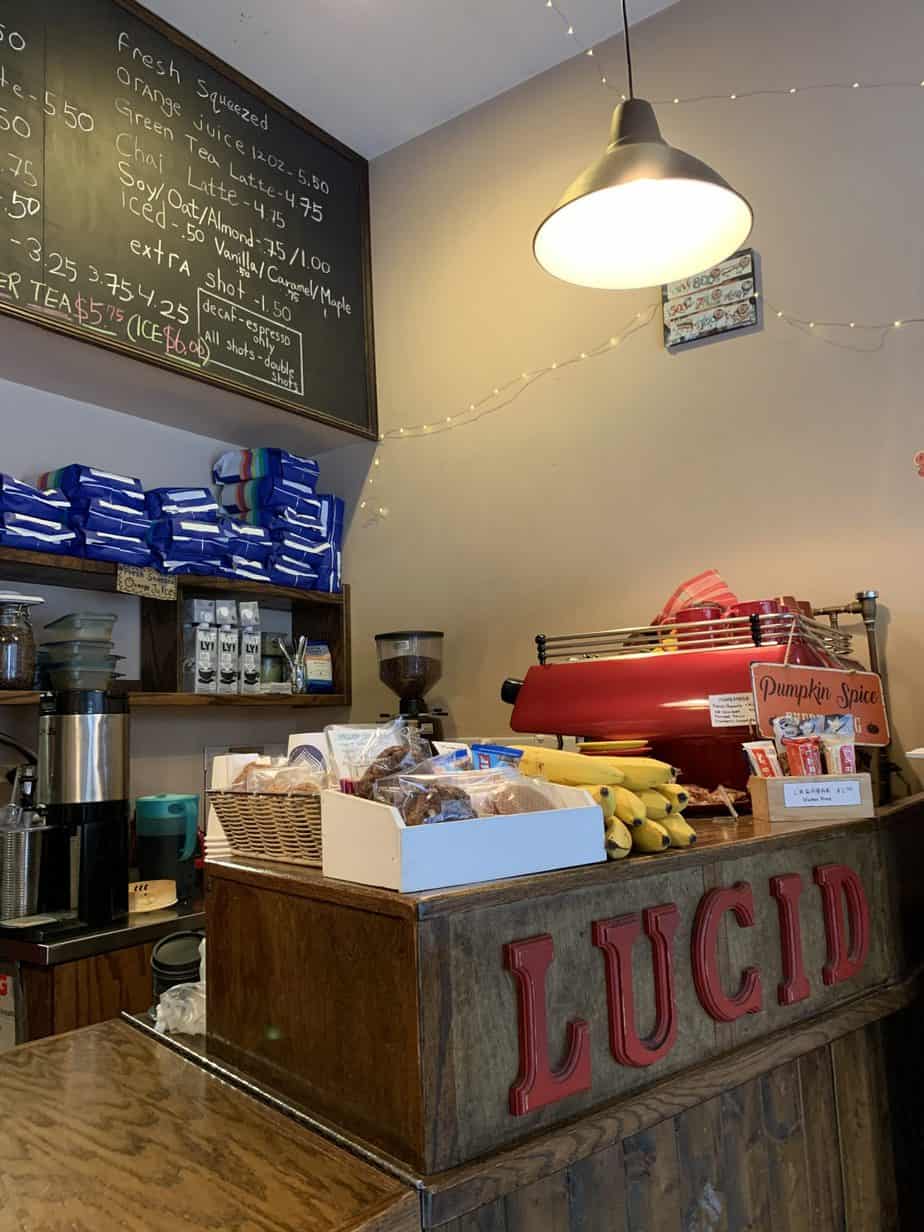 I stumbled upon this cafe and was so surprised to see lavender lattes on the menu. K and I were on our way to lunch but I made him stop for a coffee. I quite liked their lavender lattes as the notes of lavender were stronger than the other ones I had tried but even though they use the Monin Lavender Syrup, the latte did not taste syrupy. The cafe is super small so you may or may not be able to sit down.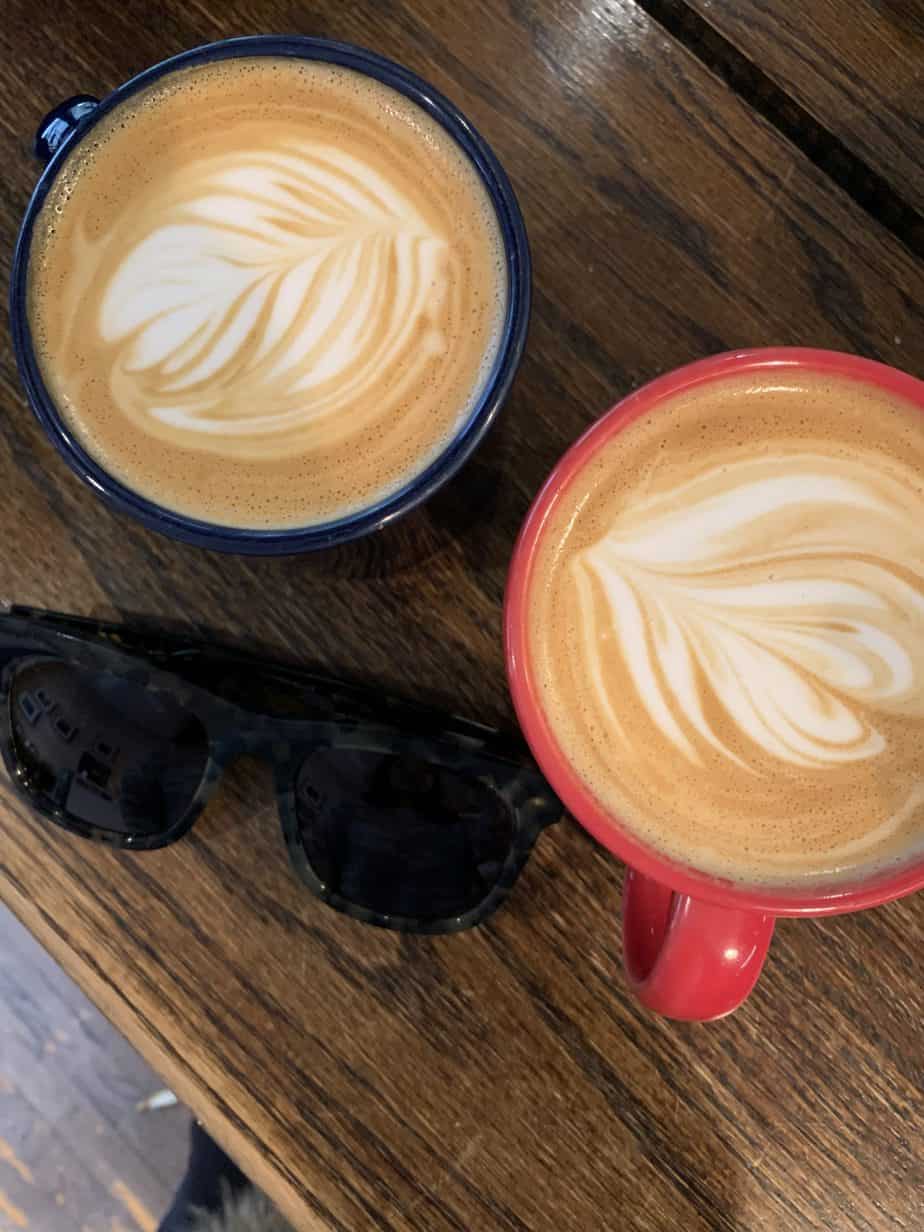 Remi Flower and Coffee – 906 2nd Avenue (2nd Ave bw 48th and 49th); NEW LOCATION! 802 2nd Avenue (2nd Ave with 43rd St)
I loved this place. It's a florist cum coffee shop and I'm not the only one as it's usually jam packed in there. Those who know, know as everyone was definitely taking pictures for the gram!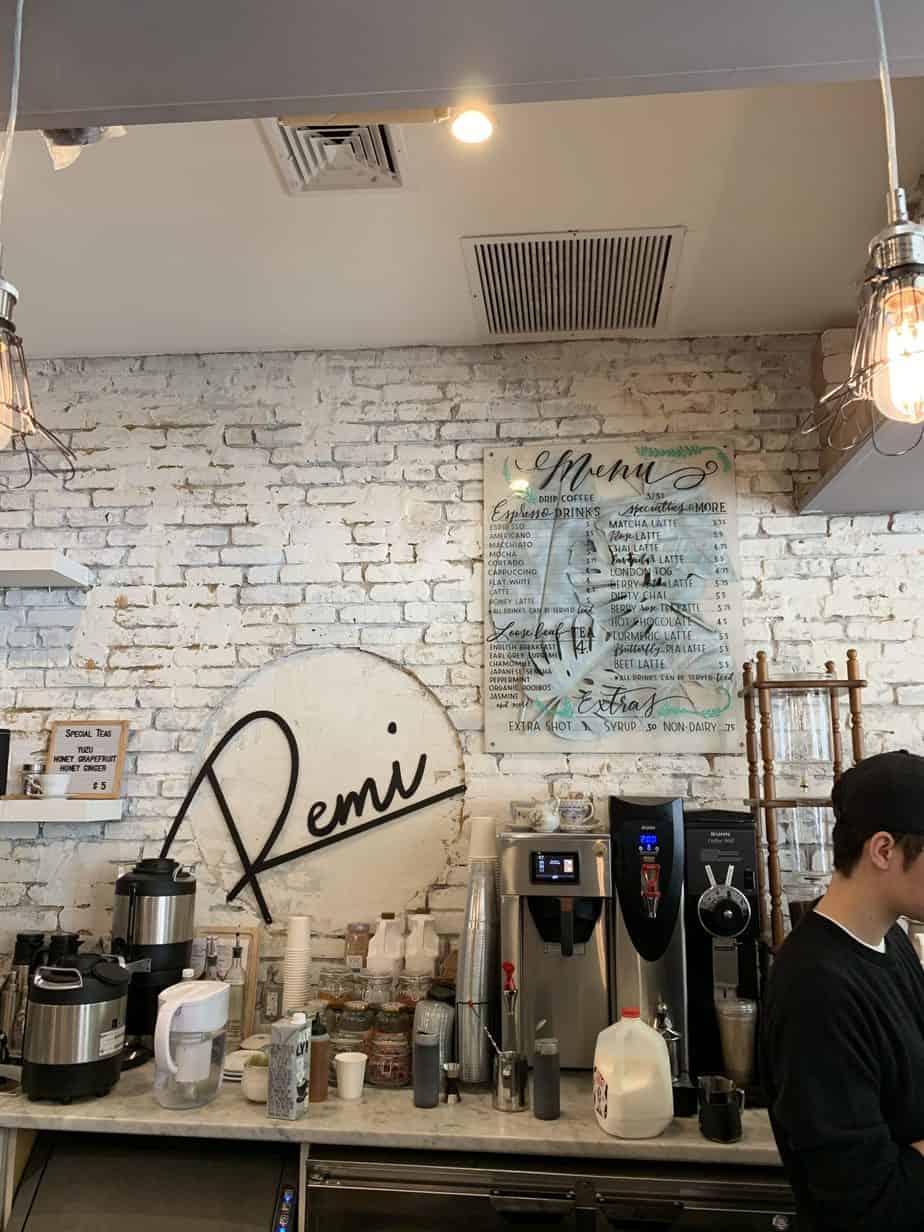 They have more than just lavender lattes, they also have beetroot lattes, rose lattes, butterfly pea latte, turmeric lattes, etc. I've tried the lavender and the rose lattes, but the lavender remains my favorite. I'm quite curious to try their other lattes, so I'll have to stop by and check them out. They also do a lavender matcha latte if that's more up your alley. I tried it and you can smell the lavender but taste wise, it tasted just like a normal matcha latte.
Now can you see why it's IG famous? Is it famous? I don't know but it's definitely IG worthy! The presentation is gorgeous, definitely the most impressive of all the cafes I've checked out.  Aside from how pretty it looks, the latte is well made with notes of lavender. It wasn't in your face lavender but you definitely got stronger notes of lavender in the first few sips and it sort of just dissipated as you drank your latte.
Bibble and Sip – 253 W 51st Street (closer to 8th Ave)
If we're talking IG worthy places, then this is the place. I mean, even their logo is the super trendy llama. Or is it an alpaca? But you know what I mean. Everything they make is IG worthy and it was rammed with people all oohing and aaahing over the desserts. I mean, I'm not judging because I was doing the same. Expect to stand in line to order and wait a bit for your order, but it does move fast so not to worry!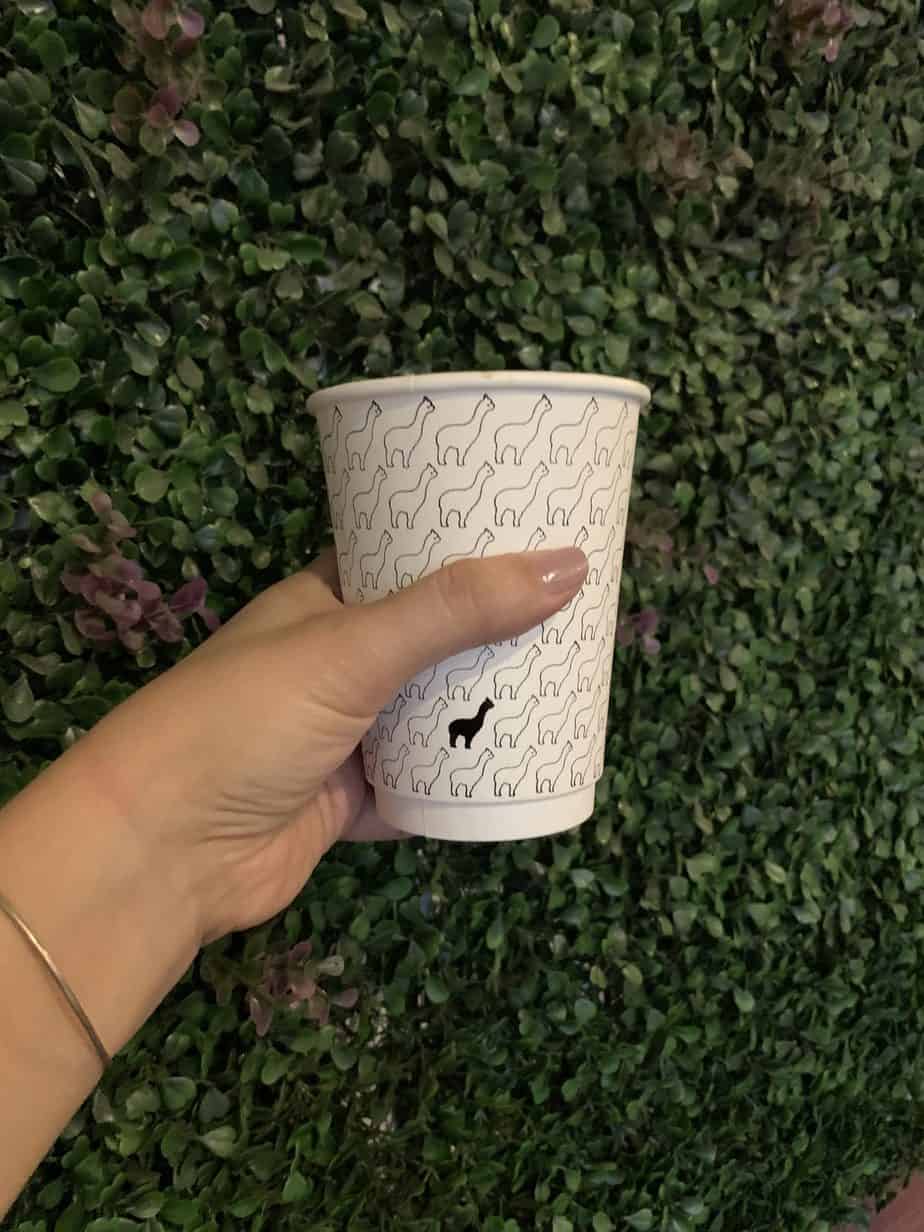 The lavender latte was good! I really enjoyed it. There was a consistent smooth lavender taste throughout though somewhat subtle. I definitely plan on coming back to try the desserts and would definitely have another latte!
They also have a second location down in the LES on 174 Hester Street. I think I'll go to this location next just because I prefer the LES.
Blue Spoon Coffee –  90 William Street (with Platt) or 76 Chambers Street
I went to their William Street location and again, this coffee shop is not that big. There are a few tables but you're rather smooshed in. We were able to get a table relatively fast as most people are doing to-go.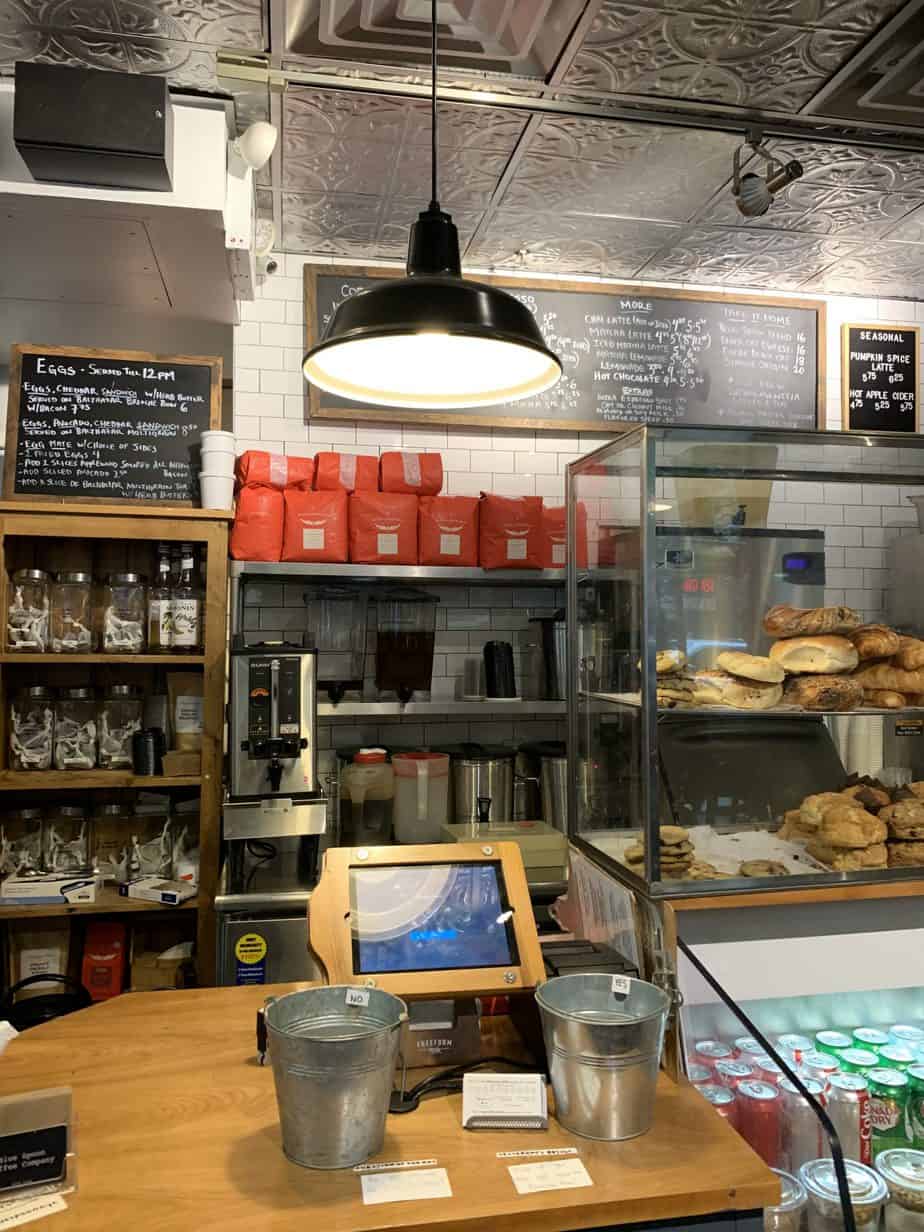 Their lavender latte was actually really good! They add honey to it and it really elevates the taste. The latte was made the way I like it, smooth.  I would say this is my favorite lavender latte in the city. It's just a shame I'm not down by the Financial District all too much so it's not exactly a place I'd go to on a regular basis.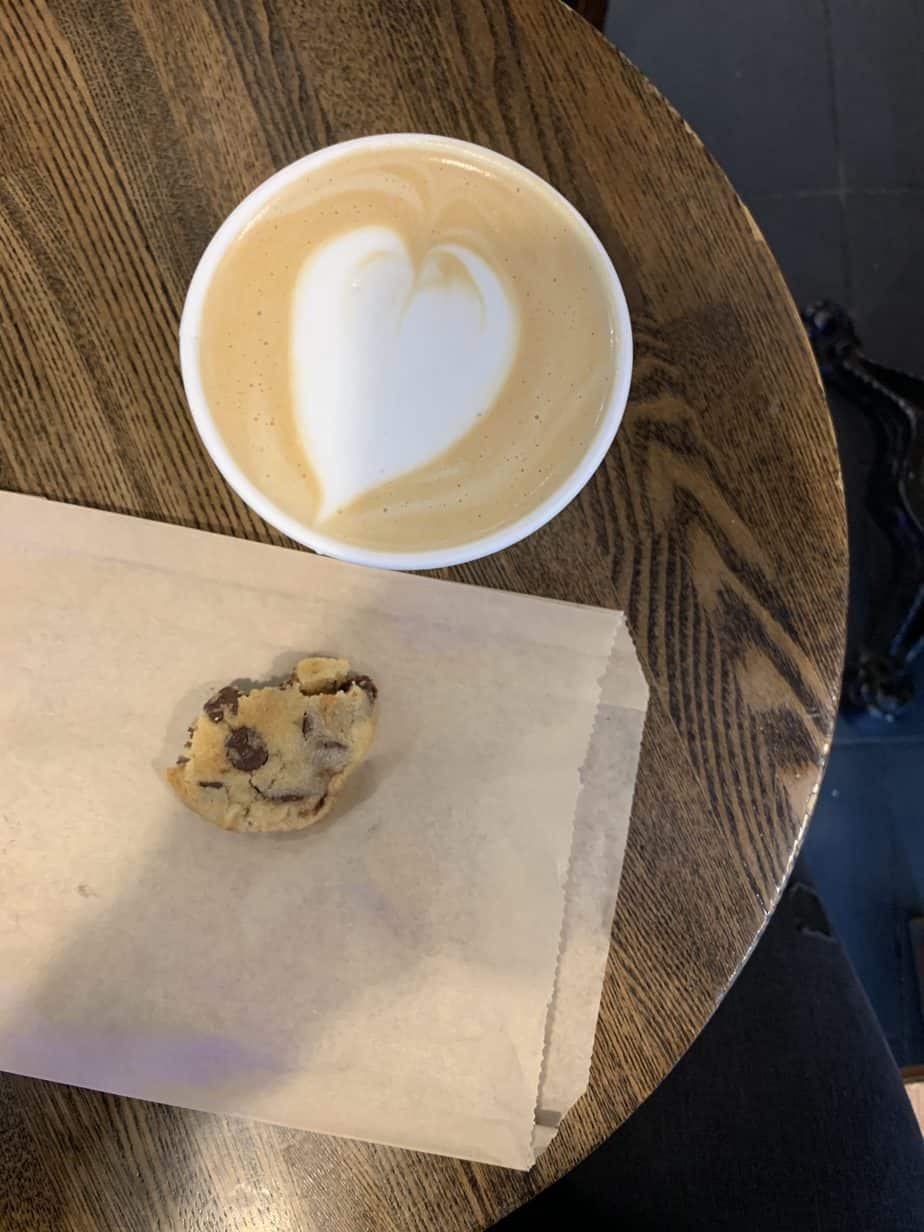 If you're not a coffee drinker but would rather have a hot chocolate or a tea, then you're in luck…. I've got you covered!
Grace Street – 17 W 32nd Street (bw 5th and 6th)
If you prefer tea, then you MUST go to Grace Street in Koreatown for their lavender milk tea. I'm not normally a milk tea drinker, but I saw this as I was in Koreatown and had to try it. I'm so glad I did because it was so good. And it's pretty. I mean, who doesn't like pretty drinks?? Grace Street also has shave snow and other yummy looking desserts, but I have not tried it. I imagine its good because this place was heaving.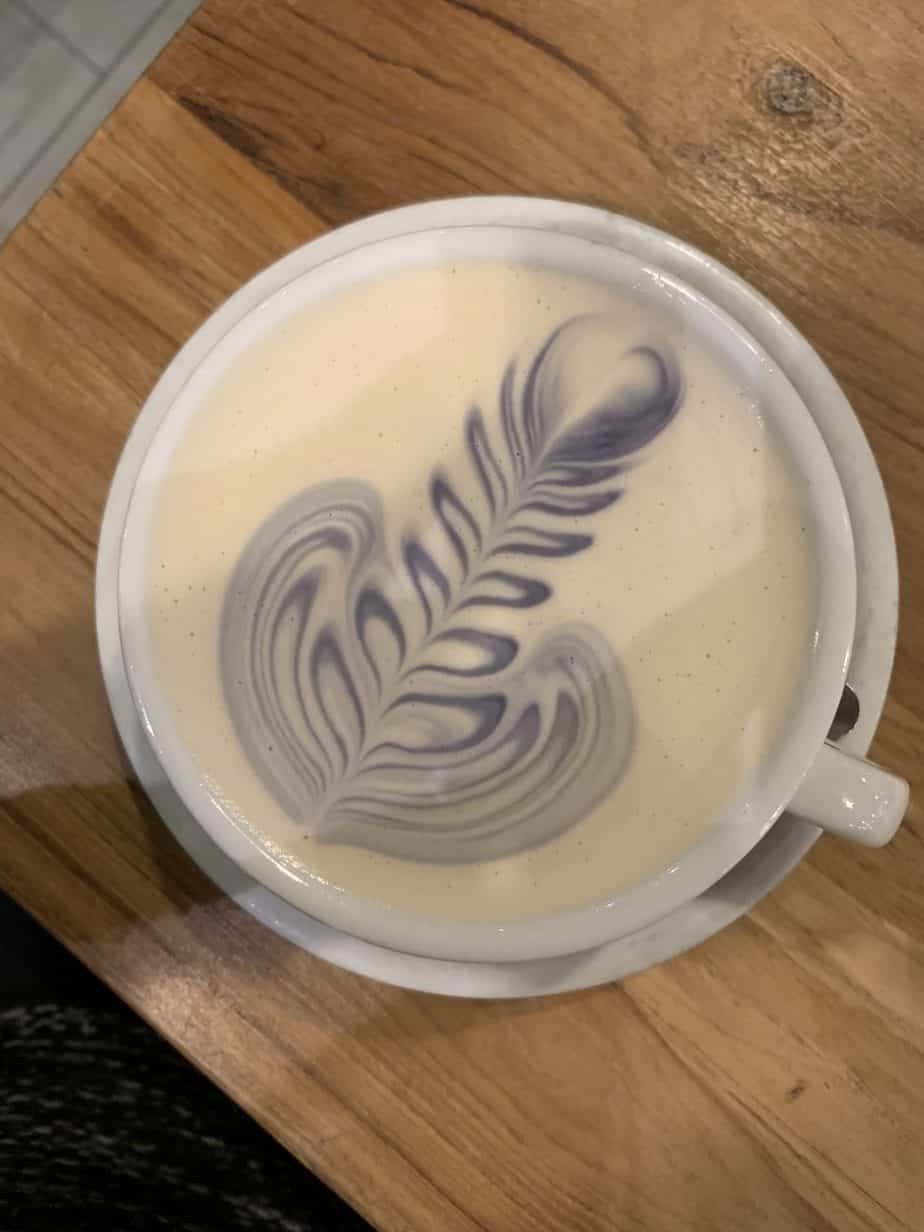 Maman – various locations
If you like hot chocolate over coffee, then Maman has you covered with their delicious lavender hot chocolate. That is all I need to say about that! But their food is yummy too, so definitely stop in for a hot chocolate or lunch!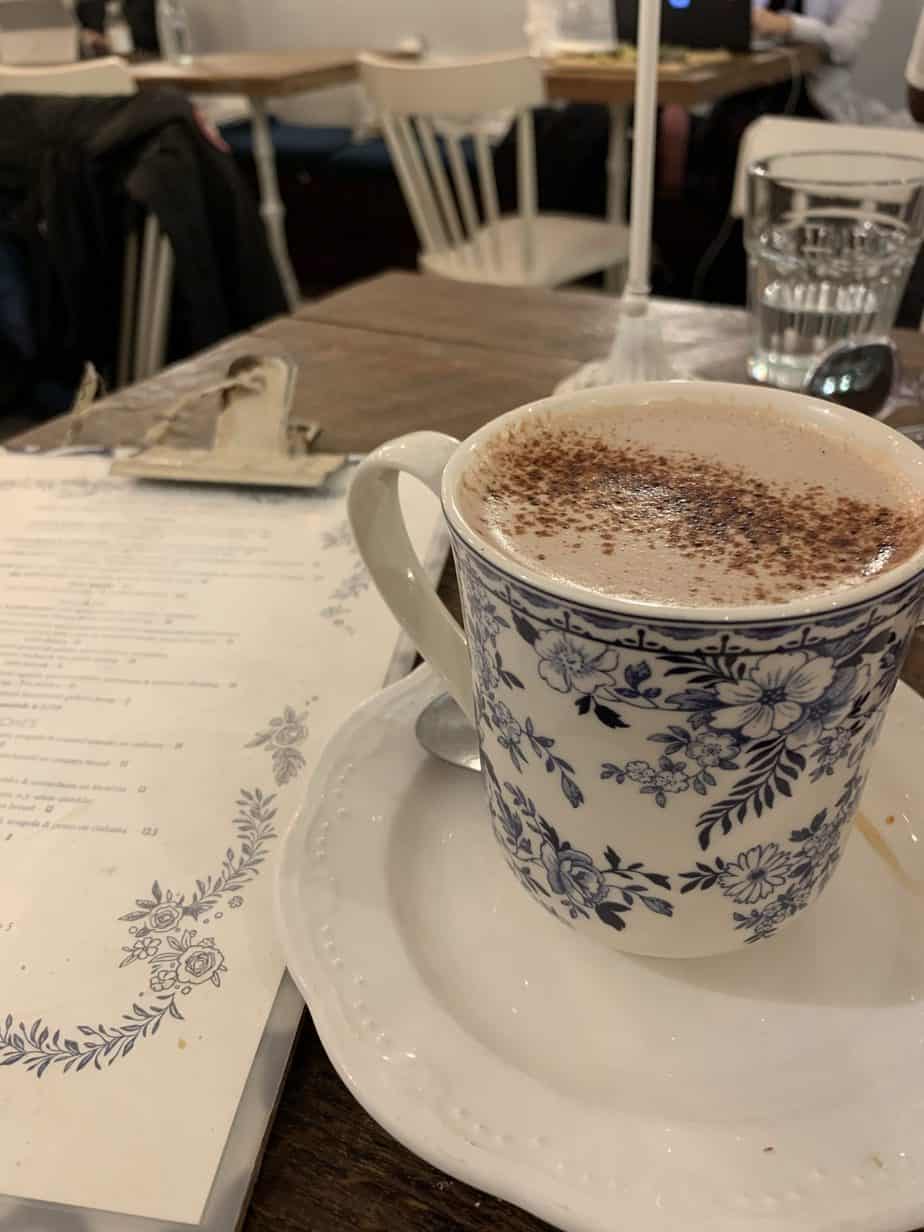 BROOKLYN:
Copper Mug Coffee: 131 N4th St bw Berry and Bedford in Williamsburg
So I'm slowly trying to make my way around Brooklyn for a good lavender latter and I came across Copper Mug the other day. I am definitely going back for one!! I really enjoyed the creaminess of my latte – also I should say I'm drinking my lavender lattes with oat milk, if that matters to you – and there was good but subtle notes of lavender. It was, in my opinion, perfectly balanced. Plus they have an outdoor garden area where you can enjoy your latte in the sun!
So, where is the best lavender latte in New York City? My vote goes for Remi Flower and Coffee as it's such a cute place and the presentation enhances your lavender latte drinking experience. If you're down by the Financial District, definitely hit up Blue Spoon Coffee for a no-fuss experience. And if you're in the West End, Bibble and Sip will have you covered!
Have you had one? Have you seen them on the menu of your local coffee shop? Would you order one? What do you think? Tell me in the comments! 😉
And that's a wrap, though I will look to keep updating this post as I discover more places serving lavender lattes and we can decide together where the best lavender lattes in NYC is. Or, if you know of any places I haven't covered, let me know so I can go check it out!