Hello, hello! Long time no see! Well, let's just say I am LOVING being back home and I've been soaking it all in – but that's another post for another day! I hope you guys had a nice weekend as well today, I am sadly flying back to Singapore. But for now, let me ask you, are you into tennis at all? I grew up watching tennis because my parents love it and I guess it's rubbed off on me. I even took lessons but I didn't enjoy it, but I do enjoy watching.
My parents try to go to the US Open each year and I've never been. I've actually never seen a real life professional tennis match if you can believe that. Have you? Anyway, my parents asked me if I wanted to go watch the qualifying matches that started on 21 August because they're FREE! Without much arm pulling, I was definitely in! 
I've actually never even been to the part of NYC. It's way out in Queens, almost the last stop on the 7 train and well, when I used to live in NYC, I would barely get off of Manhattan, unless it was to go the airport.  Yes, I was one of those peoples.. HA Anyway, I digress! The subway ride from Grand Central is about an hour long. It goes pretty quickly, though, especially when you're above ground and you can see different parts of NYC. 
We got there around 1pm and it was a glorious day out. We took Little A with us as a day of adventure for him but he wanted to eat when we arrived, which fair enough, it was lunch time! There is a variety of food outlets available up there, though not all were open. 
After our little lunch, we just randomly picked a court to watch some matches. As these are qualifying matches, the men only play 3 sets, or 2 if they happen to win both sets. We settled on Court 12 and caught the last set where N. Mahut was playing vs Z. Kolar. It was definitely exciting watching the game, there's that buzz that you can't experience by watching on the telly. Nicolas Mahut easily won that game and it was sweet to see him bring his son onto the court.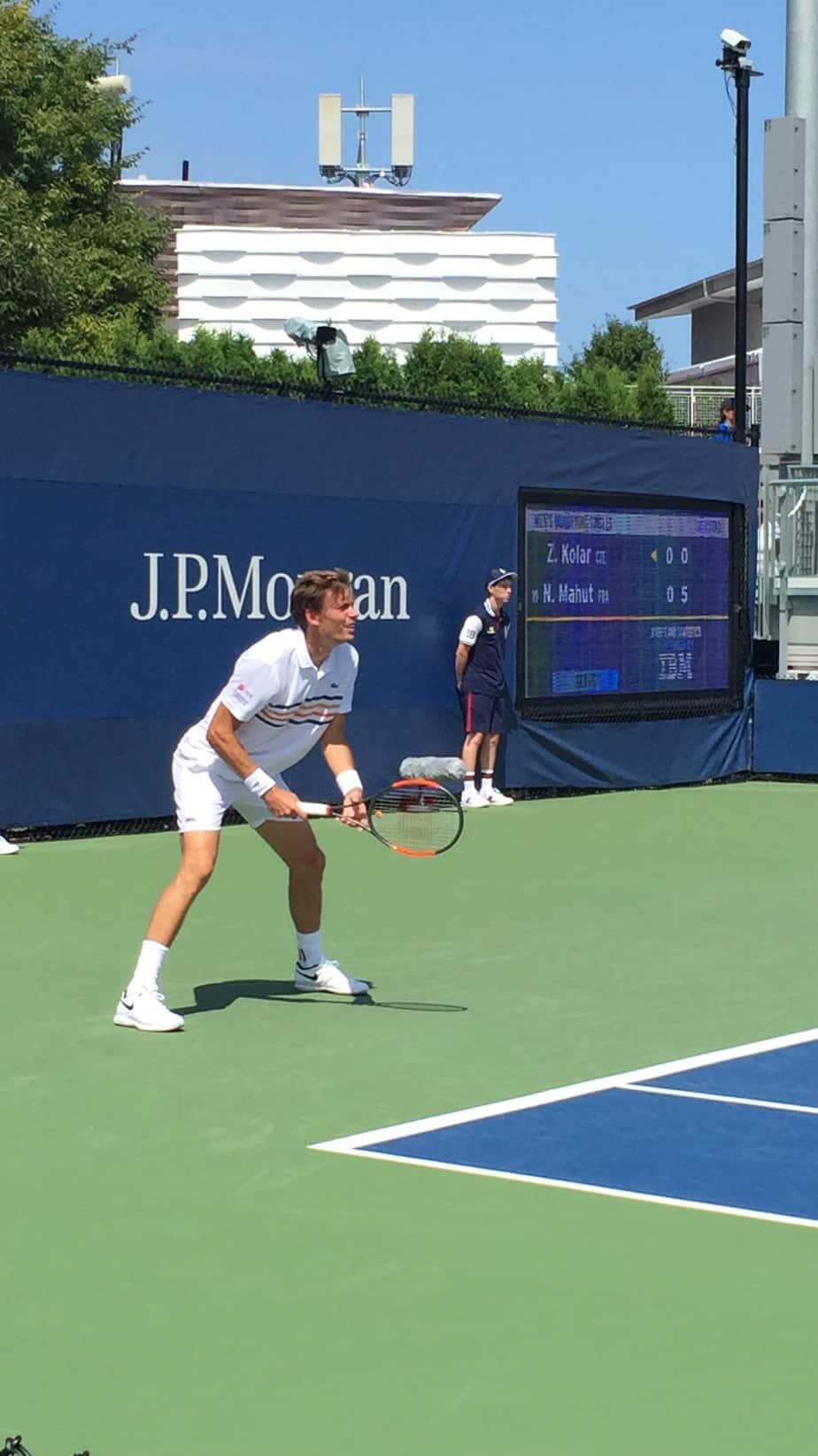 After their game, it was time for a ladies game with which the American woman easily beat her opponent. I didn't really watch that whole game because my parents were with Little A and he was getting antsy and bored. Not surprising, considering he's only 3 years old! And it was a scorcher of a day, so I went to where they were right off the courts and we called it a day. 
Though we stopped by the stores to buy some souvenirs, as you do! Well, I didn't get anything, but my dad's friend had asked him to pick up some baseball hats for him and his wife. And Little A came out of that with a hat for himself. 
I was hoping to get a better picture of Little A and me, but he's not having it. He used to love having his picture taken, but lately, not so much!!
Anyway, I loved the fact that it was free to get in. It's such a fun day out if you happen to be in New York for the lead up to when the big name players begin their quest to win the US Open! And you can also watch the big names practice as it's open to the public, though I am not sure if you need a ticket for that aspect but go to the US Open site and check. What I also loved about going to watch the qualifiers is the fact that you don't yet have the massive crowds that you'll invariably get once the US Open properly kicks off!
Maybe one day I'll actually go and watch the likes of Federer or Serena play, but this was pretty fun!
Do you play tennis or like to watch?