/
My Experience Working as NYC Poll Worker
Have you ever worked as a poll worker? Have you even considered it? Honestly, I never had considered it because I wasn't even in the US for the last ~3-4 elections. And since I'm not actually an American citizen, I never really gave it much thought. But the 2020 election was different. It was definitely an election of a lifetime, if you will. And seeing that I was back in the US and not working, when I saw a commercial on television, I said, why not? So I applied.
Here's my story of my experience working as NYC poll worker….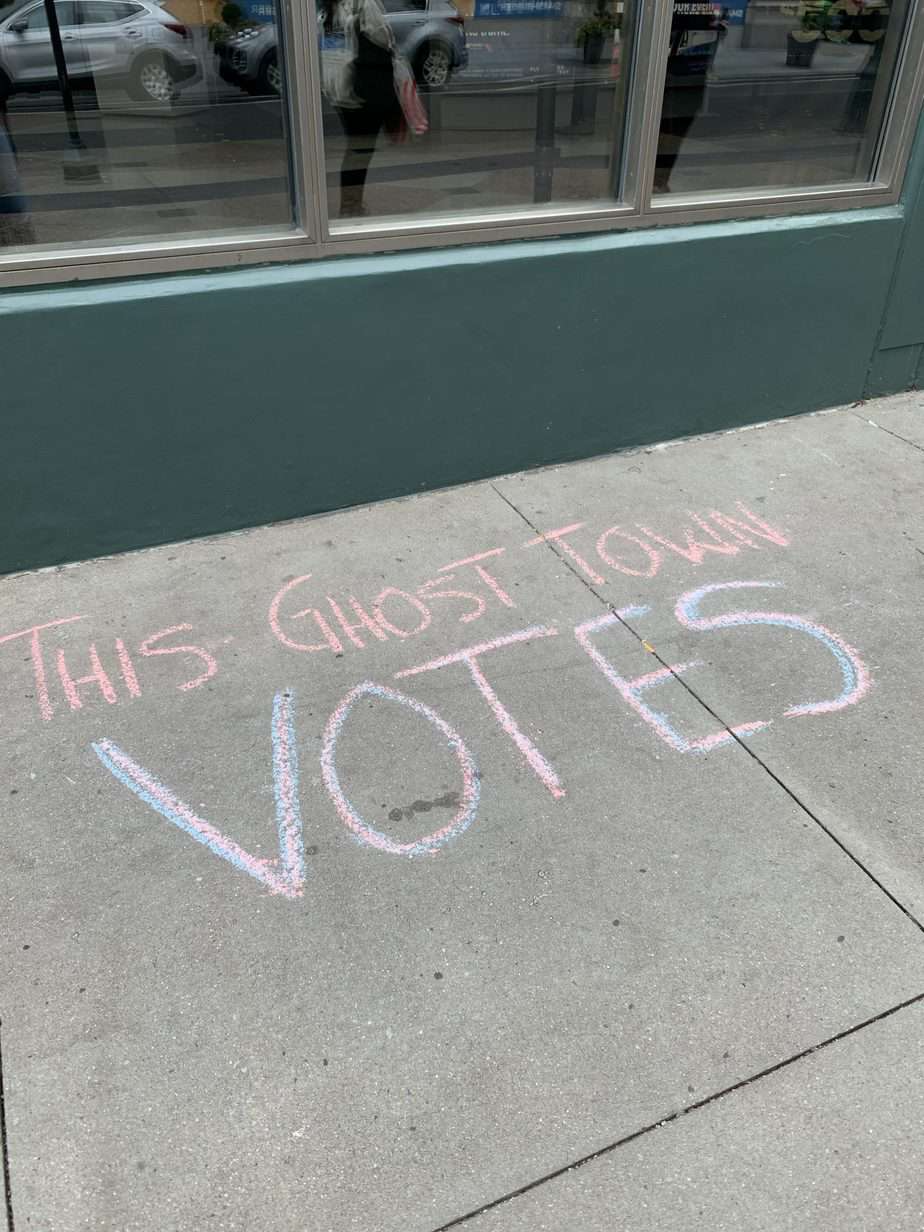 As a non-US citizen, I am not legally allowed to work the poll booths. So in terms of what roles I could apply to was limited. I could either be an interpreter if I spoke one of the languages they needed or I could be an accessibility clerk. I wasn't eligible to be an interpreter because while I speak a few languages, the languages I do speak was of no use to them. So, accessibility clerk it was.
What is an accessibility clerk? Well, as the name implies, you're dealing with accessibility issues. So for polling sites where the main entrance was not accessible to the people with mobility issues, you'd have to put the signs denoting where an accessible entrance would be or guide them towards the entrance. And of course, answering any questions that may arise. Thing is, as polling sites are more disabled friendly, the city of New York don't need as many accessibility clerks as they did in the past and the guy who provided us with training was wondering why we had signed up for this role.
It's also important to mention that if you're not affiliated with a party, you're not allowed to work the poll booths either so you're "stuck" with being an accessibility clerk.
Anyway, we had a 2 hour training session where it was pretty straightforward. We took an open book quiz at the end and we were told we would hear a week later what our assignment would be, if we had been selected.
Well, that time came and went and I had heard nothing. So I did not think I'd be working early voting or the elections. I was bummed out because it would have been easy money! Contrary to popular belief, while we are volunteers, we are paid volunteers so there's that incentive.
Early voting in NYC began on the 24th of October and ran until 1 November with 3 November being Election Day.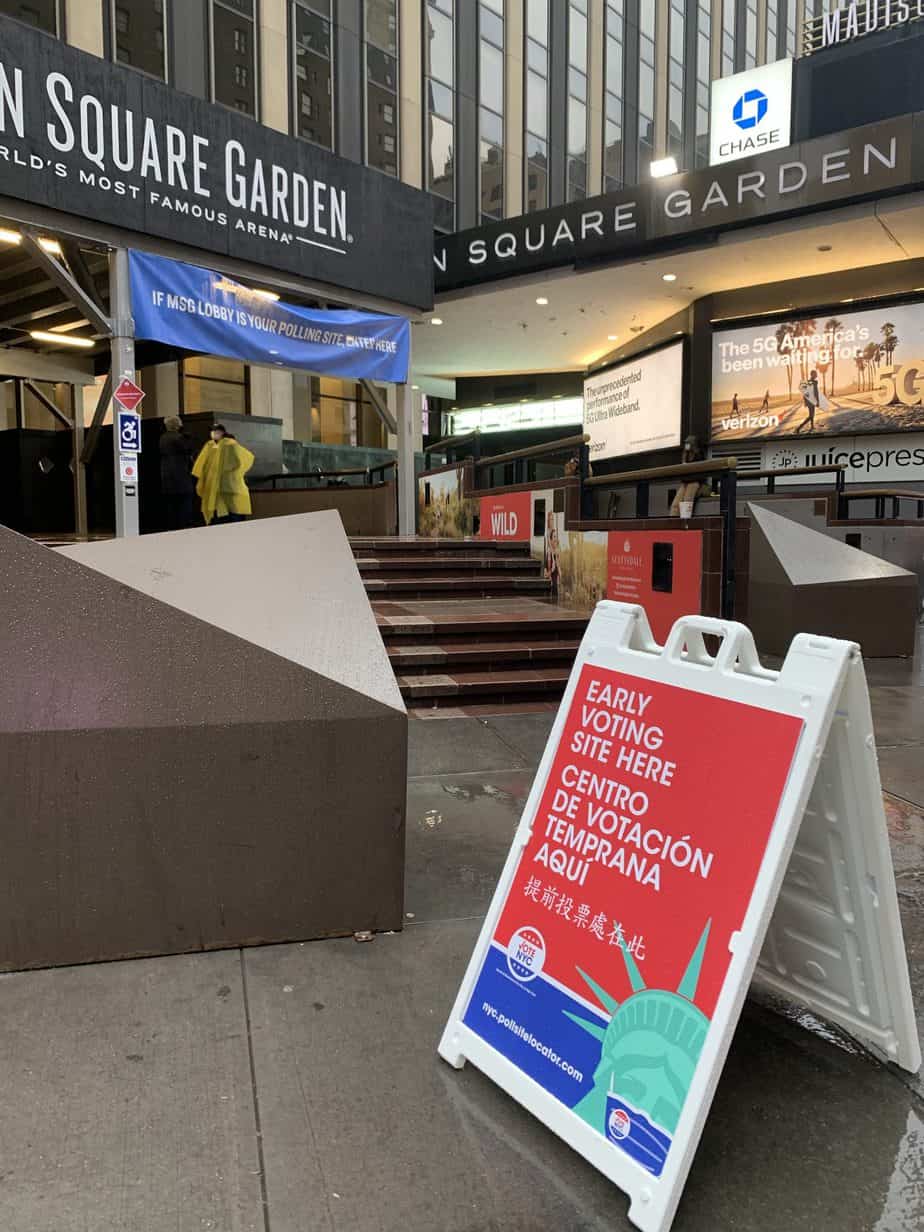 MY EXPERIENCE WORKING AS A NYC POLL WORKER
Since I hadn't heard anything, I didn't think much of it anymore. On the night of the 24th of October, I got a phone call around 5:30pm. I don't know why I answered, but I did. I don't normally answer phone calls unless I know who's calling me. It was the Board of Elections. They asked me if I was still available to work the days I had marked myself available. I said, yes. The man said that someone will call me back shortly with confirmation of my schedule and that I would be working at the early voting poll site close to my house. Thirty minutes later, a woman from the BOE called me to say that I should report to Madison Square Garden the following day until the next Sunday and that my new assignment was that of Line Management. Madison Square Garden was not the polling site close to my house, but it's also not that far.
So alright then! All of a sudden, I was scheduled to work Sunday to Sunday.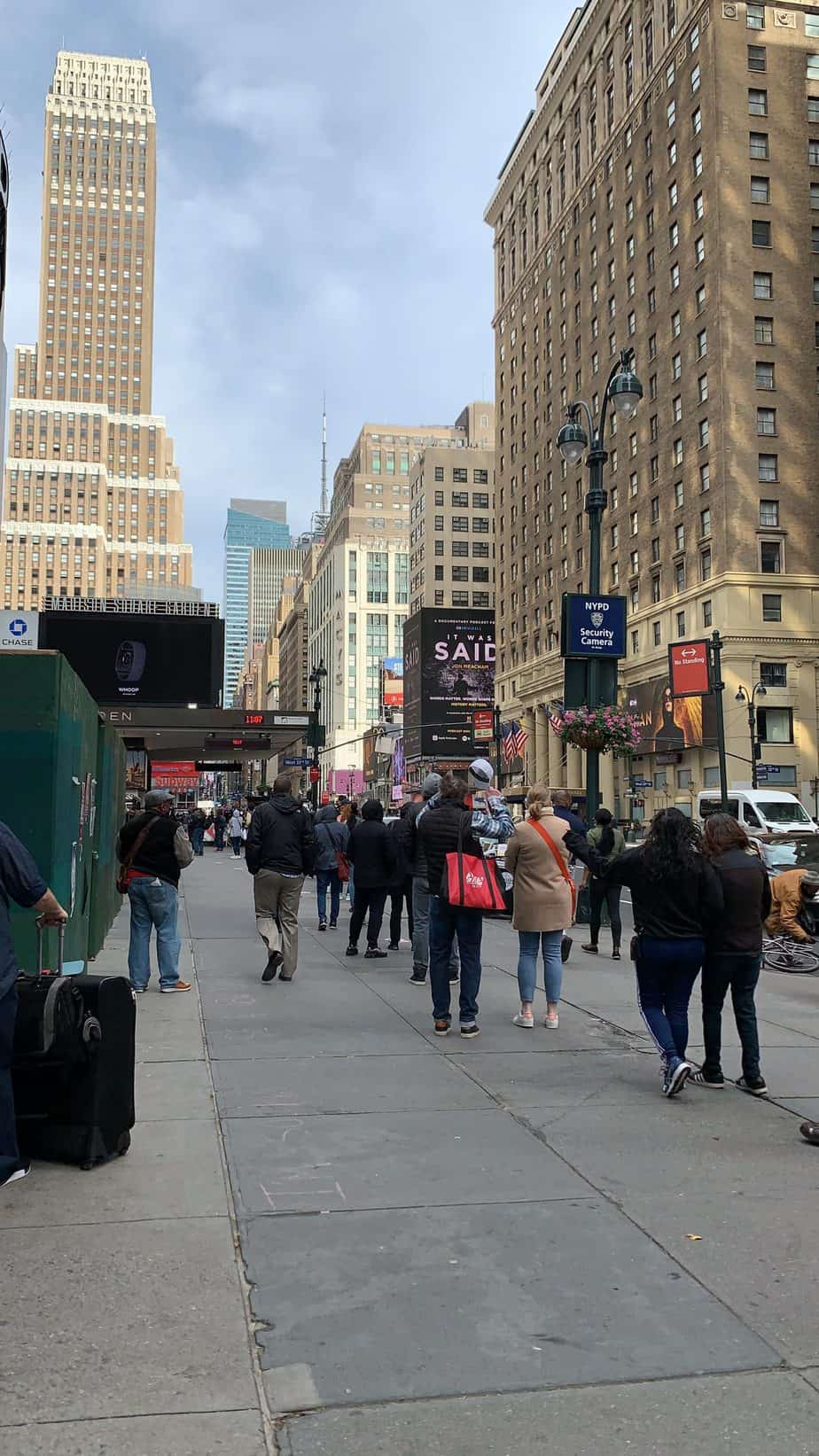 I reported to Madison Square Garden the following morning and all I can say is that it was a bit of a shit show in getting in. We were asked to fill out a health screening online and once that was done, we could go through gate one. The next queue was trying to get checked-in and through MSG security. Thing is, nobody's name was on the list. Well, most of our names weren't since we weren't originally scheduled to work. Since these elections were the 2020 elections and all that it entails, the BOE were unprepared for the queues the day before. So in a panic, we were pretty much all called in to help out as line managers. I'm sure you can figure out what that means!
Once we were finally through security and at the ticketing area of MSG, it was clear how unorganized it was in there. We were meant to have an Inspector to guide us, but who knows where they were. We were asked to sign in to a book so we could get paid, but oh em gee. What a mare to try and sign this book. Mind you, we had to do it every morning. It was such an ordeal to sign this damn book since the woman in charge of said book was adamant we fill it out in a particular order. Like seriously lady, what difference does it make if it gets filled out? She would literally stop you to make sure you're following this inane order and the queue was backed up. I made sure to get there on time so I wouldn't have to wait 15-20 minutes to sign this book!
The first day was BRUTAL. After being locked down and home for most of the year, my body was all of a sudden forced to stand all freaking day in the cold for 9 hours. That was brutal. And honestly, it was the blind leading the blind, especially on that day, but by the next day, we were pro's at being line managers. My other line managers would joke that we would be getting promoted the next day. But while the queue was fairly long before early voting began, by lunchtime, there were no queues. But we'd still be outside, in the cold and oh, it was also rainy that week for good measure! One of the rainy days, I did get sent home so I could change my shoes because they were soaked through and frankly, now was not the time to catch pneumonia.
So I won't bore you with a day to day account as I would be boring myself! But as you can imagine, each day looked the same. Long queues before the polls opened and then nada. It was boring AF. Rinse and repeat. The only thing that made this job fun were my other line managers. And I mean the other line managers who all chose to stay outside. I didn't want to be indoors because, covid. At least being outside, you had a bit more freedom. And can I also give a big shout out to the security guards of MSG? I LOVE them! I became friends with a few of them and they're the nicest guys ever. And funny AF.
I must say, the people who came out to vote during early voting were awesome. They were super patient and would all thank us for being there. It was definitely awesome to see them out out there in the rain, ready to vote!!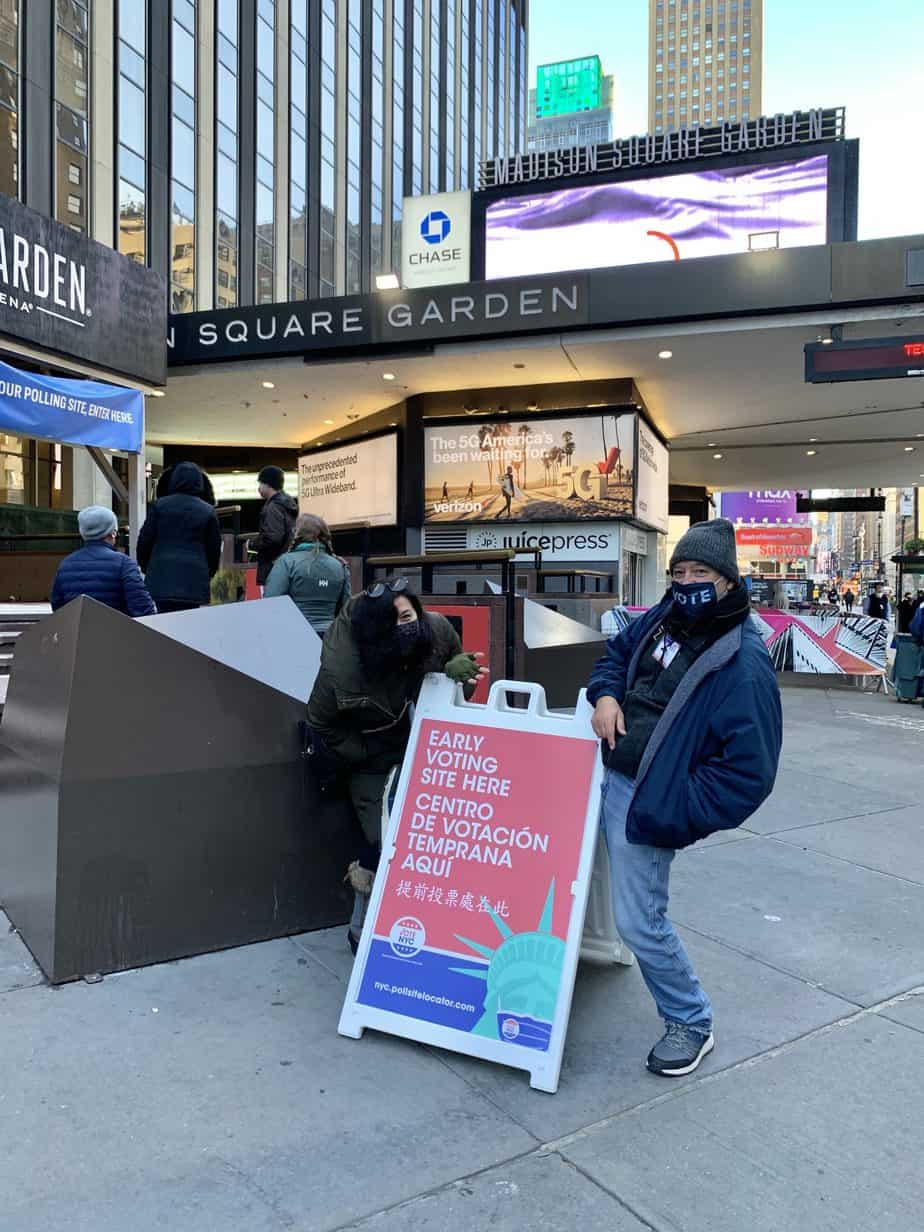 Also, since we were at Madison Square Garden which is above Penn Station, the people watching there is bar none. From the commuters to the homeless to the junkies and the crazies. You get them all in one go. That being said, when we had 6am starts, that area is not the greatest area to be in as we would get harassed by some savory creatures. Some of the things you see cannot be unseen. Yeah, let's just leave it at that.
While the days were long and brutal and left our bodies, especially our feet aching like no other, I had a really good time. I met some really interesting people working the lines with me and have also gotten a girlfriend out of this experience!!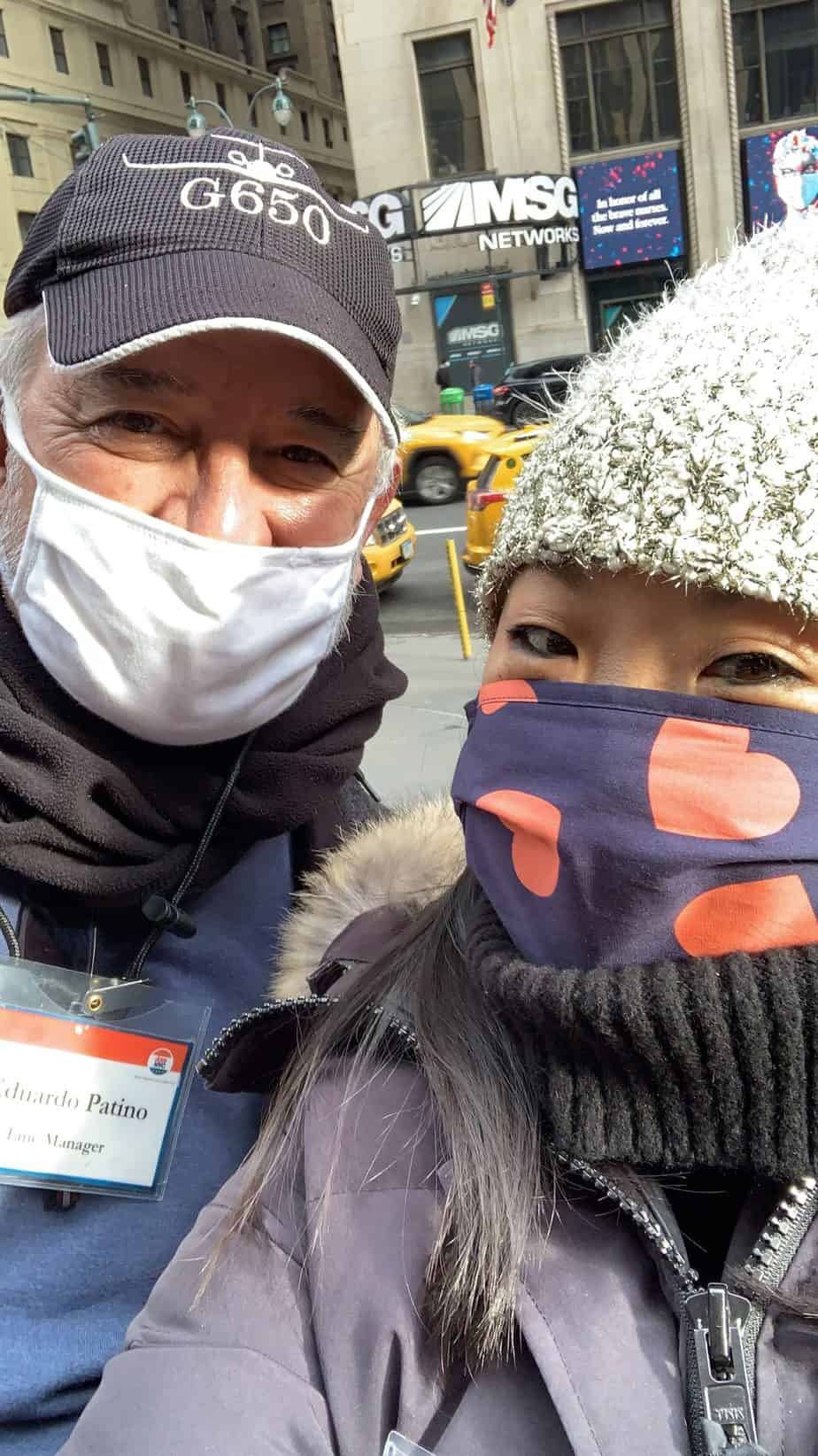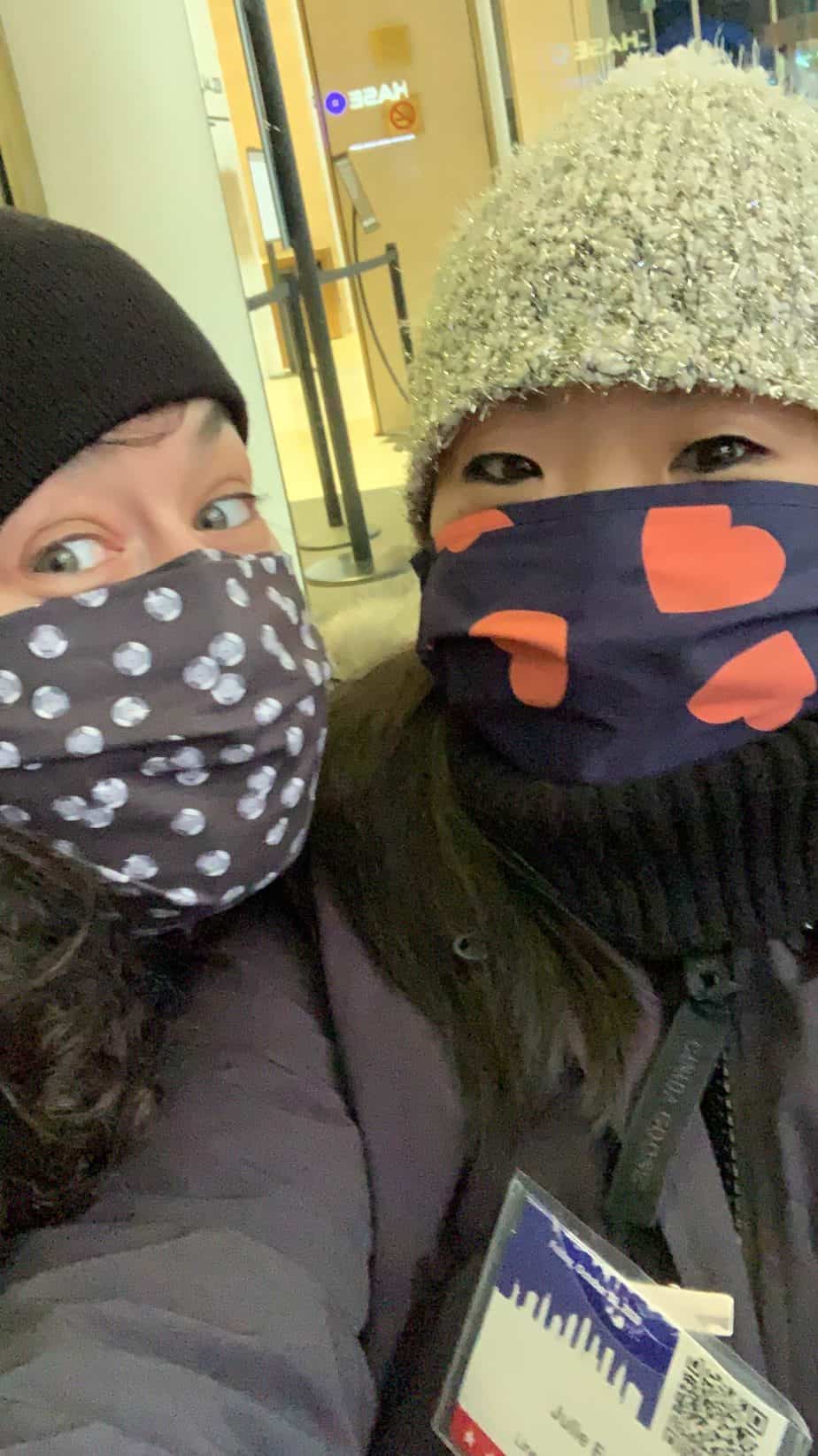 We of course also had some entertainment. Some entertainment to boost morale for the voters in the lines. HA. We had some actors come and hand out cookies, restaurants give out free chicken wraps and we had cheerleaders and a cappella group all dressed as RBG come sing.
The real doozy was actual Election Day. If I never work another Election Day, I'm ok! Election Day was ridiculous. We were asked to be there at 5am and we could only leave once the polls close. In NYS, it was 9pm. But that was after we had packed up. There were basically no lines that day other than a bit of a flurry before the polls opened. And sadly, the friends I have made in the previous week were all working at their respective polling sites so I was with new people. I did meet a few fun people, but it wasn't the same since they hadn't experienced early voting. But we had to keep ourselves awake, standing and amused until 9pm. There is one corner by my house that has left me traumatized.
All in all, it was a good experience, but would I do it again? Nope. And obviously, my experience working as NYC poll worker would be different from someone who worked the poll booths, so take that with a grain of salt.
Have you worked as a poll worker? Would you consider working as a poll worker? Let me know in the comments!