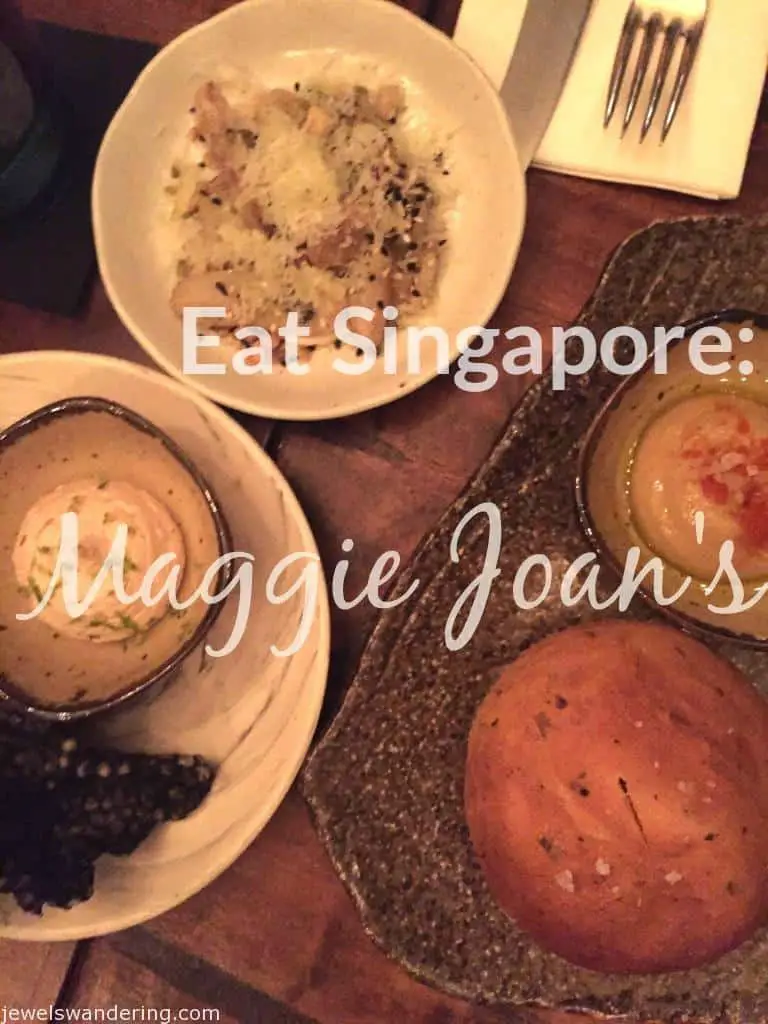 Eat Singapore: Maggie Joan's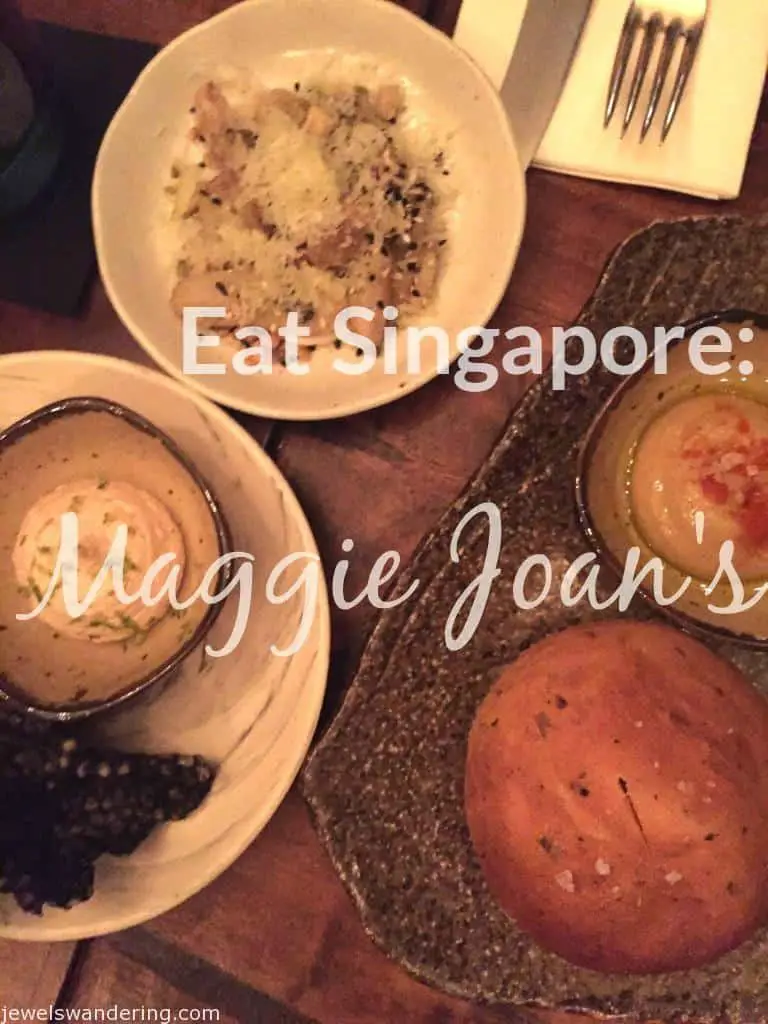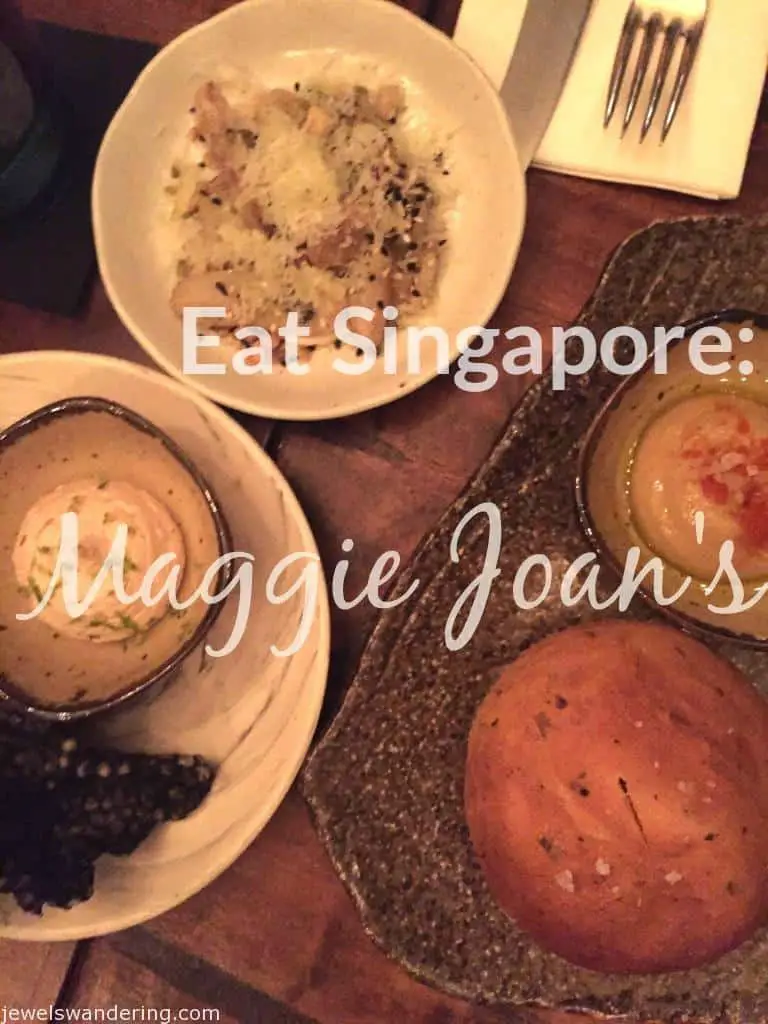 The weekend was pretty chilled, we booked Maggie Joan's on a whim last week for dinner on Saturday. Maggie Joan's is another of the new arrivals on the restaurant scene here in Singapore and it's had good reviews.  I mean, it's from the same guys who run Moosehead, which I do really like, so I was super excited for dinner.
Located in the back of Telok Ayer Street, you could easily walk by it and give it a miss.  In fact, it's not really a place you would think a restaurant exists, giving Maggie Joan's that illicit feel which let's face it, we all fall for it.
Once inside, the place is bigger than it looks – the restaurant is essentially split in three rooms and the decor is modern and moody.  I loved the space! It's quite intimate and would be a great restaurant for a date.  Which obviously someone else thought the same.  But that's another story!
The menu concept is different to that of Mooseheads – small plates meant for sharing – and although there were items meant for sharing, we each chose to have a main and we shared some starters.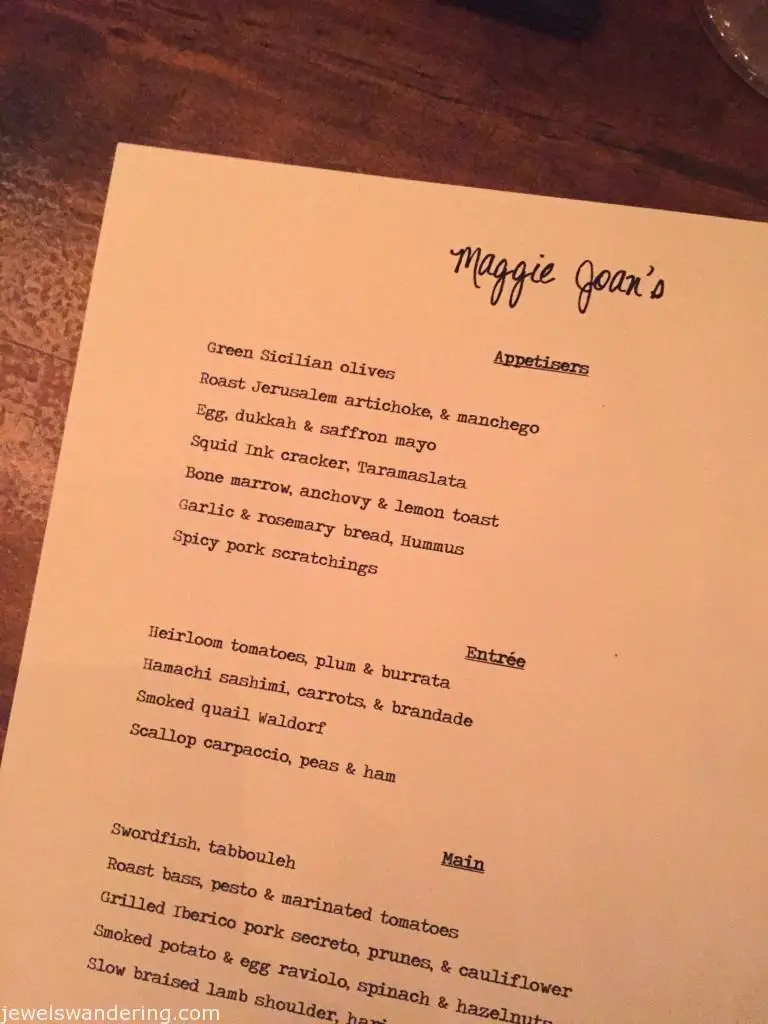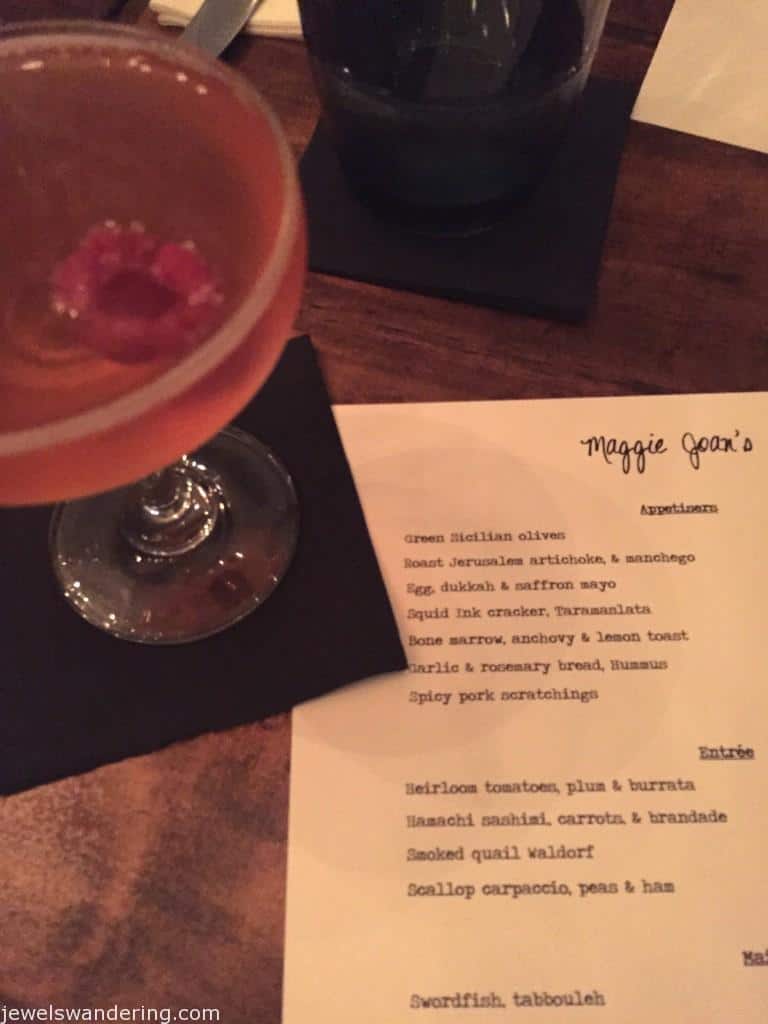 To start with, we ordered the Roast Jerusalem artichokes with manchego cheese; squid ink cracker with taramaslata and the garlic and rosemary bread with hummus.  I do love artichokes and this was quite tasty.  The bread on the other hand was nothing to write home about, it was pretty bland in my opinion, but the hummus was super rich and beany and really flavorful. I really enjoyed the hummus as well as the taramaslata.  The squid ink crackers didn't particularly taste like squid ink and were crackery – if that's even a word!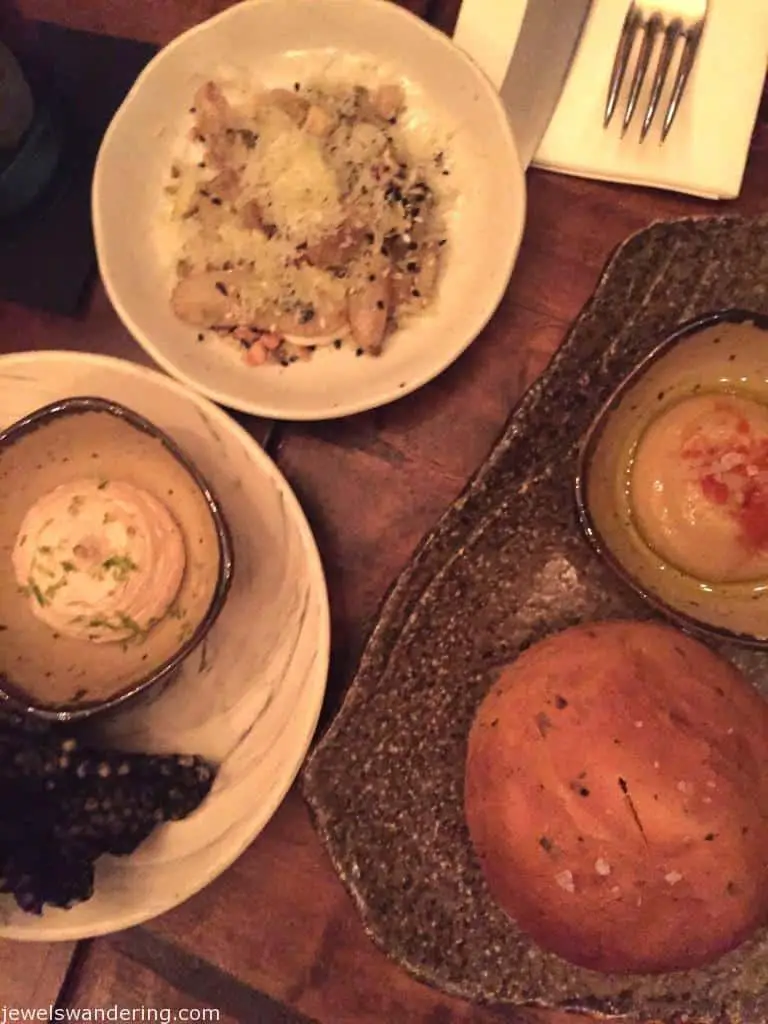 For the mains, Ted and I ordered the Roast Bass with pesto and marinated cherry tomatoes.  Gijs ordered the slow braised lamb shoulder and Bhavesh went with the swordfish and tabbouleh. Presentation wise, the dishes looked fantastic.  Unfortunately, I failed to take pictures of the swordfish and the lamb. Oops
My bass was slightly overcooked and the pesto broth was quite bland.  The marinated cherry tomatoes were awesome and gave the dish a slight vinegary tartness, which was a nice change to an otherwise bland dish.  The swordfish, according to Bhavesh, was dry served on a bed of dry. The tabbouleh was hardly an authentic tabbouleh and unfortunately came up short.  The swordfish was overcooked. Shame. Gijs was the only satisfied with his slow braised shoulder.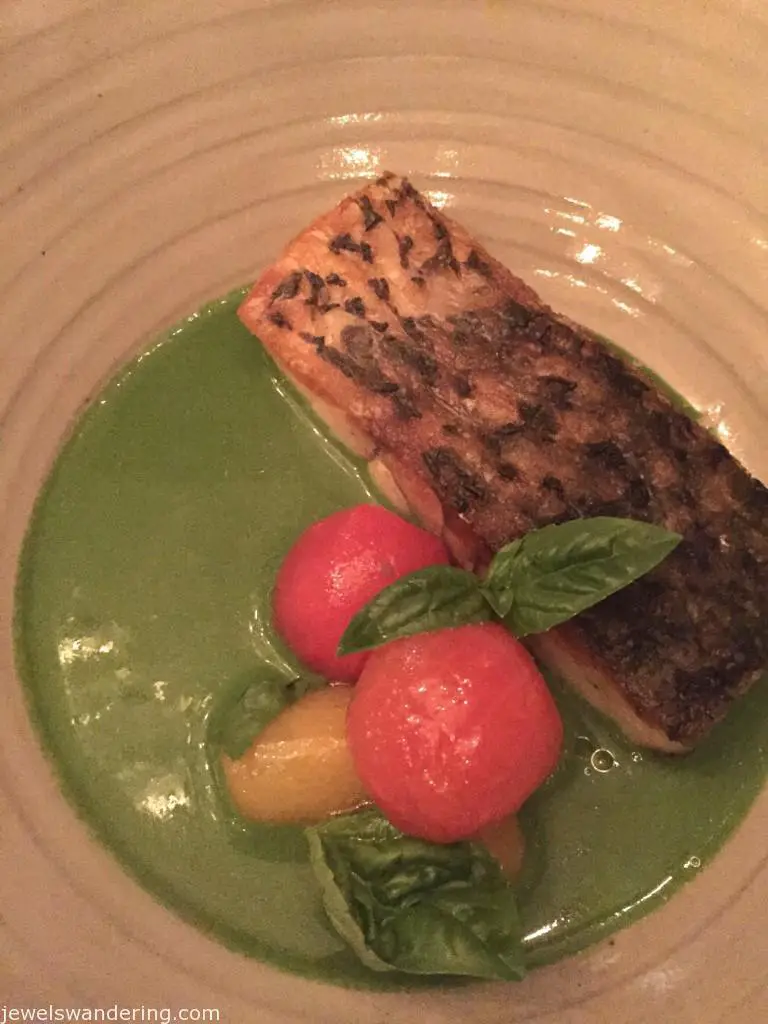 We also ordered all the sides on the menu, some burnt carrots, fried potatoes and the roasted cauliflower with pomegranate seeds.  They were yummier than the mains.  Hmm.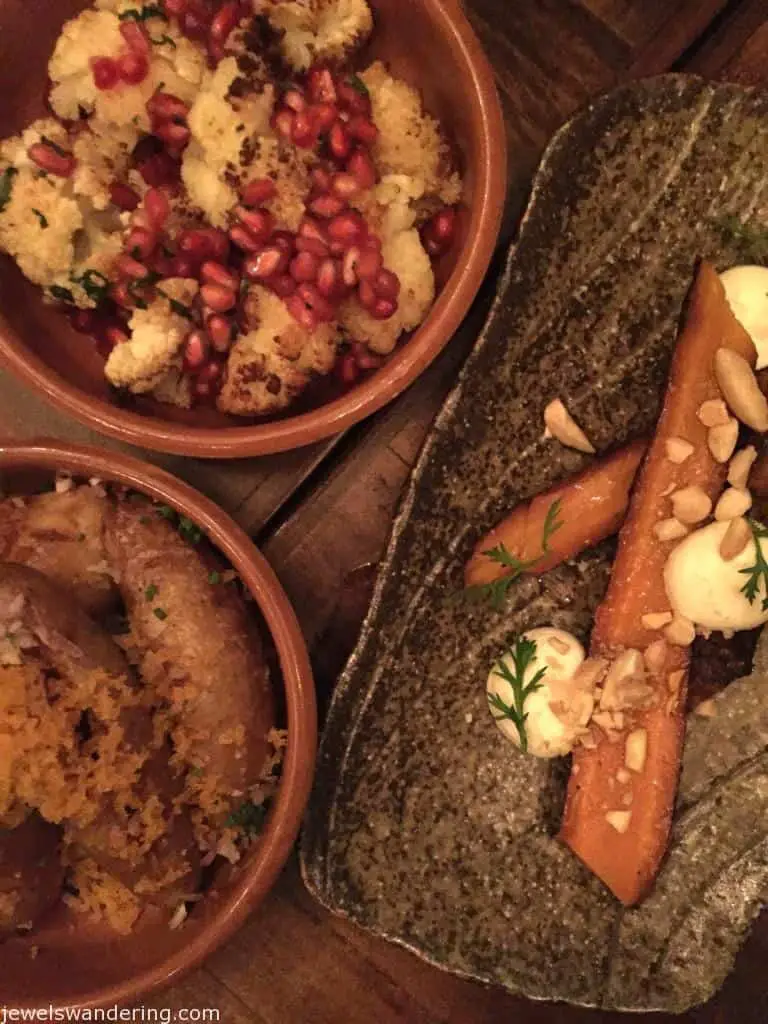 Lastly, the boys decided that they wanted dessert. I abstained because cheese is not dessert in my head. And I'm not a fan of goat cheese or gorgonzola, so I stayed away.  So really, I can't comment.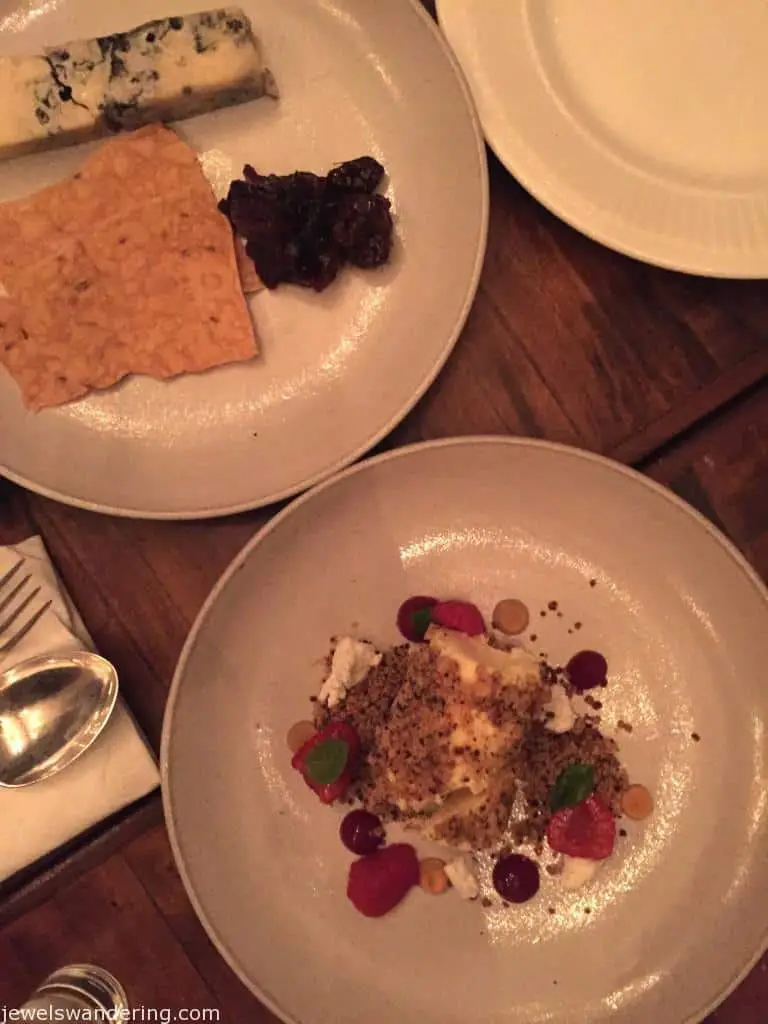 Really, I should stop writing these posts because I'm not a food blogger. Ha As you can tell by the lovely photos and my descriptions! 😉
Would I go back there again, sure.  There are other things on the menu to try and the ambiance was super nice.  Except that it was super smoky in there.  They obviously need to test out their exhaust fumes to get that haze out.  Haze outside, haze inside. Hmm. Just can't escape! So maybe I won't be running back anytime soon.
How was your weekend? I hope you were eating better food than I was! 😉