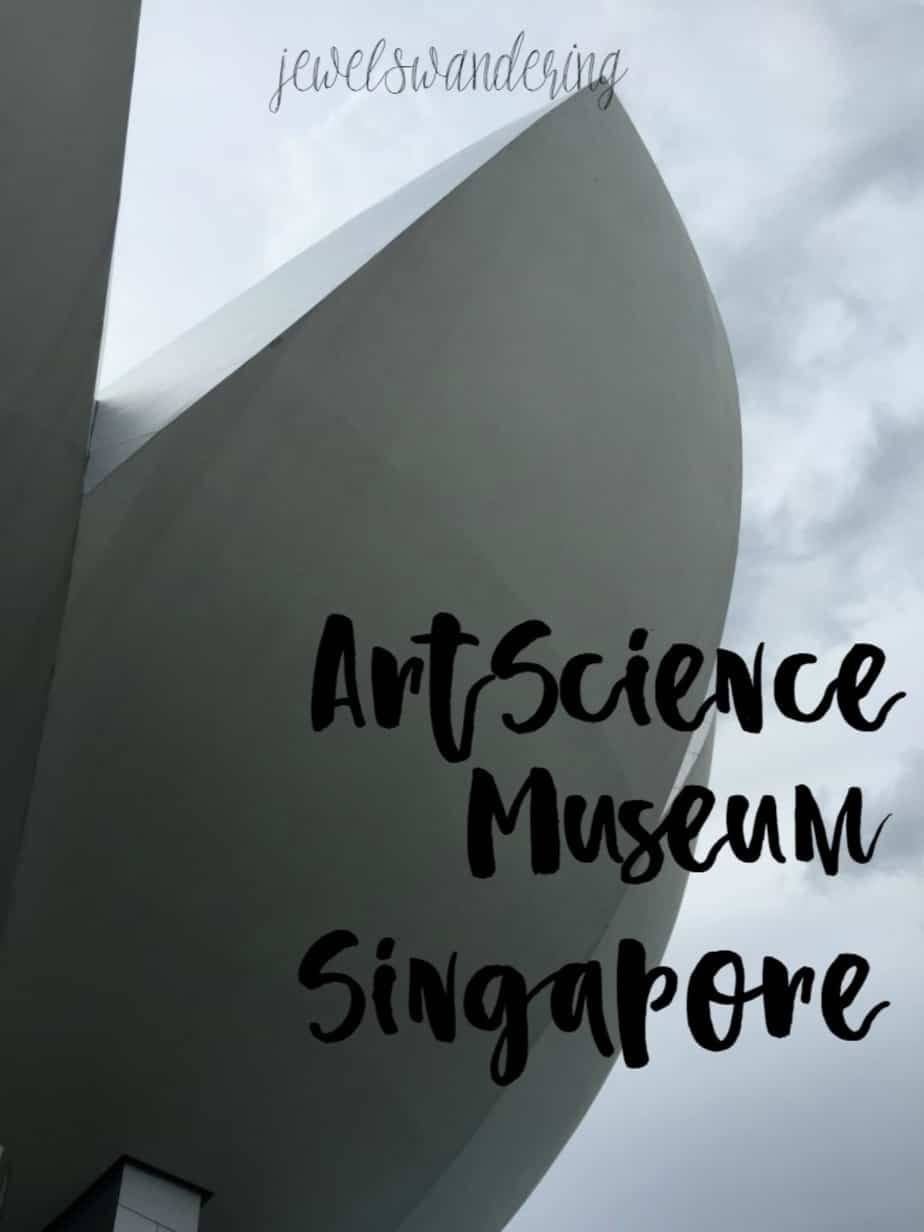 You guys, I finally made it to the ArtScience Museum that weekend I went to the Bird Park. It only took me close to five years to get there. Yes, I'm lazy; I'm a slacker; I'm a procrastinator – so shoot me. Better late then never!!
But you know how it goes, you have the best of intentions to knock things off your list and then come the weekend, you're tired, or you make other plans.  Or really what it means is that I'm not the most cultured person because hello, the ArtScience Museum constantly have different exhibitions going.  I totally meant to go see the Lego one, but yep, I didn't get my ass down there. Anyway… I've been on a roll lately! Thanks, Leroy!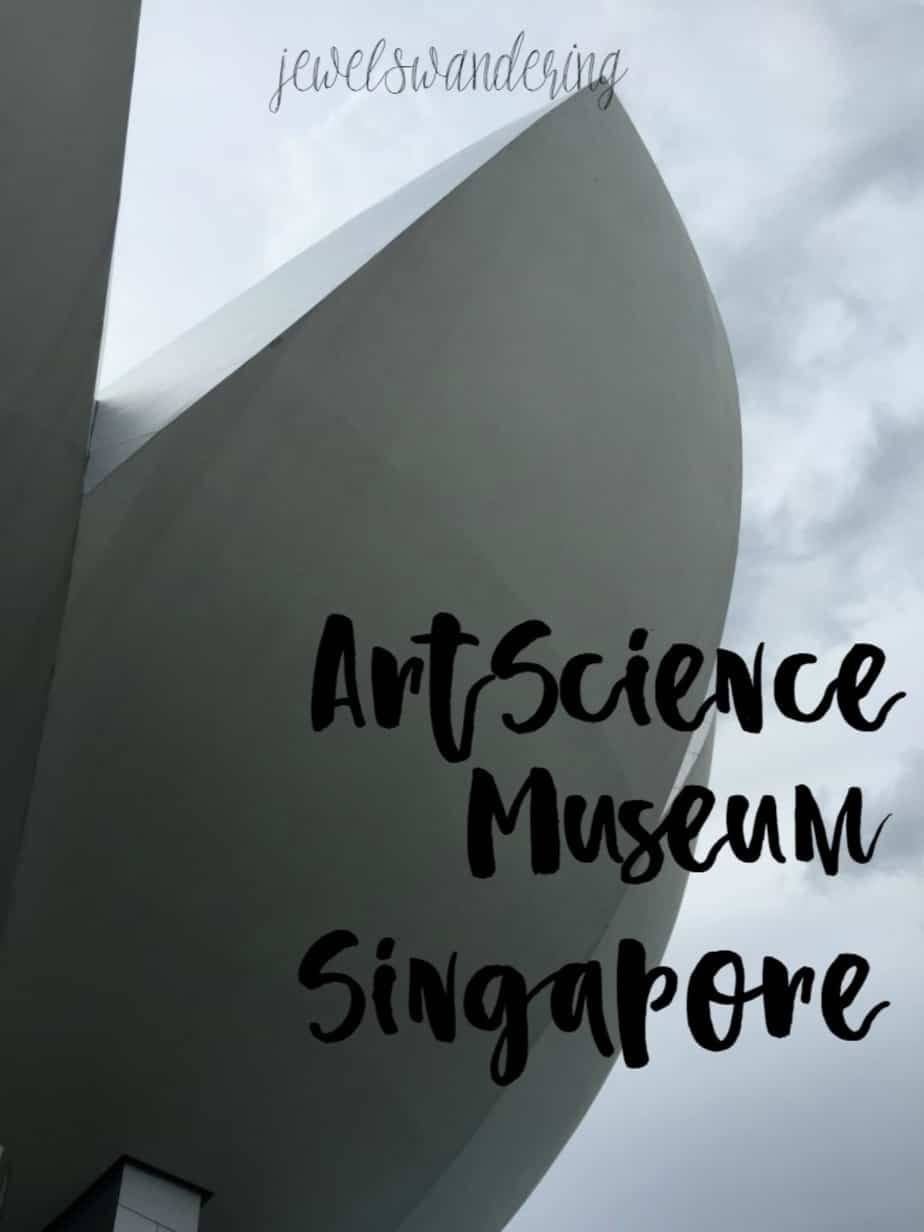 So the ArtScience Museum had three exhibitions going.  What I thought was good was that you could buy tickets for just one of the exhibitions or get the all-access pass.  We chose the all-access pass.  And like the other places, if you're a Singapore resident, you get a 10% discount but a valid ID must be produced for each ticket purchased as a resident.  So don't forget your employment pass! 
Future World – Where Art Meets Science
This is new permanent exhibition at the ArtScience Museum and one that I really loved.  It was not only interactive, but fun and whimsical.  Not only that, the installations are in real time that change through visitor participation and participation.  I took a load of photos, but don't worry, I won't subject you to all of them! 
I really loved the Nature room, where there are flowers dancing around the dark room. Depending on where you are standing, the flowers either blossom or decay thus depicting nature's endless cycle of growth and decay.  Apparently no two visit will ever be the same!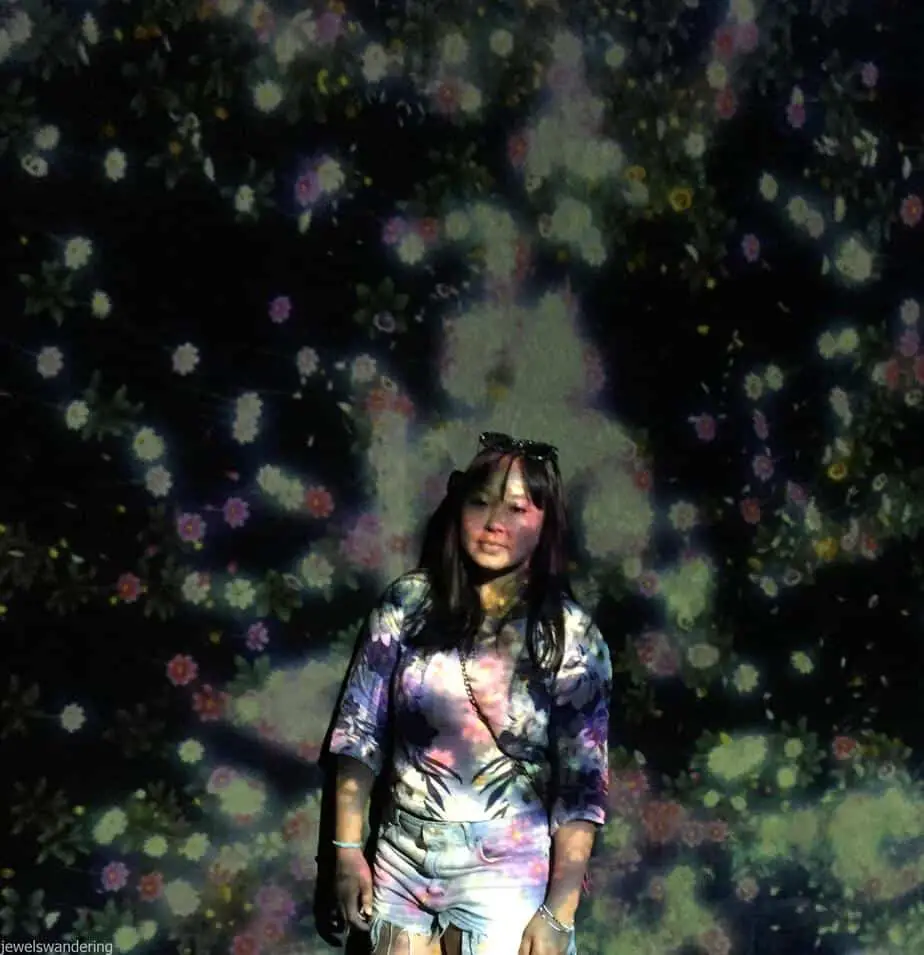 When you walk into the main room, you'll see a massive installation that depicts climate change and the rising seas. It tries to show you what our future on this planet will be like. Something to think about.. 
The next part of the exhibition is the Town.  The Town tries to depict the challenges of urban living. The picture below is part of the train block where you can design your own transportation network by moving the blocks.  Where you place the blocks, a new mode of transportation line is created. It's quite fun! 
Don't forget to look down as well, because the floors are decorate with nature graffiti.  There is also the chance you sit down and color – with your masterpiece then depicted in the installation. We decided to color in the Park part of the exhibition. For whatever reason, we got an alligator and a frog.  So we sat down and colored away.  I can't even remember the last time I sat down to do this and it was quite soothing! Our masterpieces are now hanging at home.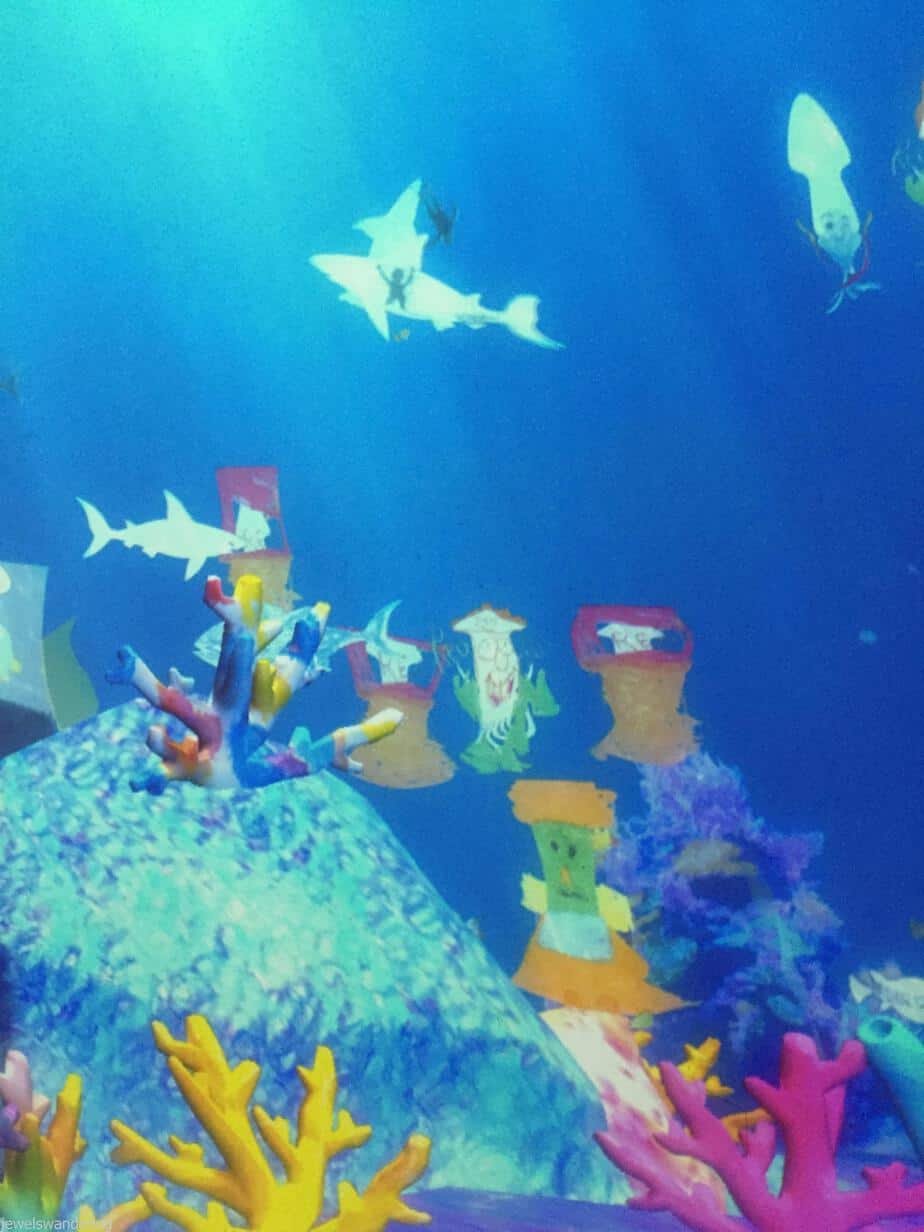 There are other installations in this area as well – all interactive and really quite fun! The last installation I loved in this exhibition was Space and the Crystal Universe. Absolutely stunning! It's over 170,000 LED lights where you're meant to get the illusion of the stars moving through space.  How cool is that?!?! 
This exhibition is now over in Singapore, we caught it on the last day.  It's making its round around the world, having been in London and Barcelona.  As the name suggest, this exhibition is about data; technology and how it's impacted our lives.  If you haven't thought about it already, now you do. You can't escape the fact that there is SOOO much data collected on each individual. Whether it's our musical tastes, our shopping habits, our everything – your life as an individual is basically information that you provide to the government, to corporations, etc. Nothing is sacred anymore, really. 
In the picture above, can you find your blog? 😉 Mine wouldn't be up there because the artist, Lisa Jevbratt tried to map all the website to a pixel.  And since it was done in 1999… I definitely didn't have a blog then, did you? 
This world map depicts the fibre cables underwater – this is where we are getting our internet from.  It's kind of crazy how there are all these cables running underwater, but hey. There you go. I would not be sharing this with you with out it. While technology is a wonderful thing, it's also got it's dark side.
I forget what all those pictures depicted. Oops. But the picture below shows you how many pictures are posted onto Flickr within a span of 24 hours. Apparently there are about 1 million pictures! Amazing! I did try and see if I was in that pile, or anyone I recognized but luckily, I didn't. 😉
This is the final room in the exhibition. I didn't show you all the parts to this, I think your brain would freeze over.  But this last one was interesting as you could leave a message if you so wished. Since it was the last day of the exhibition, many a people had passed through and left their comments. I left one as well. 
Journey to Infinity: Escher's World of Wonder
This exhibition has been running for a month now and it brings into one place over 150 works of M.C. Escher. He's like the godfather of graphic art.  I'm sure you're familiar with his work as they are quite iconic and widely seen in other works of art – whether through album covers or even in television/cinema. 
This was a great exhibition, I should have probably spent more time in here but it was getting on in the day and well, people seemed to know which piece I wanted to go to next. How dare they!!
As with any art exhibition, it makes sense to start at the beginning.  We are given a timeline of Escher's life, his early works and how it evolved into what he is known for today. As you can see above, while gorgeous, I wouldn't have known it was an Escher. Would you?
There are so many of his pieces on display, but with the above you see the turning point in his career and how his work started to evolve.  His second trip to Spain – the Moorish regions, influenced the next phase of his career as he began to study the patterns he saw on the walls and arches of Moorish monuments.  Thus began his obsession with tessellation – the geometric patterns repeated over and over again as like the picture above. Pretty neat, right?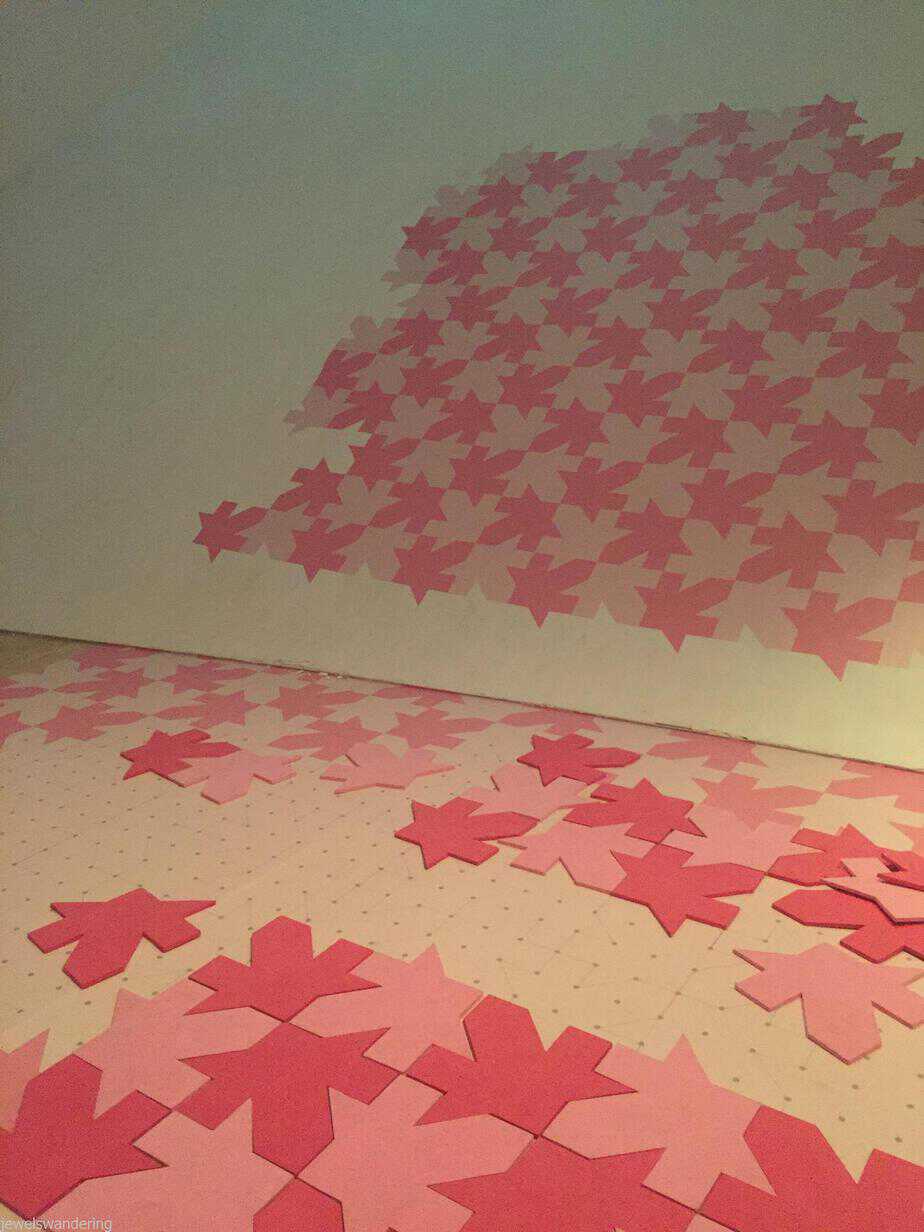 The tessellation exhibition then morphs into his metamorphosis period where he is still utilizing the tessellations techniques by morphing abstract shapes into concrete forms. Who comes up with this stuff?!?! 😉 
My favorite part of the exhibition was the Exploring Infinity portion of his works.  I'm sure you'll recognize some of his works here as well! In these works, he's exploring errors in perspectives and how our eyes can play tricks on us.  This was one of my favorites.  There were many, many other works on display, but this post has already turned into quite the novel. So if you're still with me, I'll buy you a drink! 😉 
Aside from just staring at his works of art, there were a couple of interactive features as well. 
Wow, this is seriously the mother of all posts. I am kicking myself for not having gone to the ArtScience Museum more.  But now, I will definitely look to go for the new exhibitions.  Even though the museum itself is not that big, the exhibitions were well thought out and kept you interested.  I would definitely recommend going!! Now, I leave you with something to think about..! 
Have a great week ahead!