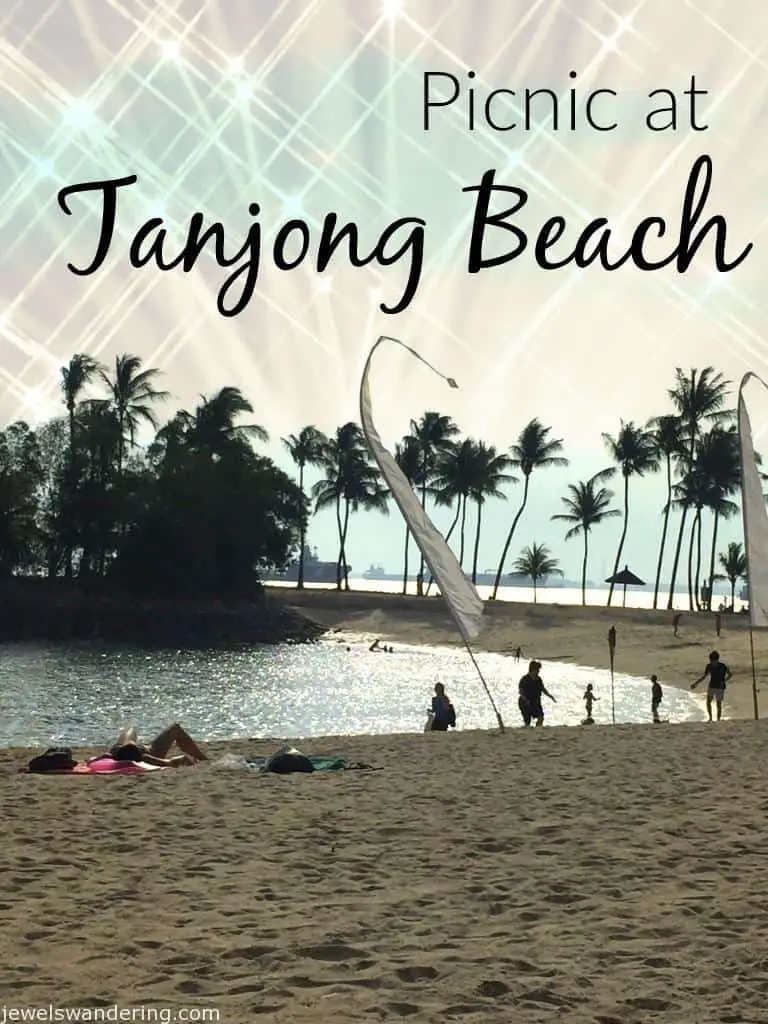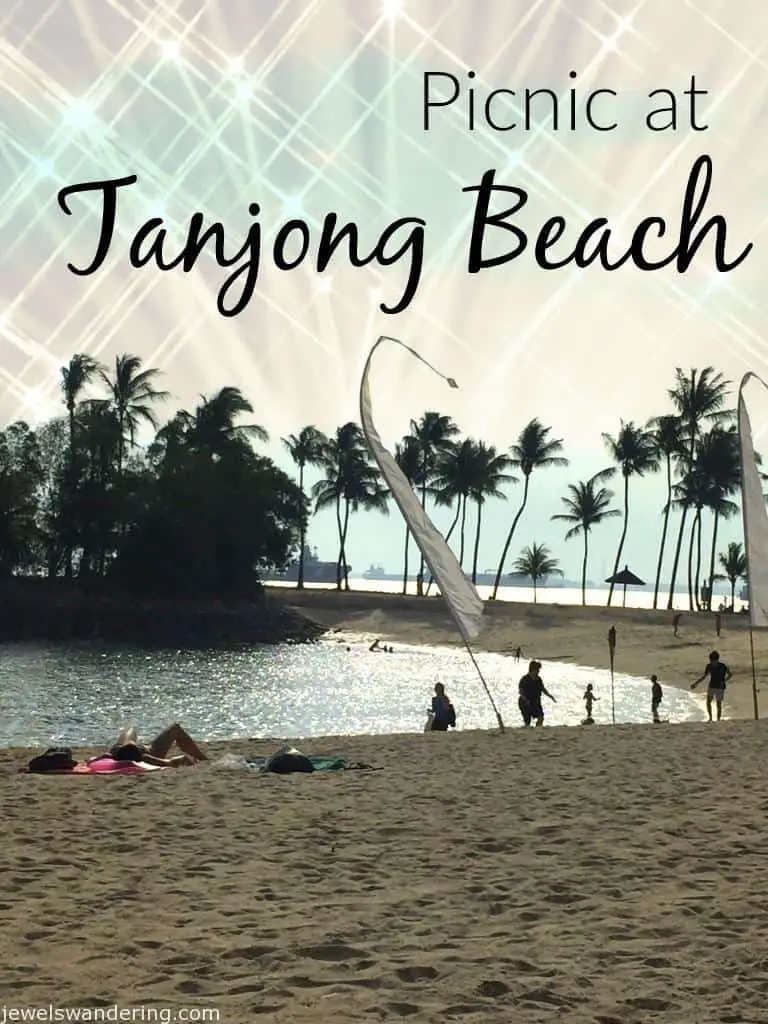 Tanjong Beach Club (TBC) is usually heaving on a Sunday.  It's a sun-soaked day by the beach; whether you go for a lazy Sunday brunch with friends or you come a little later to leave your cares behind for a few more hours, the opportunities are endless!  There are drinks to be had, games of beer pong and volleyball to be played, or you can go for a leisurely swim if you fancy.  It's a great way to spend a Sunday, but I am lazy, lazy and oftentimes I recoil at the thought of heading to TBC.  
The first time I even went was when I had already been living in Singapore for almost 2 years and I confess, I've only spent two Sundays there.  HA!   TBC, you see, is on Sentosa and getting off Sentosa on a Sunday night can be a mission at times.  And I don't like the idea of spending copious amounts of money drinking my Sunday away. I like to keep my Sundays simple, although I have been known to partake in a few Sunday Fundays, but usually on the mainland.  I am human, after all!
I've known for a while that you can go to TBC and actually sit on the beach next to it and bring your own drinks and food, they don't mind it at all! In fact, my girl, Ali, usually heads down on the weekends and does just that.  Well, I finally capitulated and went on Saturday, what can I say? I am lazy, lazy!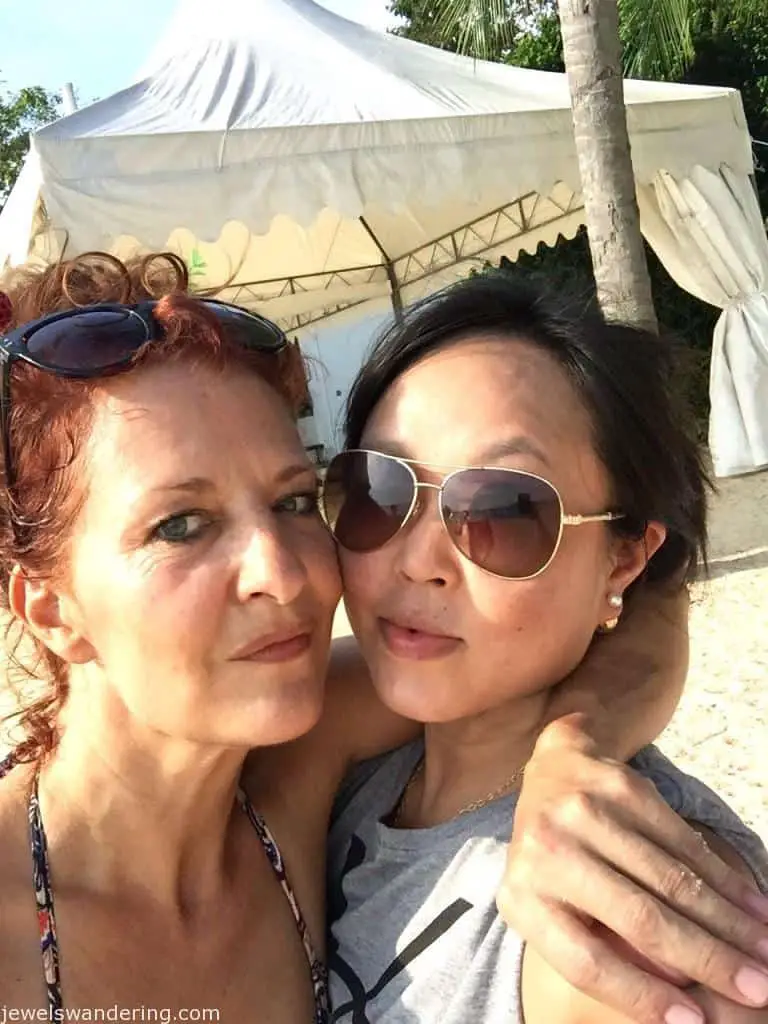 But I wasn't going to miss this past Saturday as it was Ali's last Saturday in Singers.  My girl is leaving me and is heading back to the UK.  🙁 So we all met up for a last hurrah down at TBC where we brought some food and wine, heavy on the wine.  But first, a Bloody Mary!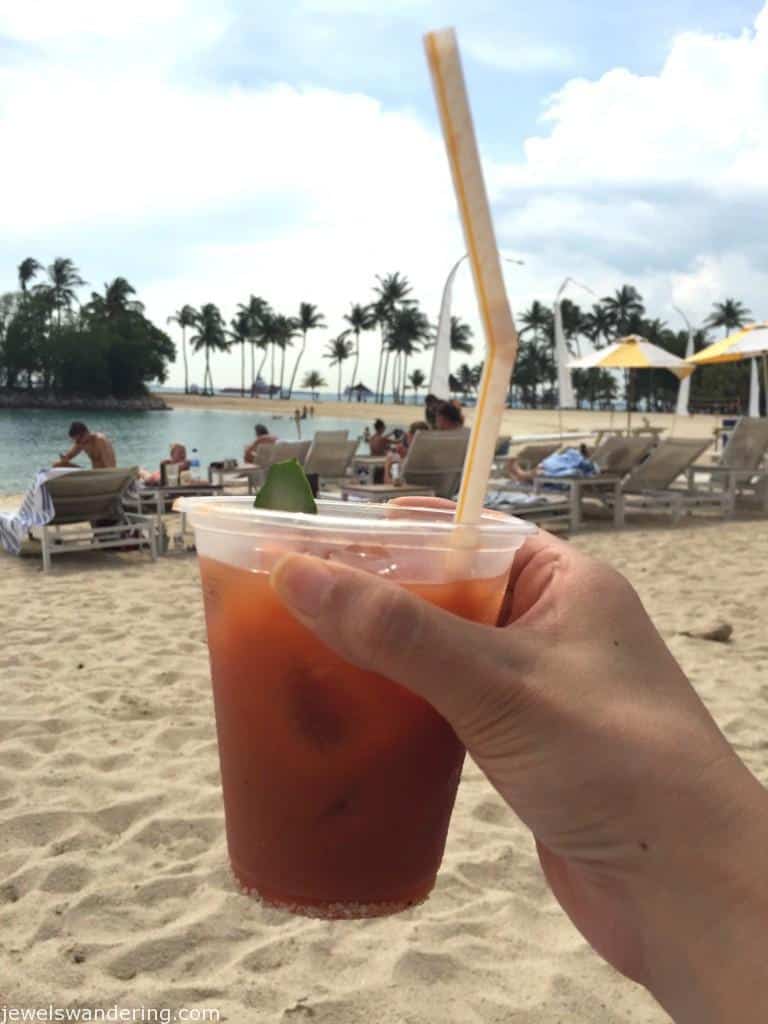 I brought some mini cupcakes and well, with the scorching heat, they kind of melted.  Oh well!  They were still yummy and because they're mini, you don't feel as guilty having two or three! 
A super fun day was definitely had.  And the combination of sun mixed with wine may have resulted in lots of silliness! But you know you're in a group of good girlfriends when you can let your hair down and be as silly as you want! And that is when I start taking selfies! 😉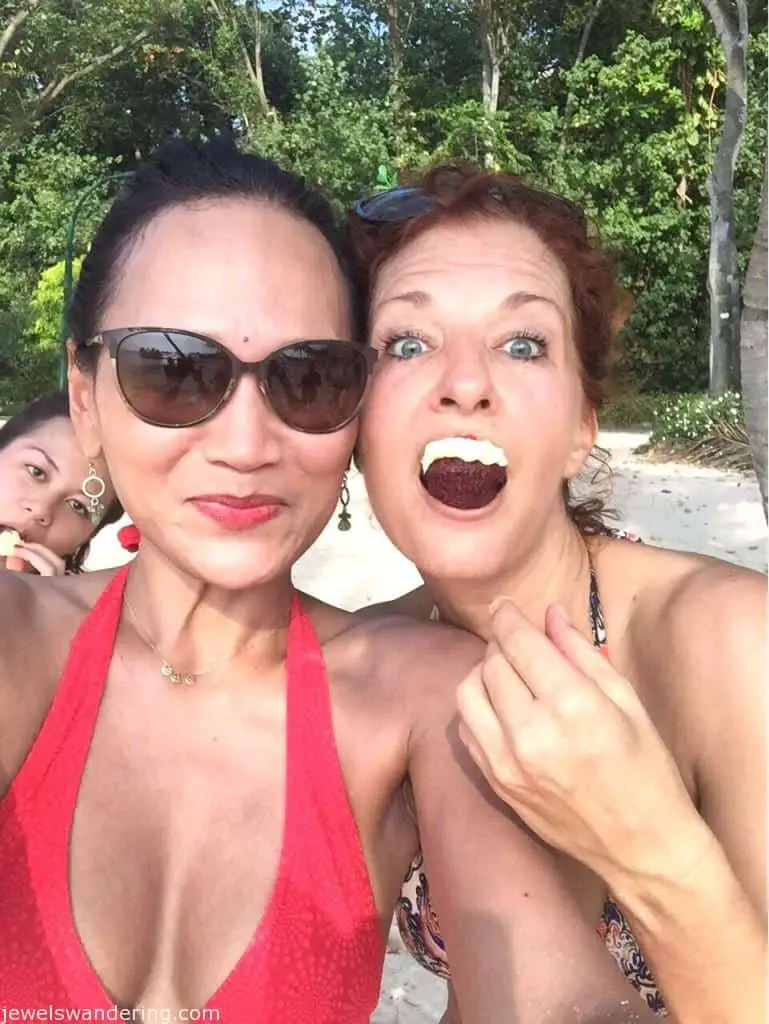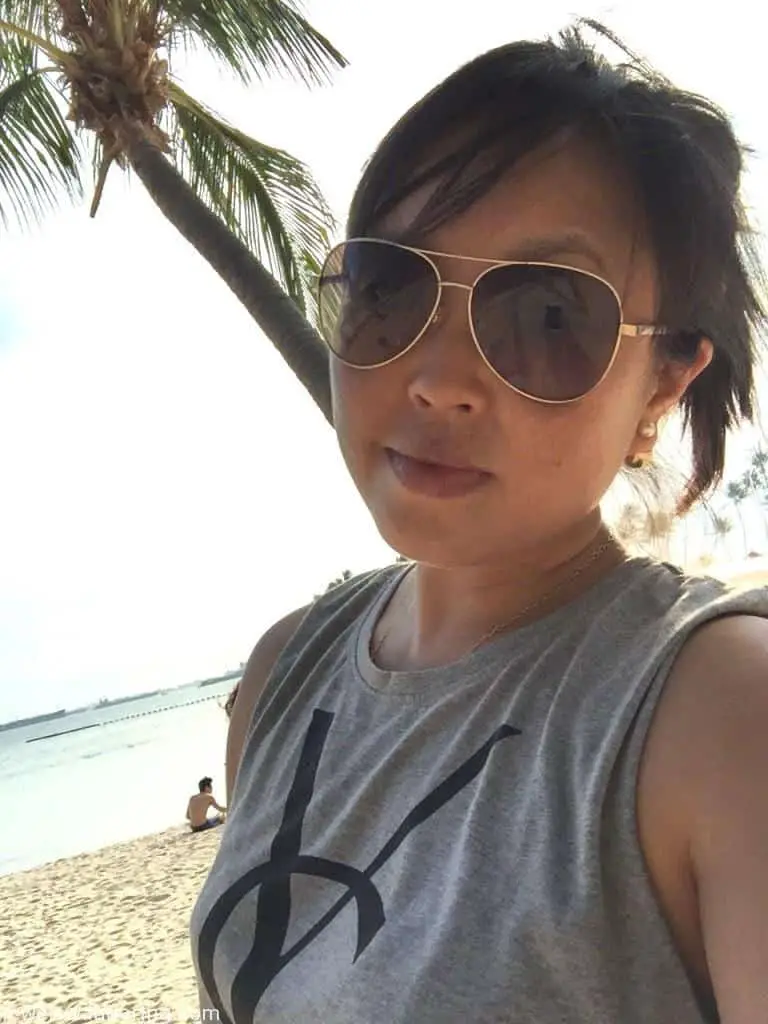 We were definitely on full silly-mode! I am not sure why I decided a bag of tortilla chips was a good prop, but hey! Why not?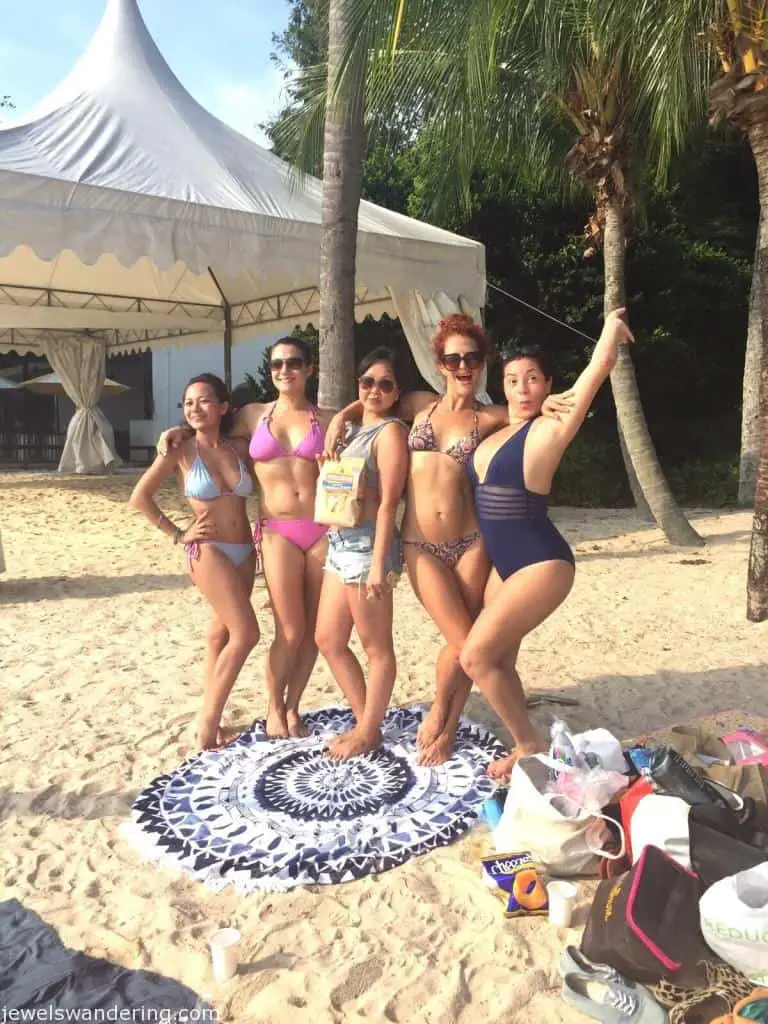 Actually, this is when things started to get even sillier..
We stayed way past sundown, feeling very merry.  It was a great day filled with laughter, wine, laughter and wine.  Being down at Tanjong Beach seriously felt as if we were on hols somewhere, the stress of every day life back in the mainland were but a whisper in the past.  Until we went home…
If you are ever in Singapore, then this is a MUST! Head to TBC for a drink and enjoy the vibe, but go the cheap route and BYOB…! I will definitely be looking to do another day like this again…!
In the meantime, I shall miss you like crazy, Ali! But this is not "good-bye", it's "until next time!"  <3