Eat Singapore: The Beast
I have to admit, I had to get off social media the past few days because everyone was posting pictures of their delicious Thanksgiving feasts and I was feeling very jealous! We tried to organize a feast, but it fell through because we're lazy and well, we didn't really have a place to do it.  And in the end, it was just as well as we were all busy.  So we tried to book the Hyatt's Thanksgiving Champagne Brunch for Sunday on Sunday, but our lack of planning left us empty handed.  Instead, we hit up The Beast. 
The Beast touts itself as a Southern Kitchen & Bourbon Bar, so we figured we'd go there for some comfort food of wholesome American cooking. I had heard it was pretty good but I just never made it down there before, so yesterdays was as good as any.  And although I wasn't going to have a turkey, my body craved fried chicken.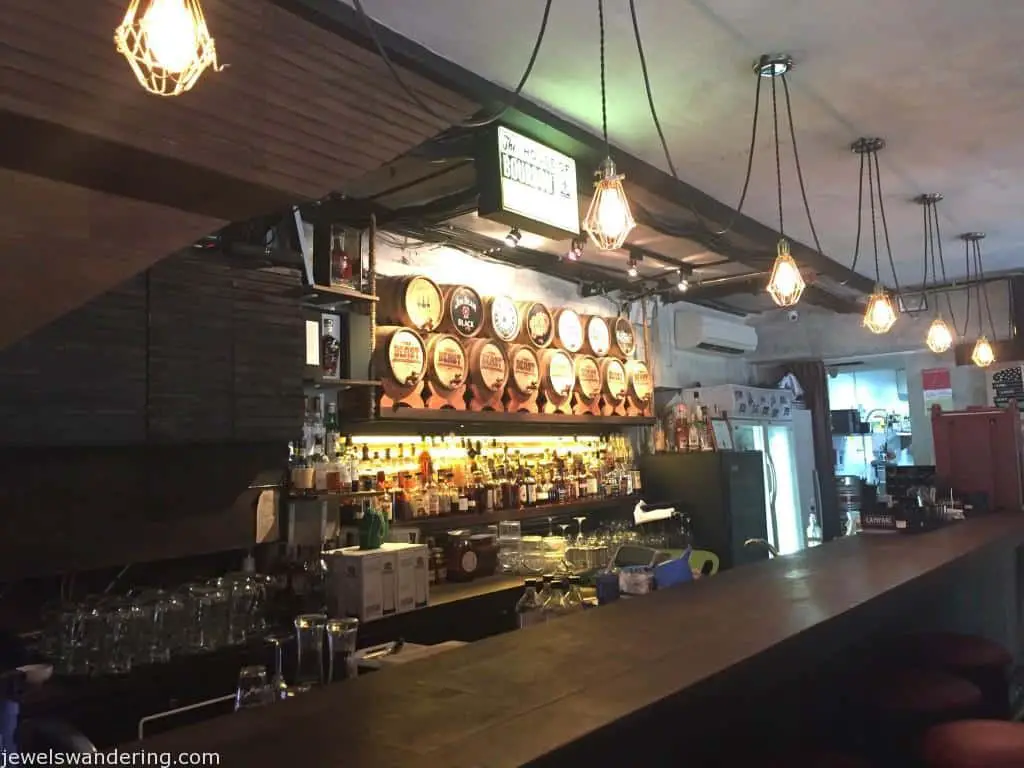 It's a cute place, they have an upstairs but I didn't make it up there.  The downstairs is more informal, I'm guessing and obviously more in lines with a bar atmosphere.  The drum barrels were an interesting touch although a bit of a tight squeeze for four people eating.  It was stupid hot outside and we had all been up stupid late the night before at a friends birthday party.  Inside with the air conditioning was where it was at. 
I kind of knew what I wanted.  I had scoped out the menu before we arrived and fried chicken and waffles were calling my name.  I have to say, I was tempted to have the Mac and Cheese Burger, but the fried chicken won out. I also opted for the fresh lemonade because they didn't have Bloody Mary's despite it being on the menu.  No bueno.  We were all gagging for Bloody Mary's, but… Lemonade it was! And oh my, it was a bit too sweet for my liking.  You know when something is so sweet you actually gag? Yeah, we had to water them down.  The boys had the Arnold Palmers that also needed to be watered down.
My attempt at being "creative" was photobombed. HA  The culprit trying to look innocent:
We also wanted corn bread. Gawd, I do love me some corn bread and these were actually quite good. More like a corn cake, but with the whipped butter, it definitely hit the spot.
I was hoping that they would have a side of mac and cheese, but no such luck.  My quest for mac and cheese continues.  The fried chicken was super yummy, I really enjoyed it.  And maybe my cornbread waffles would have been less heavy if it were normal waffles, but they were still good.  I barely manged to eat half of it, though I did gobble down the chicken. 
Chun got the country fried steak. He used to live in the South and he said it was pretty decent. It looked good… 
We were now beyond stuffed.  I was quite content.  It wasn't a Thanksgiving feast, but when you live overseas you gotta improvise! Here's to hoping next year I will have a proper Thanksgiving feast!
And now I know where to get good fried chicken, so I'll definitely be coming back at some point. Though, Popeyes is closer to my house… 😉  I hope everyone had an amazing Thanksgiving and ate their body weight in yumminess!