It's Friday! Yay! And a long weekend for everyone except us. Sigh. Not jealous at all! But last night, I finally managed to cross off another item off my Singapore bucket list – the Night Safari. It only took me close to 5 years, but hey! Better late then never?
So for those of you who don't know, the Night Safari up at the Singapore Zoo is exactly what it's name implies – a "safari' at night. It's one of a few attractions held at the zoo and everyone who has done it said it was worth doing, so, when in Rome, amiright? 
The Singapore Zoo is one of the best zoo's in the world – the animals aren't caged per se, but somewhat free to roam around. And going on the Night Safari, you board the trams as they take you around the safari trail where the animals are but a few feet away from you giving you that whole "safari" experience. Although I do wonder how these animals know which area they're meant to stay in?  There are no obvious fences/cages/etc so it does look like they're out in the wild.  Bhavesh said that well, they're robots, because Singapore. HA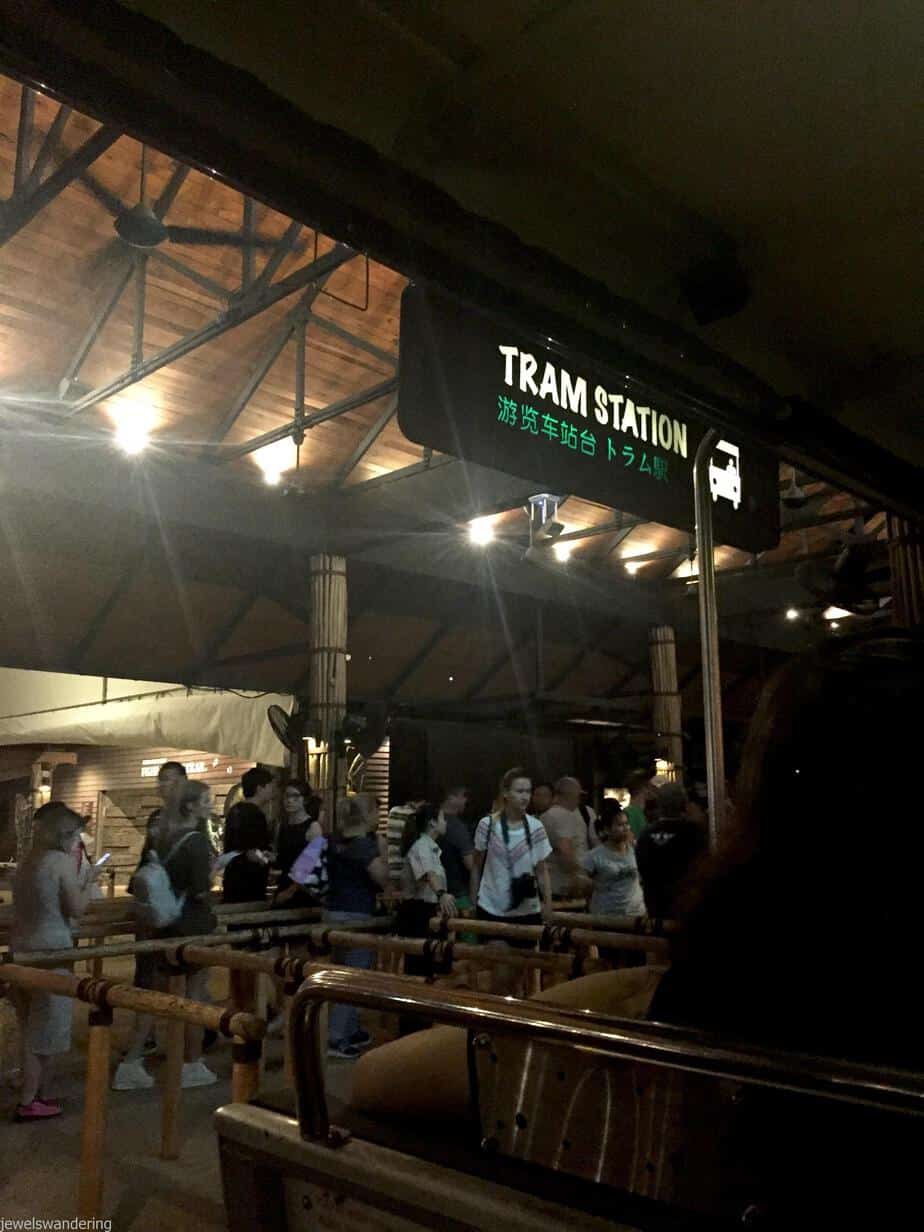 There is a guide in the front of the tram who will give you information on the habitats we are passing by.  You can expect to see lions, tigers, elephants, hippos, rhinos, giraffes, zebras along with other animals more commonly found in Southeast Asia. But you know what? I'm pants and I've already forgotten them. Oops.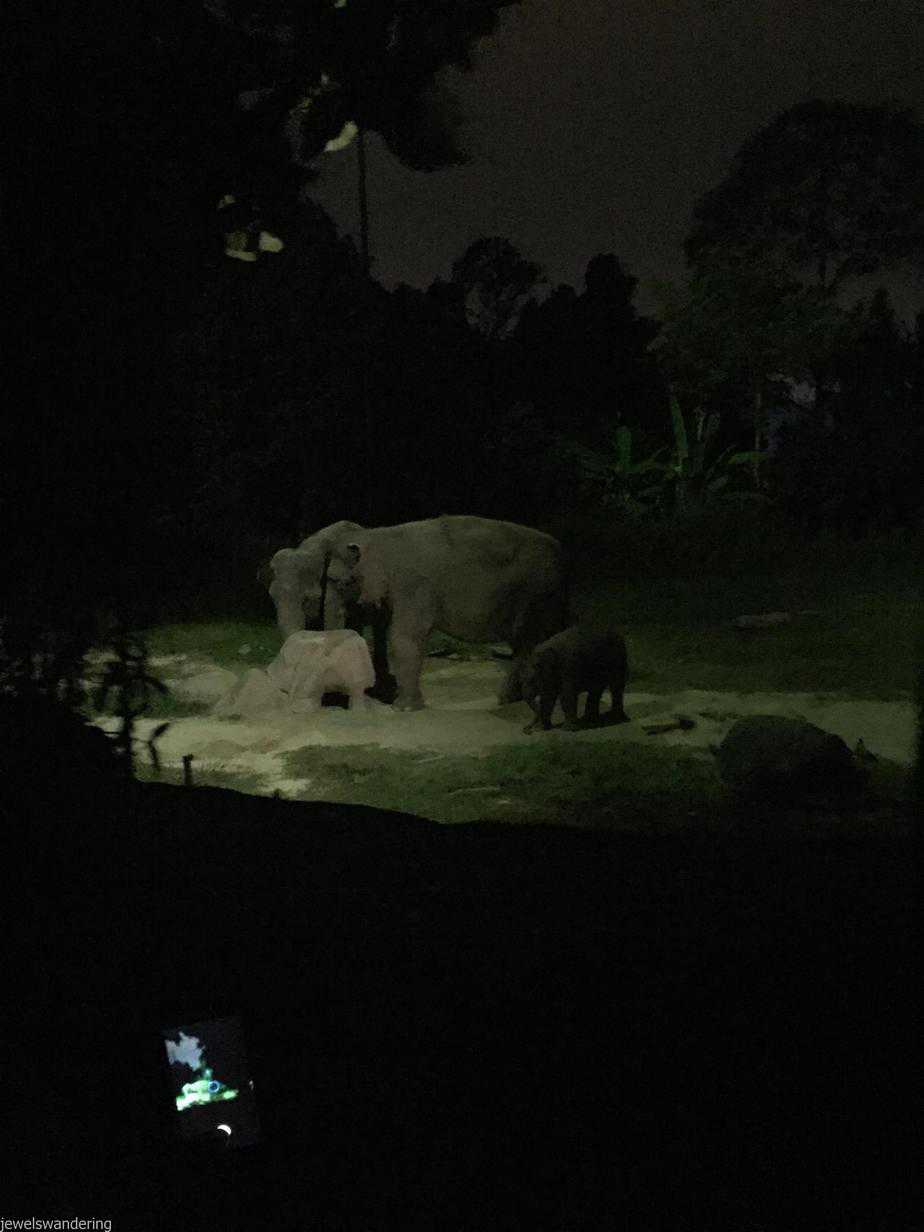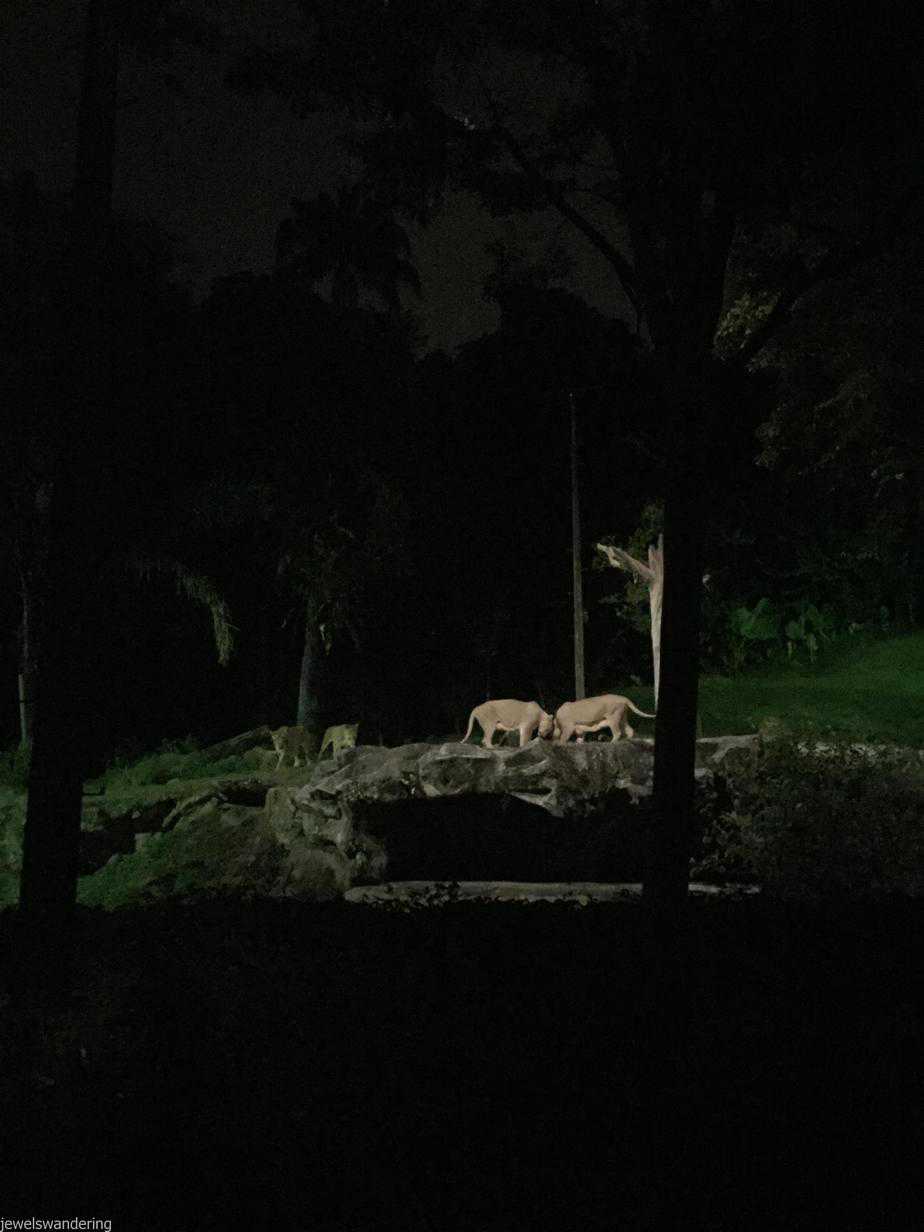 Sorry for the poor quality of the photos and really, I couldn't take better or even that many because night and all. And the tram moves a little toooo fast, although you do have the option of getting off at a designated tram stop and walk around the habitats if you so wish.  Or you can do the tram loop and then go back and walk around.  The loop is about 30 mins long, maybe a bit less. However, as we were coming off the tram, the Creatures of the Night Show was about to start so we went to go watch that instead.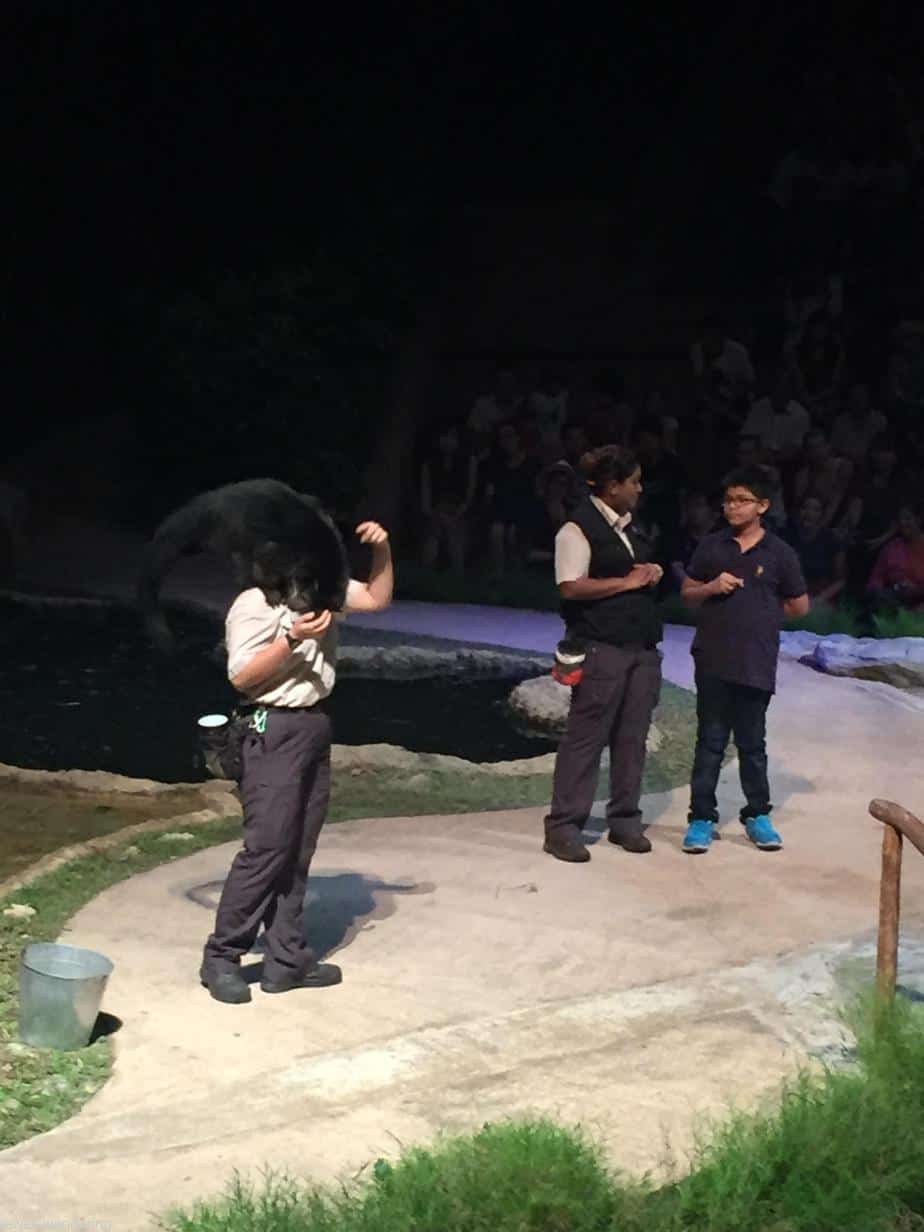 The show was cute. Nothing amazing per se, but it's included in the ticket price, so why not? As the name of the show suggests, they bring out creatures that are nocturnal.  So we saw some owls and raccoons as well as a mini sea otter – absolutely adorable! I really wish I could have a pet sea otter. And a pet raccoon. Hehe. And while we're it, I'd like a pet owl as well. Okay, maybe I should go move to the country side or something and go live in farm. I'm obviously in the wrong habitat!
After the show ended, we considered walking around the park to see the animals more up close and personal, but as it was pushing 10pm and the Night Safari is practically in Malaysia (it's about a 30 min cab ride back to the center), we decided to call it a night and we're old fogies and it was a school night after all.
I have to say, I'm a bit biased.  If I had never done a safari before, then I would have loved the Night Safari.  But because I've been lucky to have been to the Masai Mara back in 2009 and experience a real safari, I was a bit not fussed.  And really, it makes me sad to see these beautiful creatures in so little space where they can't roam the land as they're meant to.  I know that the Singapore Zoo is quite humane and they do conservation works for those endangered species, but I want to see them running free. And I know, we humans are evil by hunting them down for fun, but really. Run freeeeee!!
What are your thoughts on zoos? 
Lastly, I leave you with this little gem. We headed up to the Night Safari straight from work and this picture just cracked us ALL up. Maybe it's just really funny to us, but it all looks like we were in different pictures and we were super imposed into this one. Add in the lion, the elephant and the raccoon and it's just one random AF picture!!  And each of our poses is just classic. WTF were we doing? Hehe
On that note, have a great long weekend!! Super jealous!!