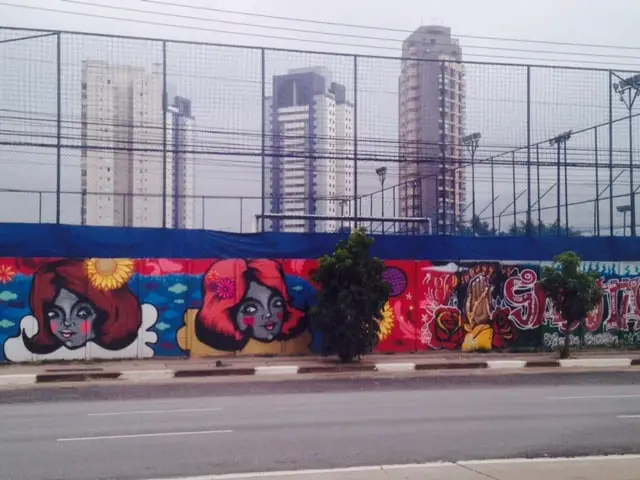 Street Art in Sao Paulo
Most of you know this, but I am not a big fan of Sao Paulo.  It's not a city that I ever felt the desire to live in, but I invariably end up there every time I go to Brazil.  I wish my extended family lived in Rio or something, I'd much rather go visit them there..!
The thing with Sao Paulo is, I am not comfortable there.  It's not like NYC or London, where I can just freely walk around and explore.  A lot of Sao Paulo is run down, the older parts of the city aren't really rebuilt or renovated, but left to deteriorate.  The newer parts of city is blinging and spangly, but that means that the city just keeps getting bigger and bigger. I love my country, but there are so many things wrong with it and its unfortunate that there is a massive inequality of wealth that exacerbates problems in Brazil.  If our politicians were less corrupt, then perhaps we could get more done, but that is another discussion and I'm deviating from the point of this post.
So aside from the obvious stereotypes of Brazil – bikinis, good looking girls, carnival, etc, Brazil is known for violence in the cities.  Of course people do walk around the city during the day, but I'm still super hesitant to walk around like a blatant tourist with a camera in hand.  That just screams out, ROB ME!  And honestly, I am so paranoid when I am walking around, I'm constantly checking out my surroundings, and of course, all my jewelry is left behind at home.  So, when I do go back to Sao Paulo, when we are out and about, the Sao Paulo I know is seen through the back of a moving car.  I know, lame!
What I love about driving around Sao Paulo is the street art, or what is known as "pixacao".  I honestly wish I could just walk around and discover more of this scene that Sao Paulo offers.  It's amazing because it transforms a drab, dirty city into a colorful landscape.  A landscape that tells you a story, tells you the struggles faced by our citizens and it's also an outlet to just be and be heard.  Don't forget to look up though, as a lot of the artists compete to paint the highest and most inaccessible places – that being their trademark.  Unfortunately the pictures that I have managed to take from the backseat can't show you the art seen high on the buildings.  It's pretty impressive the skills these artists possess, but also the danger they face trying to not only scale the walls, but paint at the same time.
And if you want to learn more about the street art scene in Sao Paulo, here are some good links: