What kind of witchery is happening in this life of mine? How is it that it's already been just over five months since I left Singapore? It honestly feels like I'm just on a holiday and I'll have a flight to catch back to Singapore soon enough. But nope, that is just wishful thinking on my part… Though don't get me wrong, I am totally loving the cooler temps here in the US.
What I Miss and Don't Miss About Singapore
Let's start with what I miss first..
My friends… I'm sure you knew that would be at the top of the list and yep, without a doubt I miss my Singapore family something fierce. I know I could have had more money saved, but all of our days/nights out were so worth it. It's what made Singapore so amazing for me. The friendships I built throughout the years mean so much to me! I'd add a lot more photos of our times out but unfortunately I was not able to restore my phone backup right before I left Singapore when I got the handset replaced so I lost a lot of photos. ARGH
I miss everyone so damn much, though I know what we had then can't be had again. It'll be new memories in a different context, but hey, that's life!
Changi Airport… Yeah, I know, it's weird to have an airport as the 2nd thing you miss most about a country, but if you know, you know! 😉 But for reals, I've been to a lot of airports in my life and this is by far the best one I've been to. Doha Airport is a close second. Oh, Changi. I miss the fact that I don't have to show up hours in advance for a flight. An hour and a half before a flight is plenty of time to check in, go through immigration and security. Sounds amazing already, right? But if you want to go earlier, there are so many things do there, like a butterfly garden (admittedly I have never been) and a cactus garden; there is a movie theater and a swimming pool (haven't been to those either haha) and of course there is the latest feature, Jewel. Jewel is insane, I mean, where else will you have the world tallest indoor waterfall known as the Rain Vortex? I luckily got to see it a couple of times before I left as it opened up earlier this year. And of course, the other best part about Changi is the fact that you can be home about 45 minutes to an hour after you land. Yes, after you land; touch down! It's that quick to get out of the plane, go through immigration, get your bags and taxi it home. Sigh.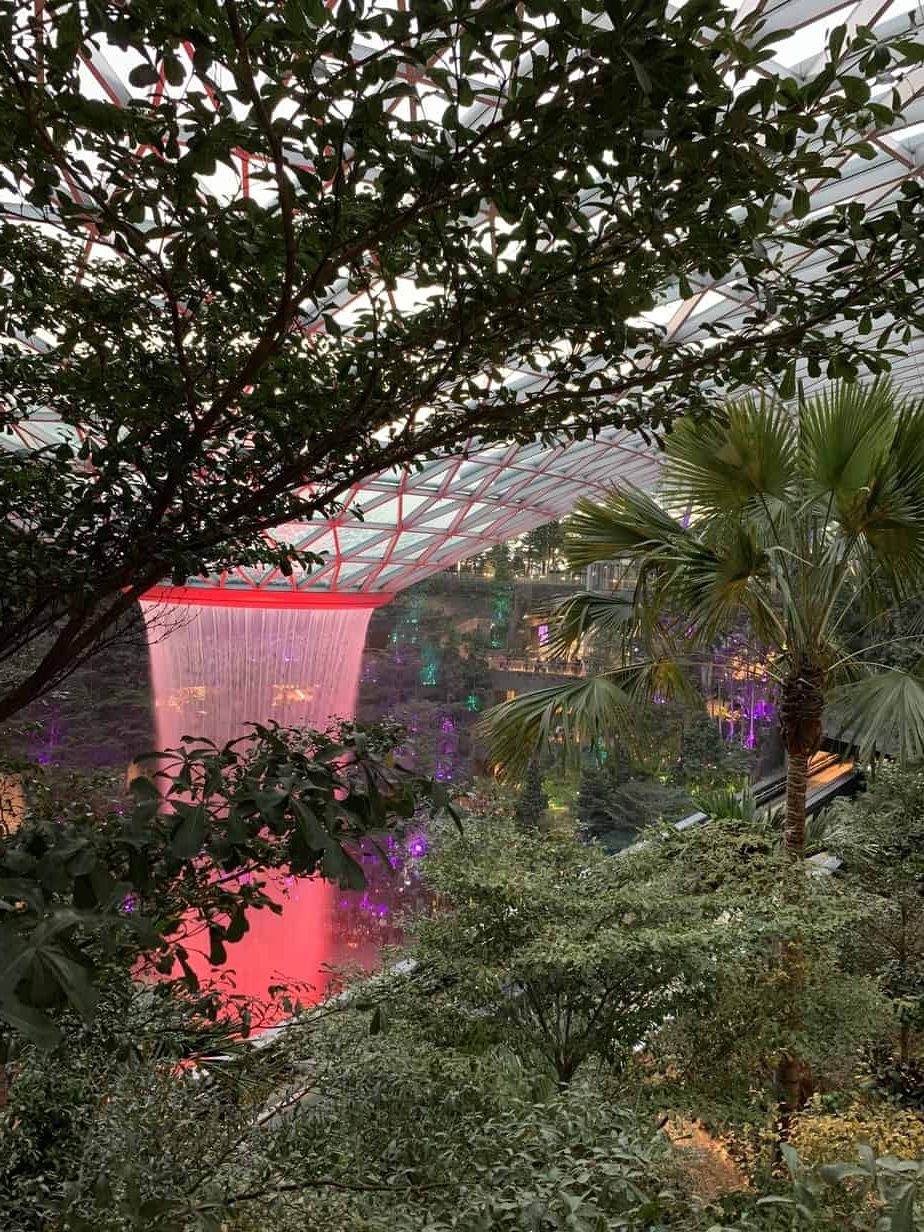 The ease of travel to other destinations… It's so easy to hop on a flight and be in Bali, or Phuket, or Bangkok, or Hong Kong, Vietnam… Wherever! Singapore is truly an awesome launchpad to travel around South East Asia and further. Sure, it's far from the Americas, but there is so much of the world at your fingertips. And if you book properly, flights are not that expensive.  Now that I'm in the US, I'm having massive sticker shock when I look up flights to other US cities. And let's not even talk about how sh*t the airports are here and how expensive hotels are. Why did I give it all up?!?! Hehe
The easy lifestyle… Singapore is safe, it's convenient and the city works. Public transportation is so cheap, like oh so cheap. And it's clean.  I wasn't once worried about my safety, although on rare occasions, I would wonder if my taxi uncle knew how to drive properly, but that's another matter! But aside from that, the expat community is super friendly. We're all there to work and make new friends, so meeting people and making friends is so easy. It's so easy to go for after work drinks with your colleagues/friends!
My apartment.. The last year I was in Singapore, I finally made the move to Tiong Bahru. I absolutely loved that neighborhood. It was so convenient having an amazing wet market right in front of my house where I could buy fresh meat, veggies, eggs and flowers. I also had some super delicious restaurants along with the famous hawker center (The link I linked is for another hawker center I wrote about) where I would get fresh fruit juices and yummy dumplings, among other local dishes.  And also let's be honest, though Singapore is an expensive place to live, in terms of housing, your money goes so much further versus NYC.
The coffee and Sarnies.. Ok, I know coffee isn't produced in Singapore and coffee beans are brought in, but honestly it is in Singapore that I came to truly appreciate a good cup of joe. It's at Sarnies where this love was born from and god knows I've spent SOOO much time there. Miss that place, miss their coffee. I miss a good flat white, one that's got the right amount of bitterness and is nice and creamy. And no cream was used, just normal milk. I am still searching for a comparable flat white here in NYC, but am coming up short.
The spaghetti carbonara from Suprmrkt and the spaghetti vongole from Chapter 55 Oh, let's not forget the delicious lemon spaghetti from Caffe Fernet. Hmm, these are all pasta dishes. But wait, I do miss having xiao long baos delivered to my house from Crystal Jade. Or if I manage to actually go to a restaurant, Hand In Hand do the best ones in Singapore.
My favorite restaurant… Mag's Wine Kitchen was always super consistent, so every time you go back, it tastes exactly like you remember it to.
The intense thunderstorms… Especially when you're in bed and you don't have to go to work!
And let's talk about what I don't miss…
That stupid hot, humid air.. You walk out of the house feeling fresh as a daisy to then wilt as you walk down the stairs. The sweat pouring down your back and the boob sweat! Ha
No taxis when it rains… If you're out, you might as well just hunker down and wait it out! And if you're trying to go to work, your cab fare just went up 2-3x.
Shopping… Honestly, I would just wait till I went to the US and did my shopping there. The malls in Singapore are always insanely crowded and if you want to try something on, expect to queue up for a good 10-15 minutes. It's just not fun.
The service at cafes and restaurants… You would think you're in Asia and that the service would be good. Nope. It's pretty crap. Though of course not all establishments are like that, just the majority of them! 😉
And lastly, at the end of the day, Singapore is a small city. And the expat community is even smaller, so it sometimes feels like everyone knows your business!
All in all, there's definitely more things I miss, but that's not a surprise!! Singapore! I'll be back… <3
Would you consider living in Singapore?