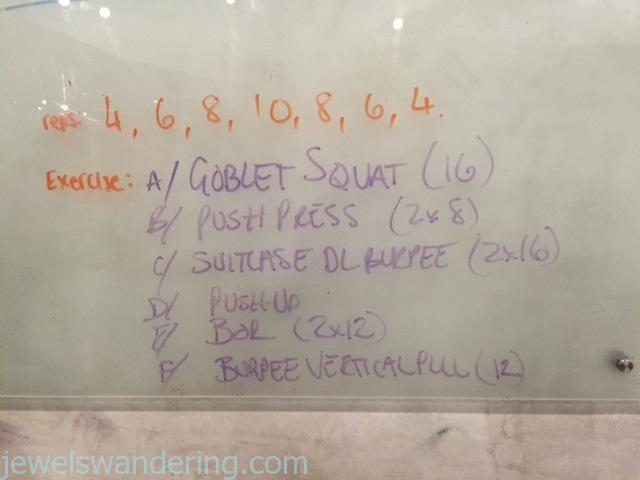 Thursday Night Sessions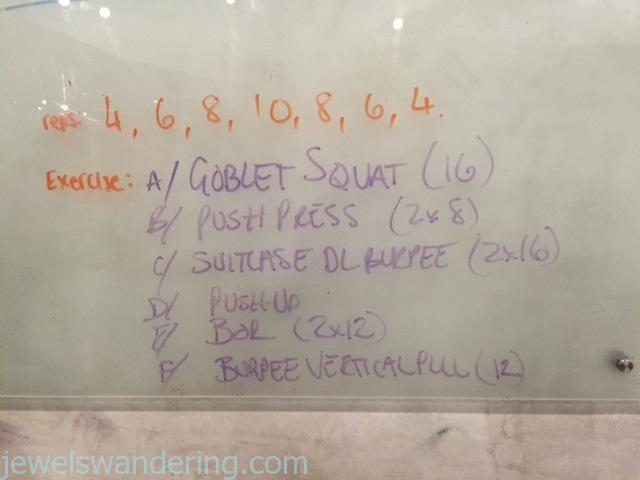 On Thursday nights, you can find me sweating it out at the gym.  I have a personal trainer and she's finally getting me back on the super intense workouts, which she affectionately calls it the Pyramid of Doom. HA! She's got a sweet, soft voice that almost makes you forget what the words mean. Almost.
If you're in need of a shake up in your work out, try this… MUAHAHAHA.  So last nights Pyramid of Doom was easy hard.  I was definitely feeling winded.  But you gotta control your breathing.  I'm still not quite at the same fitness level as before I went to Mauritius, but I am almost there!
You will need 3 sets of kettlebells of varying weights.  I used 16kgs, 12kgs and 8kgs for this exercise, but use the weights that you're comfortable with and that you know you can get through with.  Try and complete the whole pyramid as fast as you can, with minimal rest between each exercise and sets.
Do this pyramid of 4, 6, 8, 10, 8, 6, 4 reps for each exercise.
Goblet Squats – heaviest kettlebell you are comfortable with
Push press
Suitcase Deadlift Burpee – Use the handles of the kettlebells to perform your burpee and as you go up, grab them and deadlift
Hold and release push ups
Bent over rows
Burpee Vertical Pull – You only need one kettlebell for this.  Do a burpee, as you go up to finish it, grab the kettlebell and lift all the way up over you head with both arms
Like I said, go straight into one exercise after another.  After the set, try and go straight into the next one.  Obviously you know yourself, if you need rest, then rest.  One you get over the hard sets of 8-10-8, then you're laughing! This is a great HIIT workout.
I managed to get through this pyramid in 27 minutes.  Let's see how long it takes you! I'm all for a little friendly competition!
And on that, it's Friday! WOOHOO! It's technically a long weekend for us, but unfortunately I have to work Monday.  But I'm still going to make the most of the weekend with a little weekend getaway.  Have a great weekend!!
*I'm writing these posts for future reference for myself so I can remember them when I need to workout on my own.