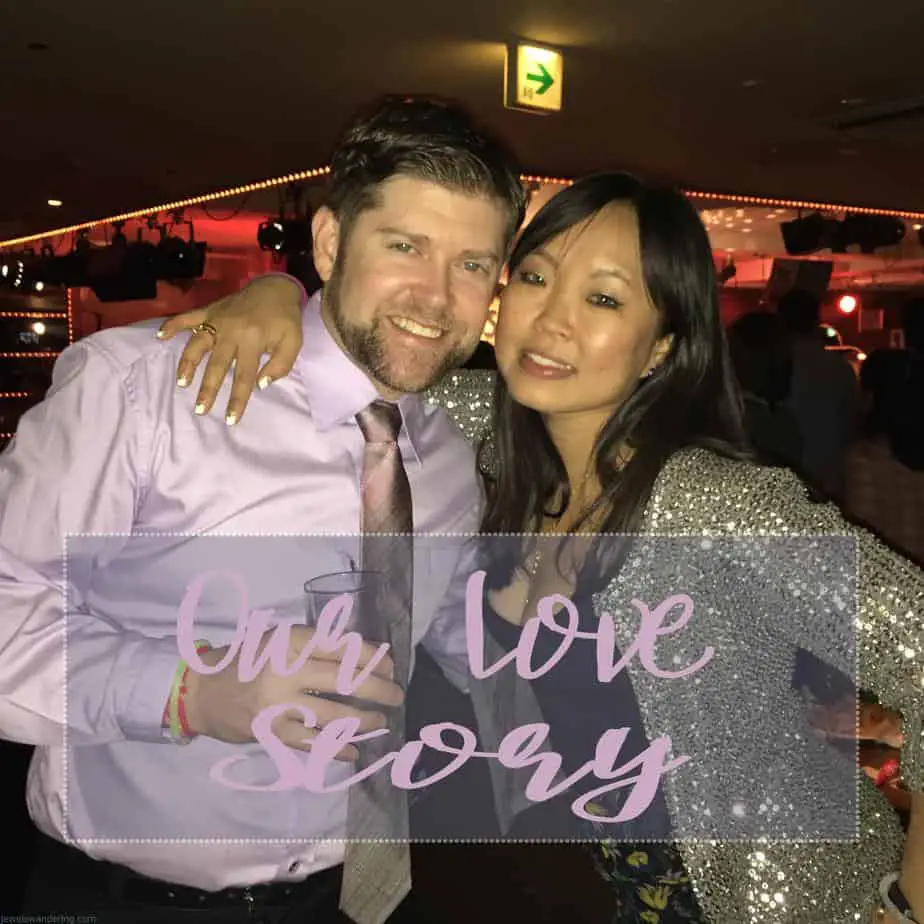 I thought today would be an appropriate day to share mine and B's story.  I'm sure some of you are wondering how on earth a girl living in Singapore ends up in a military relationship and well, sometimes I wonder the same thing…. But today marks our one year anniversary…! One year may not sound like much, but one year ago we decided to take an enormous leap of faith and intertwine our lives as much as one can despite the many hurdles and obstacles in our path.  I'm not going to lie and say it's been smooth sailing (no pun intended!) because any relationship is hard at the best of times, but throw in the international long distance factor PLUS the military aspect of it, well…
This time last year, the world was stricken with World Cup fever.  And I was definitely feeling the heat.  As much of a football (soccer) fan I am not, I am a proud supporter of my Brazilian boys.  But our story begins a couple of nights before we met… I had just gone to dinner with my girlfriend and I had some time to kill before my friends from London were meant to be meeting me, so I joined Alysha and her friends for drinks.  One of her friends happened to be American and was all decked out in US paraphernalia in preparation for the US vs Germany game happening that night.  And she was decked out.  Massive American flag, body paint, stickers, you name it.  And she brought enough for us to decorate ourselves we got into the full spirit of the night.  Go USA!
Robertson Quay was packed.  They had set up a couple projector screens for the game and the square was buzzing with German and American supporters alike as well as most of Singapore.  Americans are not a majority in Singapore out of the expat community, but it was nice to see so many Americans come out of the woodwork.  Little did I know, the US Navy were also in town on port call.  As the drinks flowed and the night progressed, everyone in good spirits were happily making new friends and I got talking with this guy named Paul.  Paul and I were chatting and he told me he was Navy and they had just arrived and wanted to know where was good to party.  And before you guys think I'm a total hussy, I'm not!! I do always chat with people; I like making new friends and am always willing to help people out.  Paul asked for my number and I gave it to him, honestly thinking I would never hear from him again.
Fast forward to two nights later and it's the Brazil vs. Chile game.  Needless to say, I dragged my girlfriends out that night back to Robertson Quay.  I am watching the game but I am not enjoying it.  Brazil was playing ridiculously bad and it was painful to watch.  At one point, I got a text message and it's Paul.  He's asking me if I'm out with friends and can they join?  I said sure, I'm pretty much at the same place where we met, so come on down!  I assumed he would rock up with a few guys but instead it's just him and B.
I still remember clearly laying eyes on B.  He was wearing his Adidas hat and despite the dark, I could clearly see his beautiful blue eyes.  They were slightly mesmerizing and I still get goosebumps thinking about them.  But aside from that, I definitely did not think that this boy would change my life.  In my head, he was just another person passing through Singapore.  We definitely had a lot to chat about that night; conversation just flowed and it was almost like we had known each other for ages.  I teased him about his Southern accent and well, it's not every day you hear that twang in my part of the world! He told me that he was probably going to be back in Singapore in a few weeks time for training so he looked me up on Facebook and added me.  But despite it all, he was just another person you meet for an instant in life; that you share a few drinks and a few laughs with on a night out.
In between all the chatting, my eyes were still glued to the game.  It was a harrowing game, went down to penalty kicks and even then the you could feel the thick tension in the air as the other Brazilians in the crowd held their breath and prayed.  It came down to the last kick, would we get eliminated? I held my breath and waited.  The ball went in and Brazil were through.  We WON!! The crowd erupted in a frenzy as we all began to samba and jump in exhilaration.  Brazilians have a custom of kissing their significant other when a goal gets scored and when victory was ours, I jumped into B's arms without thinking and we both fell over on to some bushes. HAHA Despite the fact that he broke my fall, I got up from that fall with the biggest bruise on my thigh.  Even today, I still have a faint mark from that night. Ah memories!
With the game over and in high spirits, Paul and B wanted to carry on with the night and I suggested we meet up my other friends at a club.  Before we went to the club, we stopped by where they were staying and managed to recruit one of their shipmates.  We got to the club only to be told that they were closing early that night because it had been a slow night because of the World Cup.  My friends were nowhere to be found and I was now on my own with 3 sailors looking to party.  Umm, good one Julie!  So I figured we could walk towards Boat Quay as I assumed there would still be something happening in that area.  On the walk over, B and I were ahead of the other two, still talking like old friends.  I wish I could remember what we were talking about, but I said something and next thing I hear, B is yelling back to them that I am the girl he's going to marry.  Ok, then!
Boat Quay was a bust.  All the bars were closing up and Paul suggested we hit the 7-11 and buy some liquor but they weren't selling it anymore at that hour. There was one place I could have taken them but a) I just really wanted to go home and b) I had NO DESIRE to hit up Orchard Towers.  If anything, I should have just put them in a cab and sent them there.  Instead I told them that we should call it a night and we walked along the quays back to their serviced flats.  And oh, we totally lost B after our pit stop at 7-11.  Paul tried to look for him but he was nowhere to be found, so with B having wandered off into the night, we walked back to Robertson Quay and I got into a cab and went home.
No, the story doesn't end there and I thought that it would end there, but this is turning out to be a novel…! Come back later to read the rest! <3