Birthday Dinner at Odette
Another birthday has come and gone but I'm still allowed to talk about my birthday, right? I mean, it's still my birthday week after all……  To be honest, this post is somewhat self-indulgent, only because I want to remember my birthday dinner at Odette.  Oh, if only I can celebrate my birthday every week just so I can eat at Odette again? Please?!?
Odette has been the restaurant to go since it opened up late last year.  Trying to book a table was a test of patience as well, as you definitely had/have to plan in advance.  In fact, I booked my birthday dinner two month in advance just because I was one eager beaver.  And I like to be prepared. Worst case scenario, I could always cancel the reservation but I knew that it wouldn't happen.  My friends and I were all eagerly anticipating a dinner at Odette.  We even got dressed up because we scrub up okay every once in a while.  And how lucky was I to be going to dinner with 4 beautiful men? 😉 
The hype around Odette was further anticipated when the Michelin guide awarded it with two stars.  That's a pretty big deal.  Like, really big.  But this post is not a review about Odette because let's face it, I am no food critic or really a food blogger.  I enjoy good food – whether it be street food or not.  And lately, I've been feeling disenchanted with really expensive restaurants because while good, it wasn't anything super memorable. But Odette has reawakened my taste buds and I truly enjoyed this culinary experience.
We opted for 6 courses instead of 8; the 6 courses was more then enough. I looked at the menu and was excited for what was to come.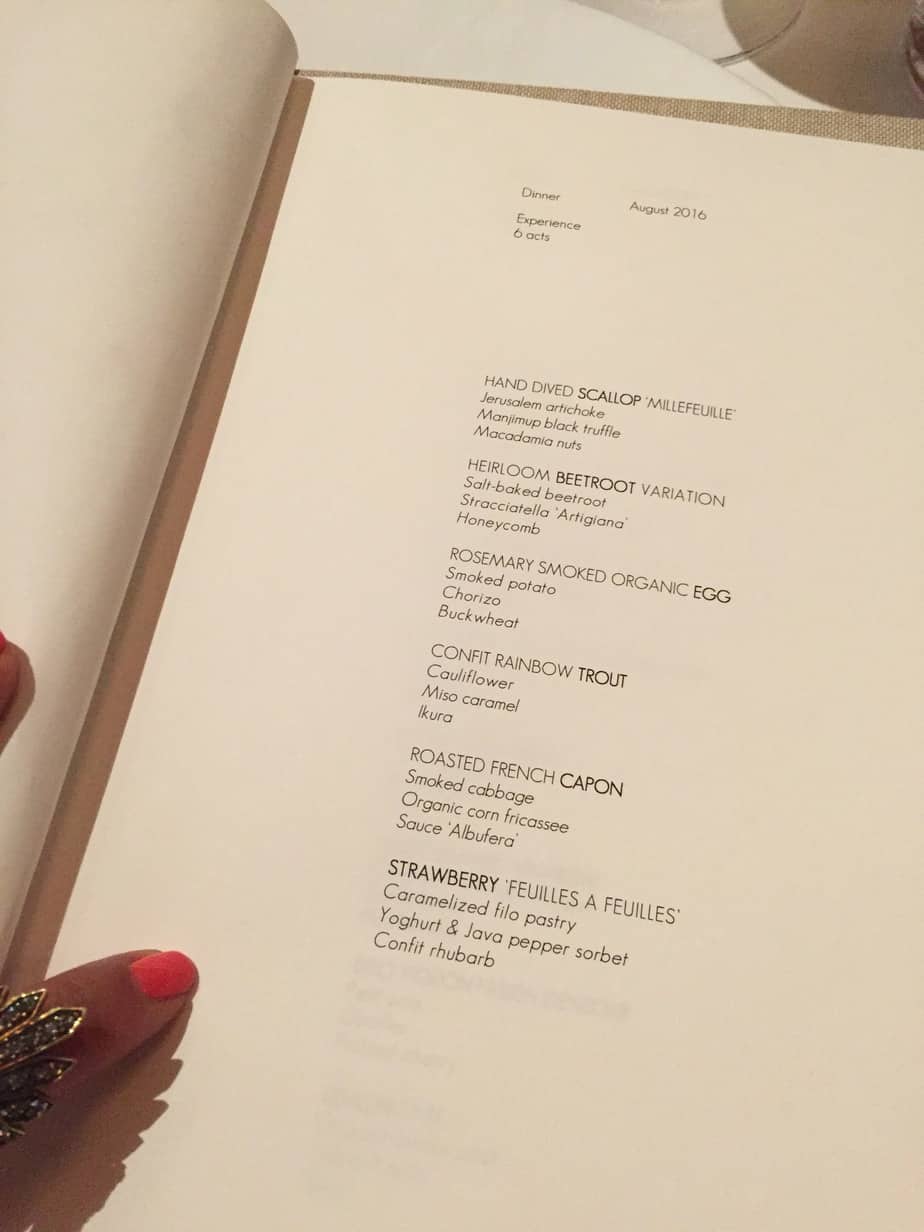 We started off with some little snacks and an amuse bouche.  The little black parcel is filled with creamy aubergine (that's eggplant for you, Americans.. 😉 ).  Now, I'm not a fan of aubergines, but I'll eat if I have to and wow.  That little aubergine parcel was amazing.  And am totally in love with aubergines now.  Or maybe just these aubergines?!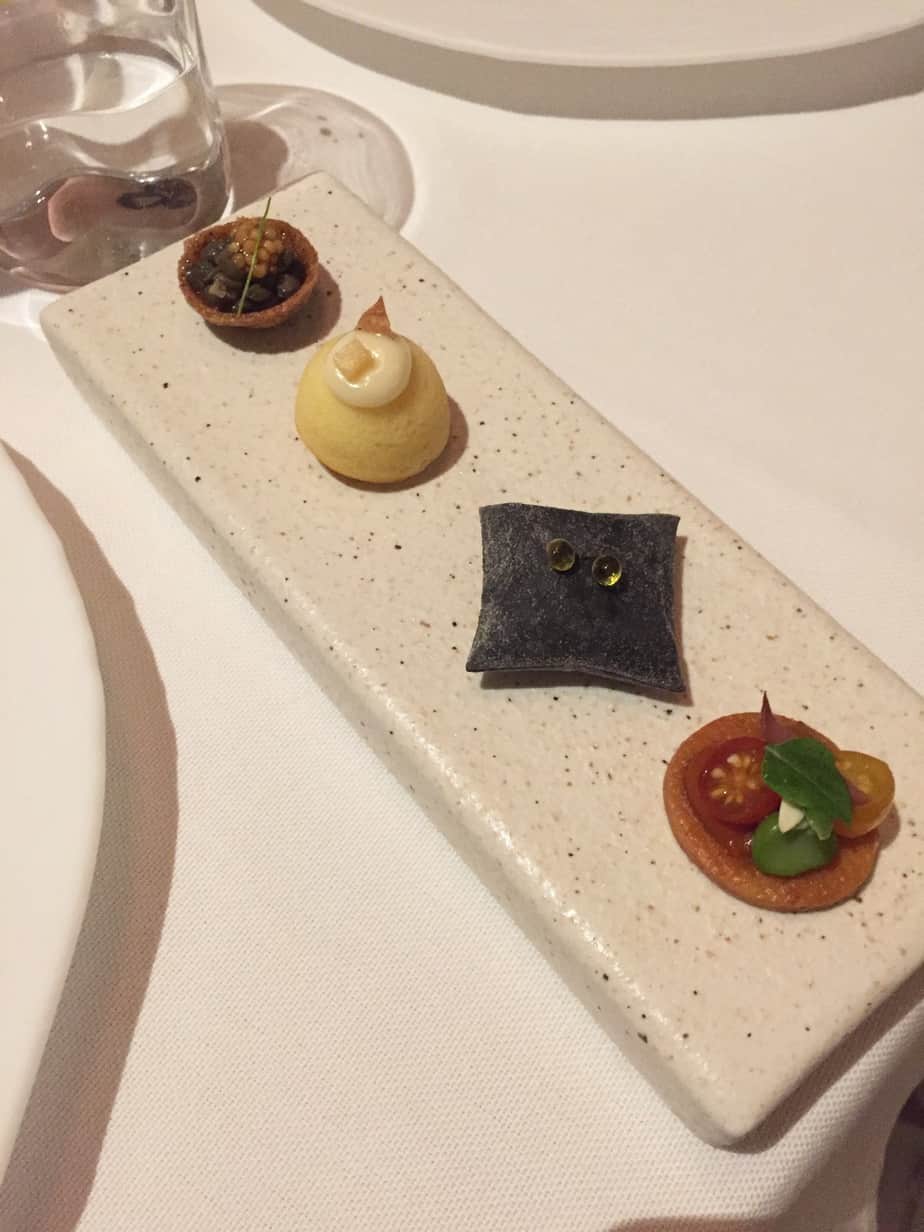 So the amuse bouche was a cep sabayon.  I love my different types of mushrooms and this was just divine.  It was almost like a Japanese chawamushi with mushroom soup.  Although the eggy part was definitely where most of the flavor was at.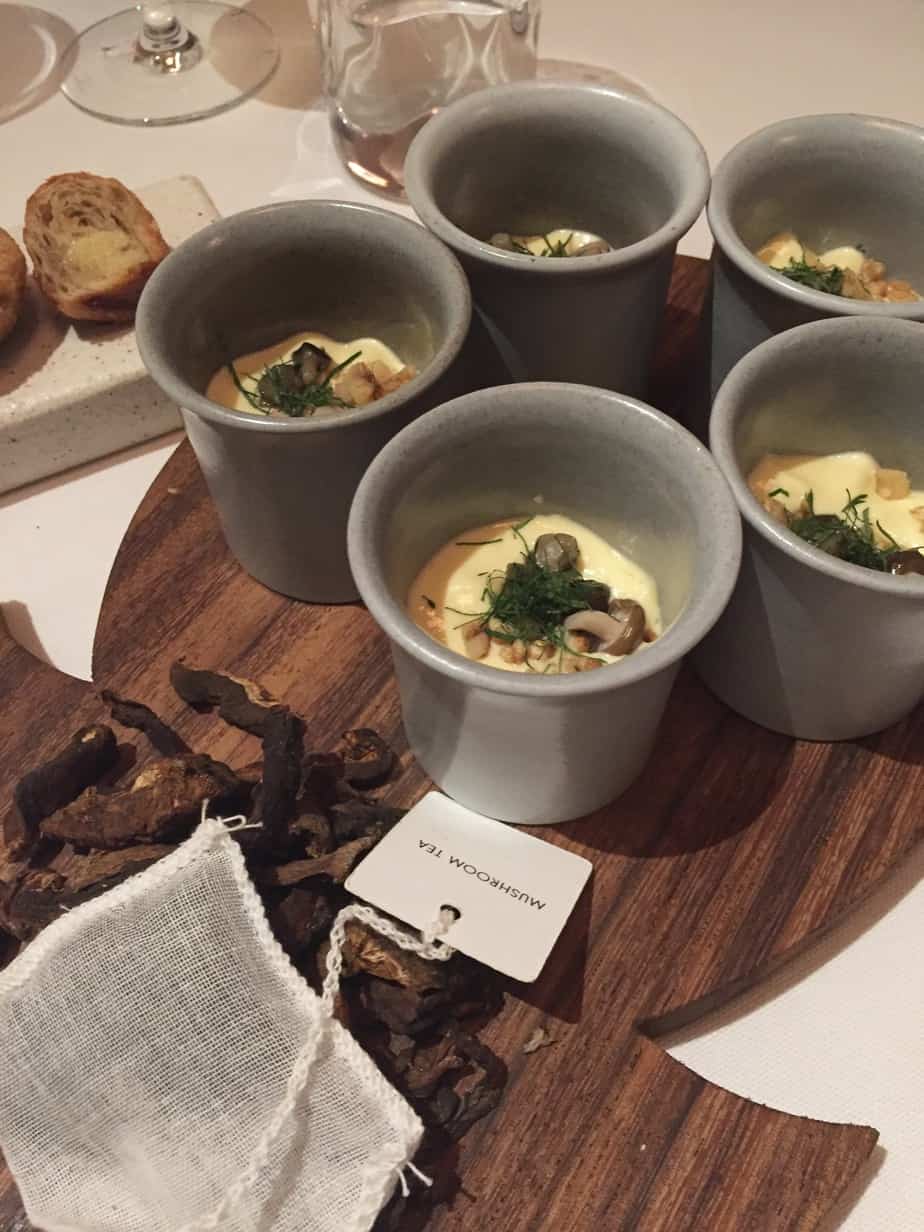 And the truffle brioche? My taste buds were dancing in heaven. But seaweed butter does not go with truffle brioche. Stick to the normal butter!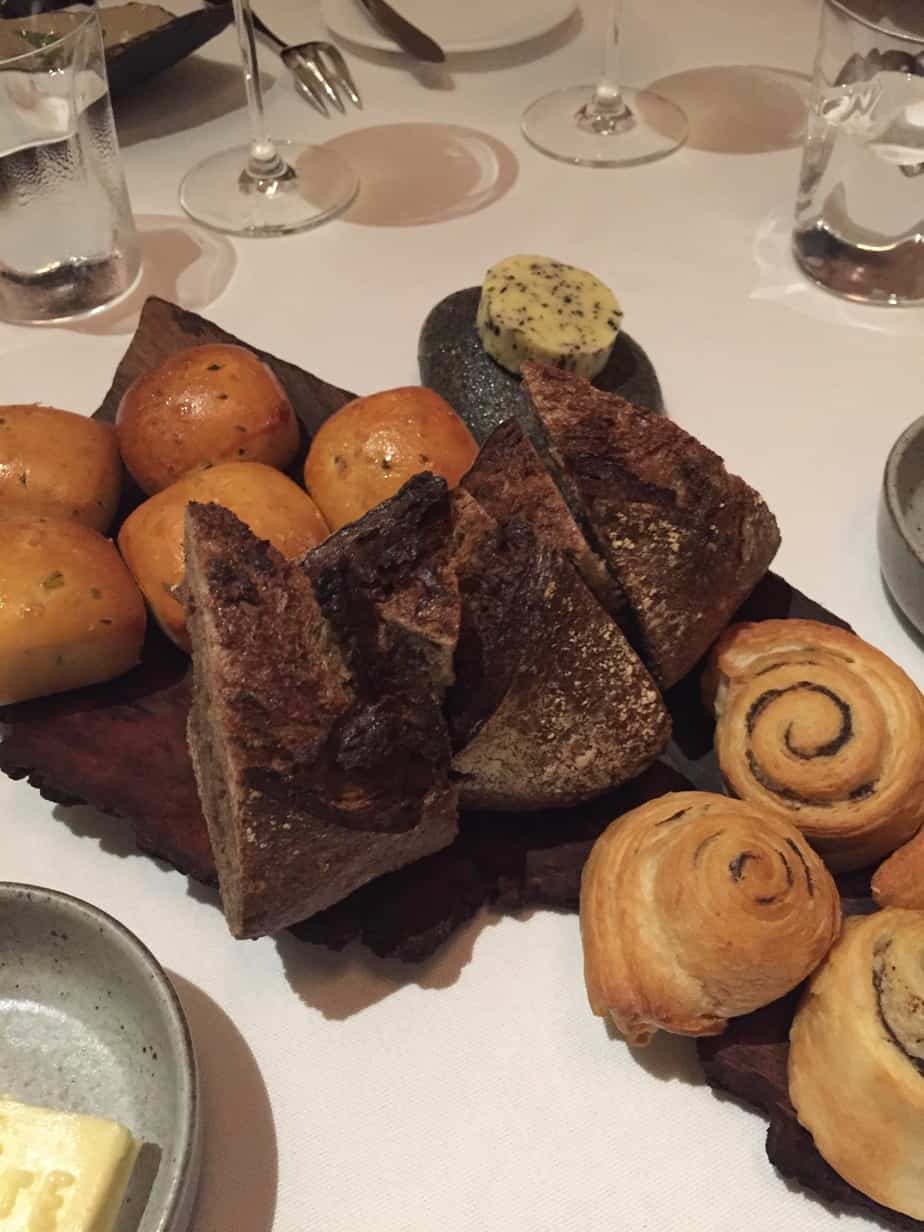 We were then served the first course – the scallop millefeuille.  Scallops are not my jam, but this was nicely put together.  The flavors worked; the scallops were super fresh and there was a slight crunch.  Plus I am obsessed with truffles.  I'd happily eat this again!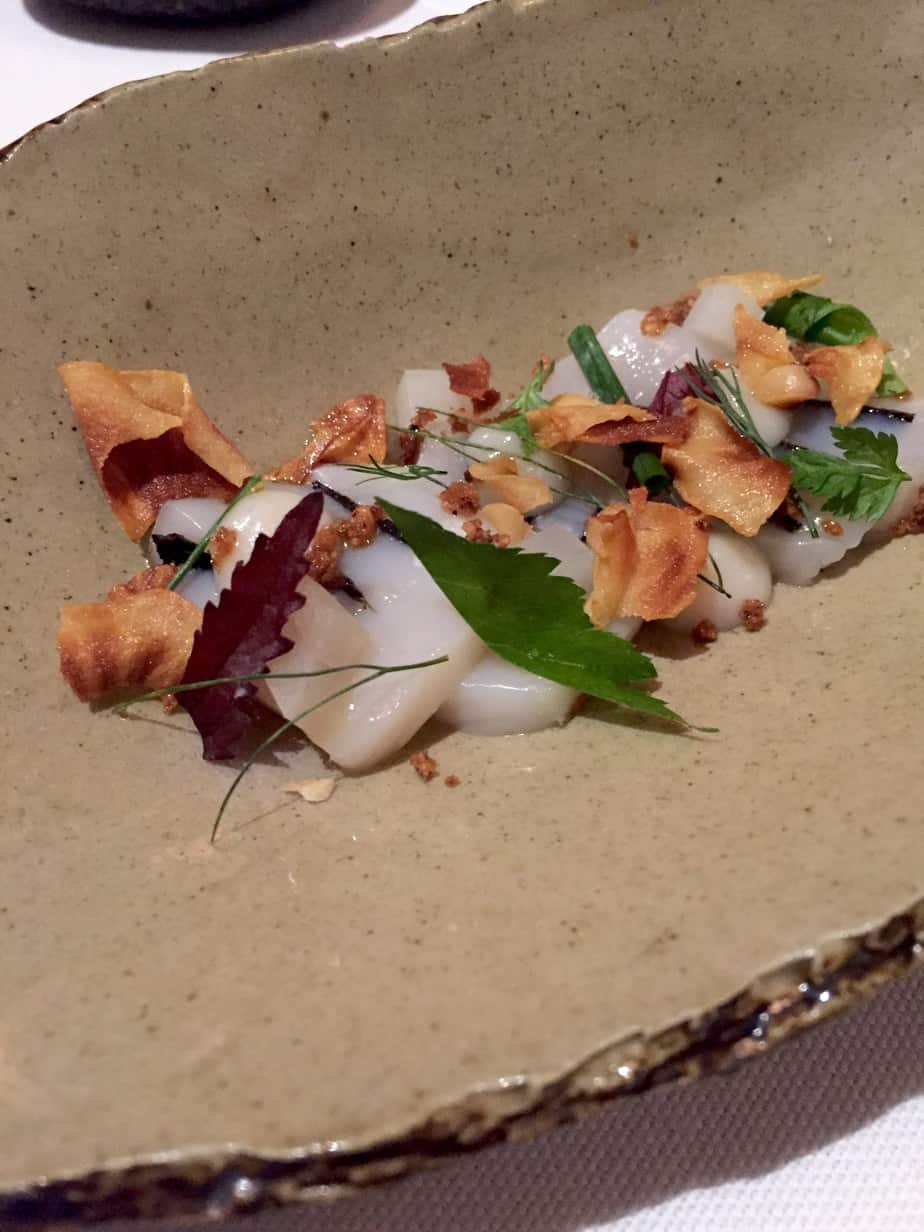 The one point where the staff dropped the ball was when serving the second course without an explanation of the dish.  Maybe that's just me, but hey! I like being told what the next course is all about.  And it was so beautifully presented as well, I felt like there should have been some more fanfare.  This was the heirloom beetroot variation.  I love beetroots, don't you? I am definitely going to sound like a broken record here, but this dish was so good.  It was slightly sweet with the honeycomb flavors peeping out but it all danced around my mouth beautifully.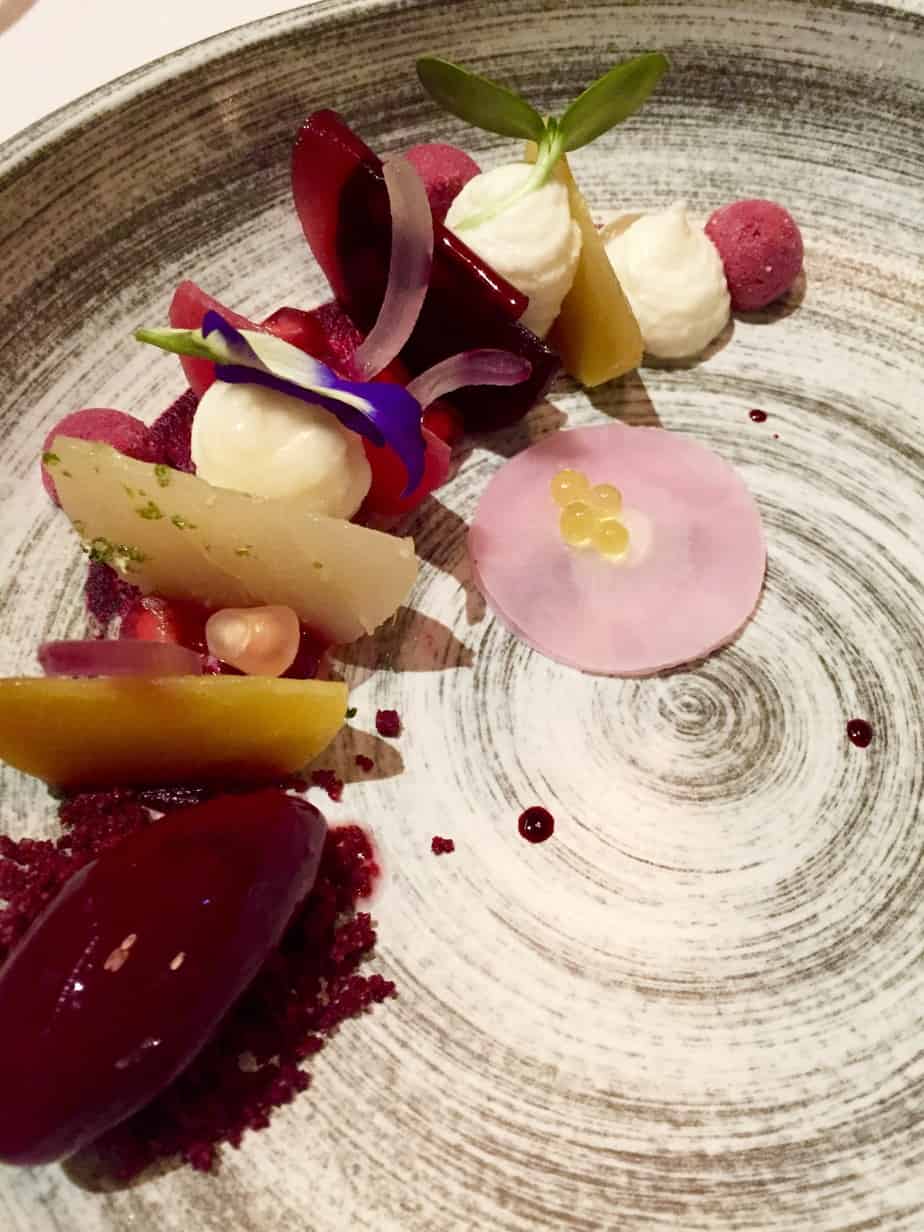 The next course was the infamous rosemary smoked egg.  It arrived in a trail of fragrant smoked rosemary. Sorry for the blurry picture, I did my best to catch it in action. HA.  But really, I wish you could have experienced this for yourself because it was quite a treat! The egg was then cracked opened into smoked potato, chorizo and buckwheat.  It went down way too easily, but it was also reminiscent of chawamushi.  Not that I'm complaining!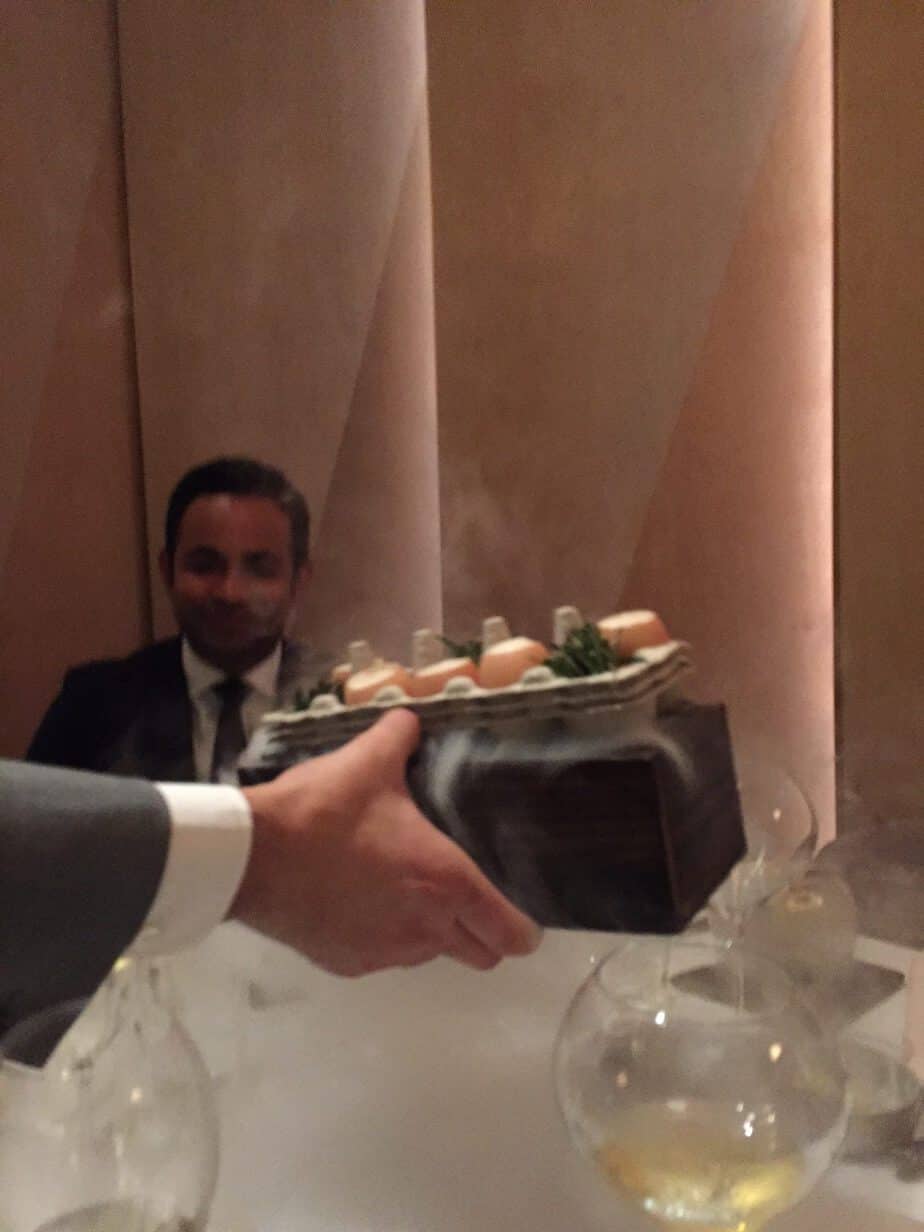 Next up was the rainbow trout.  It was, again, beautifully presented and it was almost too pretty to eat. I have to admit, this was the one course I wasn't over the moon about.  Don't get me wrong, it was delicious, but it felt like there was too much going on.  The rainbow trout, which I thought was meant to be the highlight, got overwhelmed by the ikura and pork belly.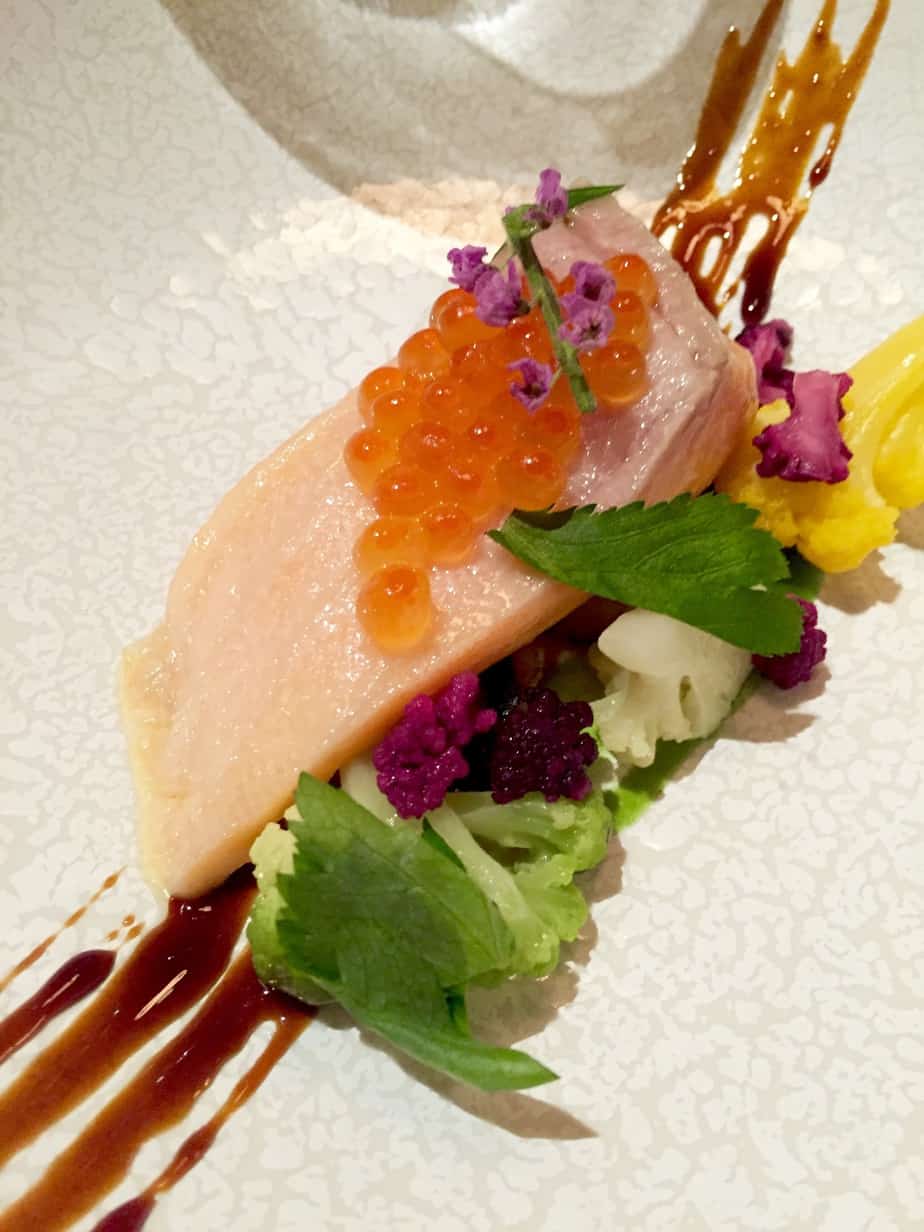 The final course before dessert was the capon – a cockerel or a castrated rooster.  I totally loved this.  And the sauce "Albufera" – basically a mushroom sauce – was so damn good.  If it had been polite, I would have licked my plate clean, but I knew my mom would be mortified if I had done that. Teehee. 
We were served a pre-dessert dessert. See that's the thing, even though you are only going for 6 courses, you end up with more then 6 courses with all the amuse bouche, etc. So the pre-dessert was a matcha something (I can't really remember) with an apricot type of sorbet? I guess in some ways it was more of a palate cleanser.  
The final course was the strawberry dessert and again, it was so pretty.  And really yummy.  See, this is why I know I'm no food critic or food blogger because I've run out of ways to describe food. HA.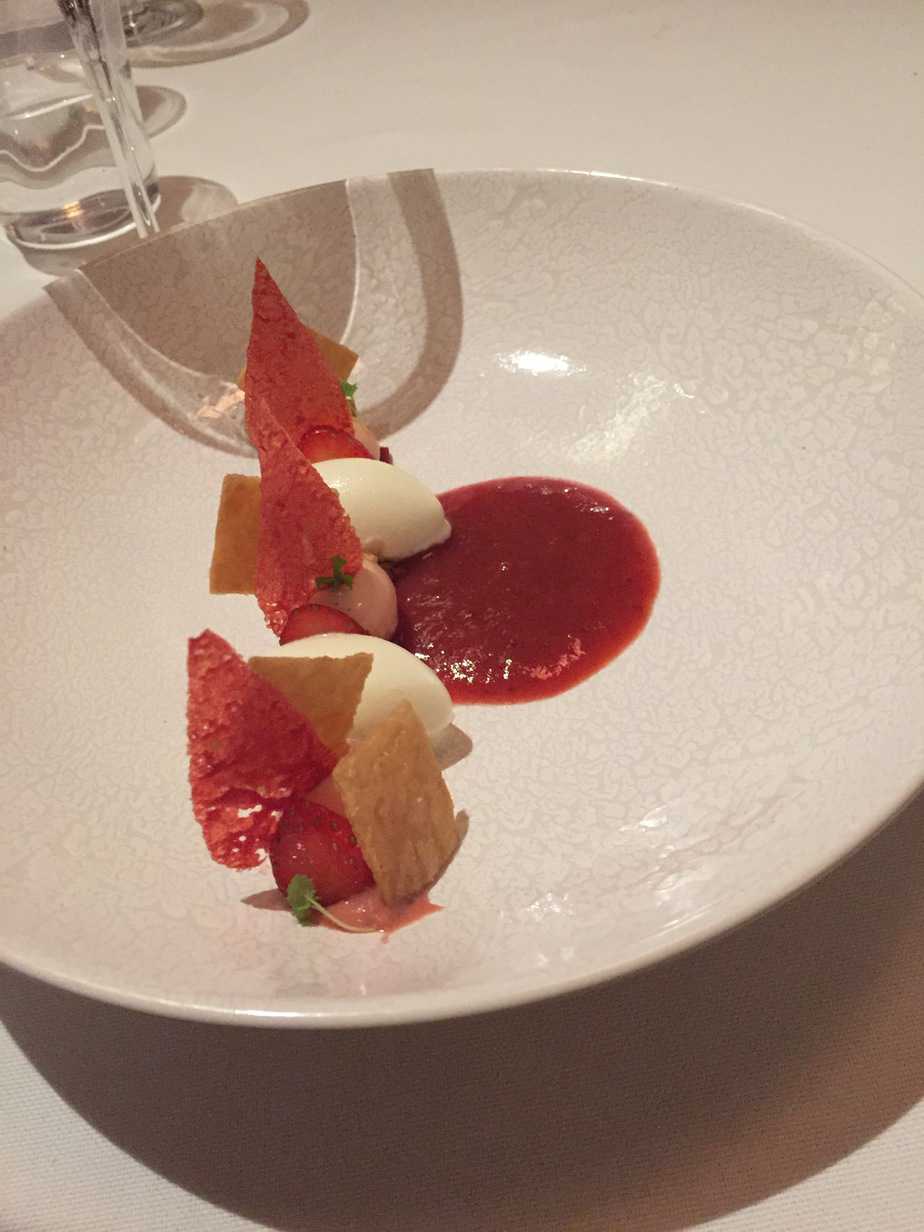 As it was my birthday dinner, I was presented with the cutest dessert.  I loved the little pink flowers on it!! How did it taste? It was light and refreshing and citrus-y.  Perfect to end the night with!
And like that, my birthday was quickly drawing to a close.  I had a wonderful evening with my boys; laughing and talking about inappropriate things while enjoying the beautiful food.  I hope I make it back to Odette another night. Maybe when I win the lottery!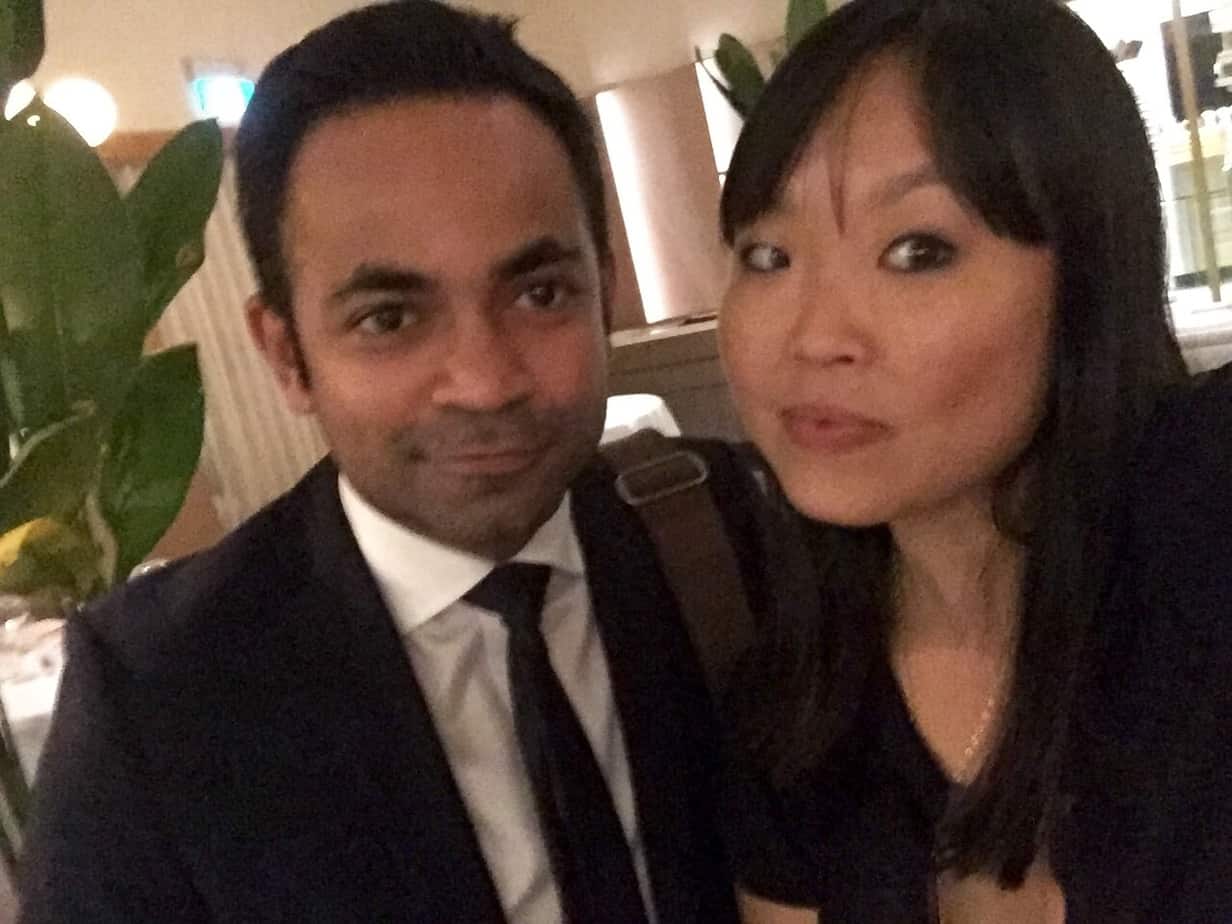 I leave you with a selfie, because I can…! I am off to East Timor tomorrow so I will be off the grid. Can't wait to catch up with everyone when I'm back! Have a great weekend, lovelies!