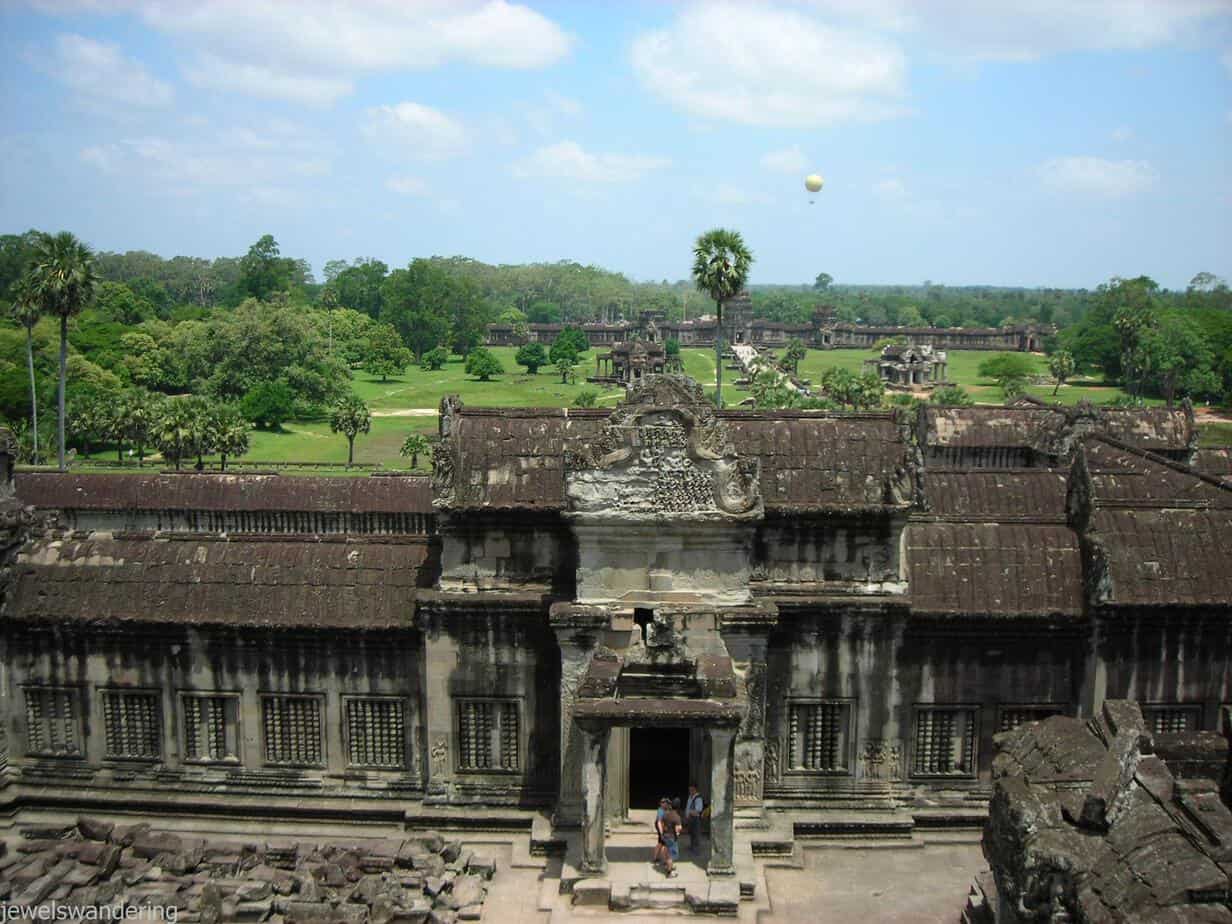 Remember my trip to Siem Reap?  I told you I hadn't done any of the touristy bits, but luckily for me, I had experienced these beautiful temples a decade ago.  I know, I'm old! Since then, the temples of Siem Reap are a massive tourist destination; the way this once sleepy little town has been built up with so many hotels and bars – it's kind of insane, actually.  But it is what it is and I did say I would post pictures from a very long time ago.  Might as well make this a #tbt post while I am somewhere in East Timor!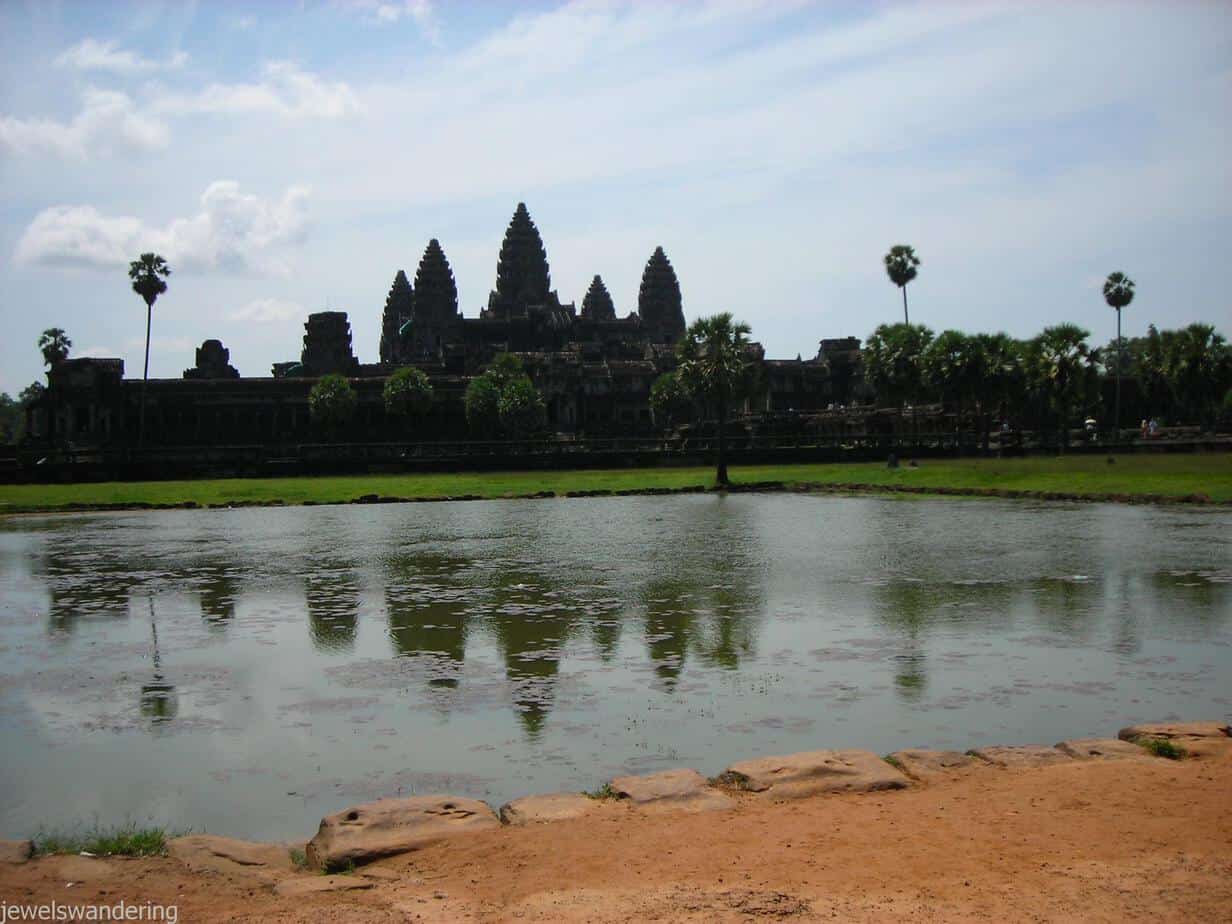 So what brought me to Cambodia back in 2006?  A wedding in Jakarta, Indonesia.  My best friend's older brother was getting married and I was blessed to have been invited and I jumped at the chance to go? I mean, when else would you get the opportunity to head back to South East Asia (can I just say that this wedding was an oh.my.god. wedding that I will never ever forget!)?  So I saved up my pennies from my meager paycheck to attend the wedding of the century! And with that, it was also the holiday to meet up with my then boyfriend, who lived in London.  I was living and working in New York at the time so any chance to meet up was a bonus! And I was also super filled with wanderlust and this wedding was the cure.  But we all know how little days of holidays you get when working in the US, right?  Well, this trip pretty much used up all the leave I had for the year, so might as well make it epic, amiright? Right, so I hatched up this insane itinerary – oh to be young and filled with energy!
I used Bangkok as a base to travel from once in Southeast Asia.  In fact, I was due to spend one night in Singapore back then but I had to cancel Singapore and ended up in Hong Kong for the night instead.  But I am digressing! If I remember correctly, I landed into Bangkok late one night and met up with the then boyfriend who flew in from London.  The next morning, we flew up to Siem Reap for one night, before flying back to Bangkok the following night.  One quick night in Bangkok before flying off to Koh Tao for a couple of nights and then another night in Bangkok before flying to Jakarta.  Jakarta was where the wedding was held, so we hung out there for a few nights, taking part of the festivities and hanging out with friends.  Then it was to Hong Kong for a night before flying back to New York. Phew! I must have been on crack back in the days!
Tonle Sap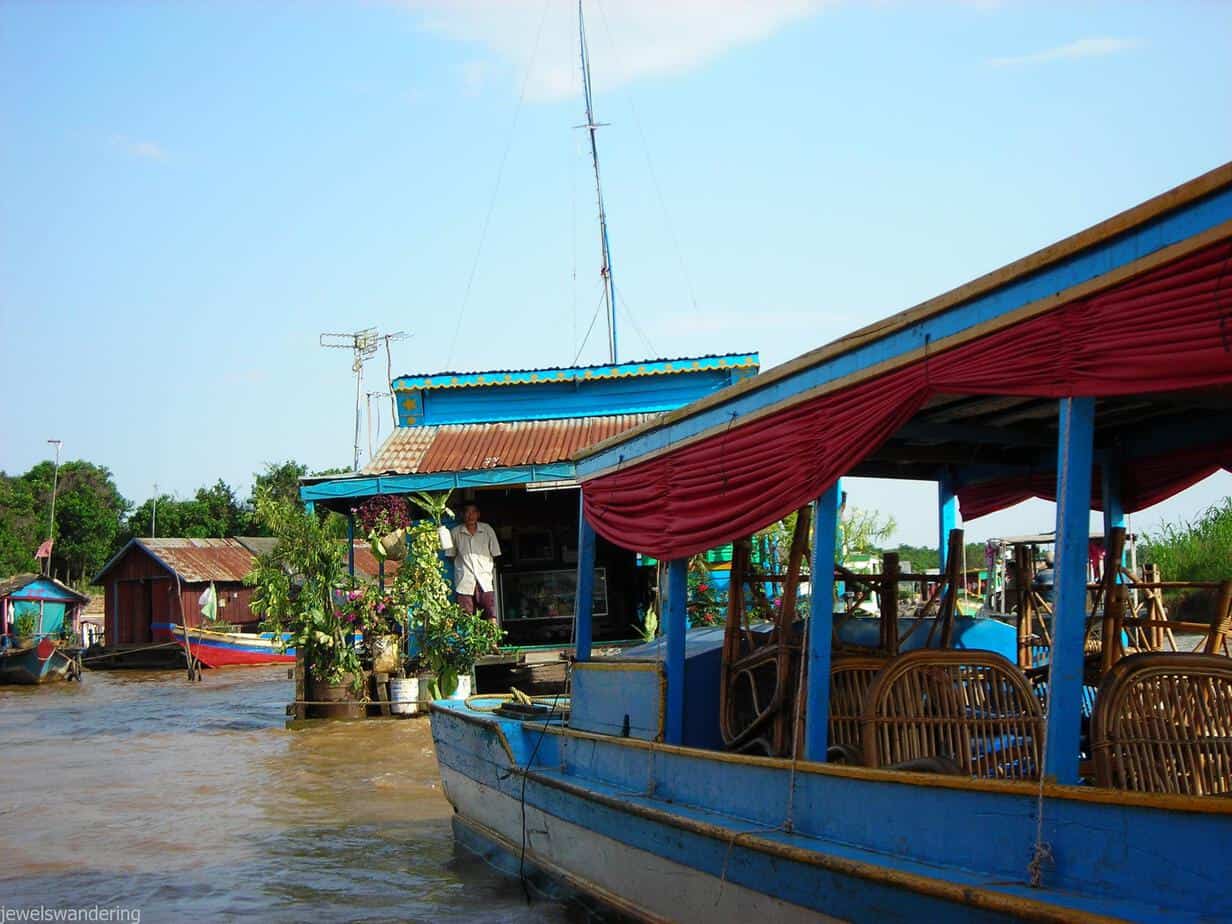 We arrived early in the morning and checked into our hotel, the Shinta Mani.  I don't remember how we came across our guide, maybe it was the hotel that suggested him, but we were given the choice of either doing a tour of the temples in a car or in a tuk tuk.  We chose the car because it had air conditioning and I remember it being hot AF when we were there. And the ex, being English, was definitely not used to the heat. HA.  So we started our tour asap as we were on a tight schedule.
He suggested we head up to Tonle Sap – a large freshwater lake that eventually connects to the Mekong.  At first, I remember not being too fussed about going, but then he explained that it is the home to many of the local residents, where they live in what is known as the floating villages.  There are even crocodiles there!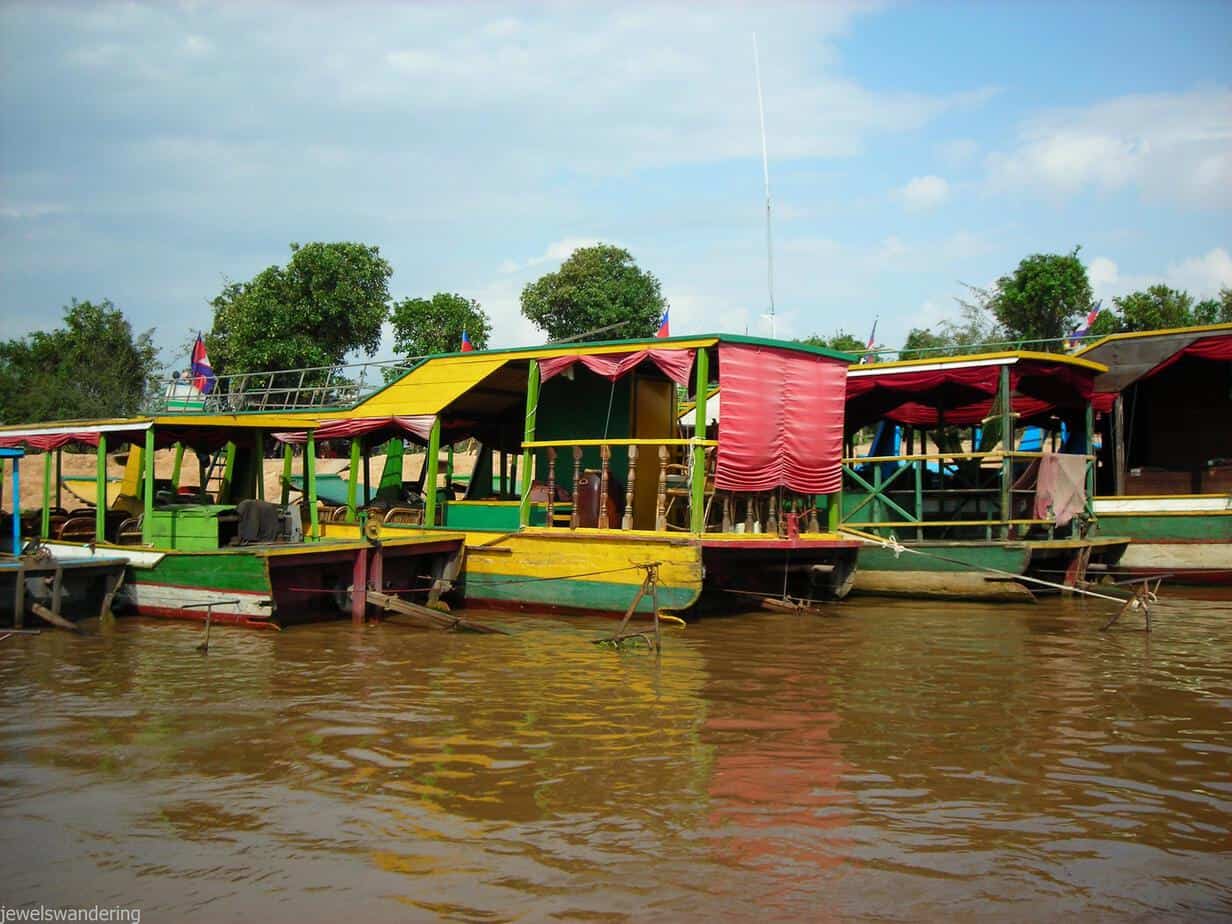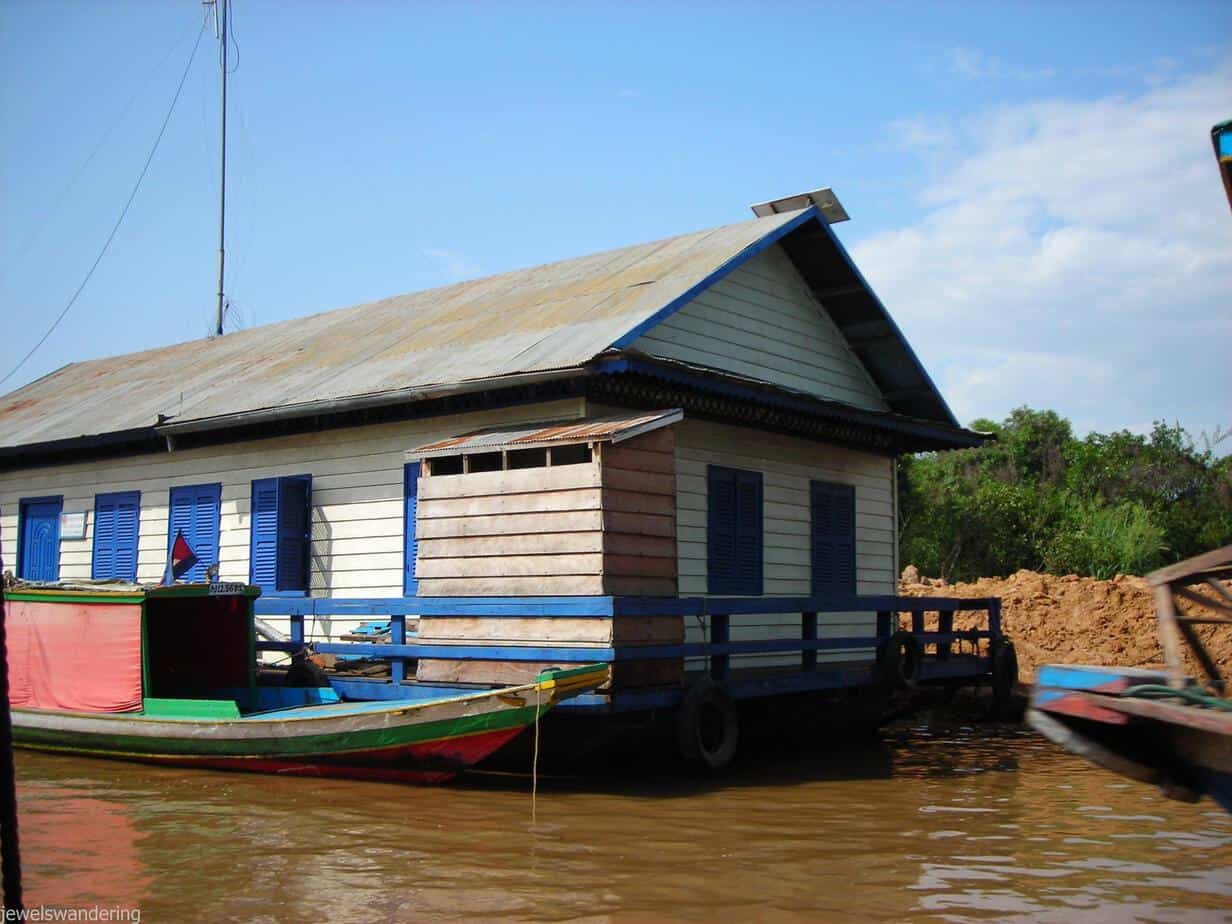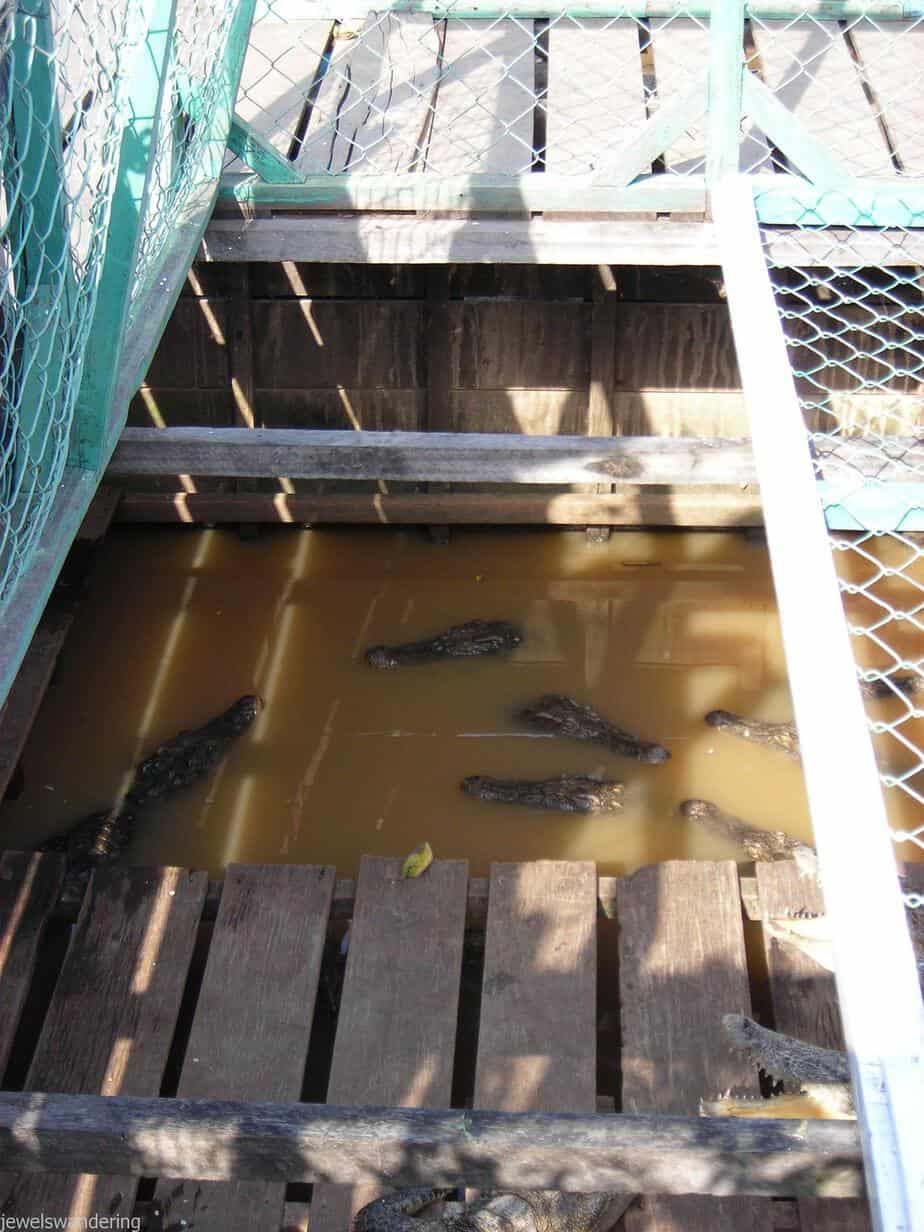 Once we were done with that tour, we headed back into Siem Reap and we earnestly began hitting the temples.
Angkor Wat
Goodness, my photography skills really sucked back then. But sometimes, blurry is better. It's me being artistic.  Yeah, I'll go with that…! HA. But the first picture in this post is of Angkor Wat, the 7th Wonder of the World. It was the center of the Khmer Empire from the 9th to the 15th century.  It truly was/is spectacular.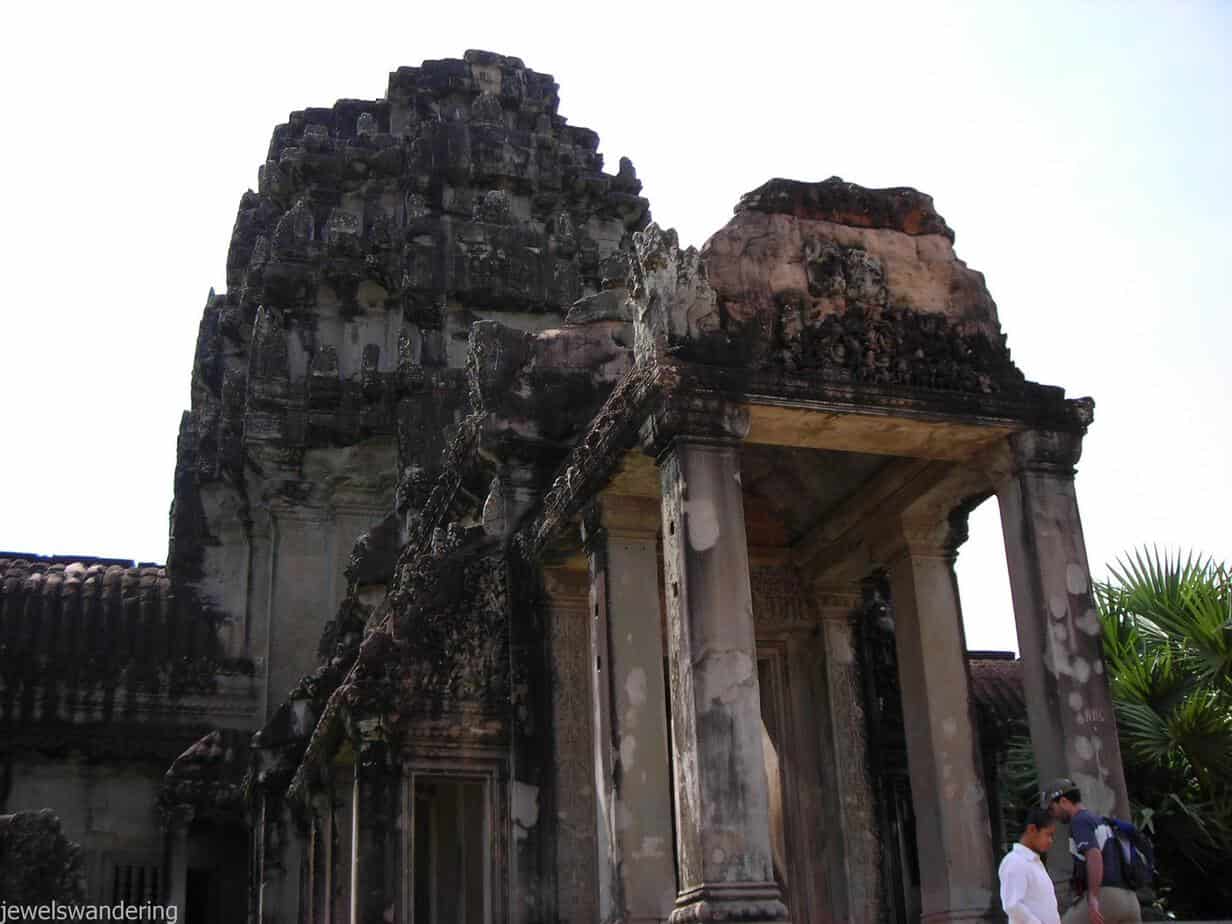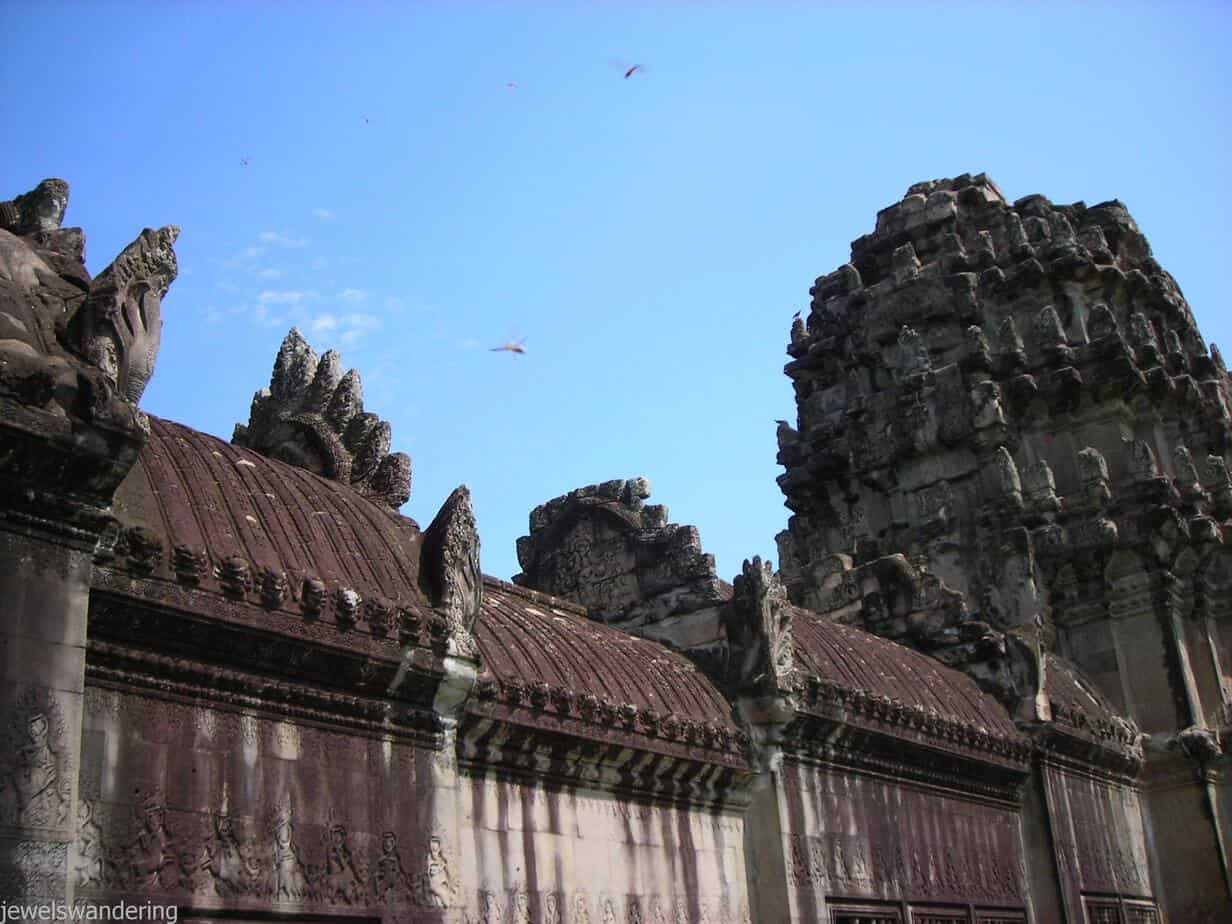 Ta Prohm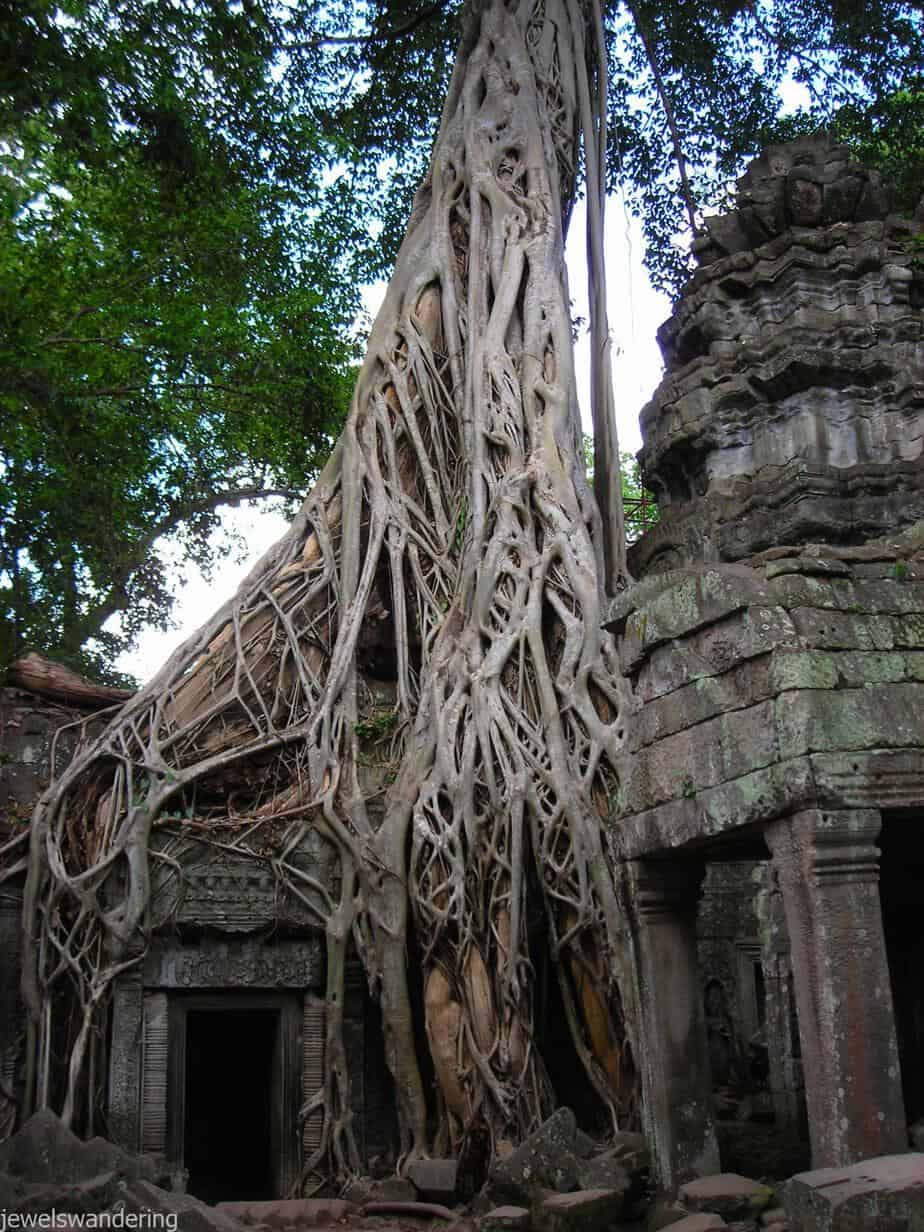 How cool is that the trees have grown right through them/up them. When there is a will, there IS a way! 😉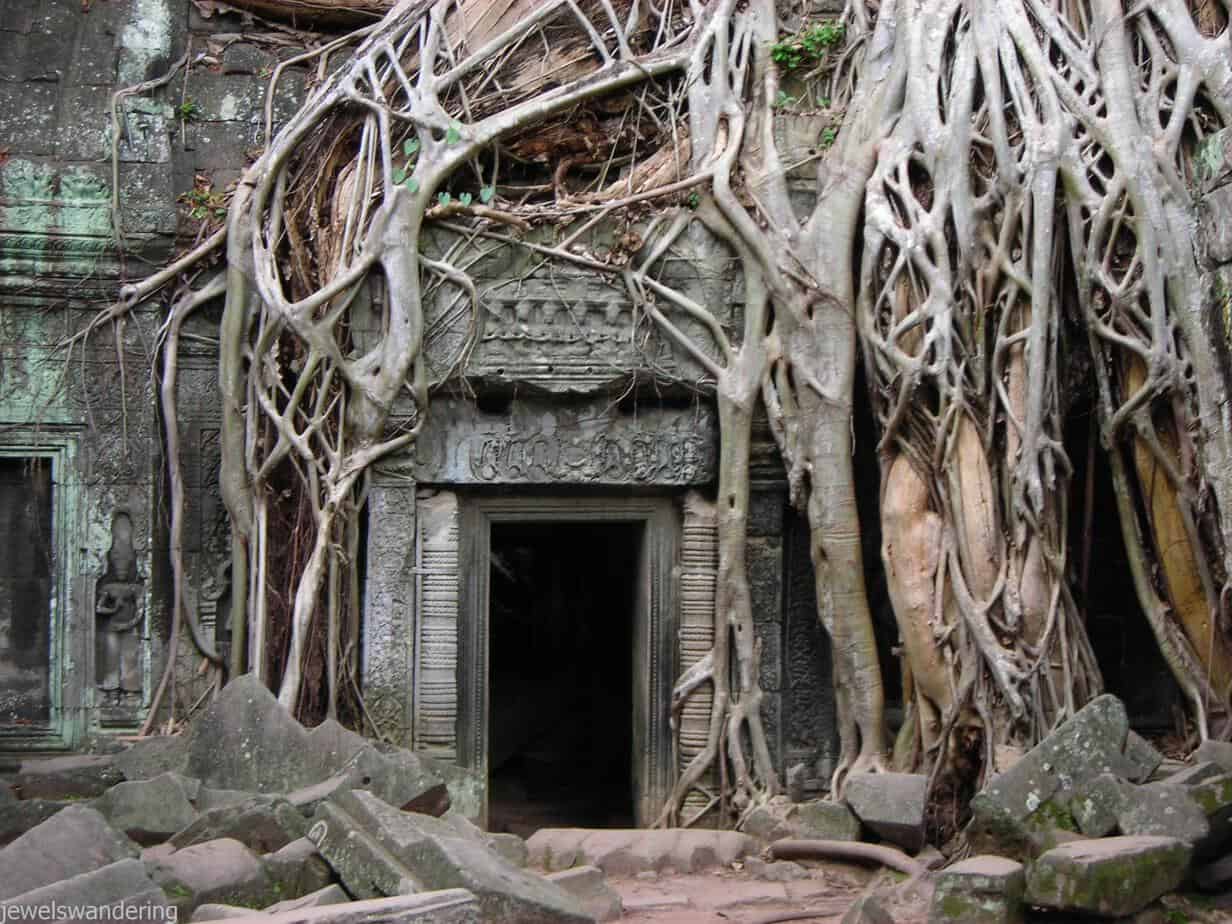 Angkor Thom/Bayon Temple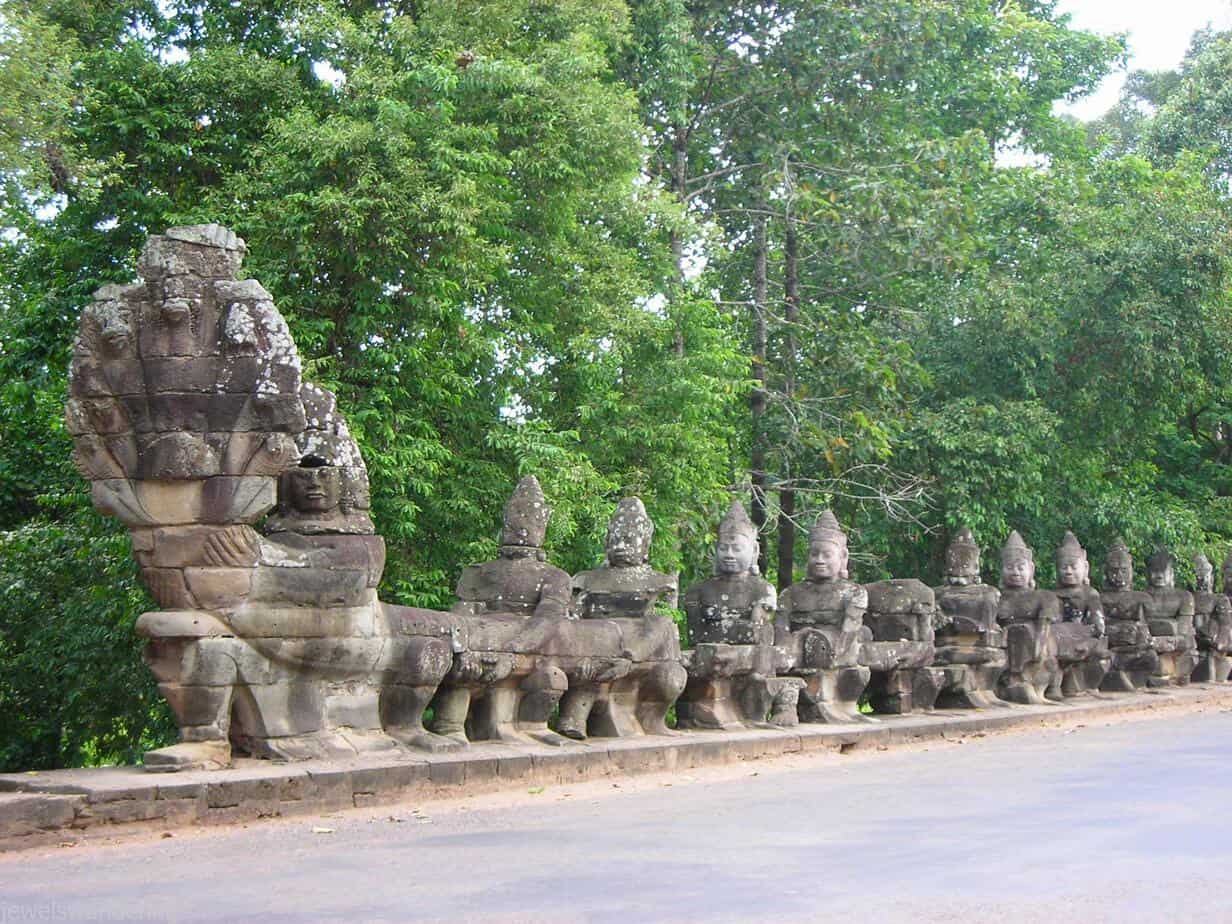 The above picture is the gateway to Angkor Thom.  If you think about it, it's a majestic entryway to what are my favorite temples – Bayon Temple!  The temples with the faces! It's not known how many faces there are, but some say as many as 200! Can you imagine the work that went into creating these masterpieces?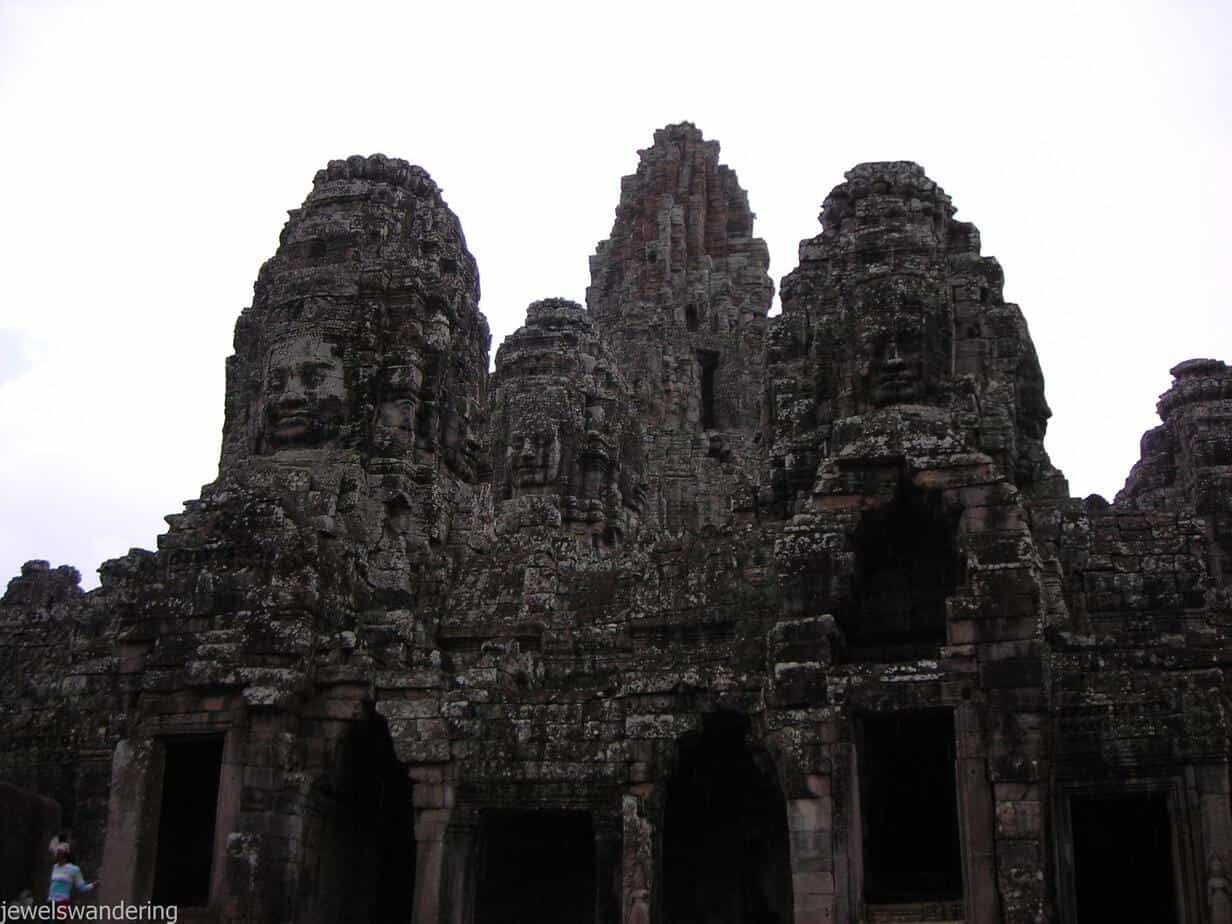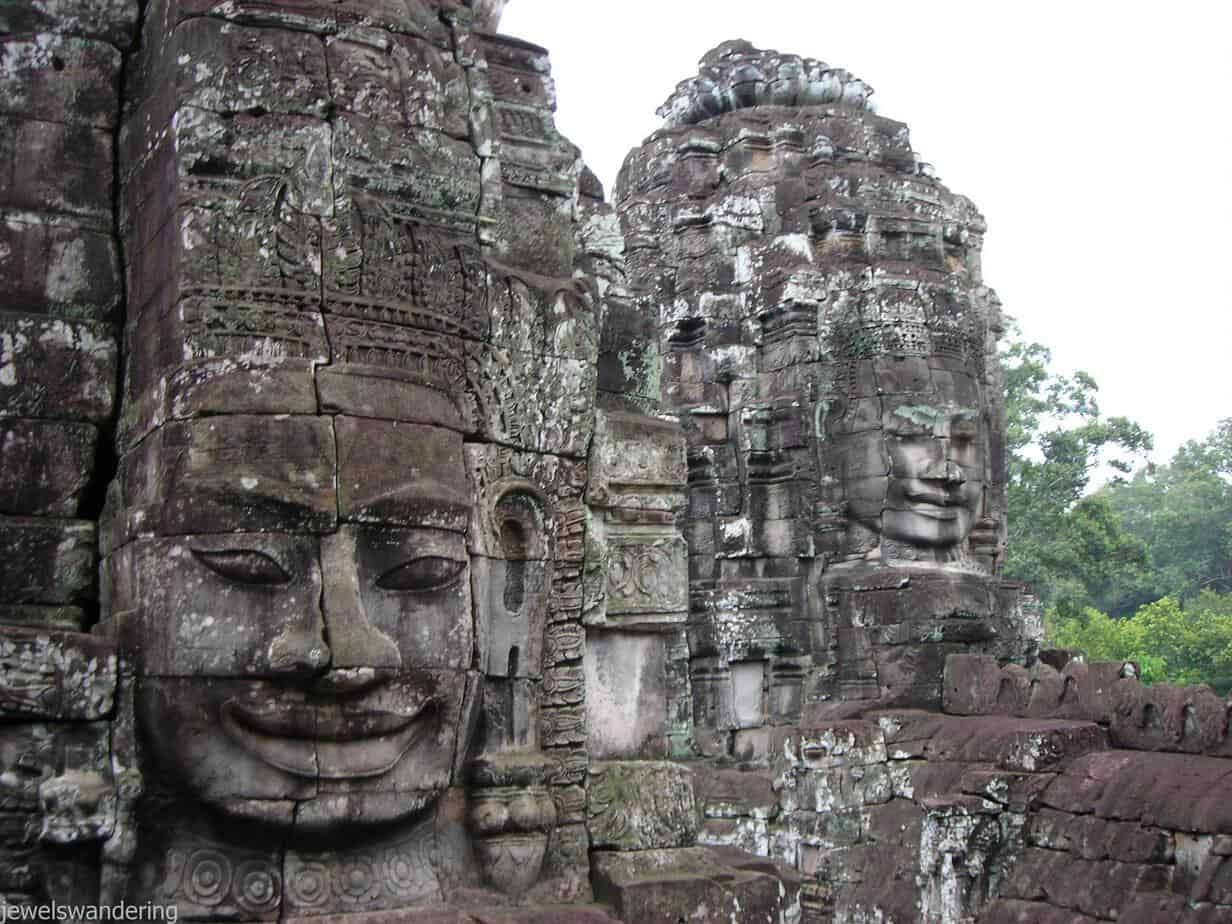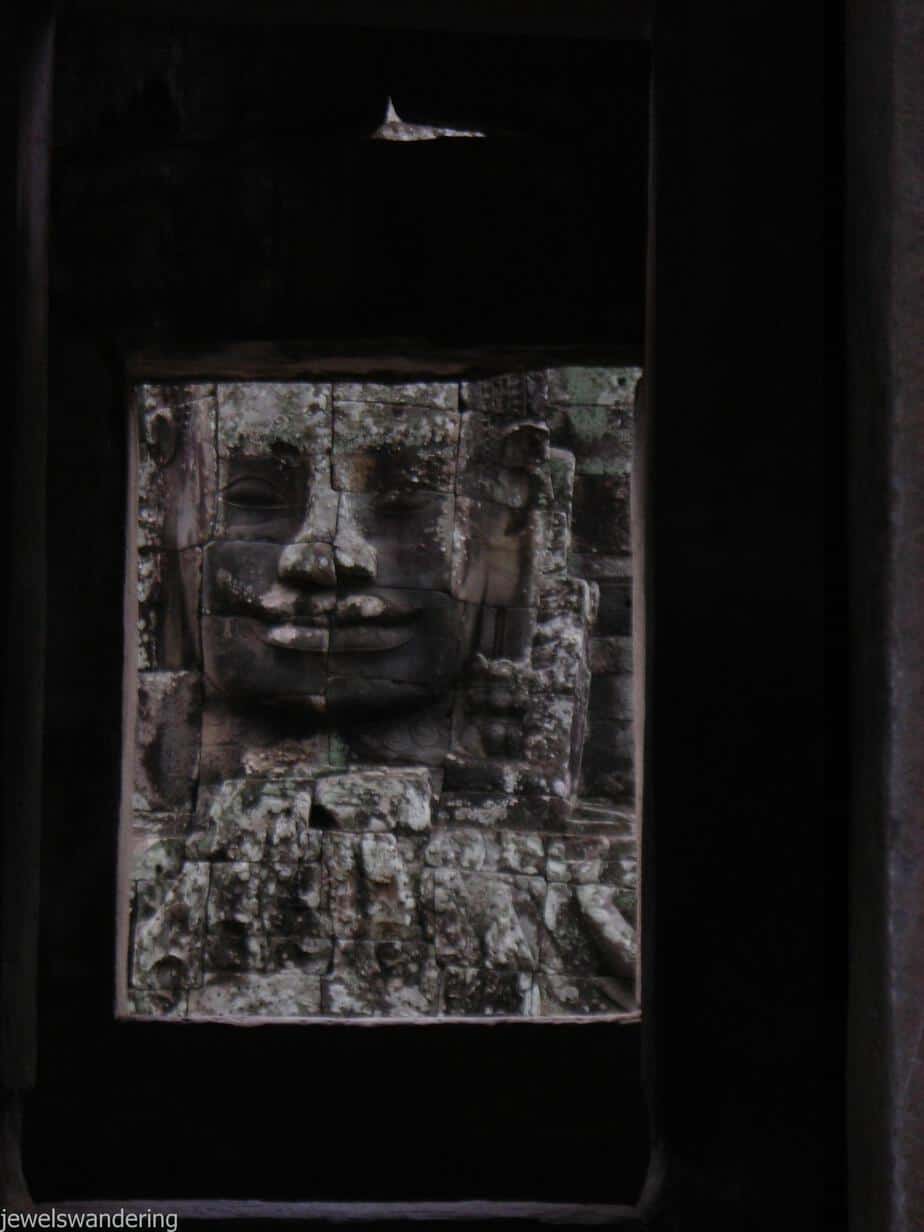 Honestly, they just take my breath away.
The Baphuon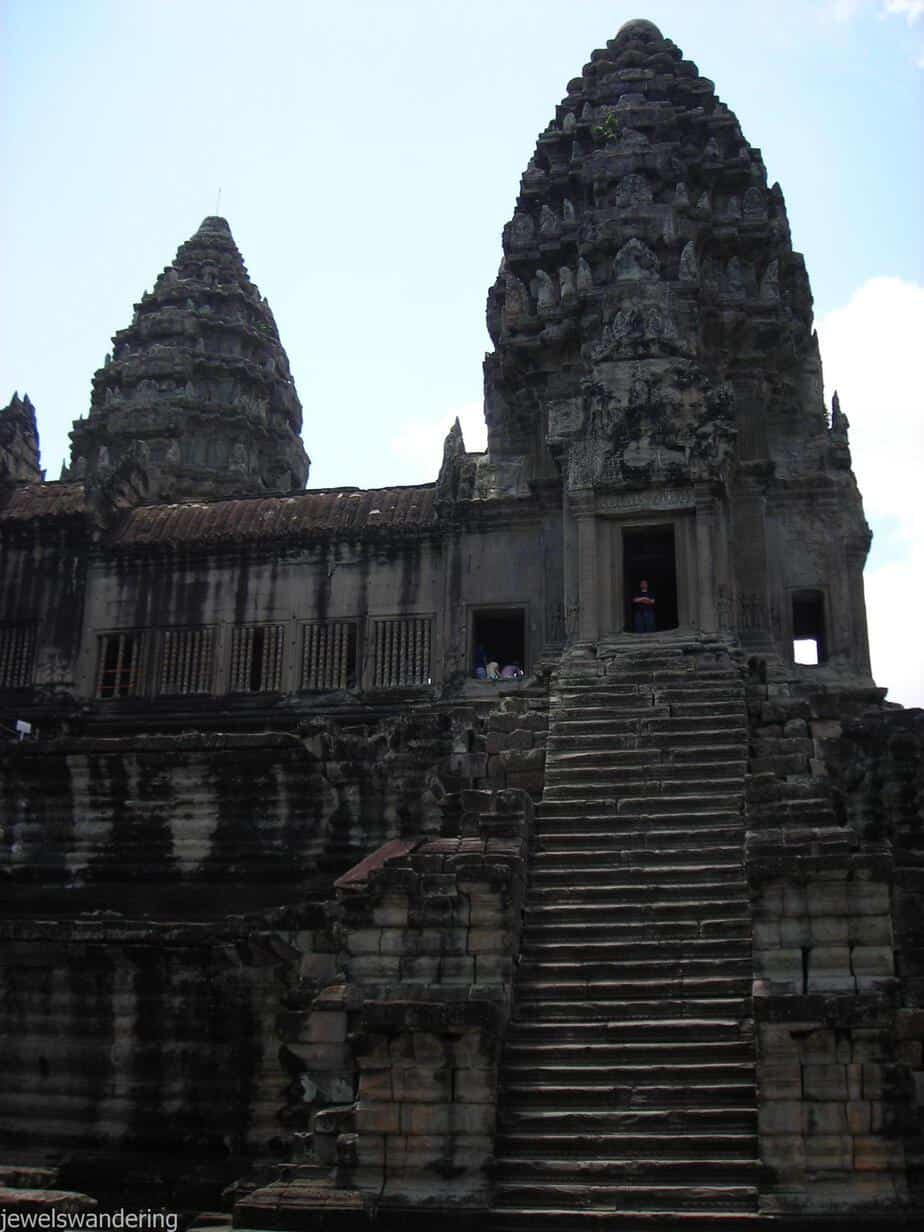 Get ready to climb some stairs and don't be scared, because those stairs were so steep! It was fine to go up, but coming back down was really scary! Ta Bauphon is part of Angkor Thom and you get some majestic views from up above of this ancient city.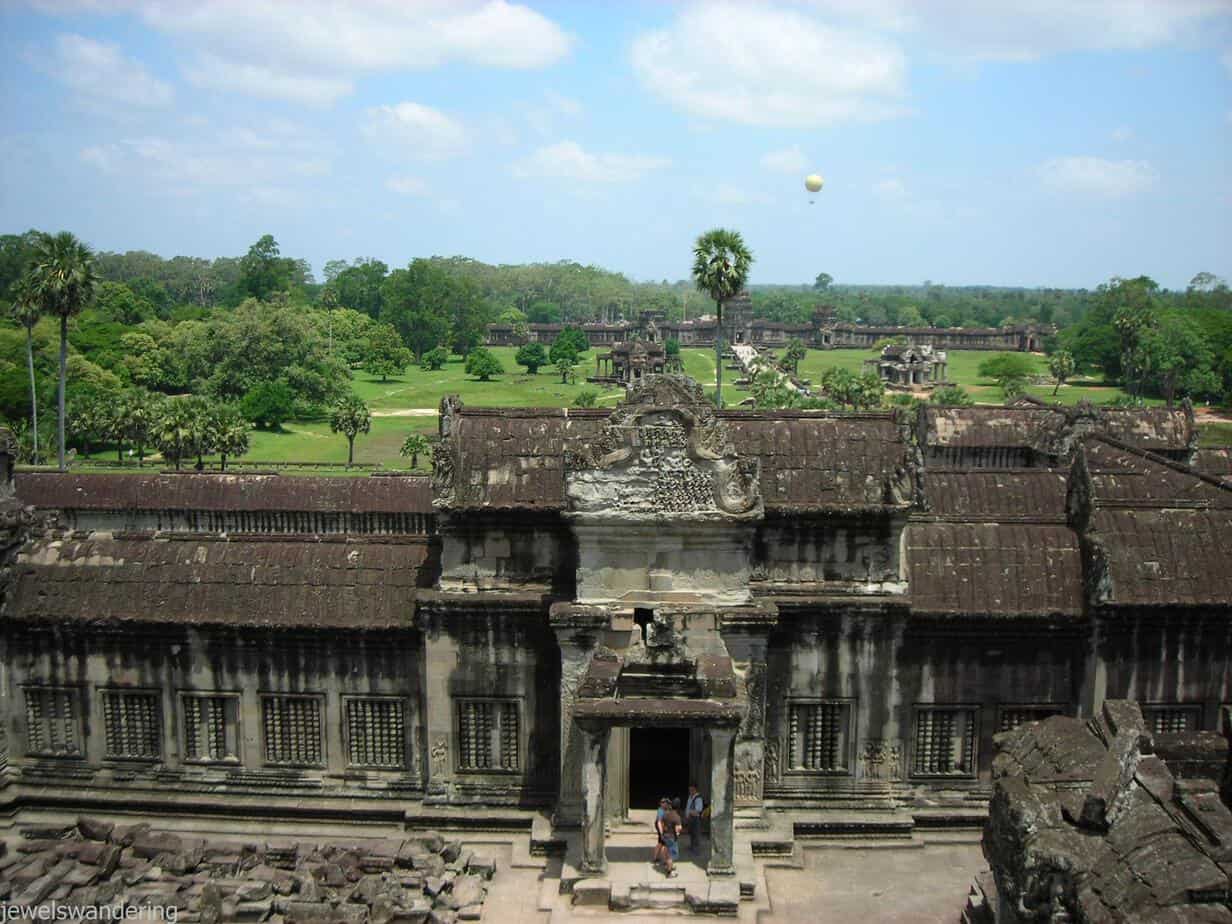 Gorgeous, no??
There are so many more temples around Angkor .  I only saw the main ones as I was there for such a short amount of time.  And honestly, you don't want to get "templed" out. When I was there, there weren't many tourists as you can see from my pictures.  I was able to take pictures with minimal people in them – winning!  If you Google images for these temples now, you'll notice that at each temple there are throngs of people. It's insane! And I hear that to get into the area around Angkor, even if you don't go to the temples,  you do have to pay a daily fee of $20 or you can buy a 3-day pass for $40.  Which honestly, is quite cheap if you think about the expanse of the area you can access/see.
I would love to go and see them again.  Want to come with?