What girl hasn't dreamed of going Fashion Week?   When Ana asked us if we wanted to go last Friday, I jumped at the chance.  It wasn't New York Fashion Week by a long shot, but hey, it was definitely a night to remember!  I have to say, we got pretty good seats, second row baby! The first row was of course reserved for the models, celebrities, It girls and stylists, but it's not that I knew who the hell they were.  SGFW is still quite small compared to NY or London, but I was pleasantly surprised that there was a good line up of amazing designers showing here.  Diane Von Furstenberg opened Fashion Week, Thakoon's show was on that Saturday, and Victoria Beckham ended Fashion Week on the Sunday.
We got there for 9:30pm ish and we mingled in the crowd sipping on champagne and since I didn't have time to grab dinner, I ate all the free deserts passing by.  Yep, I will never be a model with all the sugar I ate. Hehe.  Yeah, keep dreaming Julie! But observing the crowd, I definitely saw some interesting outfits that I would never dream of putting together.  A bit too out there for me, I wish I had taken some pictures!  But the one thing I should have worn was sneakers.  Or flats.  A lot of the girls were wearing comfortable, yet trendy flats.  I made the mistake of wearing killer heels and damn, my feet were dying a slow death.  I am just not used to heels anymore since I live in flip flops here.
(Apparently the girl in the middle in the black suit is some famous Asian supermodel)
Once we were seated, the show only lasted about 10-15 minutes.  The models were not what I would say beautiful.  They were interesting looking.  And ridiculously skinny.  The clothes were not my style and the designer stuck to a monochrome palette of black and white.  It almost had an 80's feel to it with the mesh and the kick flares.  I definitely don't see myself rocking these designs, what do you think?  And I can't say I really understood the pompoms.  Hmm, maybe I am missing something…?!?!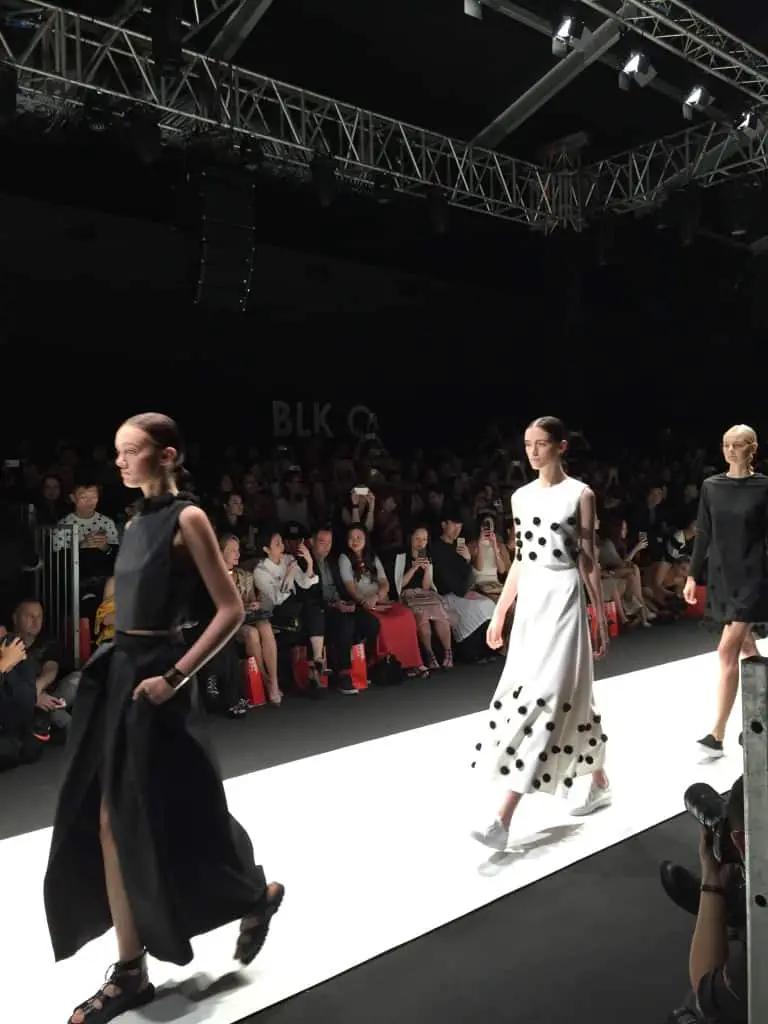 The swag we picked up was nothing too exciting.  A couple of magazines, a Strongbow Berries Cider, a free makeover at Nars and some coupons.  The best  part of the goodies was the two notebook and pen set, which is quite cute.
My first (and probably the last) Fashion Week experience was fun.  Lesson learned, don't wear killer heels and take advantage of the free booze! After the show, my feet effectively ended the night for me.  Just as well!!