First, let's acknowledge that we are in August and that August is the best month ever! Say it with me, "August is the best month ever!" Haha Anyway, my 48 hours in Siem Reap passed way too quickly as most weekends do.  I know that some of you were curious to see my pictures of Siem Reap, but I do need to preface this by saying the time I spent in Siem Reap was not spent doing any touristy things per se.  In fact, I will do a separate throwback post to when I did see the beautiful temples of Angkor Wat.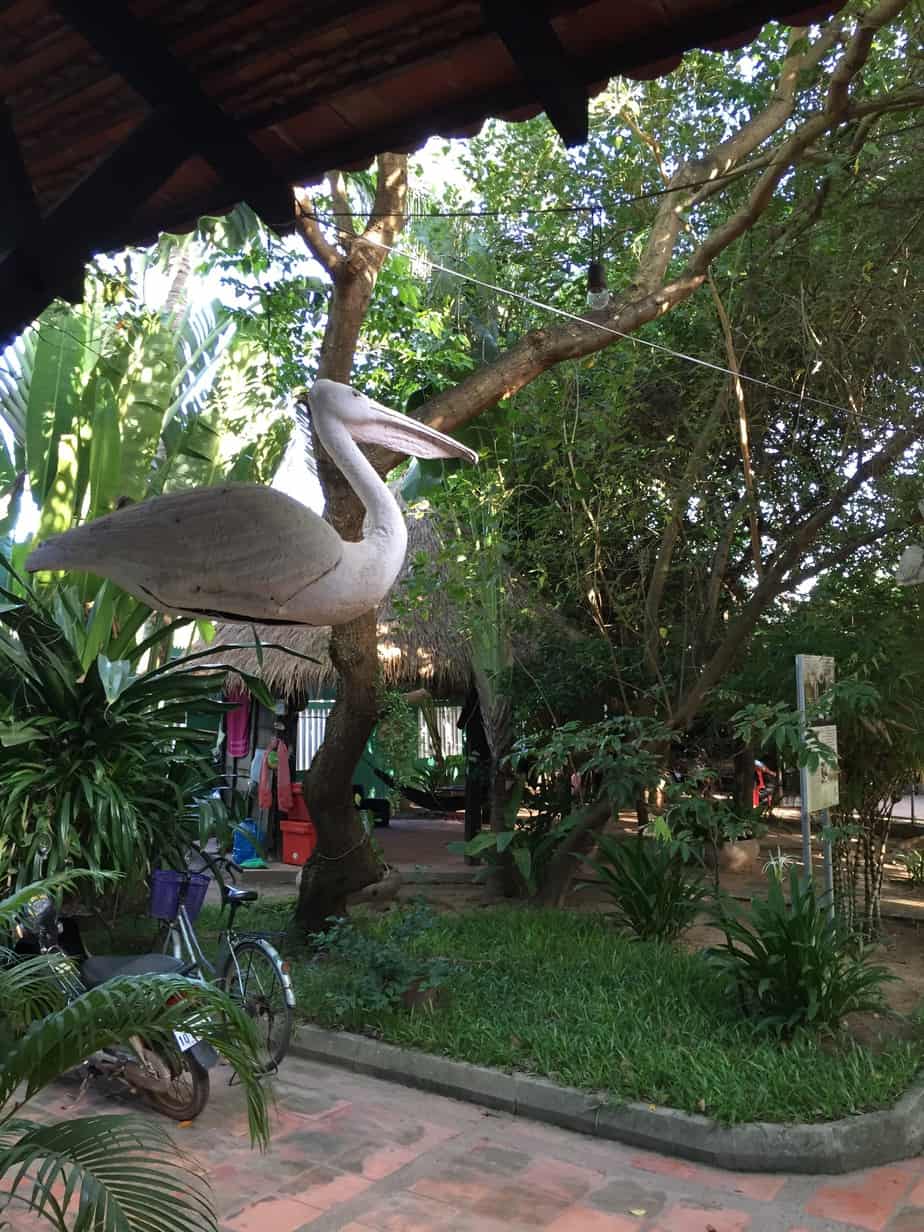 My tuk tuk driver took me to where we were staying – I didn't stay in a hotel this time around – to drop off my bags and then took me to Ali's office.  I hung out there for a bit while she finished up work and then we headed to Temple Skylounge for some sundowners.  It was stupidly hot but the fans and the shade helped as we sipped on ice cold cocktails. Well, an ice cold cocktail for me and some vino for Ali. 😉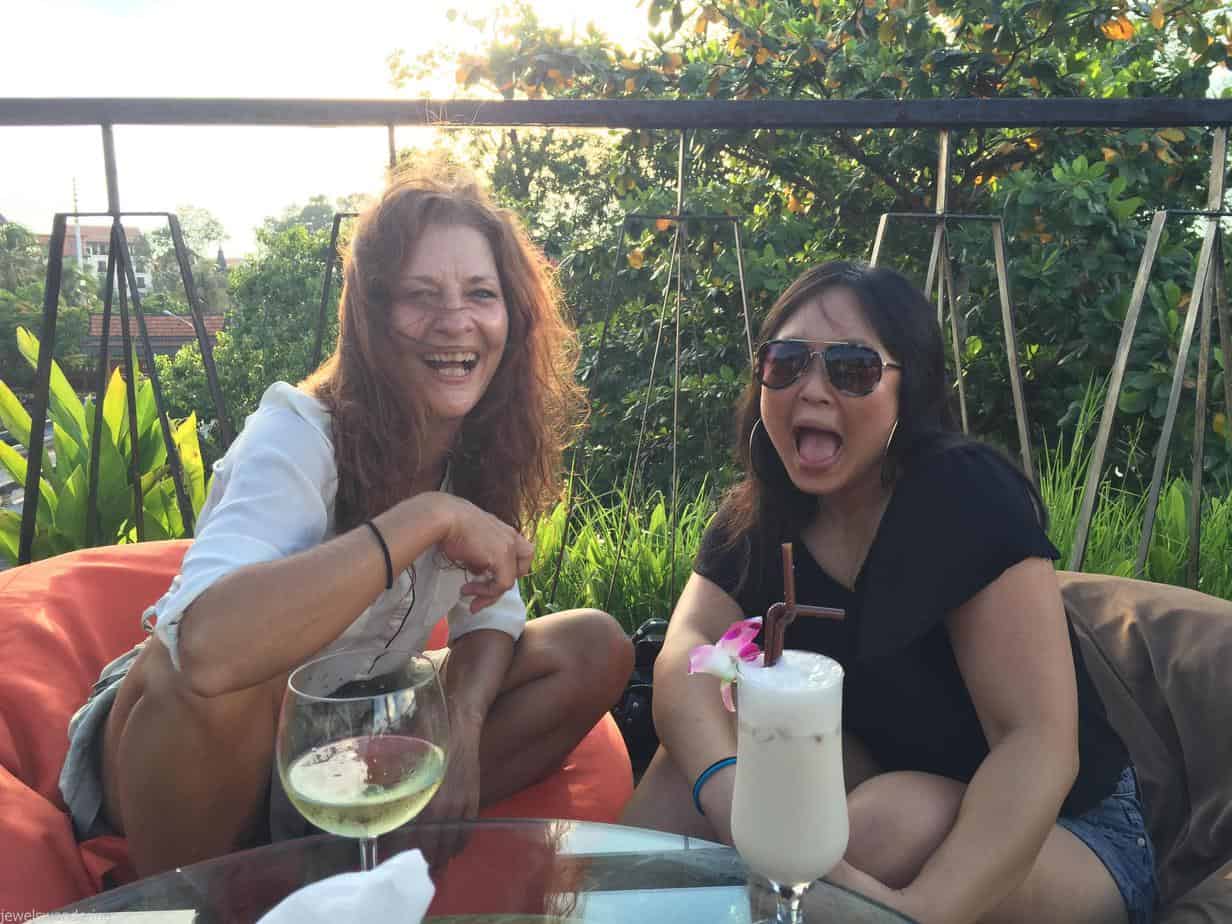 We had some nibbles to tie us over while we waited for Cathrin to arrive.  Even though Cathrin also lives in Singapore, I don't see her that often because she's never around!! You think I travel a lot? Cathrin is a true jet-setter! 😉 
By then, we were starving and food was in the cards.  We went to this little place called The Old House over on Hospital Road which was a sweet, cozy restaurant serving up traditional fare.  We shared a red curry and a fish amok – both were absolutely delicious! The amok is a traditional Khmer dish where the curry is steamed in banana leaves where it basically becomes a thicker curry. My mouth is watering just thinking of it! 
After some food, we headed to Miss Wong's for more cocktails and where we stayed put for most of the night.  This was a Shanghai-themed bar just off of Pub Street serving excellent cocktails.  The decor was also awesome! 
We definitely got a bit merry over at Miss Wong's, but then their Rose and Lemongrass Martini's were so good and I couldn't stop drinking them.  I was warned that they were lethal, so after 3, I was a bit merry.  Well, we all were a bit merry and with that merriness, we carried it over to Pub Street to check it out.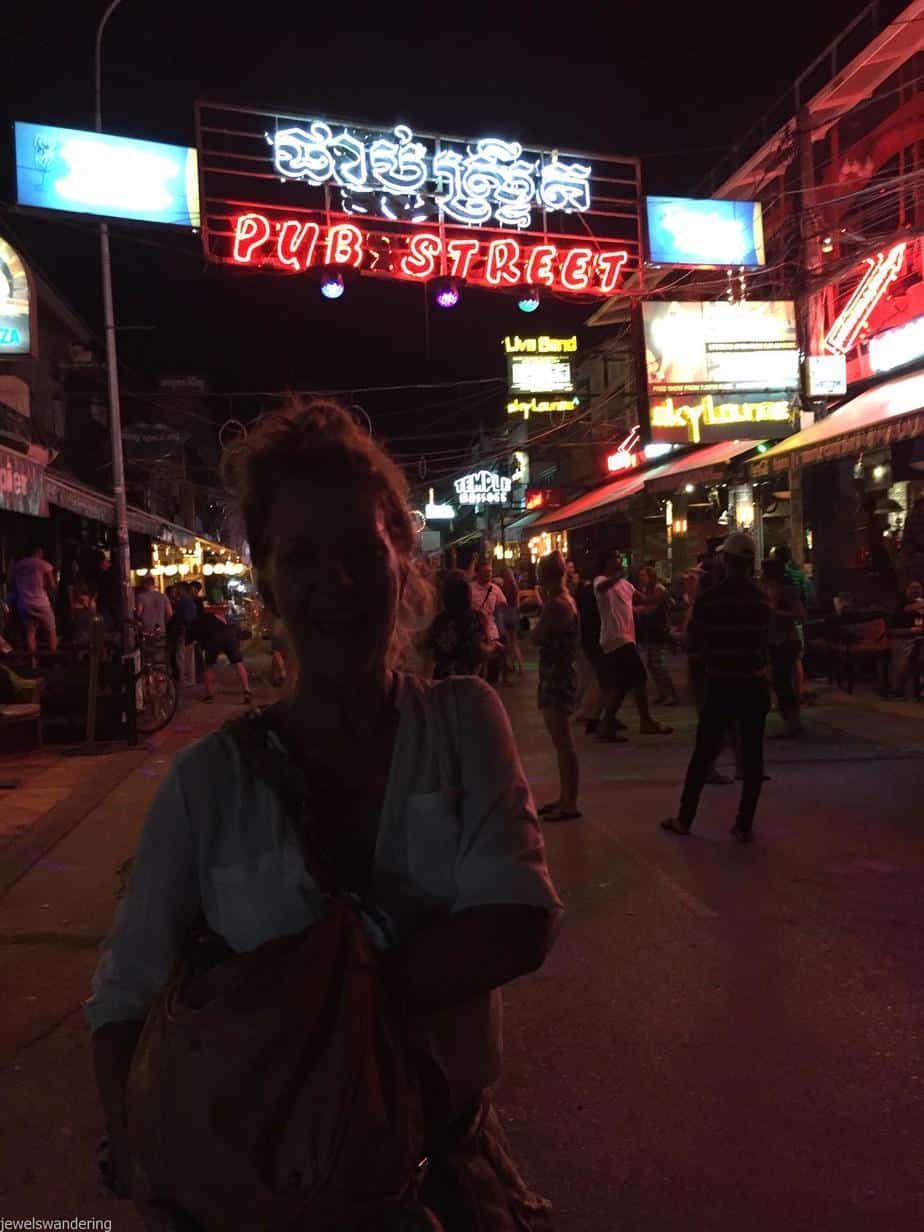 Pub Street is where all the bars and clubs are at.  It's really geared for the backpackers that come through in droves.  It's not really my scene anymore as I'm definitely mutton dressed as lamb in this environment.  Needless to say, we didn't stay long and off home we went!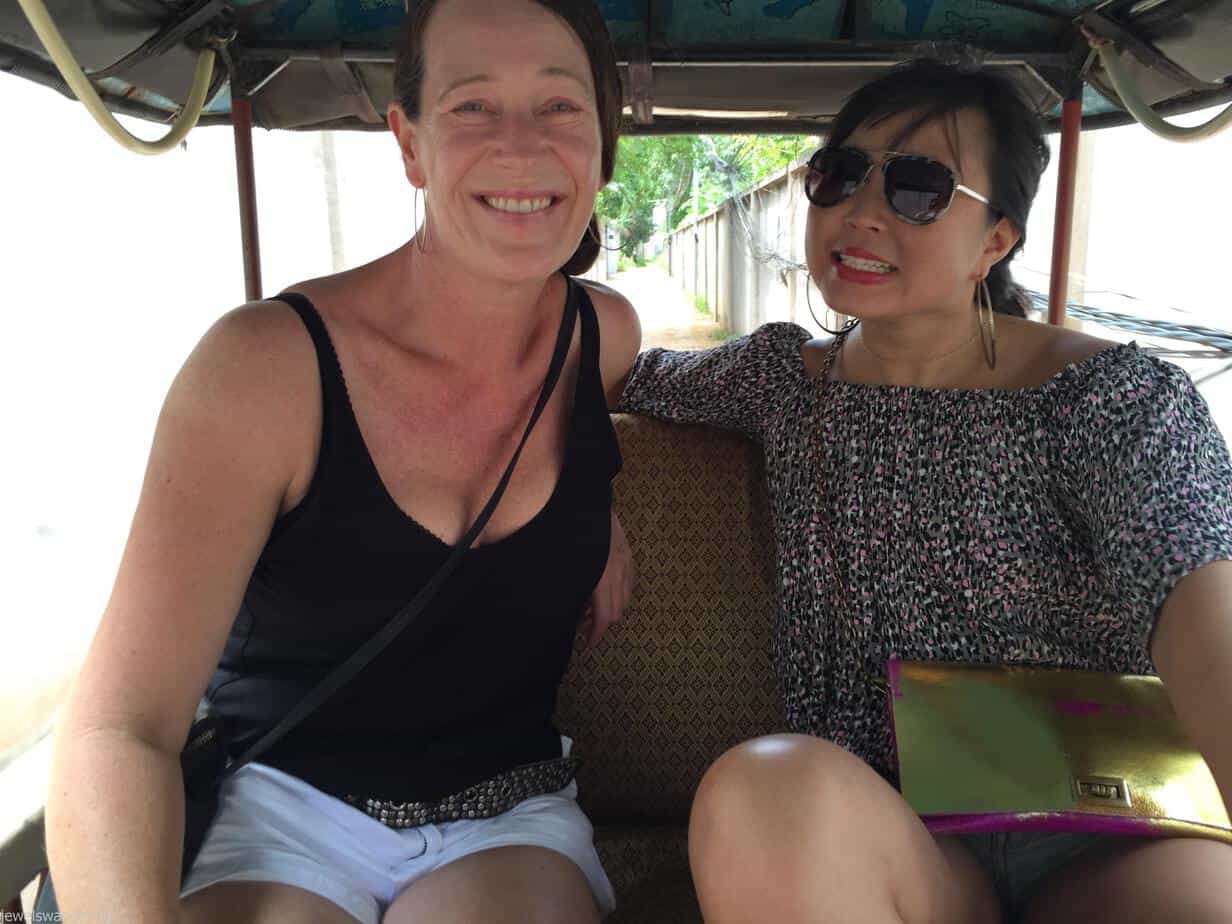 The next morning was a doozy.  None of us wanted to wake up, but hunger beckoned. HA. But not before some pool time. And some coffee and a quick technical snack till we could eat some lunch. But before lunch, we headed to Little Red Fox before heading out to the King's Road.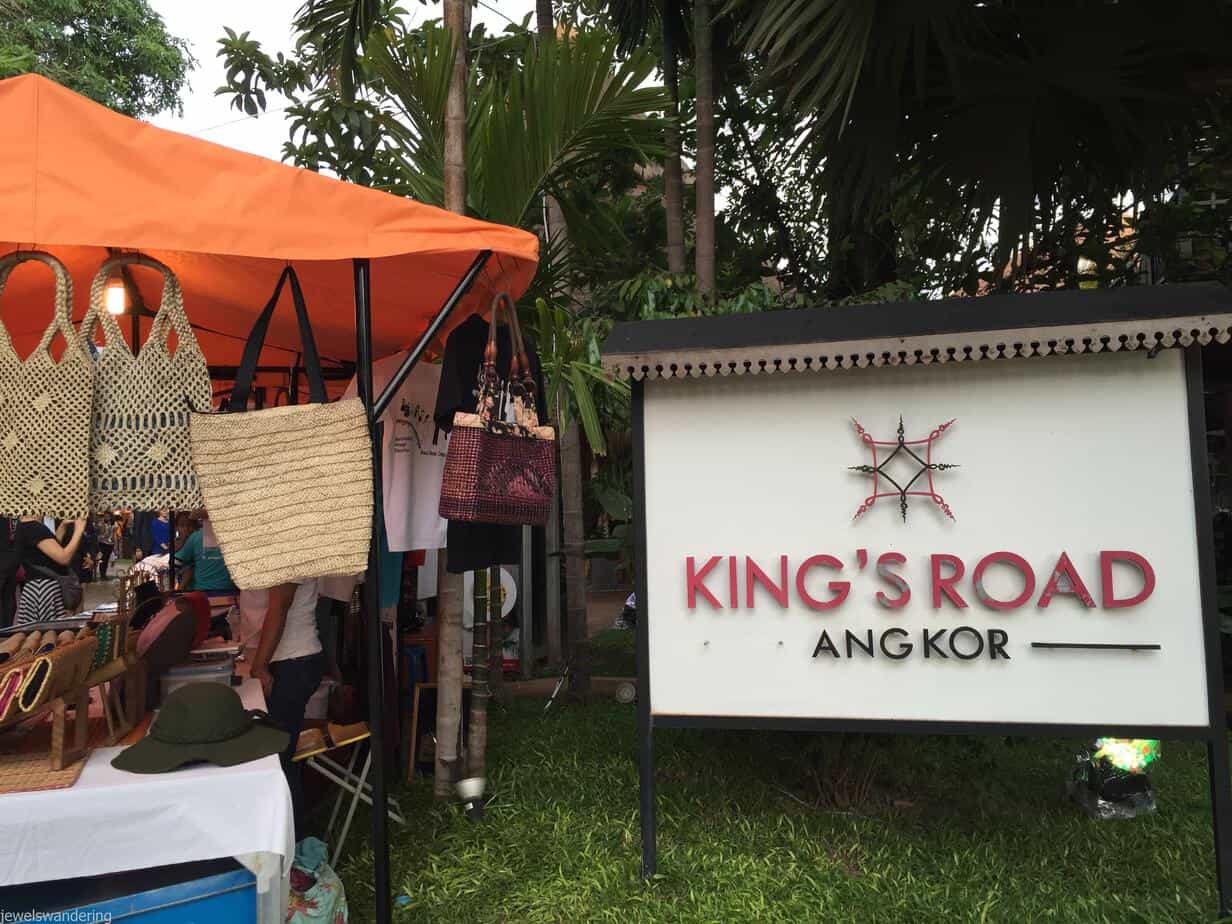 King's Road is a little area with boutiques and restaurants and where the Made in Cambodia fair was happening.  It is a monthly fair that was previously held at the Shinta Mani where local artisans showcase their goods.  So instead of buying cheap tourist tat that is cheaply made over in China, I picked up some beautiful handicrafts that were definitely made in Cambodia all while supporting local artists. #winning
We hung out in this area for most of the afternoon as we got caught in some rain.  No biggie.  We weren't in a rush to be anywhere, neither did we really have an agenda.  So after the rain stopped, we headed out to Pinot Divino – this super cute wine bar off the Night Market.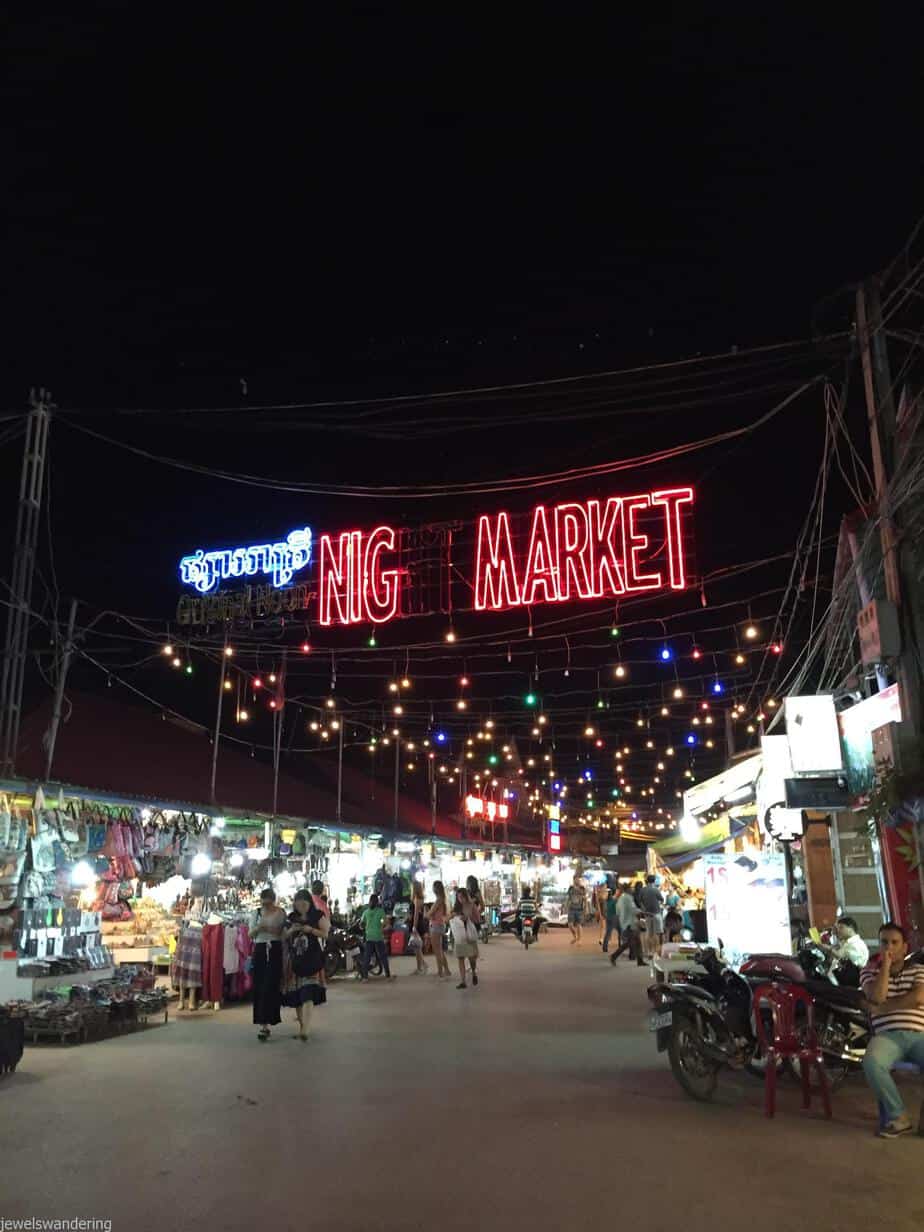 We had some, what else! Wine! And ahh, it was such a joy to drink some yummy vino that doesn't cost an arm and a leg.  Oh Singapore, I do love you, but your wine is too, too expensive! We had some nibbles at Pinot Divino before we headed out The Station Bar to watch the lady boys perform.  
Those guys aren't lady boys. They're normal guys who loveto dance! They were also quite sweet!
After they finished performing, we headed out to another bar with Ali's friends which turned out to be a hostel bar.  Haha.   We were definitely out of our element here and so we didn't stick around for too long, just in time to inhale a Philly Cheesesteak.  HAHA What can I say, I think the theme of this weekend was hunger!! 
The next day our time in Siem Reap was short, so all we had time for was a leisurely lunch over at the FCC – The Foreign Correspondents Club.  I think I ordered two mains because I was so damn hungry. See! I was insatiable that weekend! 
As lunch drew to a close, we knew reality back in Singapore beckoned.  It was so good to see Ali so settled in her new life in Siem Reap; our weekend together is definitely one I will cherish always. With that, we said our "See you laters!" and we called for our tuk tuk to take us to the airport.
Siem Reap, you were absolutely lovely and I truly fell in love with your sleepy, chilled atmosphere.  I cannot wait to come back and explore some more!!