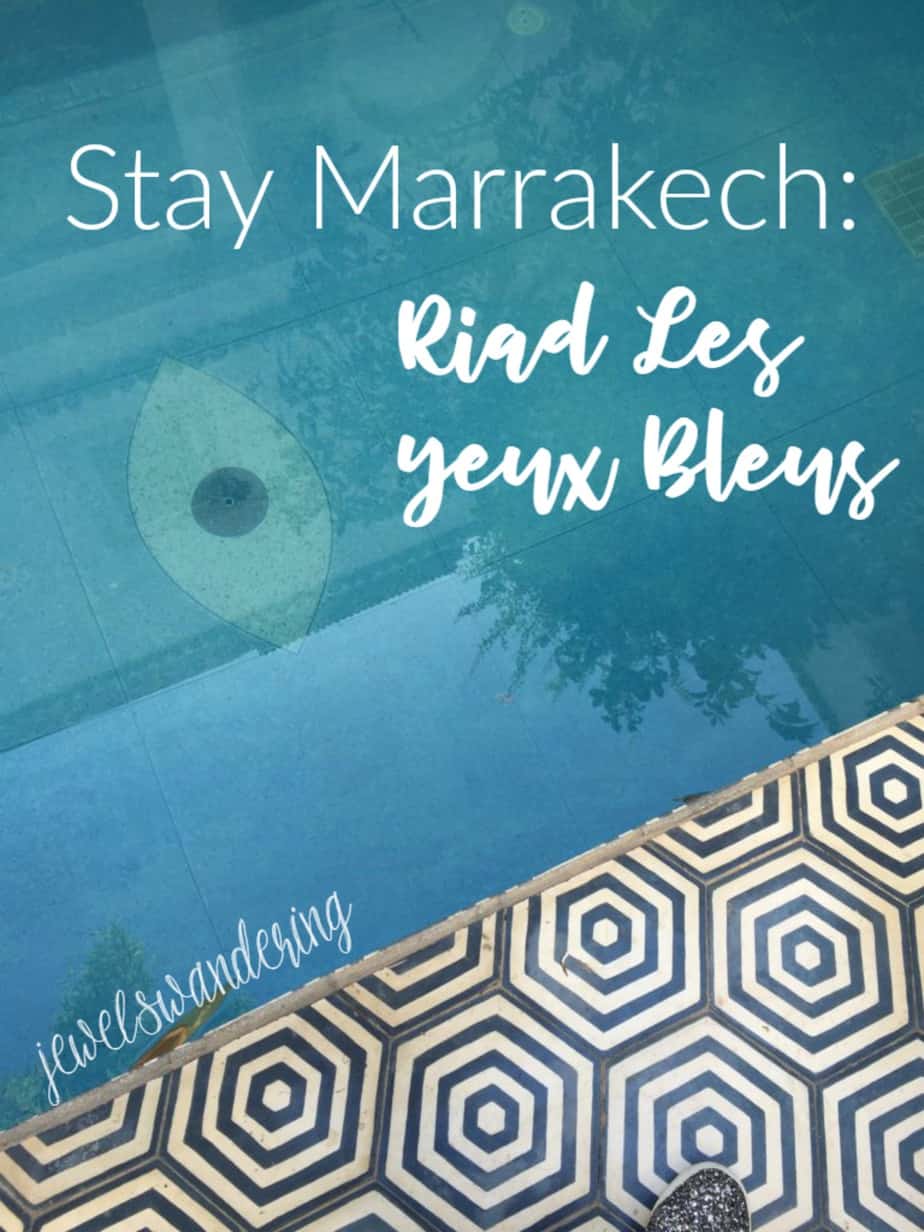 Wow-wee! We are now in the land of December!! But first, let me take you back to the beautiful Riad Les Yeux Bleus in Marrakech.  I can't even tell you how many places I researched online, but for me, this is the best kind of research! I love, love looking at hotels and the hardest part was picking a hotel, rather a riad, to stay in. If you've ever researched the riads in Marrakech, you'll understand.  Can I actually go back and stay in a different riad every couple of night please? Can you make that happen for me? Awesome, thanks so much!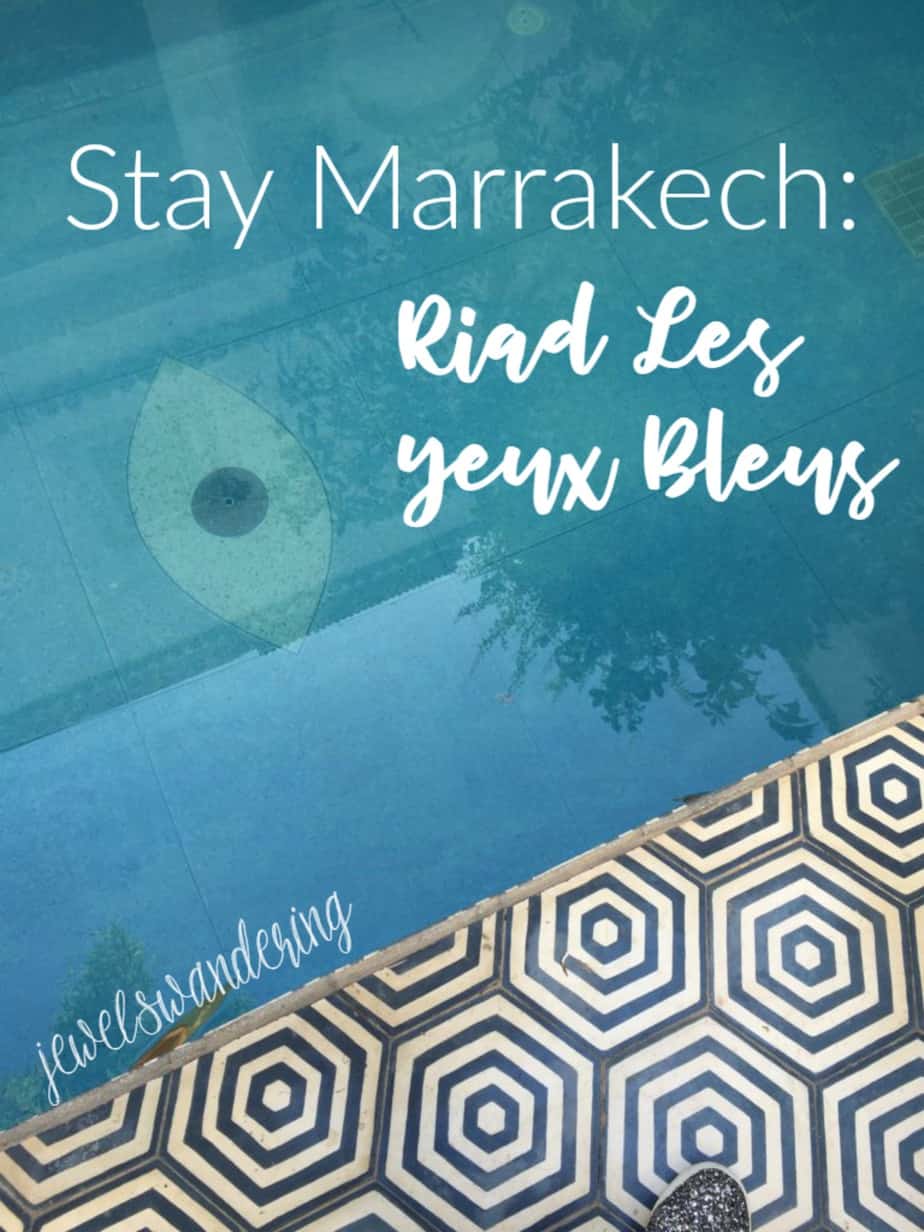 Even after I booked the Riad Les Yeux Bleus, I was still wondering if I should have booked a different place.  But it was too late to cancel as this was the one time I used one of those hotel websites to book.  So I really needed to tear myself away from looking at more riads. HA.
I'm sure you've figured out by now that a riad is a hotel, if you will.  But a riad was/is traditionally a townhouse with the rooms around a courtyard.  And it should have a garden and a fountain. Otherwise, it's just a dar.. But nowadays, the riads have been turned into hotels and I am so, so in love with Morocco everything and I would love to one day have a house like a riad. Oh, be still my heart! I mean, how can you look at that and not swoon?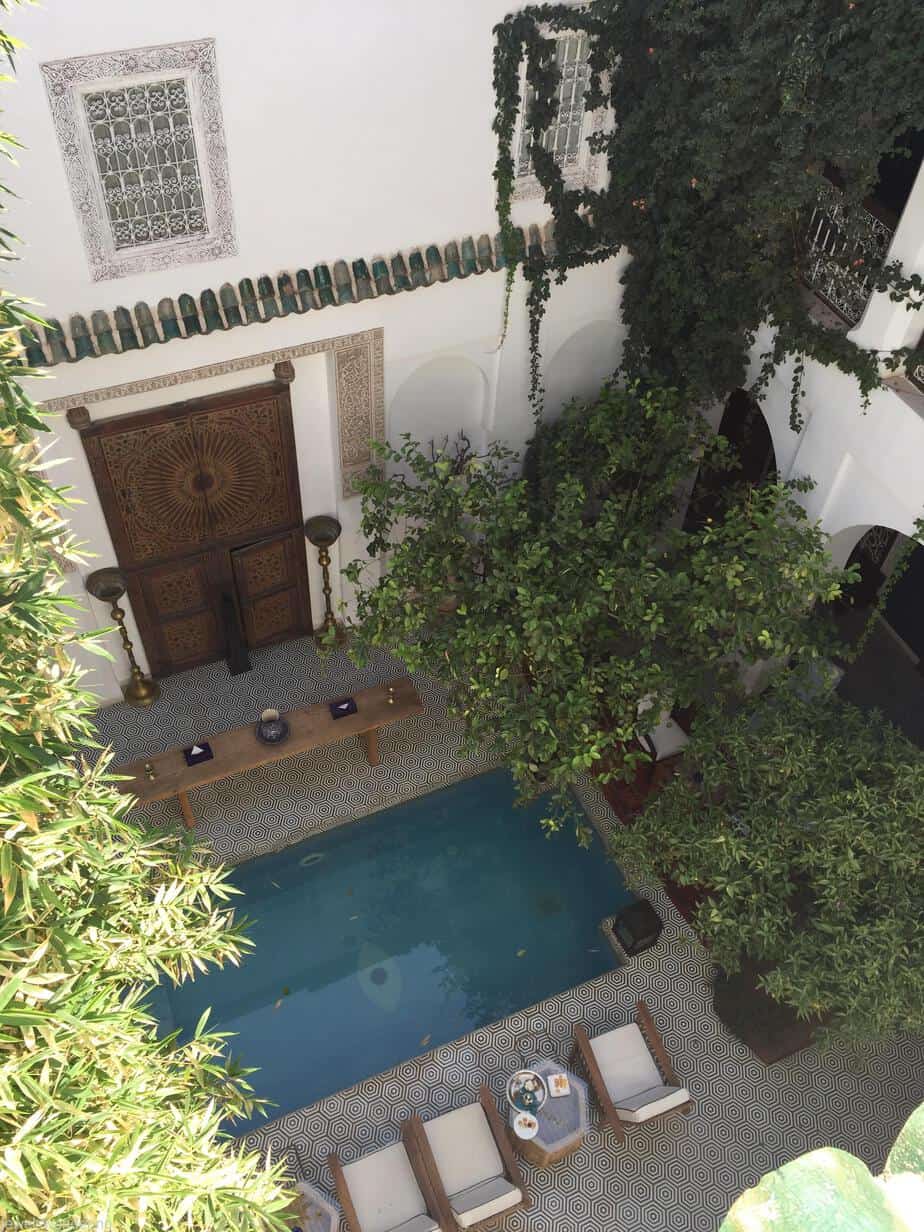 So I arrived in Marrakech and had arranged the guys from Les Yeux Bleus to pick me up at the airport.  I highly suggest you arrange transport from the airport because if you're staying in the Medina, it is a maze! And if you just take a taxi, the driver may not know where your hotel/riad is. Just saying!
I was shattered when I arrived at Les Yeux Bleus and Leroy was waiting for me in the courtyard.  I was served the traditional Moroccan mint tea with some biscuits and I basked in the sun while Leroy was telling me his adventures from the night before as he wandered around the souks.
In between his stories, I wandered around the riad to check out the different rooms. My heart just did so many happy dances.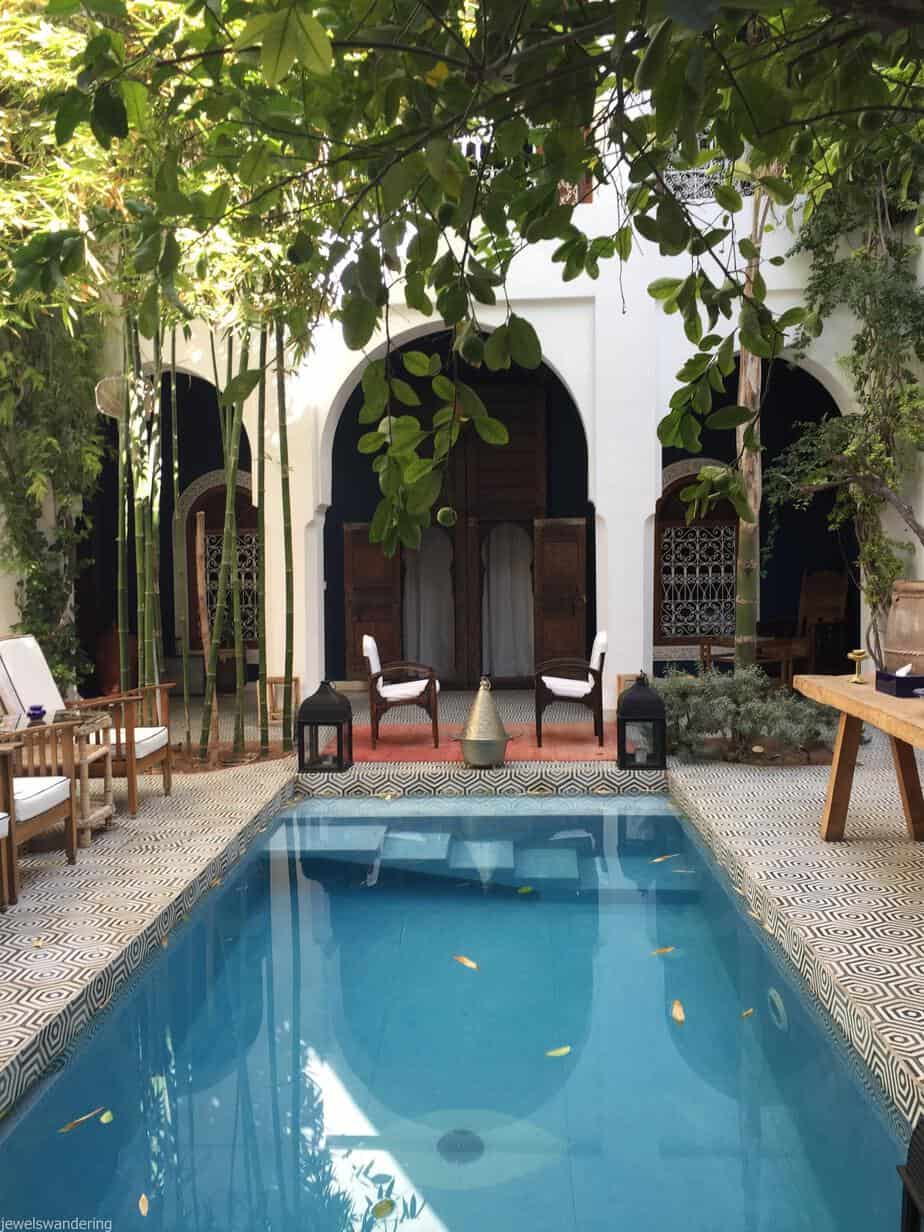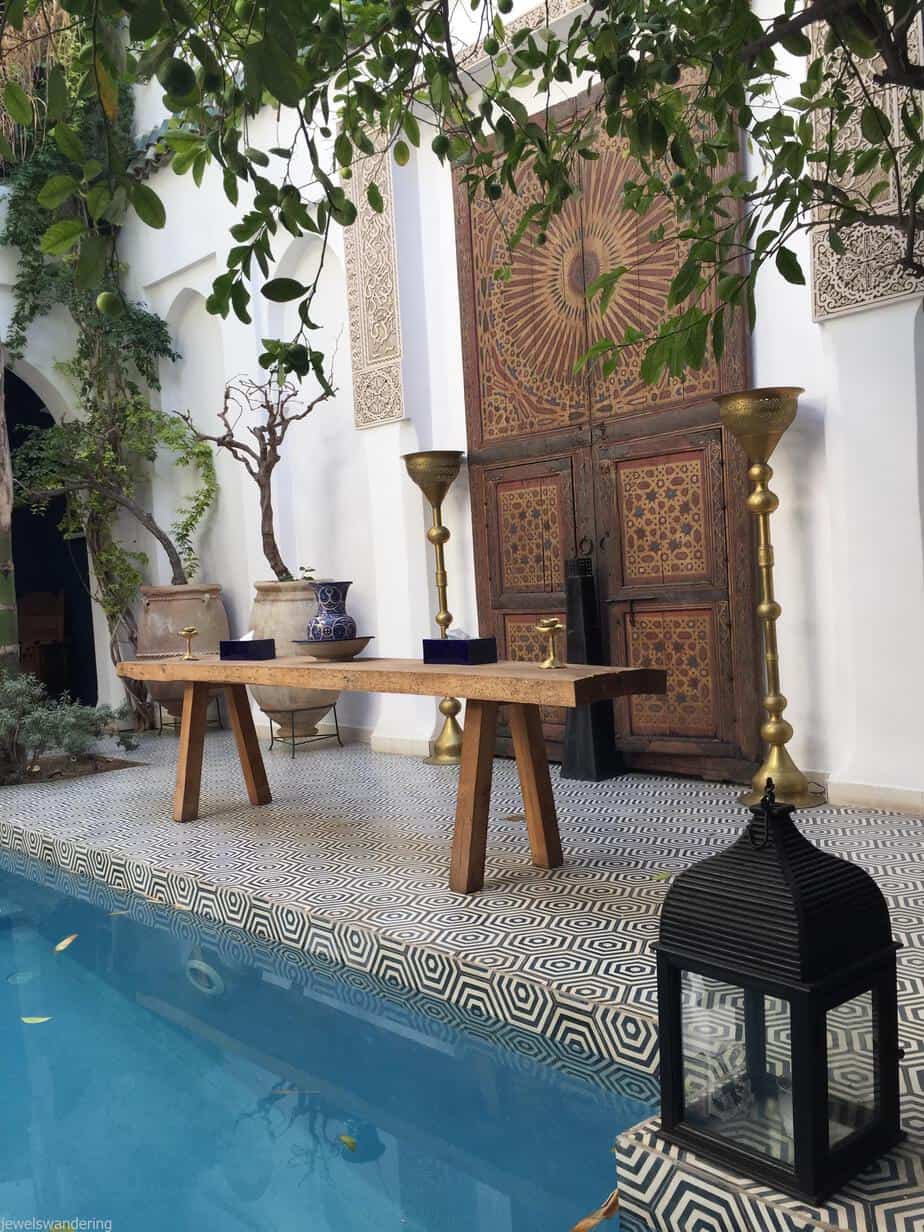 The detailing on the doors; the tiles; the lanterns. Gorgeous! And the rooms around the courtyard were gorgeously decorated in rich jewel tones. There was a little library and a game room – I was seriously sad that I was only going to be staying there for one night. I just wanted to chill for a day and read a good book while drinking some mint tea.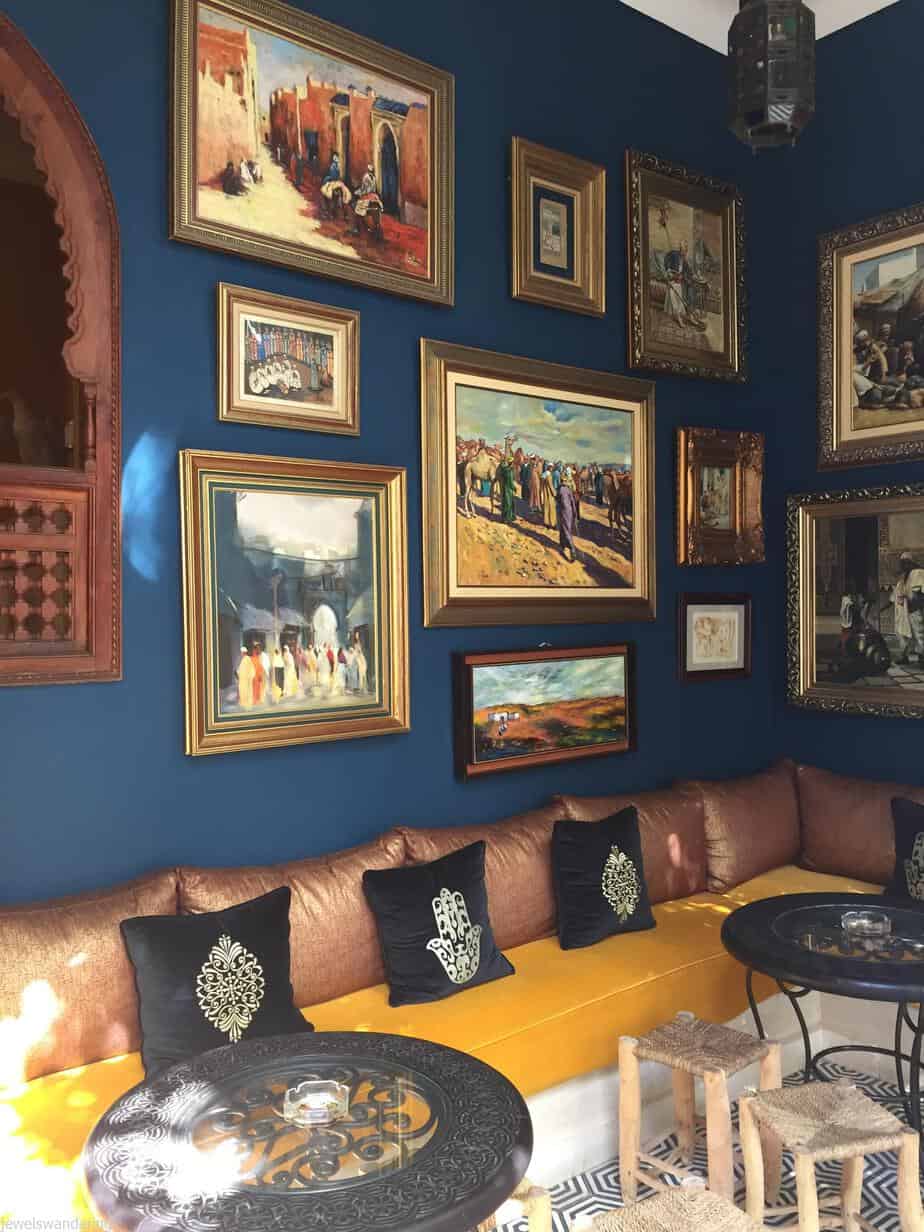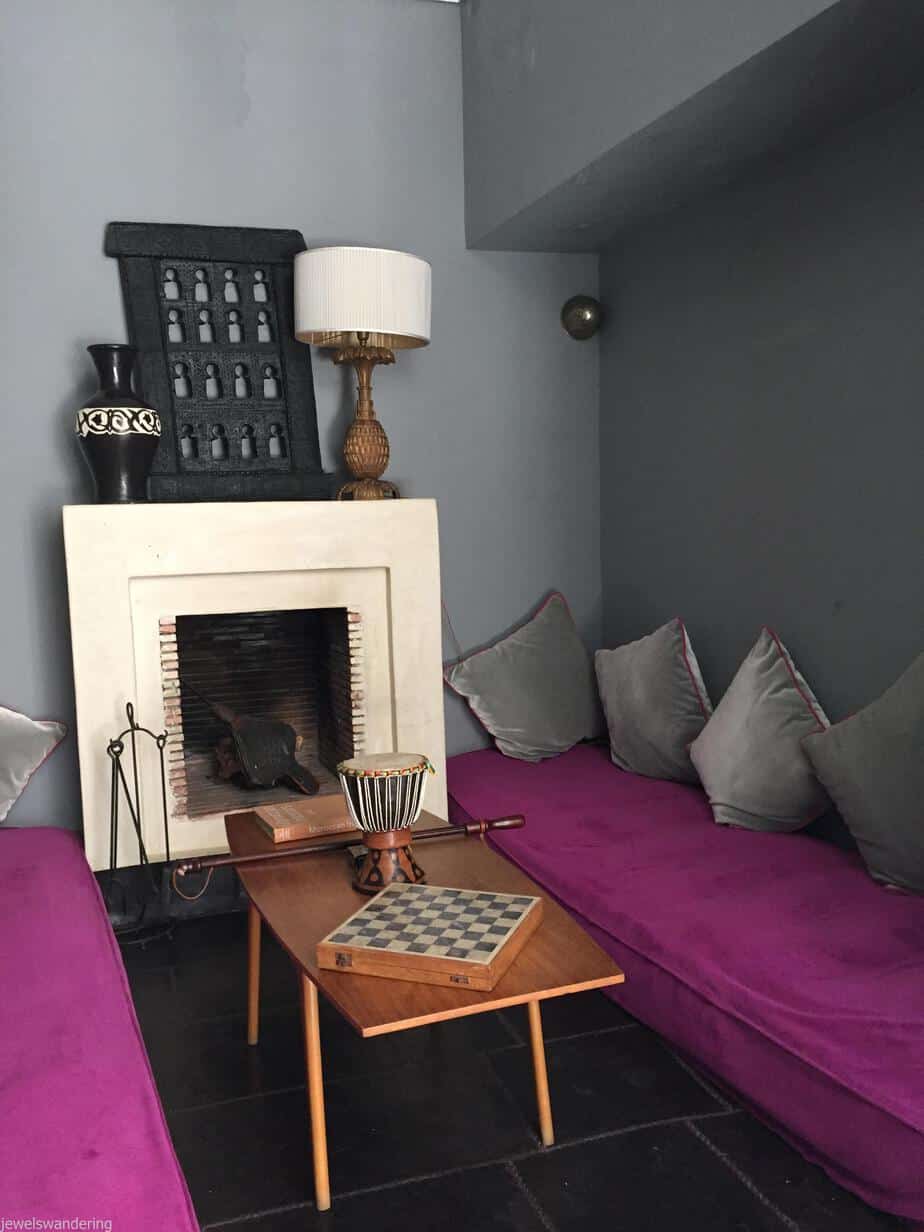 I also peeped into another one of the rooms. Les Yeus Bleus recently underwent a renovation and each room – 8 of them total – have been beautifully decorated and adorned with gorgeous Moroccan lanterns and rugs.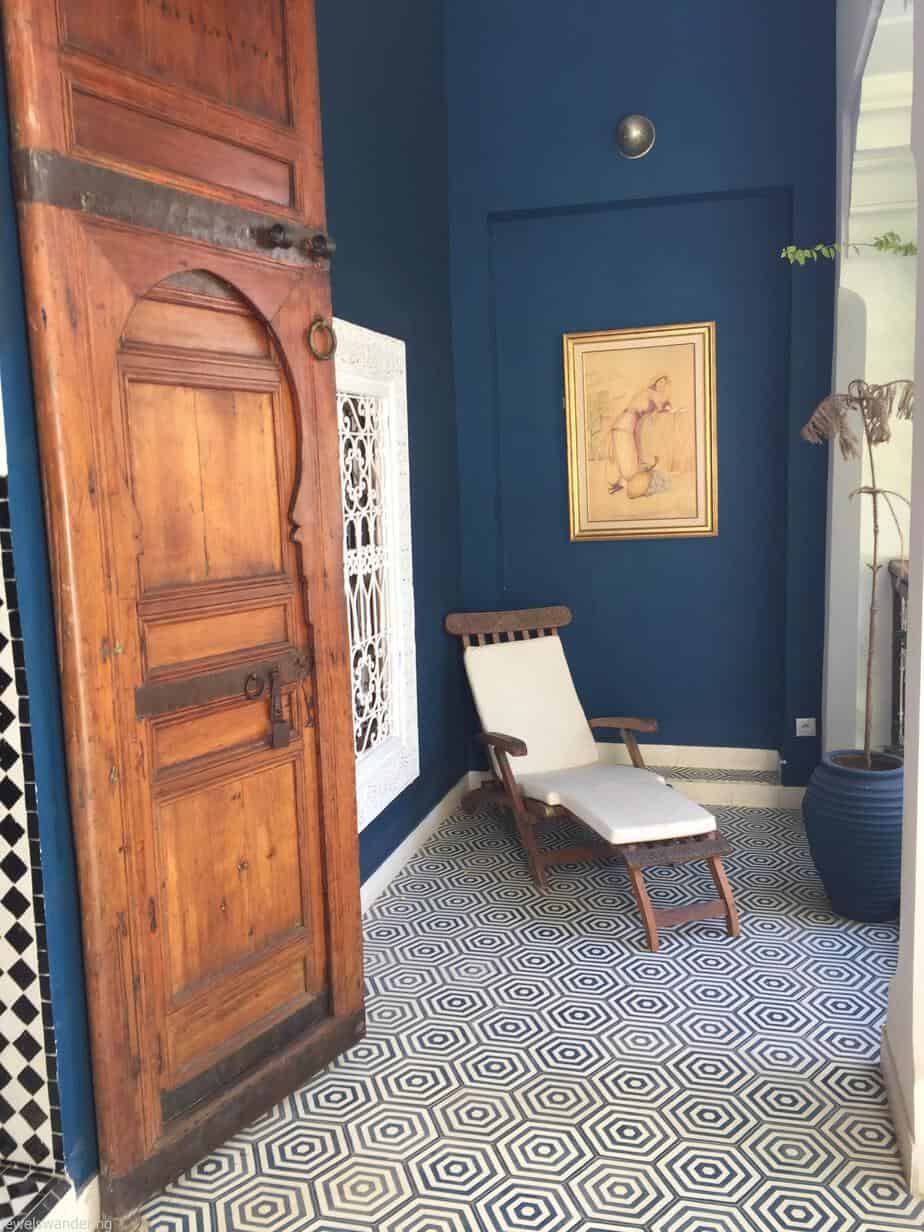 Our room was unfortunately the white room, so no rich jewel toned walls for us.  But even so, I totally fell in love with my room.  And oh my gawd, the doors! Love, love these doors!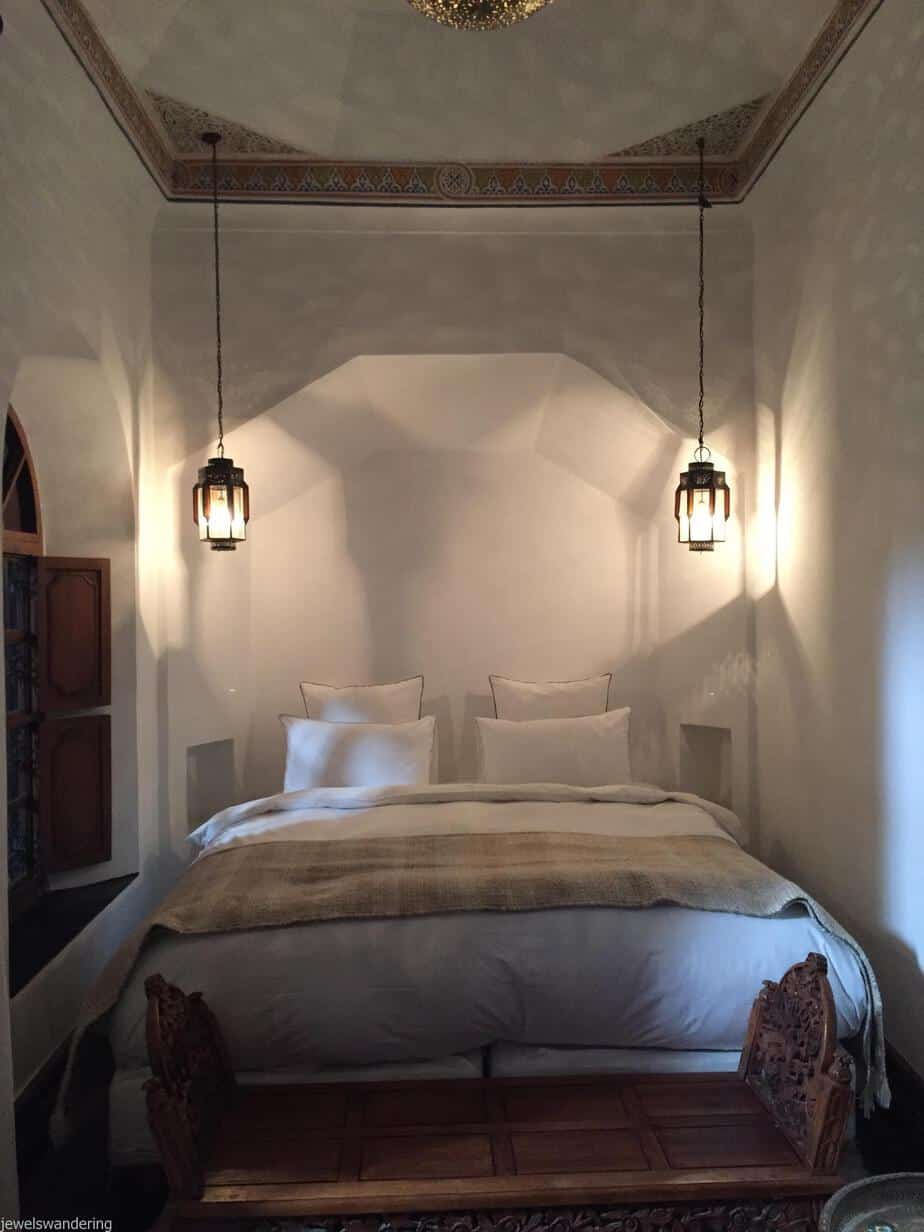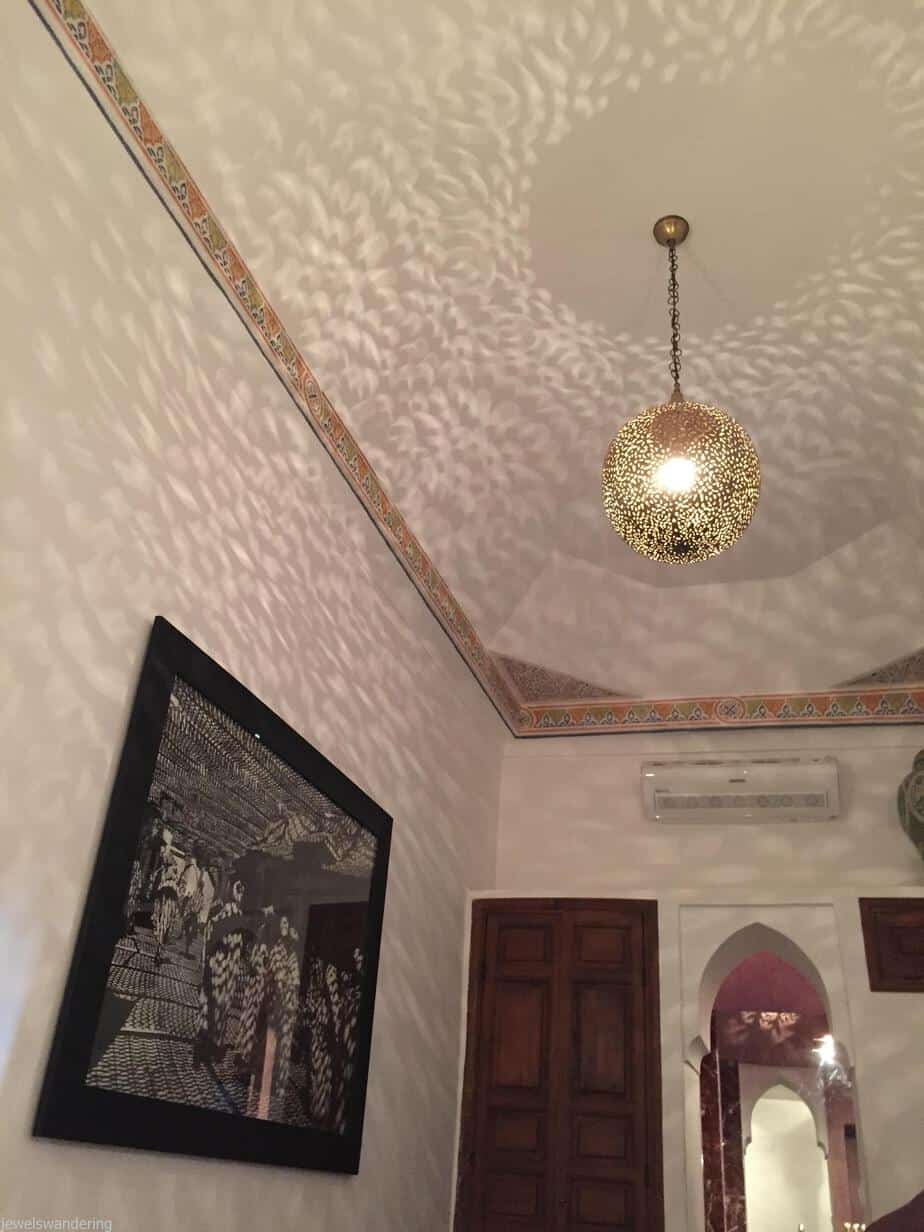 At this point, I was famished and so we decided to eat at our riad. Les Yeux Bleus does serve food although it's not a restaurant per se. I love Moroccan food and Singapore does not do good Moroccan food so to say I was excited was an understatement.  We both ordered the candied lemon chicken tagine with olives and we got some cous cous on the side. 
You guys, this was THE best tagine I had during my whole time in Morocco.  And I ate a shit ton of tagines that week. The cous cous was so fluffy and light, seriously I will never, ever make cous cous this good. Considering Riad Les Yeux Bleus are not a restaurant, they should really reconsider opening up their dining facility to non-guests. Or maybe they do. But really, if you find yourself in Marrakech, go eat there! And oh, their kitchen is opened 24 hours for guests, so hello midnight tagines!
They also have a rooftop space which has another pool and their hamman (or the traditional Moroccan bath/spa – I am still kicking myself for not having done one while there) is up there.  The rooftop is also where the kitchen is, so you can head up there to eat their fabulous tagines – though we chose to each down in the courtyard. But we did go up there for our traditional Moroccan breakfast of flatbreads and jams. And oh! The pancakes are divine! But their pancakes are more like crepes, so don't expect big fluffy pancakes a la American style. 
I honestly LOVED Riad Les Yeux Bleus.  If you're going to Marrakech, definitely stay here and the prices are very reasonable! I really wished I could have stayed here for at least another night, but the following day, we were off to Palais Sebban where the wedding was being held.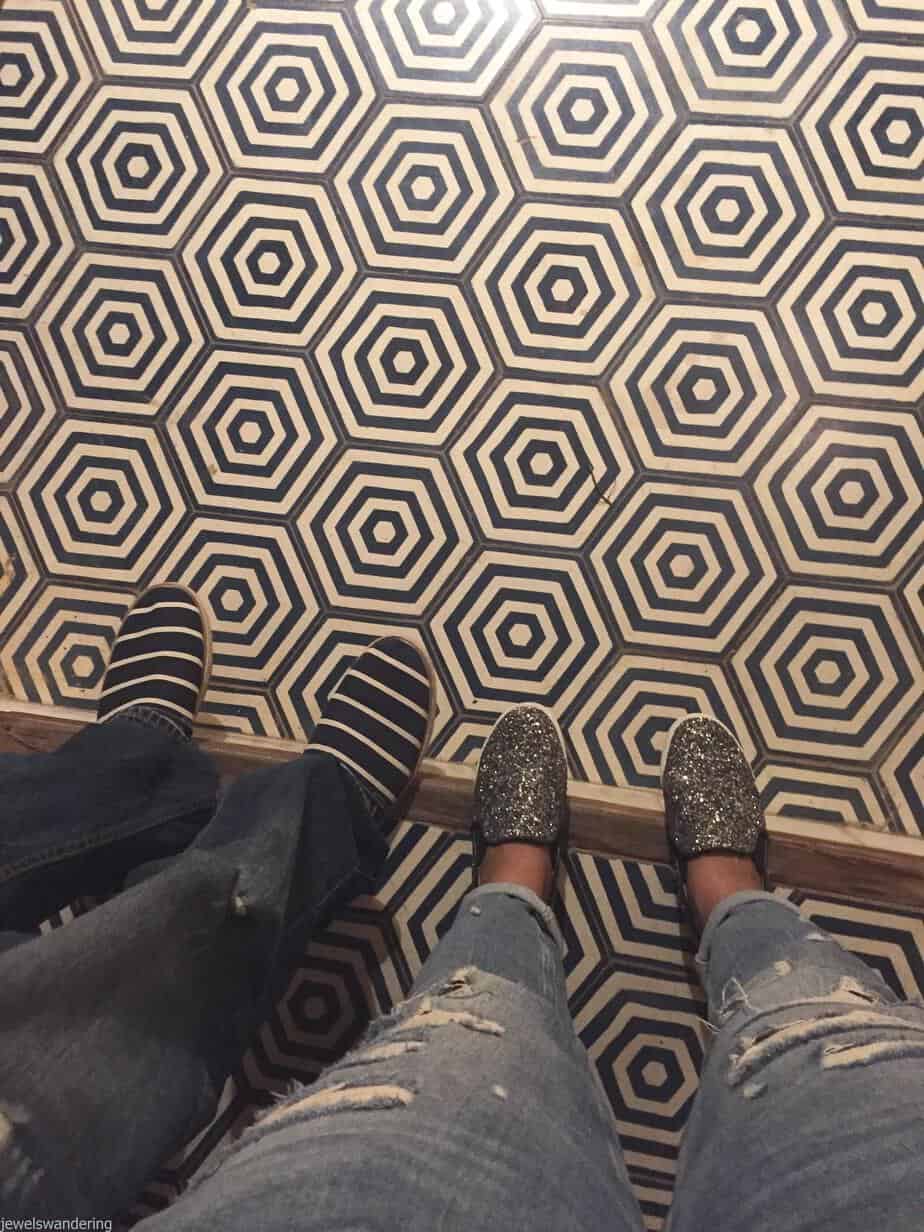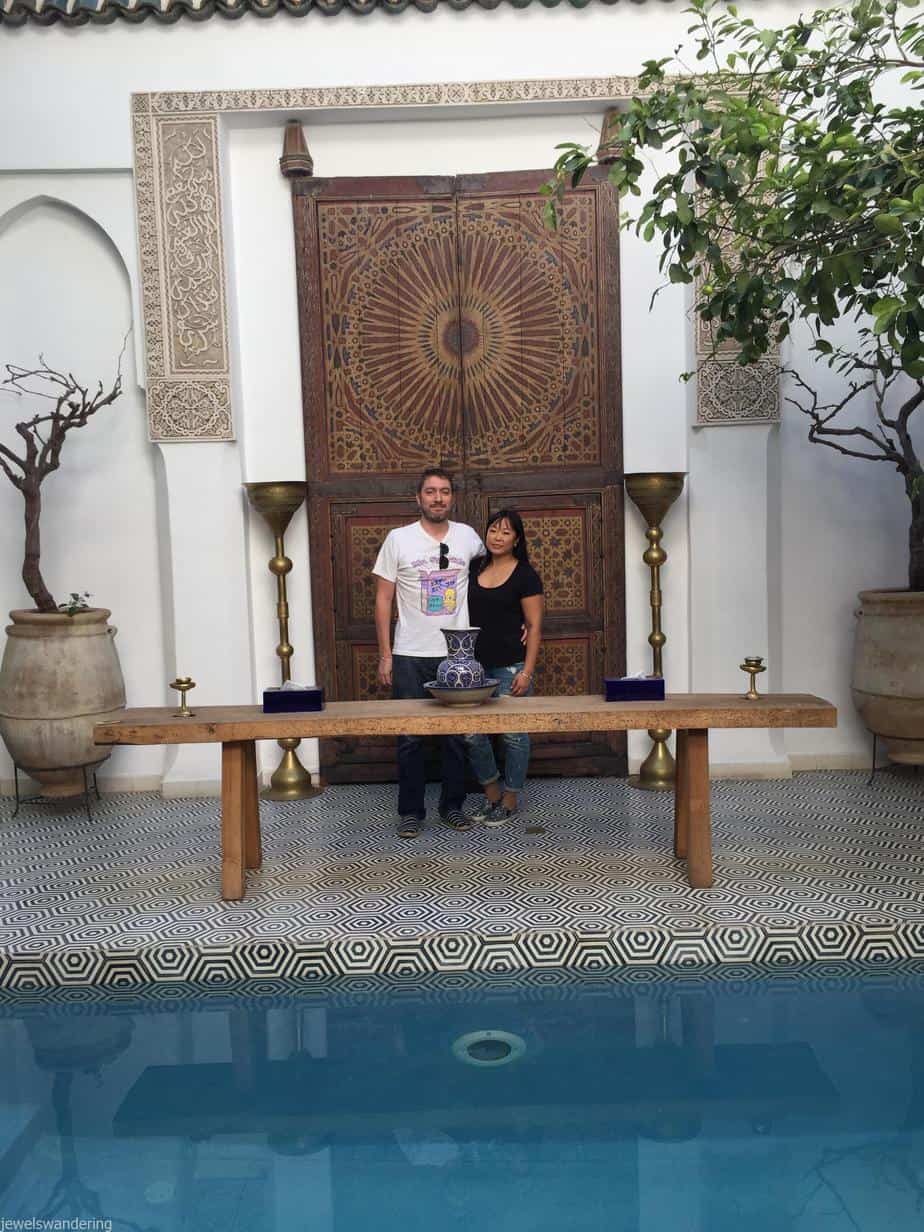 Riad Les Yeux Bleus is in the Medina and is about a 10 minute walk from Jemaa el Fna – the main square of Marrakech.  The staff were absolutely lovely and helped me dealing with the airport as my bags did not make it with me. Plus, it's next door to the famed La Maison Arabe – an iconic hotel and restaurant where Winston Churchill used to frequent. But that's another post..! 😉
I loved Les Yeux Bleus so much, I wonder if they'd let me live there?!?!