New York-a-licious
I know I'm not the only one who like to eat a lot, so when I know I'm heading back to the city, my mouth starts salivating. I start thinking of all the New York-a-licious-ness I'm going to eat and not care about a single calorie.
Don't get me wrong, Singapore has a great restaurant scene but there are still some things lacking.  We do get Brazilian food here, but it's only at a churrascaria.  Say whaaa? No, seriously, have you been to one? It's an all you can eat meat BBQ extravaganza where the waiters come to your table with skewers of delicious cuts of meat. It's YUMS. If you haven't tried it, I recommend you go, but really, I don't feel like stuffing my face obnoxiously like that each time I want to eat Brazilian food.


Unfortunately when I do make it back to the Big Apple, my time is limited and I know what I NEED to eat so I go to my old stomping grounds.  I do wish I had more time to scope out all the amazing restaurants that make New York, New  York, but alas… Mind you, the places I go to are tried and tested.  I've done my homework from back in the days. HA
So my first stop when I get home is to Little Brazil on 46th St. b/w 5th & 6th for some proper comfort food.  There are two restaurants I love, Emporium Brasil and Via Brasil.  The pastel de carne are the best at Emporium and I do love their picanha (rump steak).  Via Brasil does a mean chicken with hearts of palm sauce – ok, now I am craving that again.  Once I get my cravings satisfied, then I can begin enjoying proper American food.
Then in no particular order, I can't not go to New York and not eat this at Hillstone.  Their spinach dip is to die for, I've not tasted better anywhere else.  I also NEED a prime rib when I'm back Stateside and out of all the steak houses in New York, Hillstone just does it right.  Although the one at the Palm is pretty damn good, they just don't make it everyday and I can't risk going on a non prime rib day! HA
Burgers. Yes, your wholesome all-American goodness in a bun.  Hmm, I see a meat theme going on.  But finally got my ass to Shake Shack and it did not disappoint.  I may or may not have eaten two burgers with a mint chocolate custard shake. But let's be honest, I was expecting more from this place. I greedily ate two burger because they're on the small side. I am known as the ravenous pit in my family, although yes, my brother who is much, much taller than me does manage to consume more food in the end, but I hold my own for my size!

It's not all meat.. My current obsession is with burrata.  I honestly just can't get enough of this deliciously, creamy cheese.  How ah-mazing does this look with the black truffles?  And look at those tomatoes! Tomatoes are ridiculously expensive in Sing and also rather tasteless and disappointing so my heart did some flips when I was handed this plate. The pesto sauce was also divine!! Check out Obica if you're in town, although service that day reminded me of service in Singers – bad! 
I may live in Asia, but I still go to New  York for my sushi.  I mean, this is how sushi is meant to look like.  <happy dance> The tuna just melted in my mouth like butter.  Yums. And look at that redness! So fresh! I weep a little every time I see light pink thinly sliced tuna when I order.  And haha I guess you can say I'm a cheap date as I prefer the cheaper cut of tuna.  Oh well! Our go to sushi restaurant in New York is Sushi Den on 49th between 5th and Madison.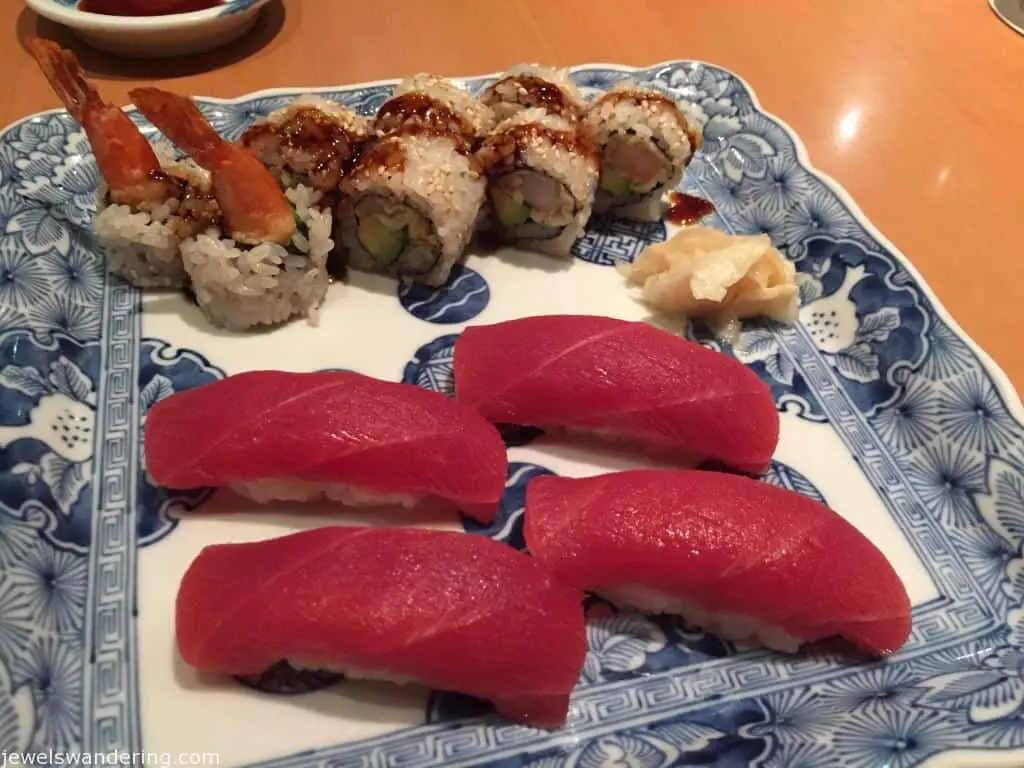 It wasn't all savory food, you can't not eat dessert, after all, calories don't count when you're on holiday!! This time around, instead of hitting up Buttercup for my banana cream pudding and cupcakes, I ventured out and tried something different. Sadly, I was not super impressed with the cupcakes, they were good but I'll stick to Buttercup next time.  Buttercup is an offshoot of Magnolia's. Yes, that Magnolias which is ah-mazing but I rarely make it to the West Village.  I am a caramel good and I was disappointed with my salted caramel cupcake.  The sea salt chocolate was quite yums though.  The pistachio were meh and the cookies and cream were pretty decent.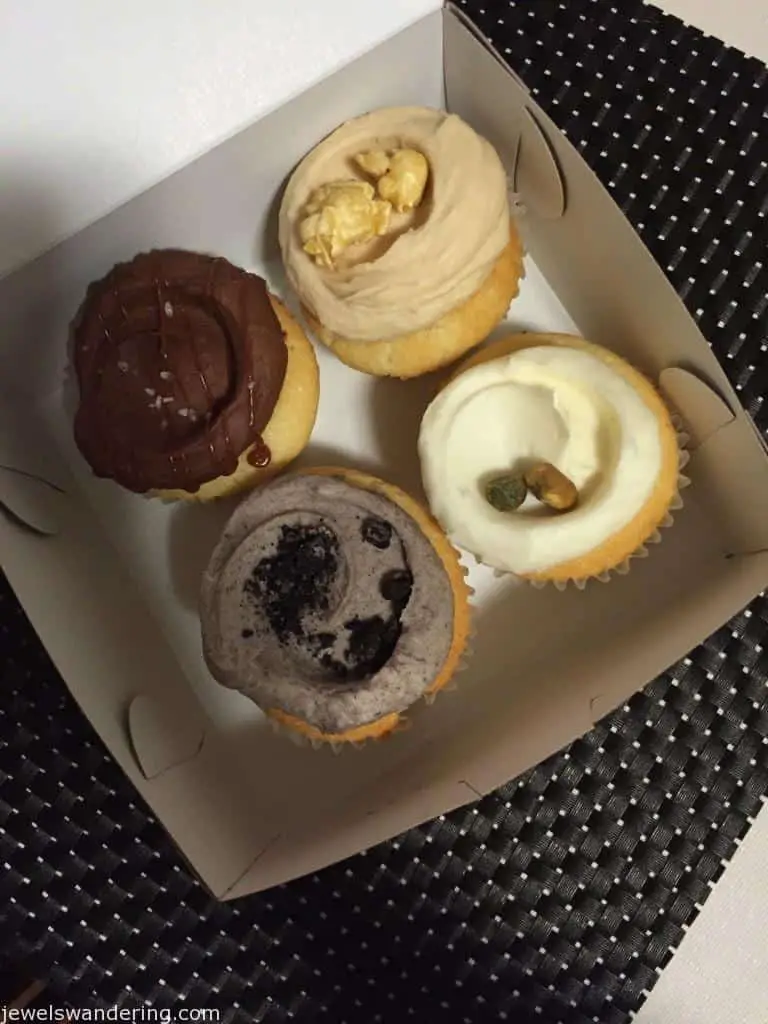 These bite sized cupcakes were much better, in my opinion.  Love how they're so tiny! And sadly, did not get to try their pumpkin spice mini cupcake, but their dulce de leche and red velvet were so yums! Baked by Melissa, please ship to Singapore! I would  make some myself but I don't have an oven!!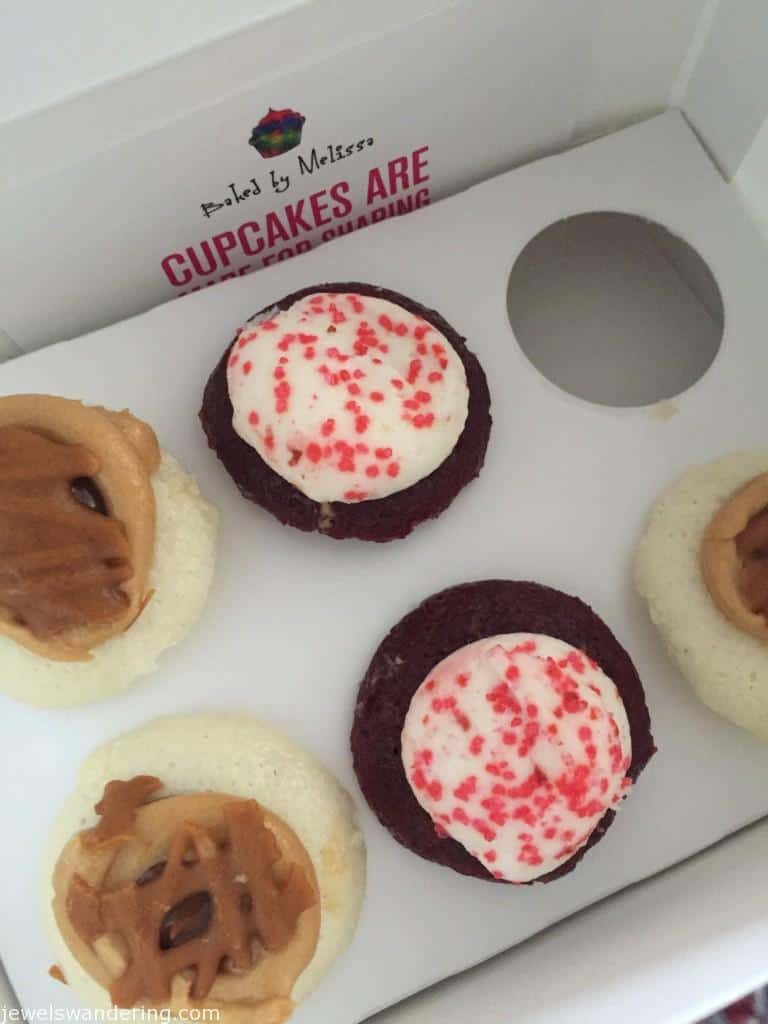 Walking around one day, I was told that I must try these caramel eclairs from the Eclair Bakery. So, what's a girl to do? <Just put it in your mouth, in your motherfu**ing mouth… Sorry, got a little carried away.> I think not having seen B in a while is making me go a little crazy! They are different because the top bit is hard caramel, was nice and crunchy but I thought the caramel flavor was on the weak side.  They had this coconut eclair that I wouldn't mind trying out… Next time!

And lastly, you can't not eat a damn doughnut when you're in the States from where else?  The Doughnut Plant, of course! Click on the link and check out their doughnuts. Girl, you're going to haul ass to NYC just for this.  I had the Tres Leches and oh my tummy was one happy organ! Not sure you can see in the picture, but there is tres leches inside the cake bit.
And this girl loves tres leches.  Yummy!!

My big regret from  this trip was failing at getting a New York Slice and a cheesesteak.  Just didn't have time to eat everything.  I will keep dreaming…!
Are you like me and you have your must-go places when visiting home?