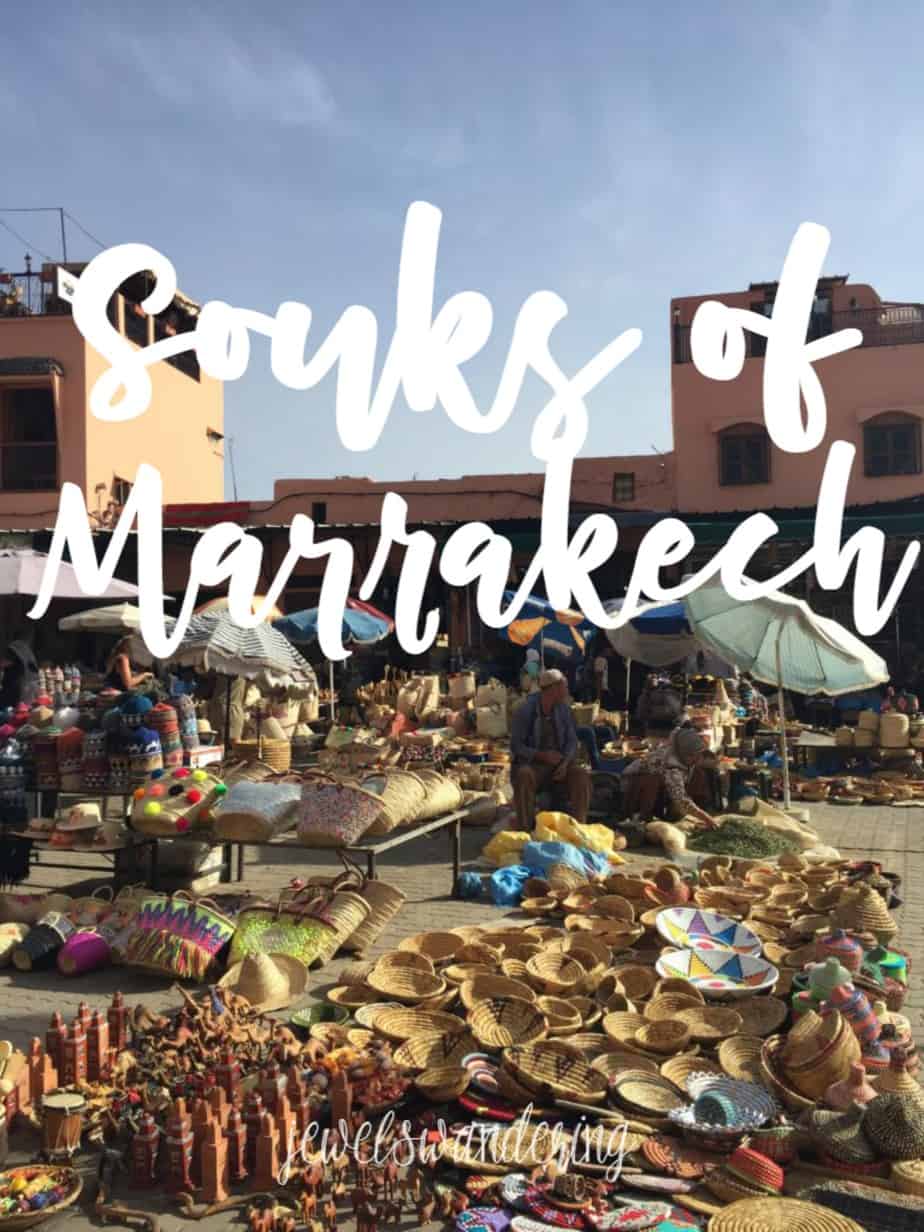 Happy hump day! December is trucking along and today I want to take you through the souks of Marrakech.  When I thought of Marrakech, without a doubt, it was the souks that I dreamed of. And oh boy, they did not disappoint!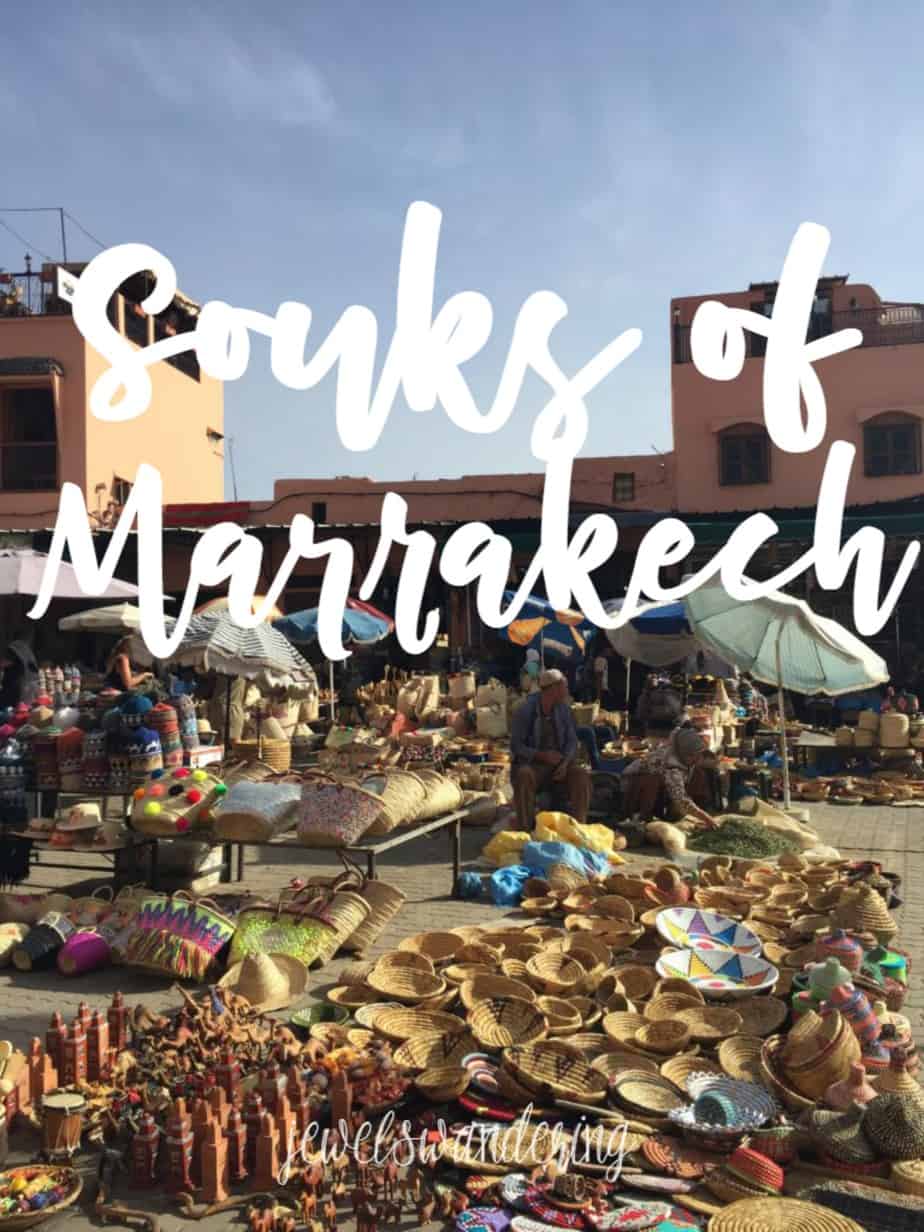 The souks are within the Medina of Marrakech – inside the walls of the city; and let me tell you I heard such crazy stories before going that I actually got a bit scared! It's definitely a maze in there and in the beginning can be quite daunting, but once you have navigated it a few times, you start to recognize stalls, etc.  But that doesn't mean you won't still get lost!
I heard this story from a friend of a friend who had been a few years back. She told me that they were asked to hold on to this string and to walk in a single file.  When I inquired her why, she told me that the string was so they wouldn't get lost and! now here's the scary bit, so that they don't get pulled into the bowels of the souks and kidnapped.  Scary, right? But as to the validity of this story, well, I think I'll chalk it up to an urban myth!
If the thought of getting lost inside the souks scare you, then you can always stay in the perimeters of the souk.  Like I said, you will get lost. And oh boy, did we get lost.  Leroy got massively lost the night before I arrived and it didn't help matters that it was dark.  Thing is, it all looks very samey. You'll have stall after stall selling pretty much the same things, it's hard to get your bearings.
As the first day in Marrakech, we were staying at Les Yeux Bleus, we were slightly on the edge of the souks and so the first things I saw were the fruit and veggie stalls.  And of course I am obsessed with doors, so I loved the detailing of the door that this stall was next to. 
There are many, many stalls selling the pretty ceramic goods, or other items, so you will have plenty of opportunity to find whatever you're looking for!
If I could have, I would have loved to have picked up one of these carved, wooden frames. Love the intricate designs and the shapes!
Marrakech is known for their leather and one of the things I was told to do was go check out the leather tanneries up on the rooftops – if you're not averse to leather and what I imagine, some pretty savory smells… But I didn't get a chance to do this, I just bought a cute little camel leather over-the-body handbag. A few of the girls that were there for the wedding scored some beautiful carpet bags for 400DHS (around $40).  They had some pretty good haggling skills! 😉
See! Some more ceramic wares on offer..! We started to walk into the souks and I have to say, it was overwhelming. So many stalls after stalls with beautiful things – jewelry, shoes, bags, lanterns, rugs, tea sets, etc. I don't know about you, but it was sensory overload for me and then I shut down. HA. I was also trying to not look too interested in the goods as I didn't want to get overly harassed by the shop owners.  And oh boy, they will definitely try their damn hardest to get you to take a look.  As they say, "Looking is free!"
You do start to realize that the souks are divided such that if you're looking for lanterns, there is one area that is all lanterns or poufs, kaftans, handbags, etc.  So that kind of makes it easier to find what you're looking for but trust me, you will have no difficulties finding what you're after.  
I was kind of obsessed over the rugs.  I knew going in that I was going to buy a rug.  But which one to choose? If only I had a mansion and could buy them all! 😉 But do be aware when buying a rug. You may think you've gotten a good deal on a "handwoven" rug but to then discover it's actually machine made.  Maybe if the price is too good to be true, think about it..? Don't be overly confident on your haggling skills. Hehe Just saying. But you should always check the back of the rug.  If it's too perfect looking, then it's most probably a machine made rug.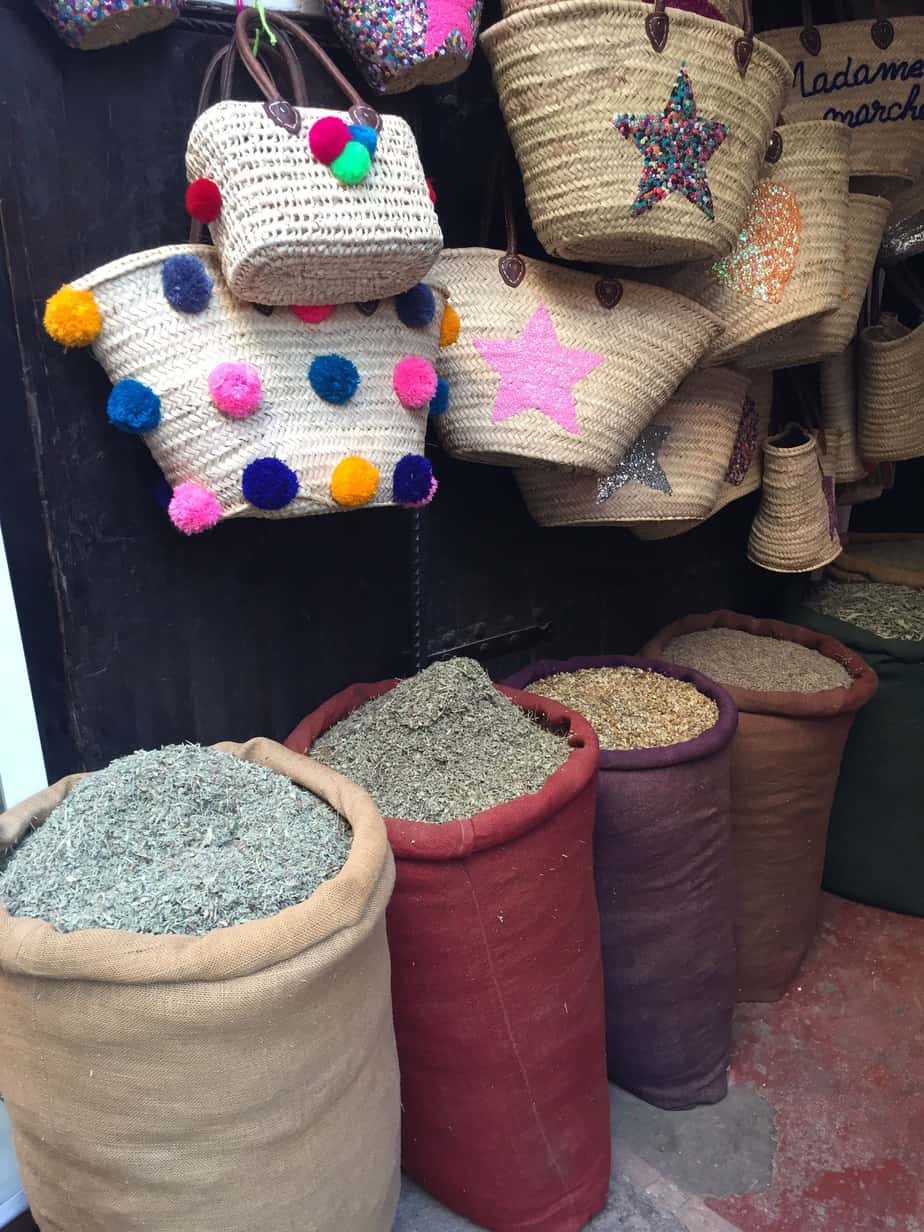 Marrakech is also a paradise for teas and spices – you will definitely not escape the multiple stalls offering them.  While were in the souks, one of the vendors practically forced us to go with him to check out another stall where it was all spices and teas. It was definitely a cute little shop, but I wasn't in the market for it. Beware though, oftentimes these shop owners are working with each other to get the tourists to their stalls and or give you what are "free" tours of something to then be asked to pay money. And oh, if you are lost and you need to ask for directions, there will be plenty of people around that will help you out – for a fee, of course. Best to try and ask a woman. 
A stall selling traditional Moroccan sweets.  Luckily for me, I'm not a massive fan. What I am kicking myself for not bringing home with me though are the olives. Oh man, the olives there were so.damn.good. Why did I not bring some back?!?!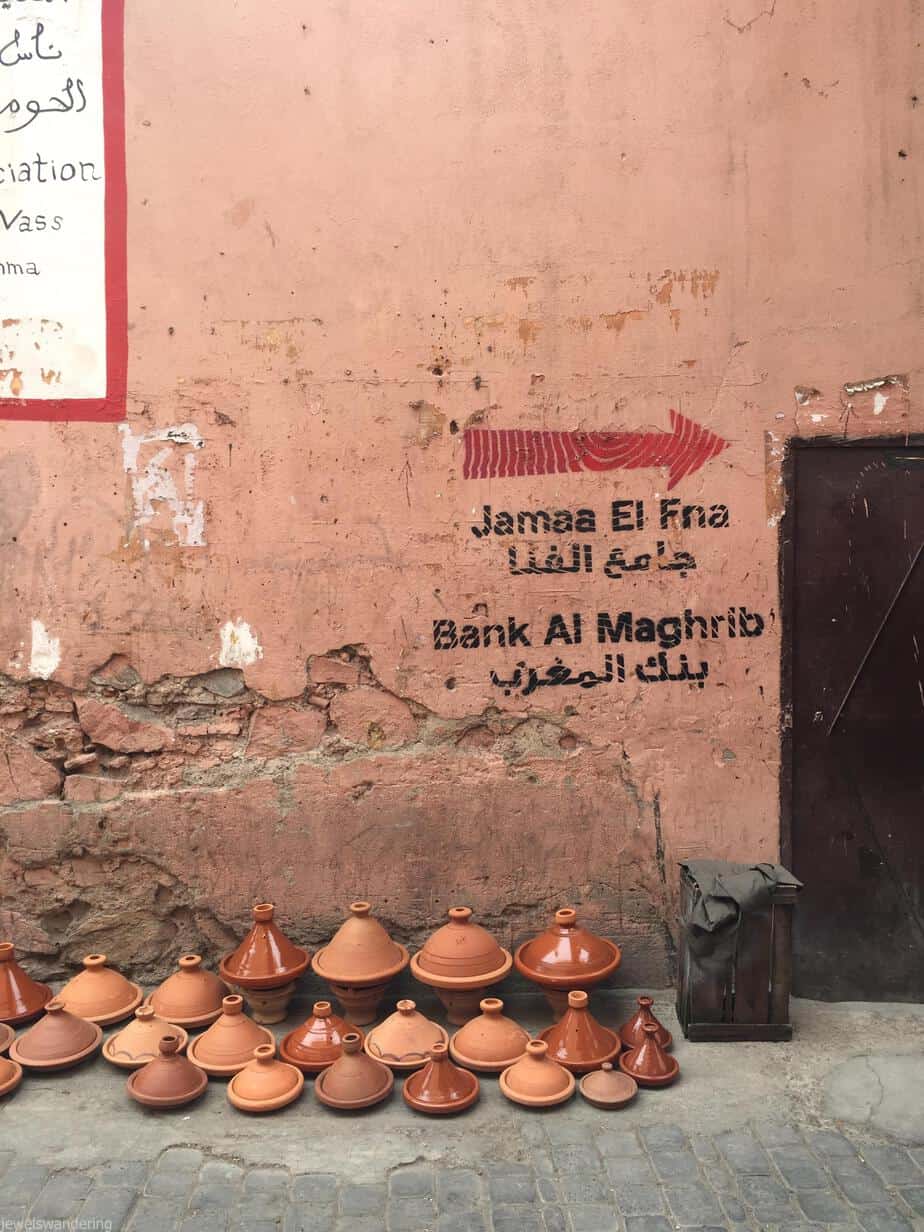 That way to Jemaa el Fna! Jemma el Fna is the main square in Marrakech where you will see all the snake charmers; the dancing monkeys and the henna ladies. It's kind of the center if you will and if you get lost, head there! If you can…. One evening, Leroy and I had just purchased a rug and we went out of the souks in a different direction.  We were heading back towards Jamma el Fna and oh my. We ended up walking for at least half an hour, totally going the wrong direction.  We were following signs that pointed towards Jemma el Fna but for whatever reason, we still kept walking the wrong way.  Guys were definitely trying to make some quick money off of us by offering directions, but we were being stubborn.  In the end, we retraced our steps back to the souks to then find ourselves out. Those signs were definitely misleading!!
We knew we were then going the right away because the shop owners would comment to us, "You're back! Let me show you a prettier rug then the one you bought (the rug was wrapped and packaged so they had no idea what rug I had bought, but at least they have a sense of humour!)"or "Did you come back for my lanterns?" etc.   So obviously we had walked by them before, if not a few times! But it was an experience. And we didn't fight with each other – good sign for our relationship, right?!?
If you find yourself heading to Marrakech, you will definitely be taking in the sights, the sounds and smells of the souks.  And you will be spending, spending, spending because Marrakech is a shopper's paradise. You better brush up on your haggling skills because if not, you will end up overpaying.
Some quick haggling tips!
Best to keep in mind just how much you are willing to pay for something.  And stay firm to that price.
Once you ask the shop owner what the price is, you are engaging negotiations with him.  Of course, if a price can't be agreed on, then you can walk away.
Definitely start low when countering to the intial price.  For example, if you are looking to buy a carpet bag and he says the price is 800DHS, I would counter with 100DHS. He will then come back and lower his price and you raise your price until you meet at price that works for you.  Of course, if you are completely low balling him, he has the right to say no.
The good thing about having so many stalls with essentially the same things, you can go to the next one until you find someone who will sell at your price.
If you're still having no joy at getting it at your price, then you will need to readjust how much you're willing to pay.  The last night I was in Marrakech, I was looking to get some little votive lanterns.  I ended up unsuccessful as my price was too low.  I tried at another stall but again was told to go away.  I would have kept on trying or would have readjusted my price but I had to go. Next time… 😉
Anyway, with any place, do be careful! And do be wary of scams!