Yay! We are Friday and I can't believe only one week ago I was super excited to head to the Banyan Tree in Bintan for the weekend with Leroy. That weekend away is now just a memory, but one for the books! This weekend will be more low key, though we do have some birthday festivities to attend to. What are your plans?
Bintan is an island in the Indonesian Riau archipelago and is an easy ferry ride away from Singapore. Well, when I say easy, it's a lot less cumbersome to go to an airport and it is just an hour away. Easy peasy. We left on the 8pm ferry and we were in high spirits.  The sea was a little rocky, but as I have never been seasick in my life, I didn't think anything of it.  Twenty minutes in and I was feeling so nauseous. I had to shut my eyes and do my best to not get sick.  Thank god I didn't, but it was pretty close. No fun, at all!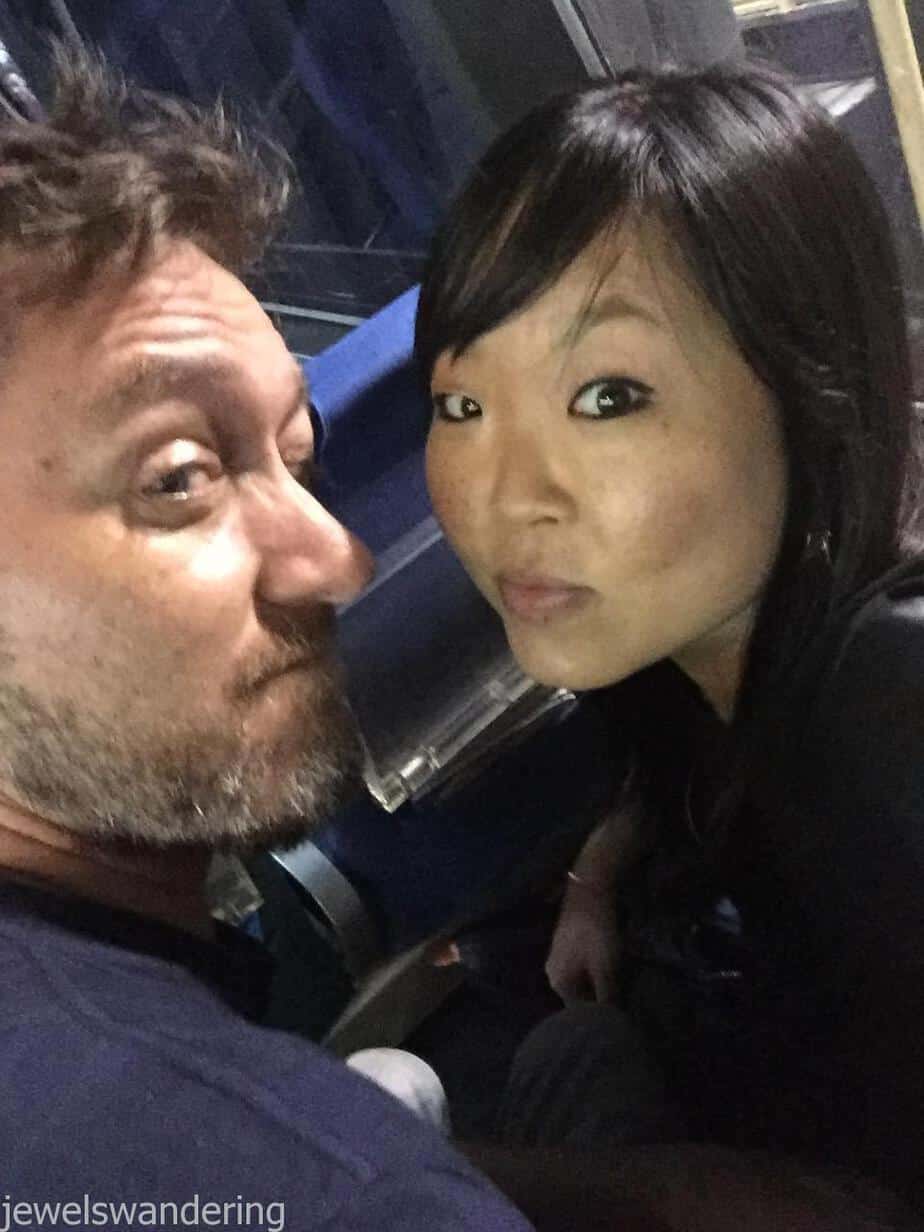 We finally arrived into Bintan and I couldn't have been happier to be on terra firme. Immigration was a breeze and soon enough we were out waiting for our car to take us to the Banyan Tree.  I don't normally splash out on expensive hotels because you can get amazing hotels in Asia for super cheap, but this time around, I threw caution to the wind and booked the Banyan Tree.  Sometimes, a girl has gotta treat herself and her man. 😉
I had been to Bintan a couple of times when I first moved to Singapore and wasn't overly impressed by it. My friends and I would just go down for the day and hang out at the beach; ride some jet skis and drink some drinks. However, beach wise, there are so many more prettier beaches in the region. But if you want something quick and easy from Singapore, Bintan is a good option. 
The Banyan Tree is a 15 minute ride from the ferry terminal and we arrived at the resort just before 9pm local time so excuse the dark pictures! Hehe We were welcomed with a yummy lime and ginger drink and a cool towel while we waited to check in. I couldn't take a picture of it, but if you looked up to the high ceilings, you can see some bats hanging out. They were super cute!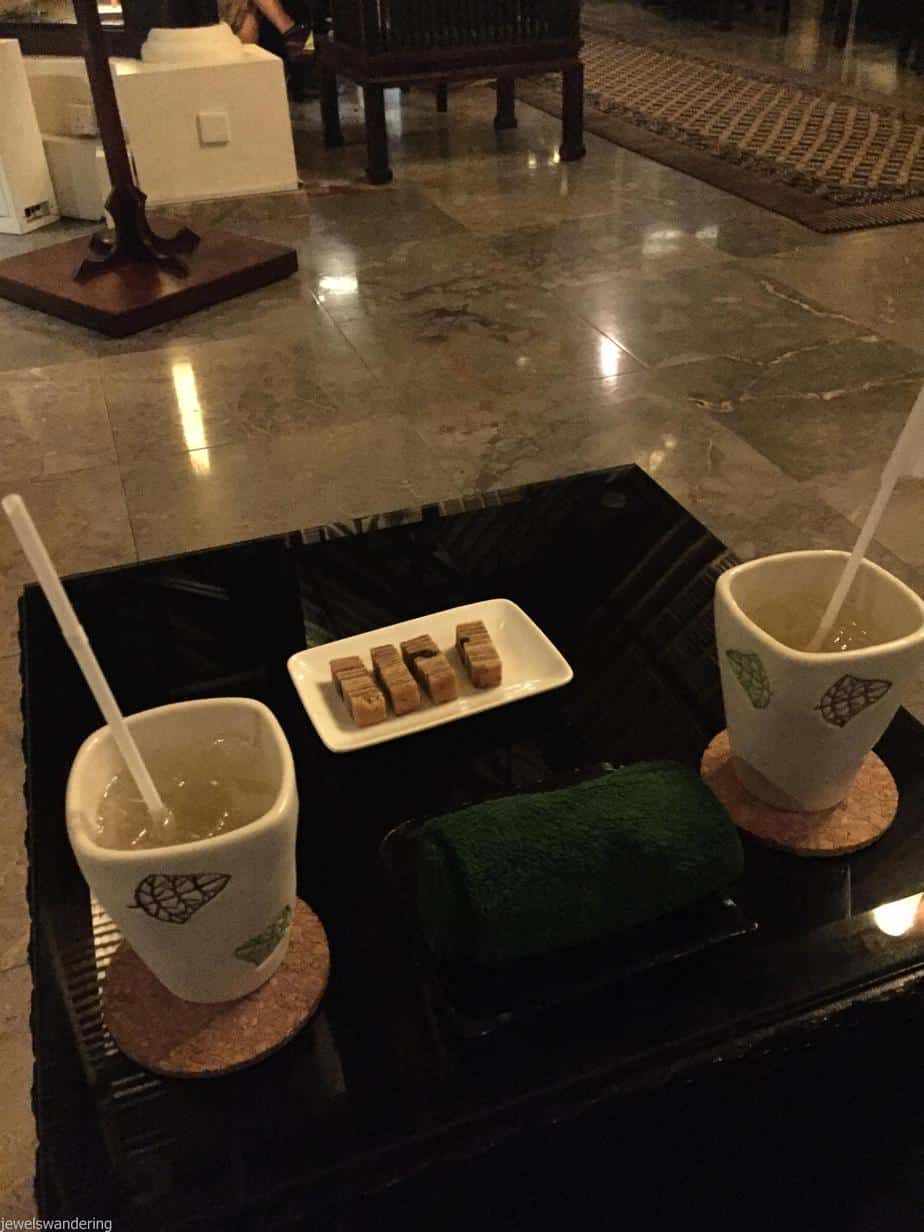 Once we had been briefed, we were ready to head to our villa. In fact, all the rooms at this Banyan Tree are all villas with your own private pool. Pretty fancy! 😉 We were driven to our room by a buggy as the resort is quite big, but we found out that its also walk-able, of course. Though you will have some steep hills to climb but it made for a good workout!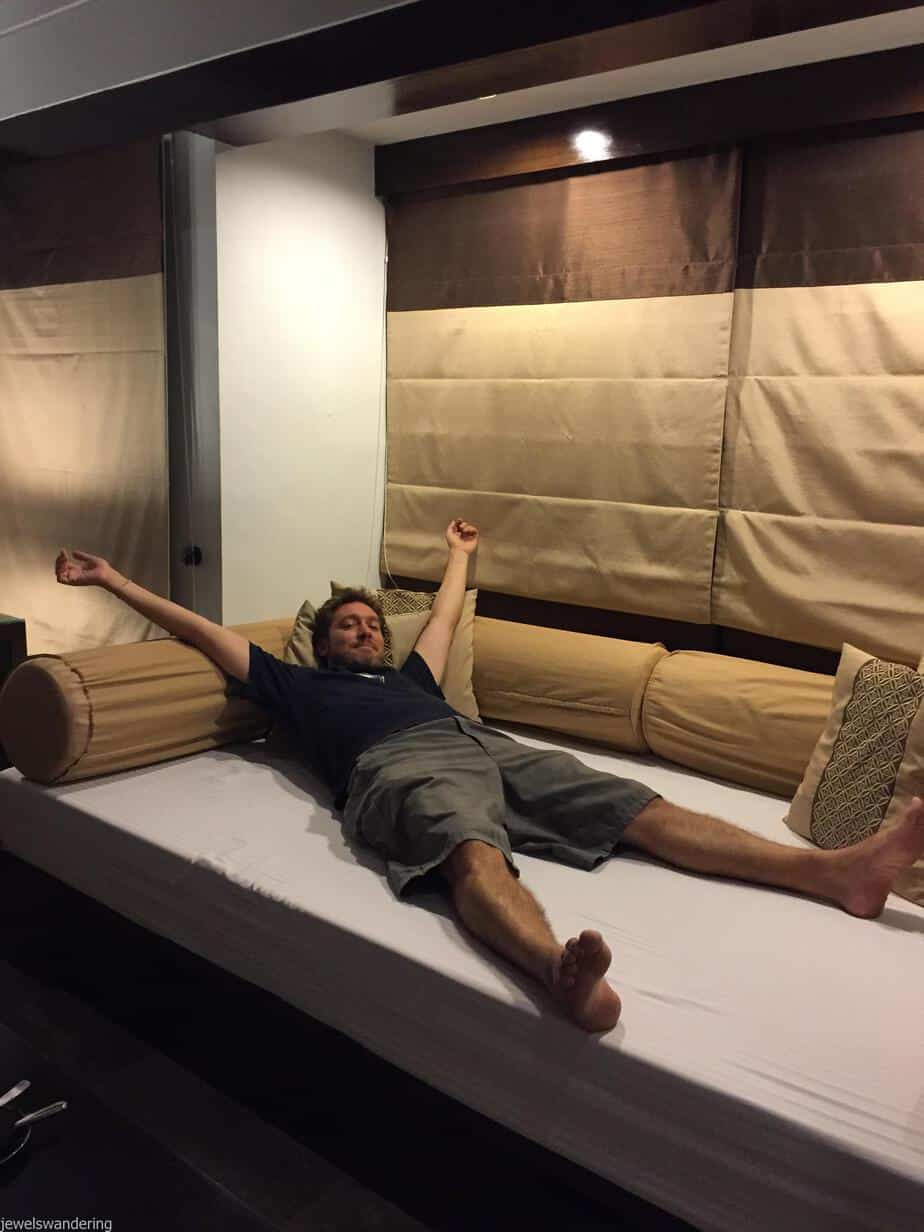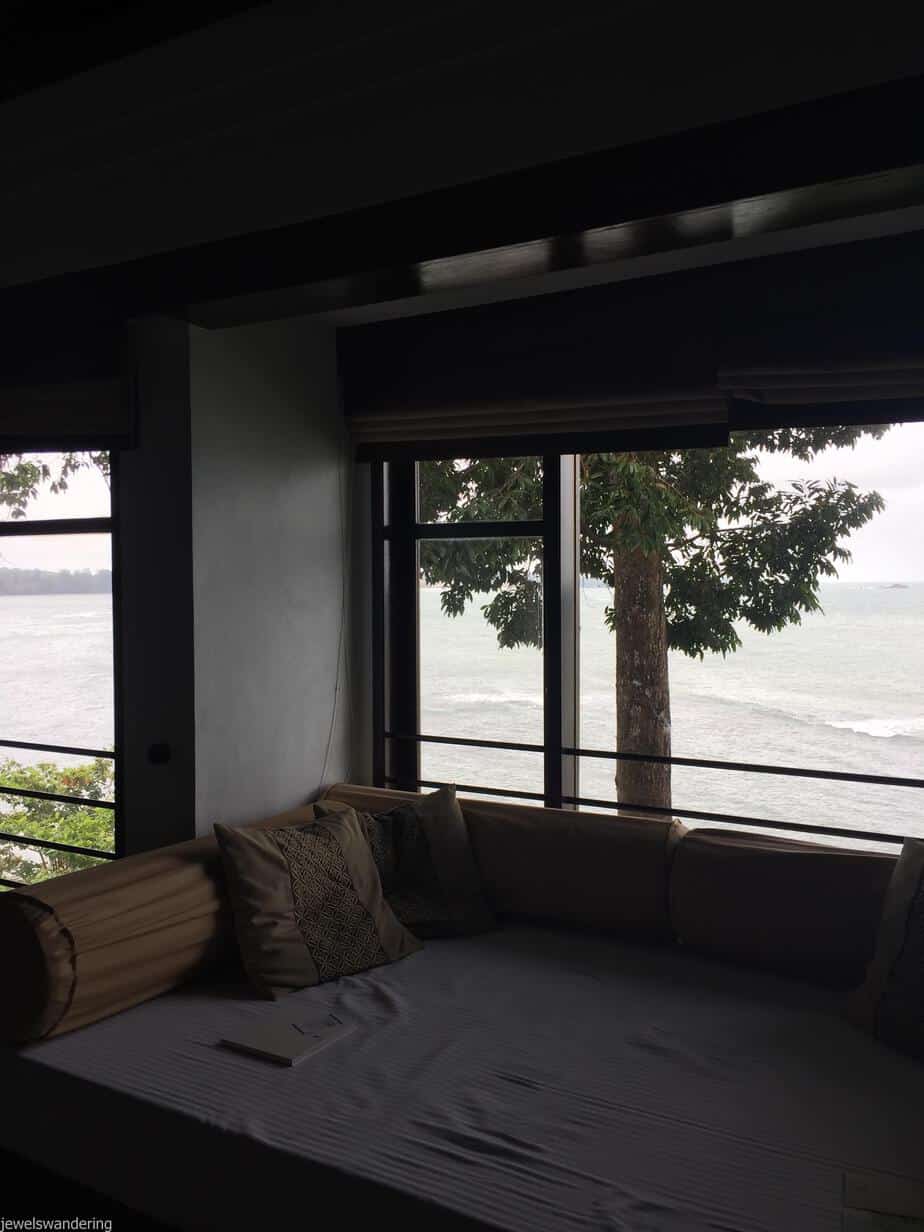 The room was quite spacious with a massive day bed. Was quite comfy to lie on it and either read a book or watch some television. The bed was a massive king size poster bed and that bed was soooo comfy. I wish I had that in my room! 
The bathroom was gorgeous as well, we each had our own sinks though it would have been nicer if the toilet was a separate room. No? Am I asking for too much now? Hehe But there was a nice sunken bath and talk about taking a bath/shower with a view! Though I couldn't see anything that first night as it was pitch black.
I was excited that they gave you a cute little amenity bag in case you forgot your toothbrush, or a shaving kit. But then I realized if you wanted to keep the bag, you have to pay for it. Hrmph. I would have so taken it home with me! But the contents of the bag were there for your use. 
There are three restaurants to choose from at the resort – Saffron is their Thai restaurant; The Cove is their modern Western restaurant; and Treetops serves traditional Indonesian cuisine.  We were both pretty hungry so after taking some pics of the room, we called for a buggy to take us to The Cove. 
How cool is that pool? That's the beach side pool and where Leroy and I spent our weekend. But let's get back to dinner. Since we were quite late, we were basically the only people in there save for another couple who were on their way out. We didn't stay and linger as they were also looking to leave, but we didn't feel rushed. We ordered a bottle of wine which we then ended up taking back to our room as we were both pretty shattered. Bintan is an hour behind Singapore, so by the time we got back to our room, it was essentially midnight.  
Breakfast was held at Treetops and it is your standard breakfast buffet but it was pretty yummy! There is no egg station, but you can order eggs from the waitress and it will be brought to your table. We ended up stuffing our faces for breakfast and ended up skipping lunch on both days.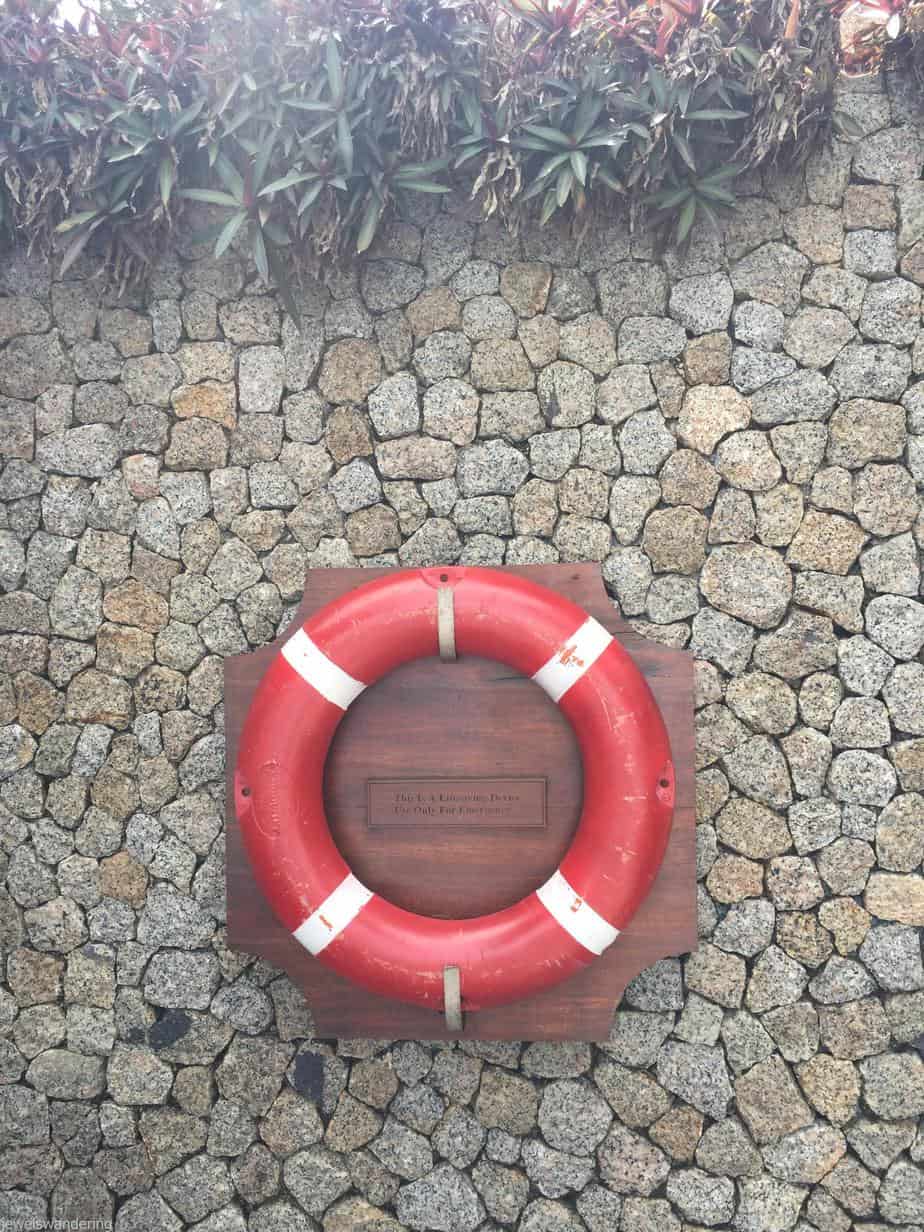 That's the other pool by Treetops.  The water was a bit chilly so we didn't go into this pool. But I loved this pool, just really pleasing to my eye! Since we had just gorged ourselves over breakfast, we decided to wander around the resort and explore.
We pretty much then ended up walking to the pool by the beach. Bliss! 
And we meandered over to the beach and checked out the Angsana. Angsana is also part of the Banyan Tree Group but with a more affordable price point. 
We set up camp on some lounge chairs and chilled out. The pool guy was super sweet and gave us some bottled water and a cool towel to cool off with. We also ordered some drinks, as you do…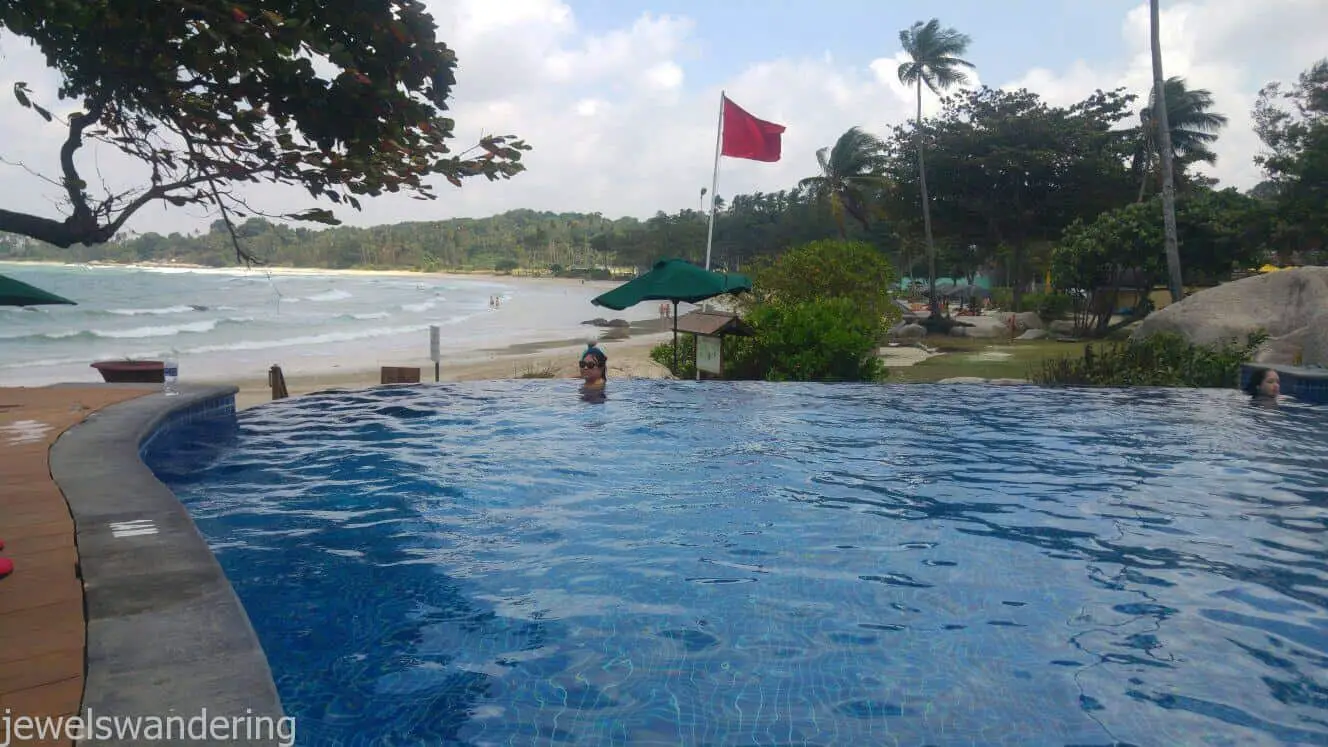 So even though that was our Saturday, we did the same the next day. It's also why I decided to splash out on the room because we could actually enjoy the room. In other places, there is usually a lot more going on and I'll feel the need to go sightseeing or go shopping, whatever. But Bintan was a weekend to truly chill out and recharge.
After we left the pool, we headed to our villa and chilled in the pool there. However, as the air is more stagnant there and it was getting close to sunset, the mosquitoes were out in full force. And mosquitoes LOVE me. Sigh. Banyan Tree do provide mosquito coils for you to burn, but we had run out so while we waited for them to bring us some more, I got bit multiple times. They didn't like Leroy. I guess my blood is sweeter? 
So after this weekend, my opinion on Bintan is completely different. I loved this little weekend getaway! Of course, the fact that we were staying in the Banyan Tree had a huge impact in my view, but hey!
I would recommend the Banyan Tree to anyone as the staff were so incredibly sweet and attentive; the villas were gorgeous, though you can see that it's no longer a new resort but nevertheless still very well kept; and dinner at Treetops and The Cove was really good. I highly recommend the Beef Rendang at Treetops if you go!
I wish I could head back there again this weekend, but the fact that it was a special treat made it all the more special.
Have a great weekend!