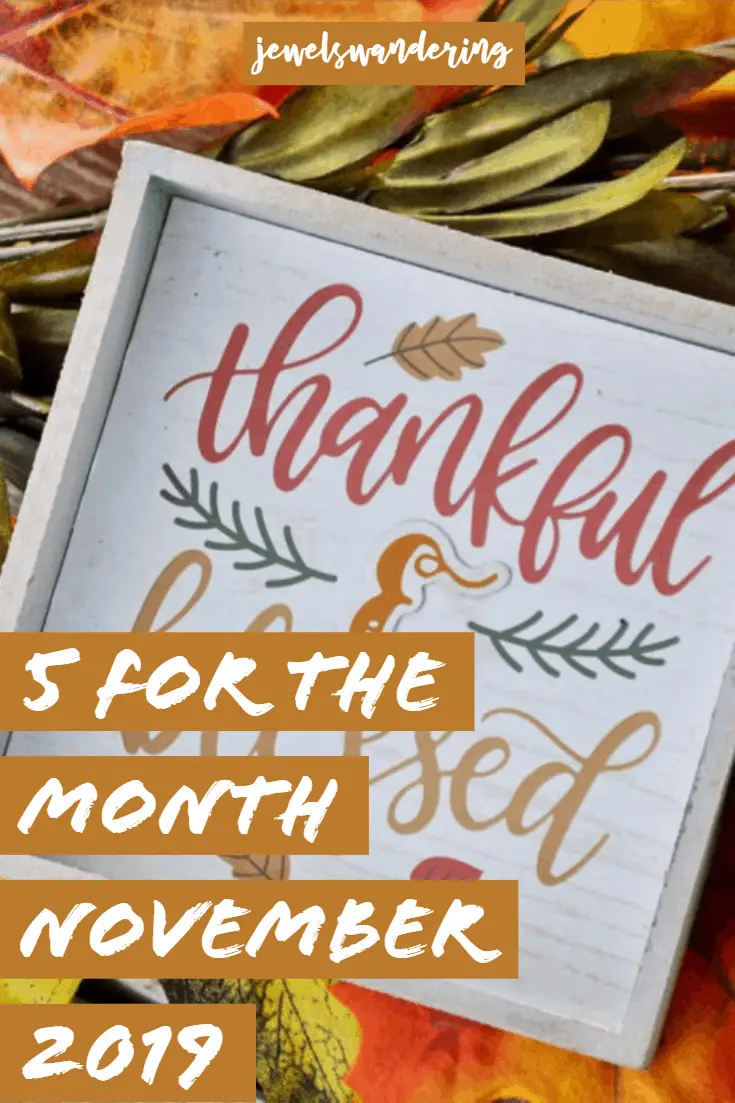 5 For the Month November 2019
And just like that, November is over. Was it just me or did November fly by? I feel like I barely settled into the month and then it was Thanksgiving and now it's December. I don't feel like I got up to much in November, but when I was writing up my latest Life Lately post, it does seem like I got up to a decent amount! I did come down with a head cold for about a week that knocked me out, but I guess it's the season for that! Anyway, let's get moving along and get to this month's 5 For the Month post!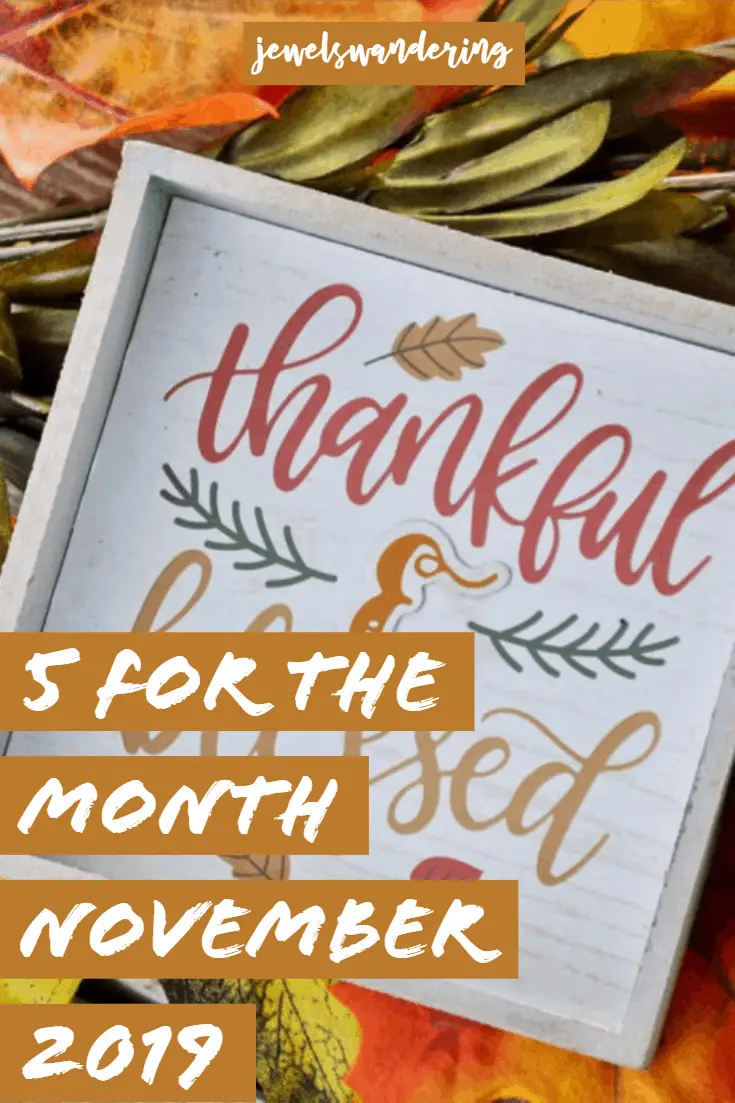 **This post contains affiliate links where I may make a very small commission if you buy from my link.  Best of all, it doesn't cost you any extra! I appreciate your support so much!**
How was your Thanksgiving, if you celebrated? Mine was pretty low key and it was perfect! Usually my mom invites her Japanese friends to experience Thanksgiving, but this year it was just the family. Me, my parents, my brother, my oldest nephew and K.  My SIL and my youngest nephew flew out to Korea that day, so it was truly just immediate family, if you will. We ate, played some video games and ate some more. It was all super chilled and just how it should be!
1) I'm always curious as to what dishes are made at other families Thanksgiving! So I'll share what my mom usually makes. Unfortunately I don't know her recipes.
There is the obligatory turkey. She marinates it for a few days in lime juice, salt and garlic and the turkey comes out super moist.
Her sweet potato gratin is so damn good.
A corn casserole is a staple at my mom's Thanksgiving
K and I made the cornbread stuffing with sausage. Admittedly my family is not big into stuffing but this was a hit! I don't know where K got the recipe from unfortunately.
Lastly, my mom is big into veggies and salads, etc so she made a zucchini salad and some green beans tossed in garlic.
All in all, it was simple and delicious. Oh yeah, duh, I forgot dessert! She made an apple cake, a pecan pie and pumpkin panna cotta.
2) Interesting articles I read this month:
As Christmas is a few weeks away, I realize how much we are pressured into buying, buying, buying. I mean, don't get me wrong, I'm all for an awesome sale, but hot damn. I really liked this post on how Christmas gifts should be approached. And actually, my family we don't really do that many gifts anymore and actually, we may get one big gift or just a little something just to open something. This year, I actually got a big gift and it's already been gifted to me because I need it! I was blessed to have received the Canada Goose Lorette Down Parka.  I love it!
This speech by Sacha Baron Cohen is a must-read. It really does make you stop and think as to what is going on and if what we're actually reading is fact… Scary times we live in.
This just made me cry. I'm 1000% an animal lover and I mean, koalas are just so damn cute.
Super old article, but I just came across it from my friend who posted it on her Facebook. How tolerant of other cultures and beliefs are you? Read about the Illusion of Asymmetric Insight and be blown away.
This article on skills that Third Culture Kids acquire over the years really resonated with me!
3) Books I Read This Month… I should probably just say "Book I Read This Month.." Ha. It was a slow reading month for me only because I was too lazy to go to the library. #Fail. But the one book I read, I was pleasantly surprised that I did like it. I read The Shape of Night by Tess Gerritsen. Have you read it? I didn't realize it skewed towards the paranormal thriller/romance category so initially the paranormal aspect threw me off.  However, I really enjoyed this book.
Have you read any interesting books lately? Hit me up with your recommendations, please!
4) Amazon Purchases… I really need to delete this app.
Since the weather has turned, I needed shoes that were waterproof and keep my feet warm, so enter the Sorel Out n About Puffy Sneakers. O M G. I love them! I love how they're fun and casual. Perfect for those sweatpants day but you can equally wear them with jeans for a sporty but interesting spin on sneakers. And I love them because I don't see half the population wearing them and a good alternative to Uggs. Don't get me wrong, I do like me some Uggs, but they're not waterproof and these puffy sneakers are! Win!
My kitchen floors are marble and since it's winter, those floors are damn cold! So I bought this leaf shape kitchen rug and it does the trick! It's a bit brighter than what I was expecting but it's cute and adds some character to the kitchen. Ha
Have you done 21 Day Fix from Beachbody? I haven't, but was curious about the containers to try and keep my eating in check. Counting macros just gets too tedious for me so I thought the portion control containers would work better for me. To be honest, I haven't tried it out yet….
And since I'm still trying to build my winter wardrobe, I bought this front twist knot top and I'm totally here for it! The front twist knot adds some interest to an otherwise basic long sleeved top and the material is pretty good quality, if I may say so myself..!
5) Other purchases..
As much as I'm dying to decorate for Christmas, I'm being good and not doing anything. I know, so lame, but I left my tree in Singapore and well, I can't justify buying a real tree since they're not cheap and that money could be better spent elsewhere. But I did buy these super cute floral monogram ornaments from Anthropologie. I added them to our stockings in order to personalize them a bit more.
And another score from Anthropologie are the cute bistro tiled monogram mugs that you see on everyone's Instagram. Actually, K really liked them so he bought one for me and one for him. 😉 Would make an awesome Christmas stocking stuffer or gift!!
Ooh, I also totally fell in love with this cozy robe. I didn't think I was a robe wearing girl, but this weather has told me otherwise!
And that's that. Purchases are dwindling down and really I'm buying what I truly need.
Anyway… I can't believe the year is rapidly drawing to an end. What are your Christmas and New Years plans? How was your month of November?