Hello from New York City!
Hello from New York City! It's been a while since I've graced these pages and I know, I am that unreliable friend who just doesn't show up. I don't blame you if you're not around, how can I if I'm not? There won't be any empty promises this time around. But for those of you who have stuck around, thank you. I figured it was time to sit down and finally update on what's been happening since I left Singy!
I mean, what better picture to scream New York City then the Naked Cowboy at Times Square? But let's rewind.
I honestly thought arriving back in NYC for first week of May would bring nice, warm weather. You guys, why didn't anyone tell me that the weather was/is all over the place? I was honestly so unprepared for how cold it was, I died! I mean, it wasn't freezing or anything but it may as well have been close to it because I didn't have the right clothes. I only brought summer clothes. Argh. The little warmer clothes I had, it's in boxes somewhere on the ocean on its way here. So I ended up borrowing clothes from my mom and basically wearing the same thing day in day out. Oh well. And then I came down with a cold. Argh. Coupled with the jet lag, it was all fun and games in my world the first couple of weeks back in the US.
I basically spent that time trying to make my apartment feel like home. I didn't ship all of my stuff back so there were some things I bought and things that will still need to be bought with time. But you guys, I mean, how amazing is Amazon Prime? Haha I am so obsessed and the app is so dangerous! I'm also obsessed with La Croix. LOL
Once the weather started to warm up a bit and the jet lag subsided, life started to perk up! Karl had been to NYC a few times in the past, but he's never lived here. So what better way to get to know the city? Walk. And walk we did. Oh man, since then, we've been hitting the pavement on the weekends from one neighborhood to another. Last weekend, we covered 30km in 2 days. It's been fun but I should totally invest in some proper walking shoes. Somehow flat as pancake sandals are not the greatest on your feet! But I digress… We have walked through Central Park a few times, hit up the Upper West Side a bit, East Village and the Lower East Side, Times Square, Union Square, Flatiron, Brooklyn, Astoria… Still so much more to explore!
I've met up with a couple of friends from Singapore who were in the city! The first being Chris! He's originally from Philly so he was back home before starting his new gig back in Singas. And just this past Friday, I met up with Erica who was here for work. Her company gets free entrance to the Whitney Museum of American Art so we checked out the Whitney Biennial. Score!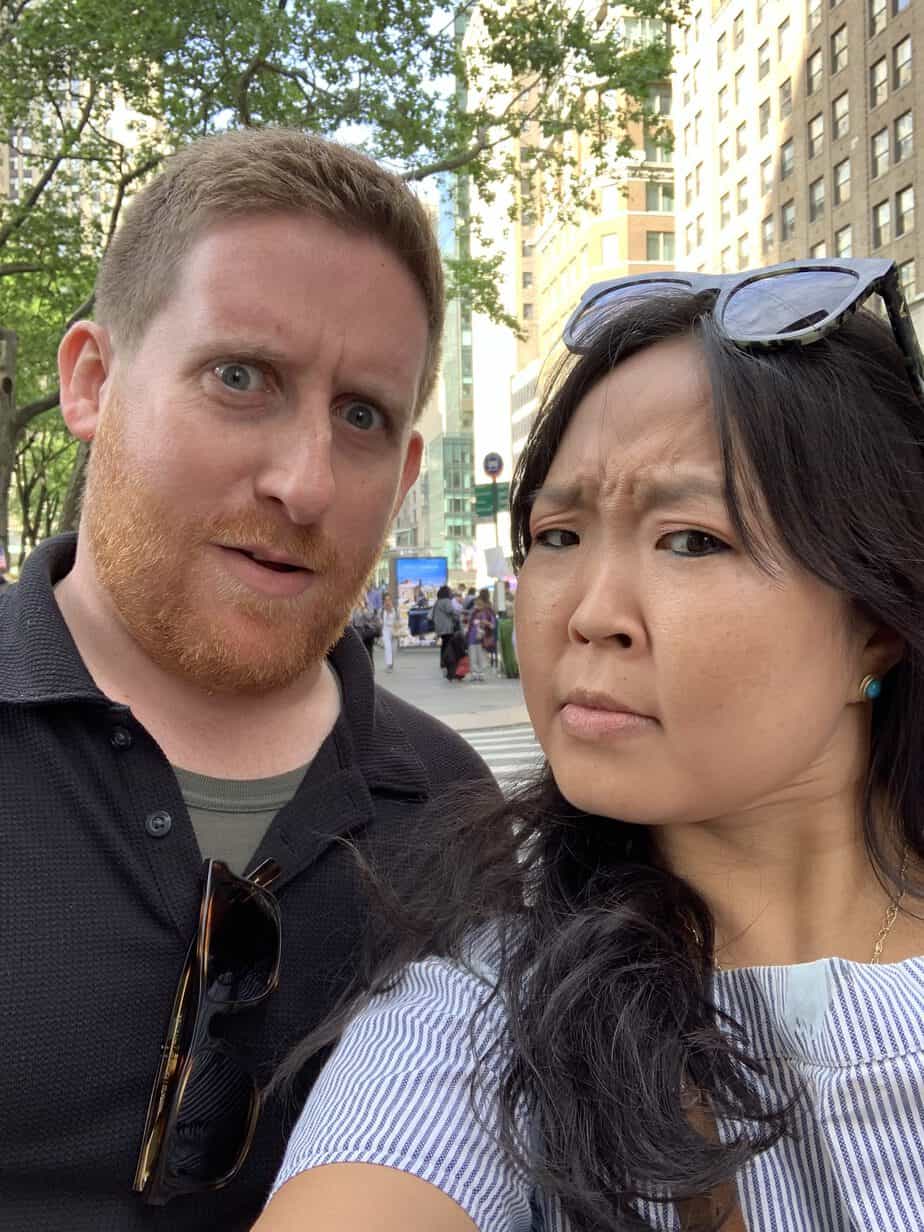 And of course, catching up with some friends who do live in the city. Though truth be told, I actually don't know that many people here anymore! My good friend, Jim, also just moved back to the city from London so it was fun catching up with him! We didn't take any pictures, so oh well. I'm sure we will down the road! We used to work together in NYC before we both moved to London at separate times and he's been telling me to move back to NYC so… Here I am!! Ha.  And met up with my good girlfriend from high school. By coincidence, our other good friend from high school was also in town for work, so it was great to catch up! I can't remember the last time we were all together!
You guys!! I also met my first blogging friend in the flesh! Julia from Sweet Escapes moved to the city just over a year ago from Vienna and we finally met up! She suggested we go eat this super cute Greek restaurant down in the Lower East Side (LES) called Kiki's. It was so fun to have met up with her and strange at the same time because you know them but you don't…! So if any of you happen to be passing through NYC, LET ME KNOW!! Would LOVE to meet you!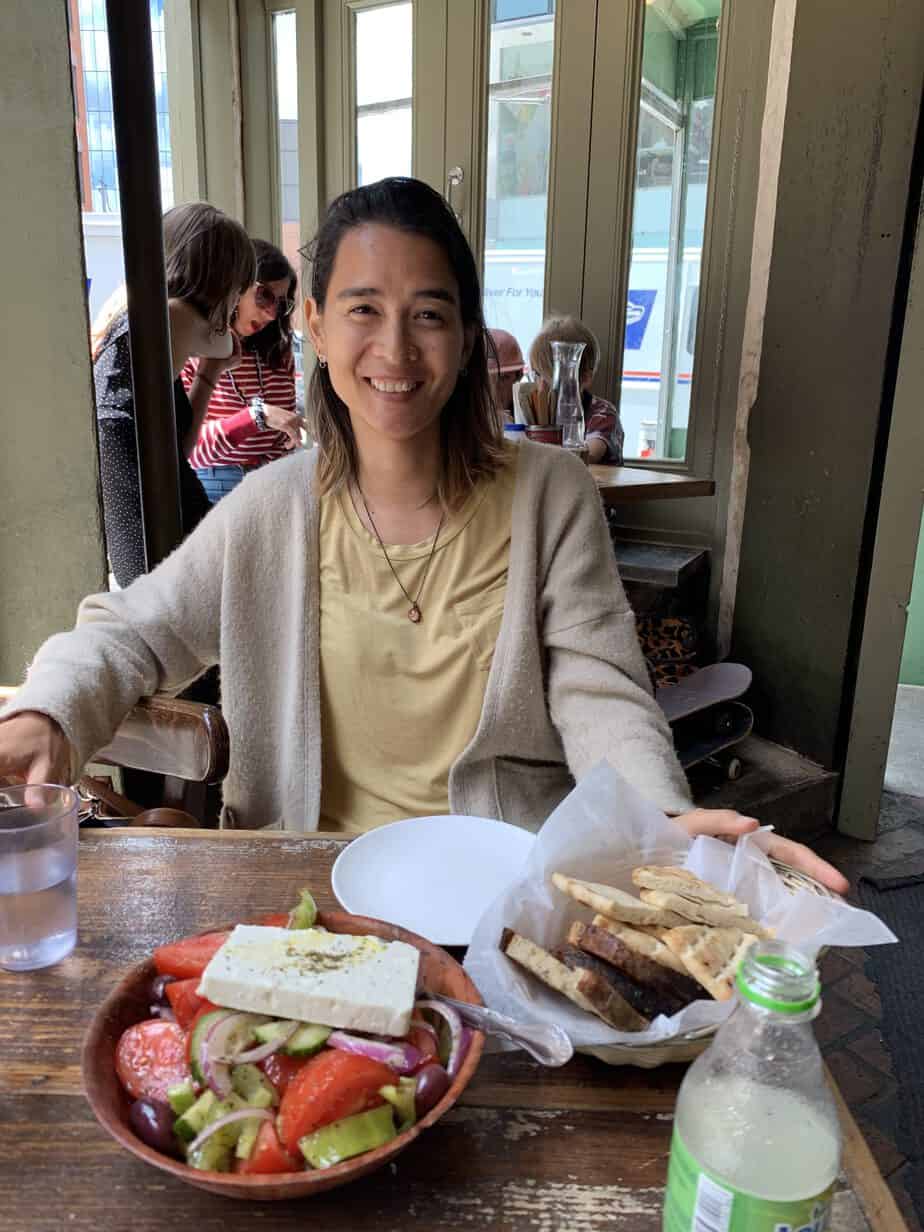 Aside from that, I have finally been working out again. I've been trying new classes around the city and trying to settle into a working out routine. I signed up for a few kickboxing classes with my SIL at her request and that's been quite fun! I also signed up for some Crossfit type classes and I thought I would love it, but for some reason, I didn't. So I passed my membership onto Karl and he's loving it! I've decided that I really want to carry on with the megaformer pilates I was doing last summer, so I'm loving classes. I just wish it wasn't so darn expensive. Ouchie!
Lastly, just been hanging out with the family. It's so nice to be within walking distance from them. It's been so long since we've all lived in the same city, so it's been quite the treat!
And in case you were wondering about George..! Ha George is definitely enjoying life as a New York City cat! He's in some ways a whole new cat, he's super affectionate now and was quite needy when we first arrived.  But I had read that that would be normal as the move was quite traumatic for him. Poor thing! But he's now all settled in and he seems happy!
As for the summer, who knows what we'll get up to? Karl and I are talking about making a trip out to Minnesota at some point as he's from there. But really, no plans! We are both focusing on looking for jobs, he more so than me to be honest. At least at this point! Soon enough, I'll need to start making some money because dang, the USD is too strong versus the SGD and well, my money is all in SGD! Sigh.
So that's about it… It's been a rather smooth transition moving from Singapore to NYC in the sense that it hasn't really hit met yet. I've slipped back into NYC life like I had never left in some ways. It's strange, I'm not really sure how to explain it because it still doesn't quite make sense in my head! Anywho.. What's on for the Fourth??
Linking up with Kristin over at See You in a Porridge for the What's New With You Link up!