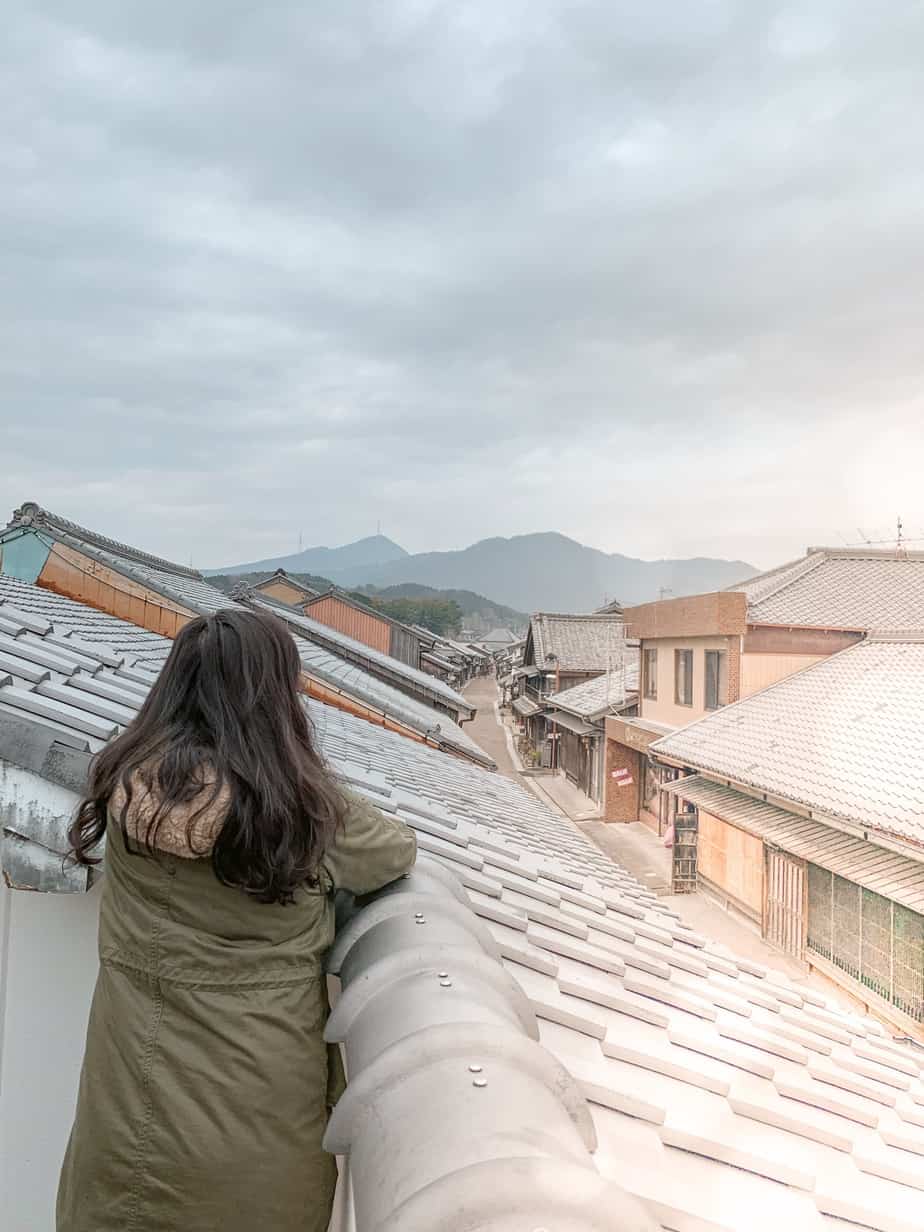 Let me take you back to a different time period.  A time period in Japan when it was still ruled by the Tokugawa shogunate; where the samurai's were the warriors and the highest ruling caste.  This time period was known as the Edo Period and traveling from modern day Tokyo to Kyoto was along the route known as the Tokaido Road. One of the outposts on this route was Seki-Juku in what is now Mie Prefecture.
After we left Tokyo, we headed to Mie Prefecture to a little town called Tsu. It's where my grandpa still lives and where I spent my childhood summers. The last time I went , it was a quick trip to see my grandparents and sadly, my grandmother passed away in September last year. As my grandpa is alone now, when my mom said she was going to visit him, I decided I would go to.  We would only be there for a few days but on one of the days, we found ourselves with nothing to do. Tsu is not the most exciting of places, so a quick Google search brought me to Seki-Juku.
My mom was a little hesitant to go but I was adamant I wanted to do some exploration. So she finally complied and we headed to the Tsu train station to catch our train. It's not far per se, but our journey there took about 45 mins or so. We headed up to Kameyama and then hopped on the cutest purple one car train to our final destination!
It's also doable as a day trip from Osaka (over 2 hours but less than 3 depending on the train), Nagoya (about an hour and a half) and Kyoto (about 1h 40 mins to 2h), whereas from Tokyo it's a bit further as you're looking at around 3 hours.
Once we arrived at Seki-Juku, there was a little information room and the man gave us a map of the sights of Seki-Juku. Luckily, they had an English version for me! I doubt many foreigners know of this place or even think to go, but it's apparently quite popular with the Japanese especially during the Hinamatsuri time period. Hinamatsuri is on 3 March and is known as Girl's Day or Doll's Day and unfortunately, the Hinamatsuri Festival was due to start a couple of days after we were there. Shame!
We set off across the street which was a quick 3 minute walk or so and we had the option to turn left or right. Looking at the map, there seemed more to see if we turned left, so left we went. Having spent summers in Japan, I am quite familiar with Japanese houses and how they look, but these houses were just too amazing. This little town has the best preserved houses from the Edo Period and when you see samurai movies, you'll see that the houses look like these!
As this was a rest stop for weary travelers, a lot of these houses were guest houses and other amenities to cater for the travelers such as a post office, a bank, a fuse shop for guns and smoking, temples, etc.
What Google didn't tell us was that most of the stores and establishments are closed on Thursdays. And what day did we go on? Yep, Thursday. Just our luck! We had gone around lunchtime and let me tell you, I was starving and I was really hoping we'd find a place to eat at some point.
But let me show you around this amazing little town. Even though the streets were empty, I could almost imagine the hustle and bustle of the streets back in the days but the resounding silence that enveloped us on that day, reminds you that is a day long gone. I think we should bring back the samurai, I mean, I think they're kinda cool! Can you imagine? 😉
We arrived at the first guesthouse and point of interest in our route. This is the "Tsuruya Inn" and it was one of the three largest guesthouses in Seki and towards the end of the Edo Period, this inn was essentially a "honjin", the main camp or headquarters for the general. Although I'm not showing you the full outside structure, you can differentiate what a high class in by seeing a triangle roof on the second floor over the front door. But, you better know your place in society!! 😛
The room upstairs had a cool panorama of the street back then. It was super long and so interesting to see it all lined up like that. Love finding these hidden gems in random places; places you would never thing of going unless your are a history buff searching for places like this.
After we left this inn, we carried on walking down the street. While these buildings were all built around the same time period, it was interesting to note that they all had distinguishing features meant to bring prosperity. You'll see plaster sculptures of tigers, dragons, cranes and turtles, but I seem to have not taken any pictures. Oops. Guess you'll have to go see them for yourself! 😉
Another interesting building was "Dashigura". The Dashigura was the house where they house the festival cars. – as you can see, it's quite high in order to fit them in. Festivals are quite big in Japan, I remember my summers were filled with one festival after another it seemed each steeped with their own tradition. My grandfather used to take me and I remember fondly dancing with him in the traditional dance style. There would be pools with fish you could try to catch with a paper wand and if you're lucky to have caught one, you get to take it home. I mean, when you're a kid, this was the best thing ever!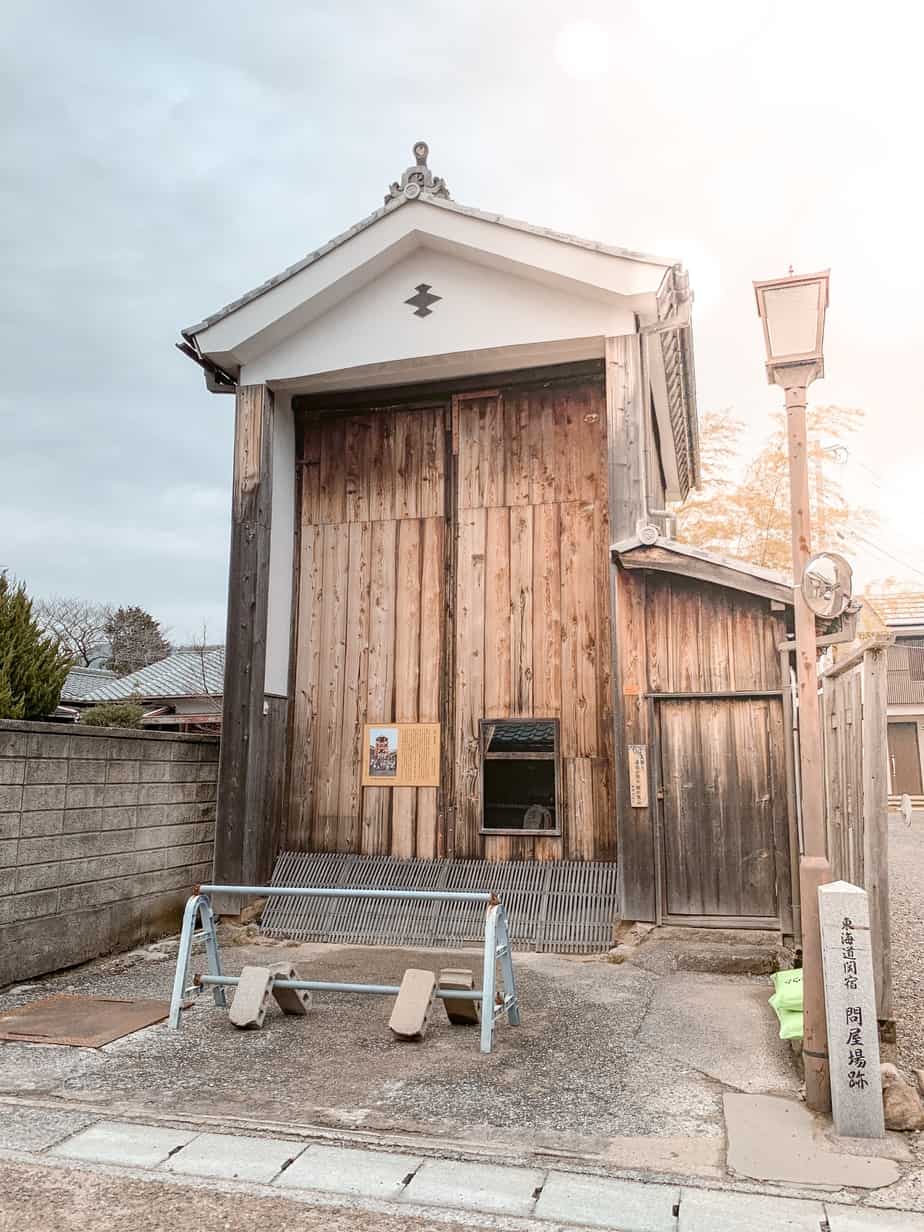 Next on our little journey, you could go into one of the houses to the rooftop and catch the mountain views. There's nothing like a mountain view in the far distance. So serene. It's no Mount Fuji, but pretty beautiful on its own right.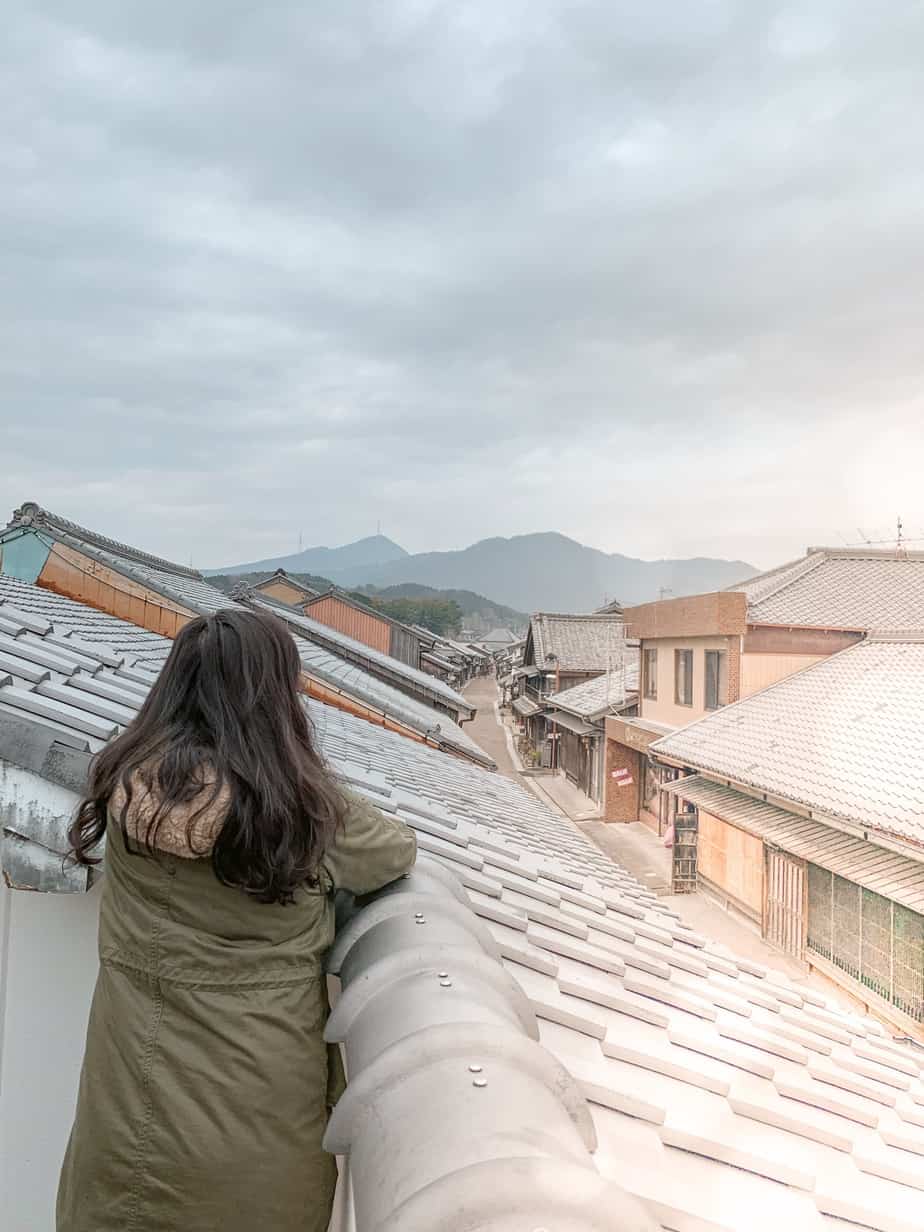 The next interesting building was Hashizume's House. He was apparently a wealthy merchant operating as a money changer in Edo (what is now Tokyo). As you can see, his house has a triangle roof which was quite unique in Seki. Unfortunately you could not go in that day, though I'm not sure if you can if it weren't Thursday.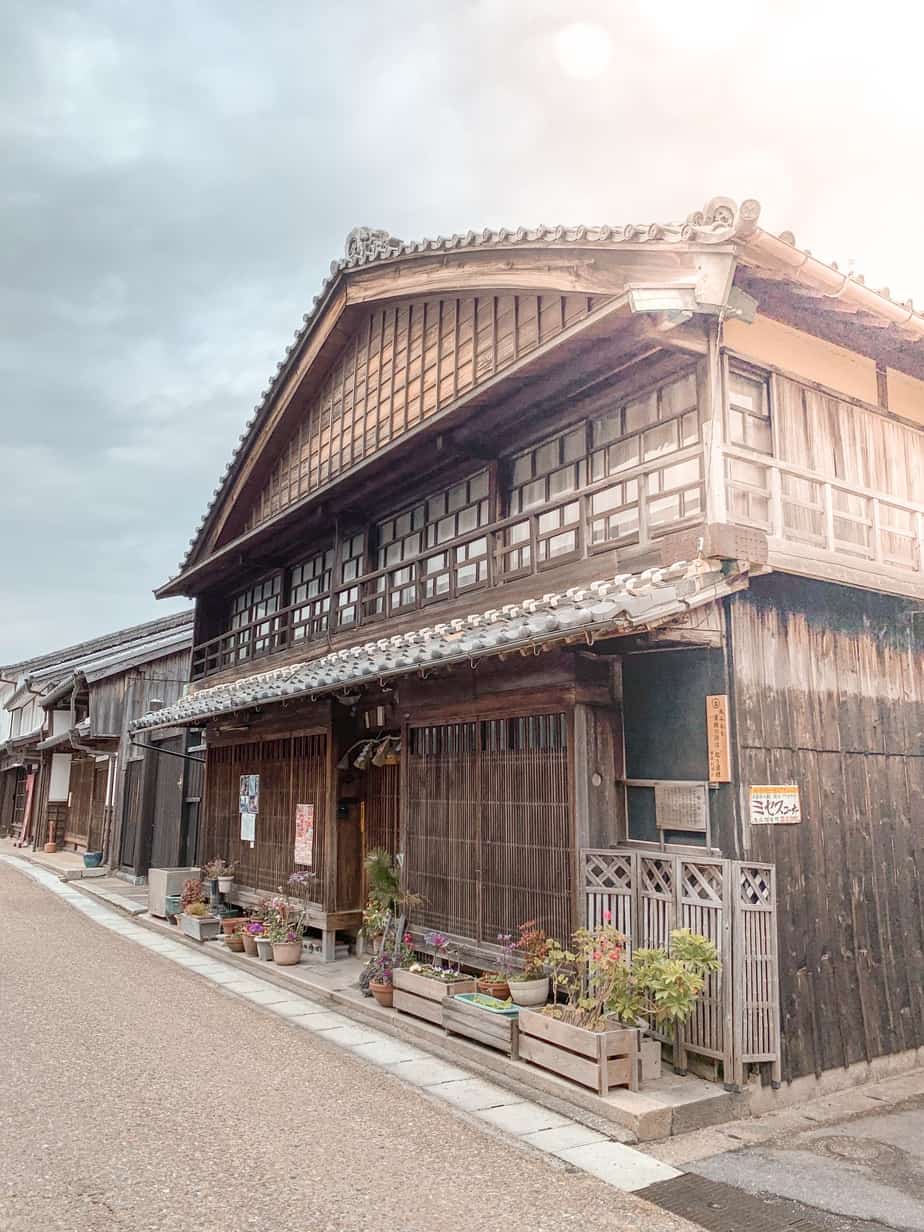 We went to the Old Ito Honjin after that.  This inn is another high class inn for the daimyo – the great lords of Japan who were vassals of the shogun.  So this inn would see the daimyos and the court nobles.  What made going into this inn interesting was that they set it up so that you could envision what it looked like back then.  It also had a beautiful little courtyard with a Japanese garden.
Next up, we finally found a cafe that was open!! WOOHOO! I was starving at that point and I had resigned myself to the fact that we would probably not be able to eat until we got back to the train station or back to Tsu. But maybe we were lucky after all because this was such a good find! I'm not sure who owns it, but it seemed like a local family who run the little restaurant and probably live upstairs. If you don't read Japanese, then you have to try your best in ordering though they do have a picture menu! But I doubt these ladies speak English, in fact, they don't. So hope you like traditional Japanese food! To be honest, I am not the best when it comes to traditional Japanese food but this set menu didn't have anything I couldn't eat. Yay!
I love how the Japanese present their food. Lots of little side dishes with one bigger dish – in this case it was tempura. There is of course the obligatory rice and miso soup. The miso soup was SOOO good with hints of yuzu in it. So different from any miso soup I've tasted before. In case you're wondering, yuzu is a type of lemon and I love yuzu. Yuzu was in season then (this was in February) and it was such a unique surprise. My mom was well impressed!  They also make yuzu jam to buy so I did, of course. It was 400 yen. If you happen to come here, I don't know the name of this place, but it's across the street from the Jizoin Temple.
After our full bellies, we had a quick wander around the outside of the Jizoin Temple. It's a famous temple in Japan, made popular by a traditional folk song. This temple was supposedly opened by Gyoki Bodhissattva in 741 and even to this day, you'll see many worshipers come to pray. It is today deemed to be a national treasure.
After this, we pretty much decided we would walk back to the station. It was getting into late afternoon and we were hoping we could catch my grandfather for a bit. There is more to see in this little town, so surprisingly it did take us a few hours to see what we did considering we didn't see it all! The locals are all super friendly – the few that we did see; but you can tell that in places like these, they are the old generation as the young have moved to the cities.  It is sad to think that their wealth of information and stories will soon be lost.
Lastly, I ran into this cute little Shiba Inu on the way back. Super sweet and I stopped to play with him for a bit while my mom thought she had lost me! Hehe I am easily distracted by cats and dogs! 😉
I hope you enjoyed this little tour of the Seki Juku and learned something about Japanese history, I sure did!
Have a great weekend everyone!