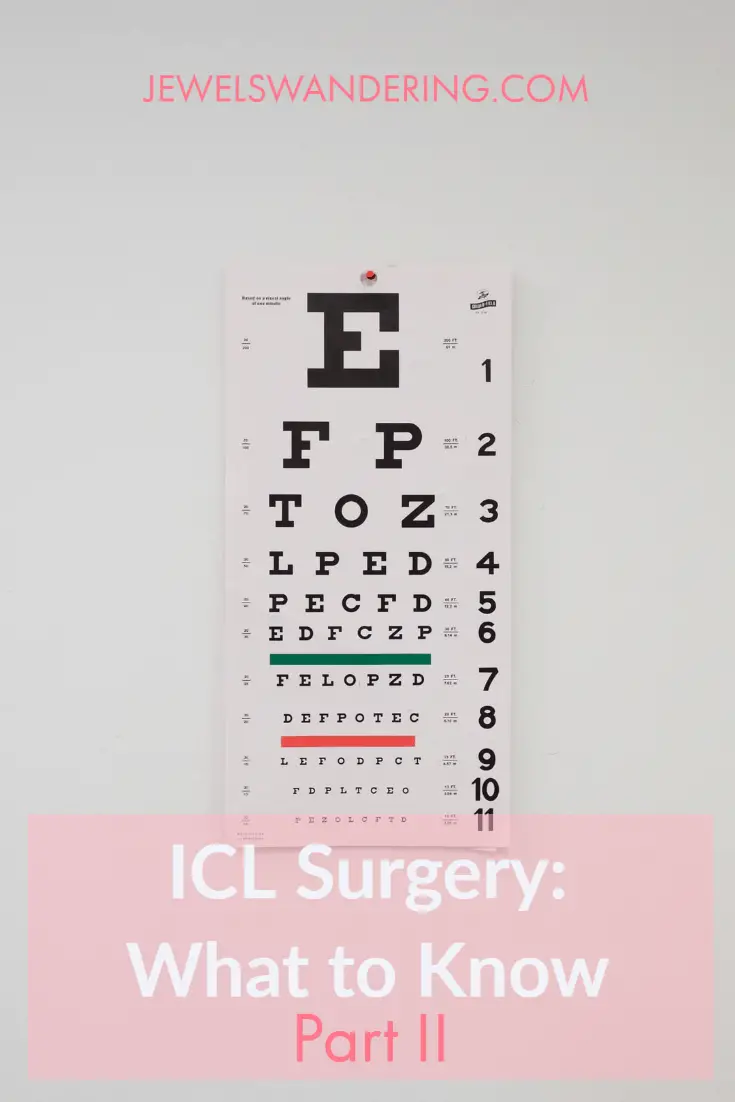 ICL Surgery: What I Wish I Had Known Part II
Welcome back to ICL Surgery and what I wish I had known before going under the knife. If you missed Part I, not to fret; you can read Part I here! And sorry, it's another long post!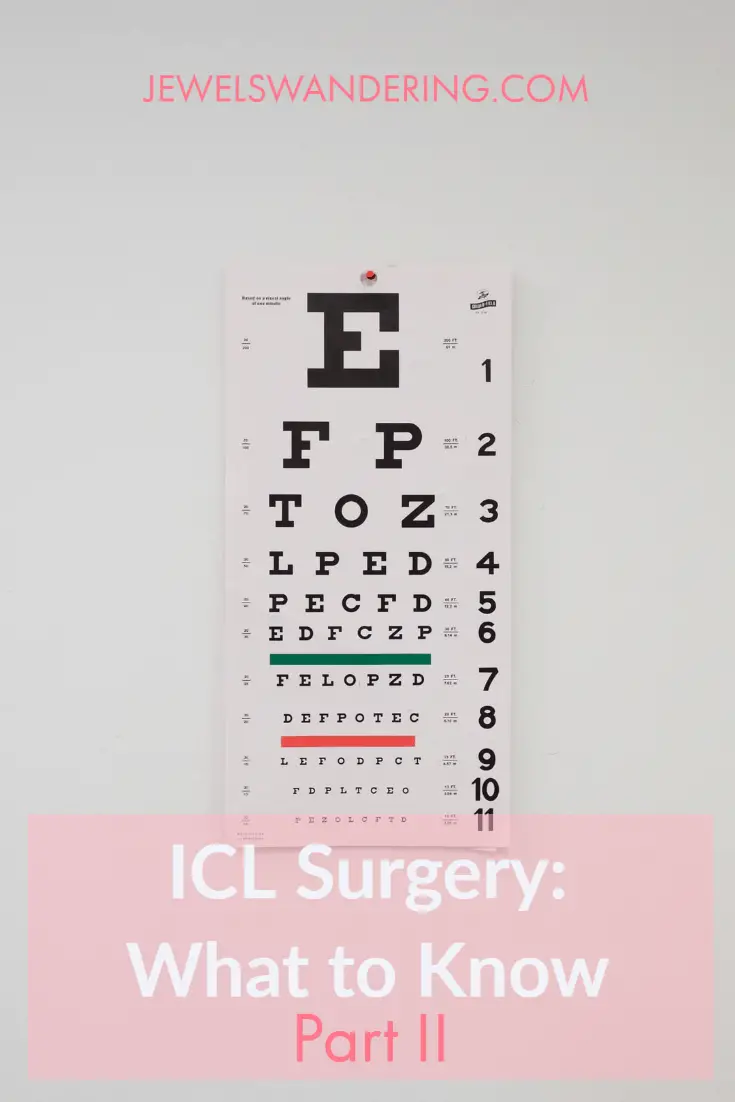 **This has been my experience, I cannot say that your experience will be like mine**
I went in to round 2 of surgery a little more prepared. Or so I thought.  I was actually a bit annoyed with the administrative side that day.  I had arrived to the ward and the nurse told me to sit down.  She promptly forgot I was even there and after half an hour or so, my doctor's nurse comes out asking where I am.  The nurse informed that nurse I hadn't arrived yet at which point I interjected and said, "I've been sitting here for 30 minutes and no one has checked me in." Yeah, needless to say, that got the ball rolling as my doctor was all set to get moving!
They dilated my eye and sent me to the payment counter.  I paid for the surgery and was sent back to the nurse.  I was then rushed into my operating gown and they wheeled me to the operating room.  Anesthesia was quickly administered and I was soon out in whatever land your mind goes to during that state.  Again, the ICL surgery is fairly quick, so soon after, I was being woken up. This time around, the pain was not as intense as the previous week.  Don't get me wrong, it still hurt but it wasn't like last time.  My eyes weren't stinging like crazy – thank god! – and the headache was not as intense.  The nurse didn't wait as long as last time to give me meds and I was thankful for that.  However, the meds this time did not give me the same relief.  My headache continued all afternoon, which was annoying to say the least.  But I just slept that afternoon away until I was given my snack.
I knew the procedure now – go back to the Laser Vision Clinic to check my eye pressure and to see if the lens was in correctly.  I also told my doctor that I wasn't seeing properly out of my right eye yet.  And honestly, how much longer would it take before I could see like I did pre-surgery?  He checked my right eye quickly and told me that the lens was on properly and that because I have slight astigmatism in my right eye, my eyeball was just readjusting and that I should give it a few more weeks.  Did he just say, a few more weeks? ARGH. I was sent home and I knew the drill.
I made it home on my own.  But I felt even more helpless this time.  Not only could I not really see out of my left eye, I still couldn't really see out of my right eye.  Great! I was essentially blind. Ok, ok, I know.  I was being really dramatic but I was alone and I could be, right? My friend came around that night to check up on me.  That was super sweet of him especially as I was acting slightly precious.  I really fancied a milkshake and so he brought me an Oreo McFlurry because that was the closest thing he could find around my hood. HA It was gone in a few seconds.  We chatted a bit more, but I was pretty tired and ready to pass out so I sent him home.
The next day, I woke up and I cleaned out the left eye gently with the sterile saline solution after carefully taking a shower.  I've mastered the art of showering now and not getting your face wet! I headed back down to the hospital for my check ups and I was also given an eye test.  I was still pretty blind in my right eye even a week post surgery. At this point, I was trying to stay positive. I went in to speak with my doctor and he told me that the surgery in my right eye was successful.  That I wasn't shortsighted anymore and that it was the astigmatism.  So I just had to have faith.
I met up with a friend for lunch after my check up.  We sat and talked for about an hour or so and it was hard to have to focus on her face.  It tired me out and I was so frustrated with the lack of vision in essentially both eyes. Don't get me wrong, it wasn't that I couldn't see anything, because I could.  It  was like trying to focus on something that was constantly moving around.  After a while, I had had enough and I went home and went to bed. I pretty much only woke up on Thursday morning to go to work.
Thursday at work found me super nauseous. Argh. The whole not being able to see was getting kind of old. I lasted until 2pm and then I threw in the towel.  I took a taxi back home and slept until the next morning. It was the only way I could cope – emotionally and physically.  I definitely wasn't prepared for the emotional toll this took on me. The previous week, I still had one good eye and as annoying as it was, it was still manageable.  But this time, having lack of vision in both eyes was a whole different experience.  I hadn't thought much to it, I just assumed my right eye would be good.
Friday. Oh, Friday. Friday is joy for many reasons, but this particular Friday was even sweeter. I woke up as per usual and it was only after a few moments that it hit me. I could see! And I wasn't nauseous! Happy, happy days! Best.feeling.ever!
But before you think I can see everything crystal clear, that is not the case. I can see but I still don't think I see 100%.  Signs that are slightly far away are still blurry whereas I could read them perfectly with contacts.  My check up this past Monday was good.  I was told I have 20/20 vision but my doctor thinks that my right eye will get even better.  They are both healing as it should and not inflamed so I guess that's a blessing.  All in all, my doctor is happy with the results.  Me, well, when I can read things perfectly from 20 feet away, then I'll say it was a success. And no, I'm not expecting to read tiny, minuscule signs.  Just normal sized signs, is that too much to ask for?!?!
One last thing, during this journey of not being able to wash my face with water, I discovered the joys of micellar water. Yes. You need micellar water for this journey.
And if you made it this far, well done!!
If you have had your eyesight corrected, what was your experience like?