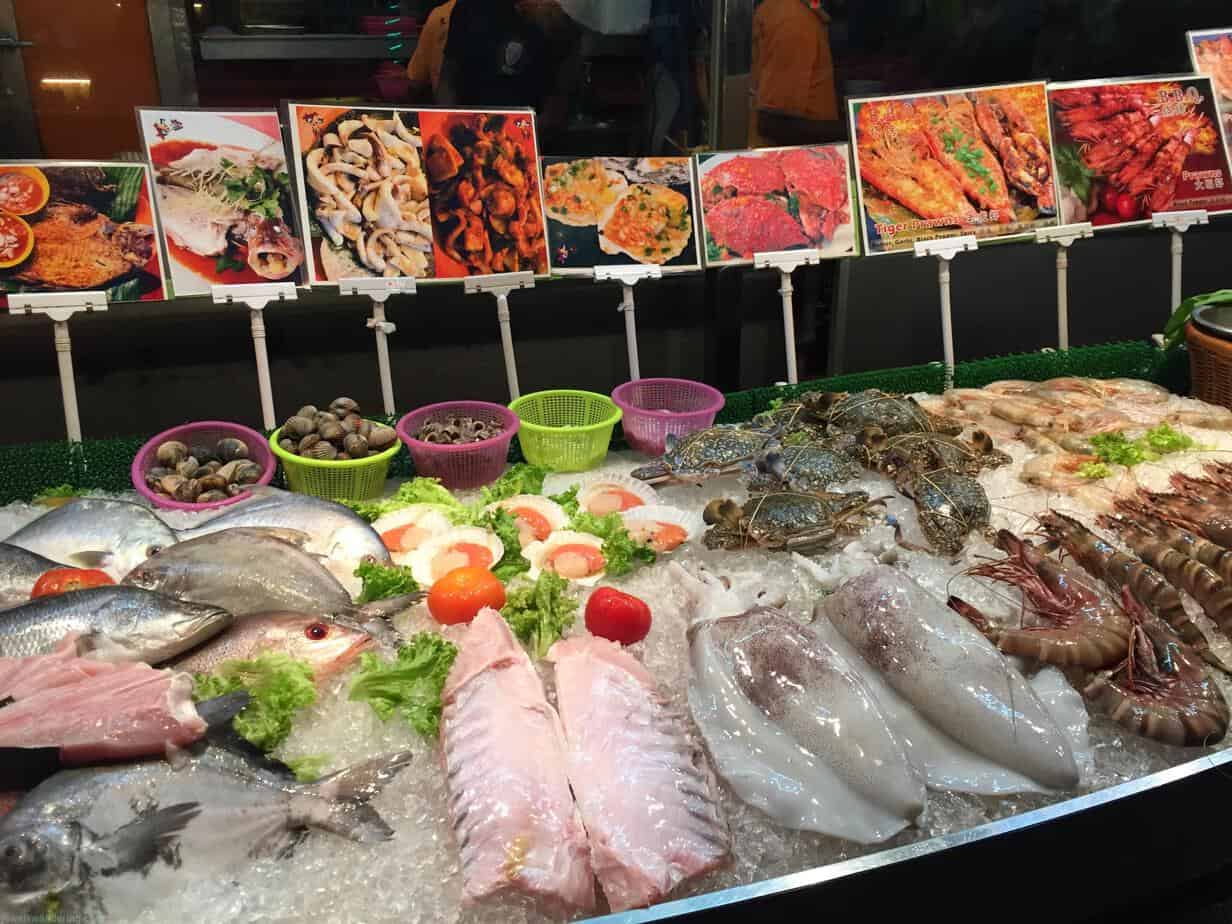 When you say "Penang", people in the know automatically think of its delicious local fare.   As we didn't arrive to our hotel until close to 10pm on the Friday night, we kept it simple and went straight to the local hawker center for a bite, well we ended up having a feast!
A hawker center is essentially a food court, offering you a variety of different stalls serving different types of cuisines, etc.  And as it was Hungry Ghost time, we were subjected delighted to see that there was a singer performing Chinese ballads the latest pop songs! Cheap, yummy food and free entertainment – what else can you ask for?  We took a table as far away as possible…


Walking around to see what was on offer.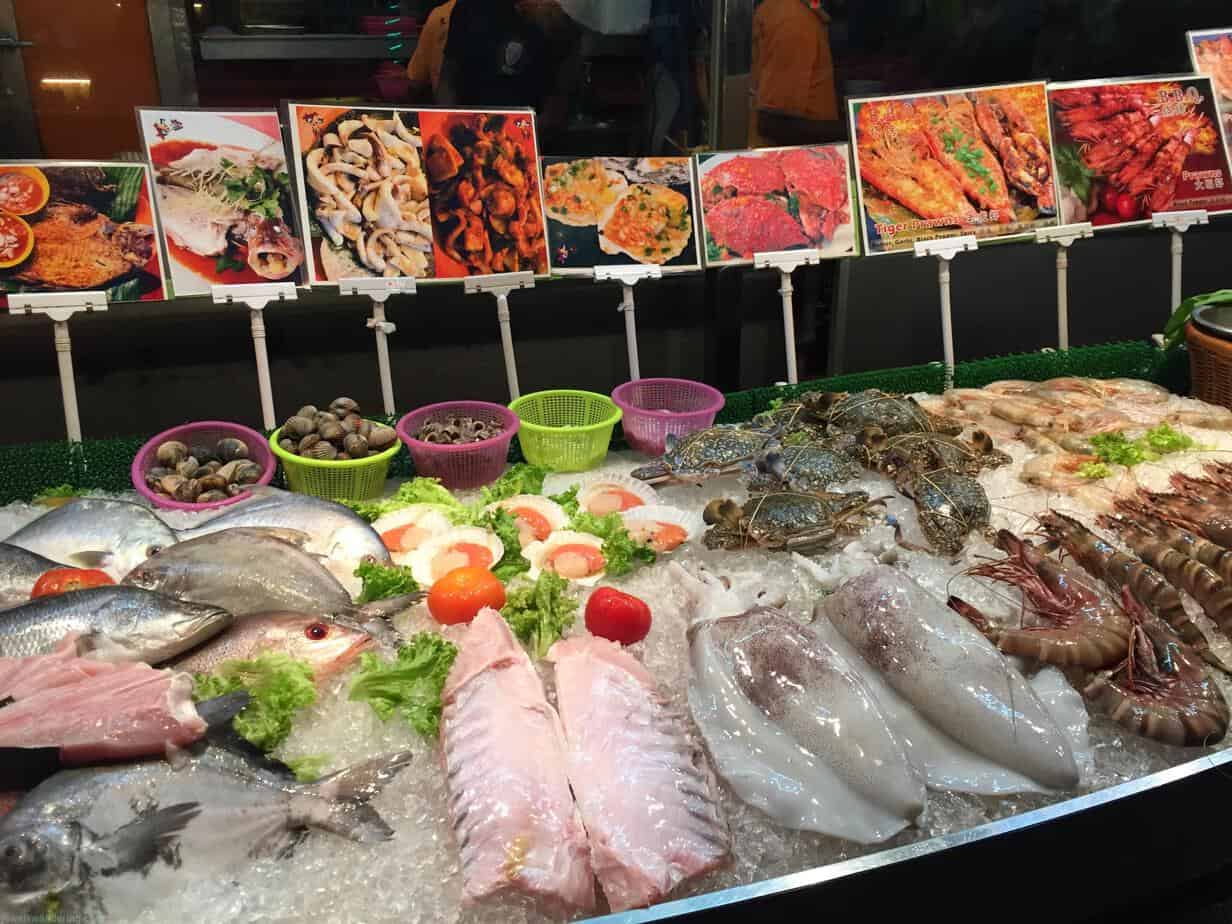 You can't go to Penang with out eating some char kway teow so we were on a mission to get some.  It's also considered to be a Singaporean dish, but it can be slightly different.  Char kway teow is a noodle stir fry, with the noodles being flat rice noodles.  It is seasoned with soy sauce and chili, mixed with prawns, cockles, bean sprouts and Chinese chives.  You can also find fishcakes and Chinese sausage. It's like a pad thai, same same but different!  It was definitely yums and definitely wouldn't mind eating some now as we speak…


Next up, this was a first for me as well –  sambal stingray.  Sambal is a sauce made from chili peppers and shrimp paste, fish sauce, garlic, ginger, shallots, scallions, sugar, lime juice and rice vinegar.  To be honest, I am not a fan.  I do like seafood, but its just a bit too fishy for me.  And stingray, have you tried it before? It was my first time even though you can easily get stingray in Singers.  The consistency is surprisingly like fish and I would definitely eat it again, but maybe not seasoned in sambal.  Here in Singapore we do a chili stingray, which may be more up my alley.  Definitely a must try, would love to know what you thought!


Garlic prawns and chicken satay – you can't go wrong with these!


After our late night feast, we walked around and checked out some of the bars.  Throughout George Town, you'll see various of these wire murals which depict some of the city's history.  Did you know Jimmy Choo started his apprenticeship in Penang? I didn't and loved finding this tidbit of information out, I am a big Jimmy Choo fan!

The next day, we went and ate like pigs snacked on some more local food.  I'm not sure why I don't have pictures so I do fail as a blogger, so sorry!  But we ordered some asam laksa, char siew and roast pork, braised chicken, steamed chicken and popiah.
Asam laksa is a noodle soup, with the broth being a mackerel based with shrimp paste and notes of lemongrass, mint, onions, etc in the broth. Unfortunately, this is not my favorite type of as I'm not huge fan of mackarel. But in small quantities, I can handle it so I definitely had a little bowl of it. It is also slightly sour to the taste, so if you're thinking of ramen, the taste won't be exaclty like that!
Guys, I don't know if you're big pork fans, but the char siew and roast pork belly was soo delish. Ooh, I wouldn't mind going back just for that…! And well, I'm sure I don't need to explain the chicken dishes! But popiah is like a fresh spring roll, not quite like a Vietnamese one because the skin is like a thin crepe. Yumms!
The hawker centers are easy to find as you wander around George Town, but the true foodies know which specific stall to go to for the best laksa or popiah, for example.  But I'm not a true foodie when it comes to Malaysian food… 😉 Have you had any of these dishes before?