Views From Cristo Rei and Areia Branca
The views from Cristo Rei and Areia Branca ("White Sand") were just ridiculously breathtaking. This was the moment that I fell head over heels in love with East Timor.  Truth be told, when I first got into Dili, I didn't feel the usual "WOW" that I usually get from a new place.  I was a little underwhelmed from the drive to Aquatica Dive Resort from the airport.  I expected these dazzling beaches of crystal blue water and well, it wasn't like that at all. 
But okay, the beaches were pretty enough.  It definitely was no Zanzibar though..! So, my friend, Ana, had put me in touch with one of her friends who has been living in Dili for 5 years and we made plans to meet up on the Monday I was there.  After a day of diving, he picked me up in the evening and drove me to the East and give me a little tour of Timor.  I was excited to explore!
There aren't that many touristy things to do in Dili, but Cristo Rei and Areia Branca was on my to-see list and I was glad we went when we did – if you follow me on IG, then I'm sure you'll know why! Cristo Rei was given to East Timor by Indonesia as a present to celebrate 20 years of Timor integration into Indonesia.  Timor had initially gained independence from Portugal in November 1975 but was then invaded and occupied by Indonesia nine days later.  In 1999, Indonesia finally relinquished East Timor as a territory and on 20 May 2002, East Timor finally became a sovereign state.
What I didn't realize before heading to Timor was how mountainous the terrain was.  I  knew that going from one end of an island take time as the roads are not great.  But also, the roads are windy with no barriers and there are no street lamps as well, making night time driving a little treacherous.  Plus you'll need a 4×4.  Even with the sun setting, I could see how dangerous driving these roads can be. But oh, what a sight for sore eyes. And now, what you have been waiting for, a photo dump. Ha. You're welcome!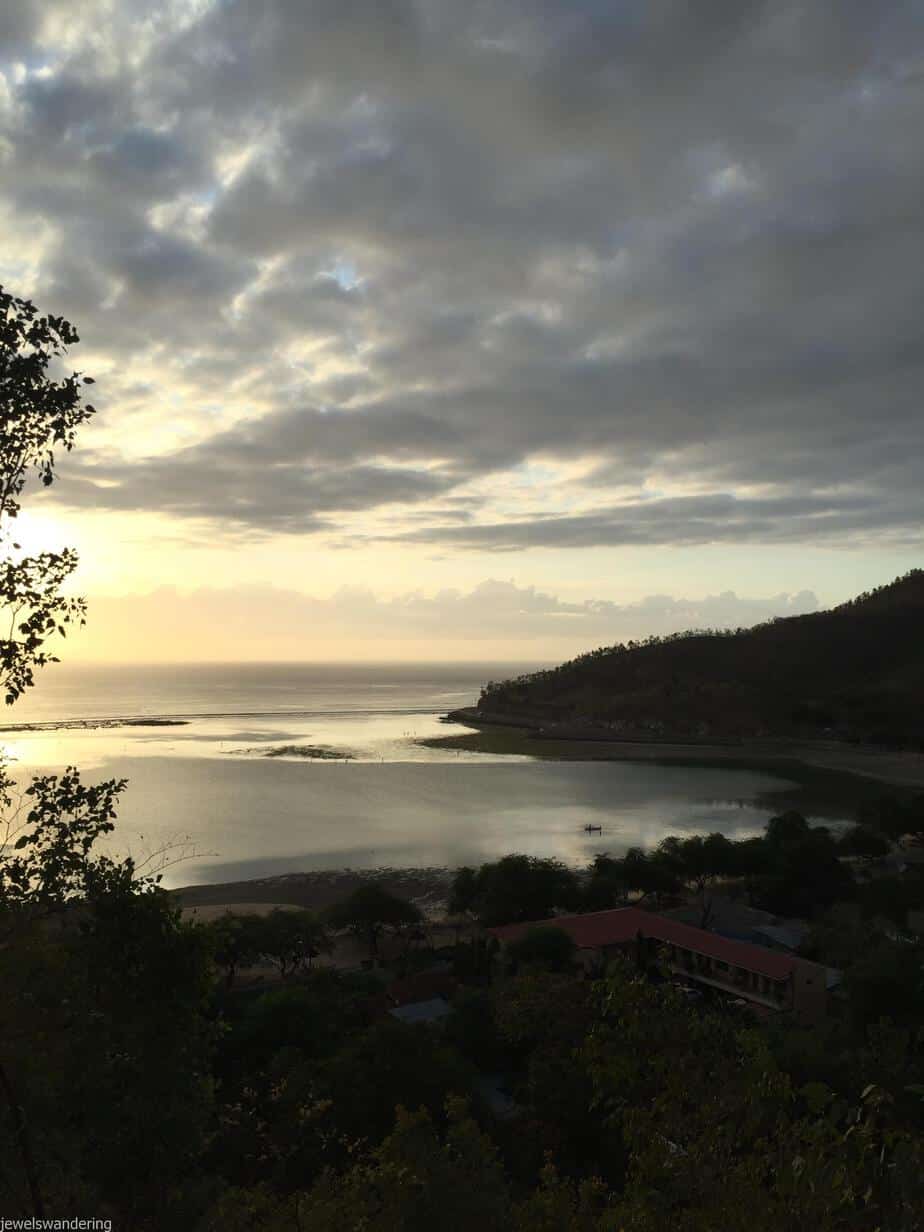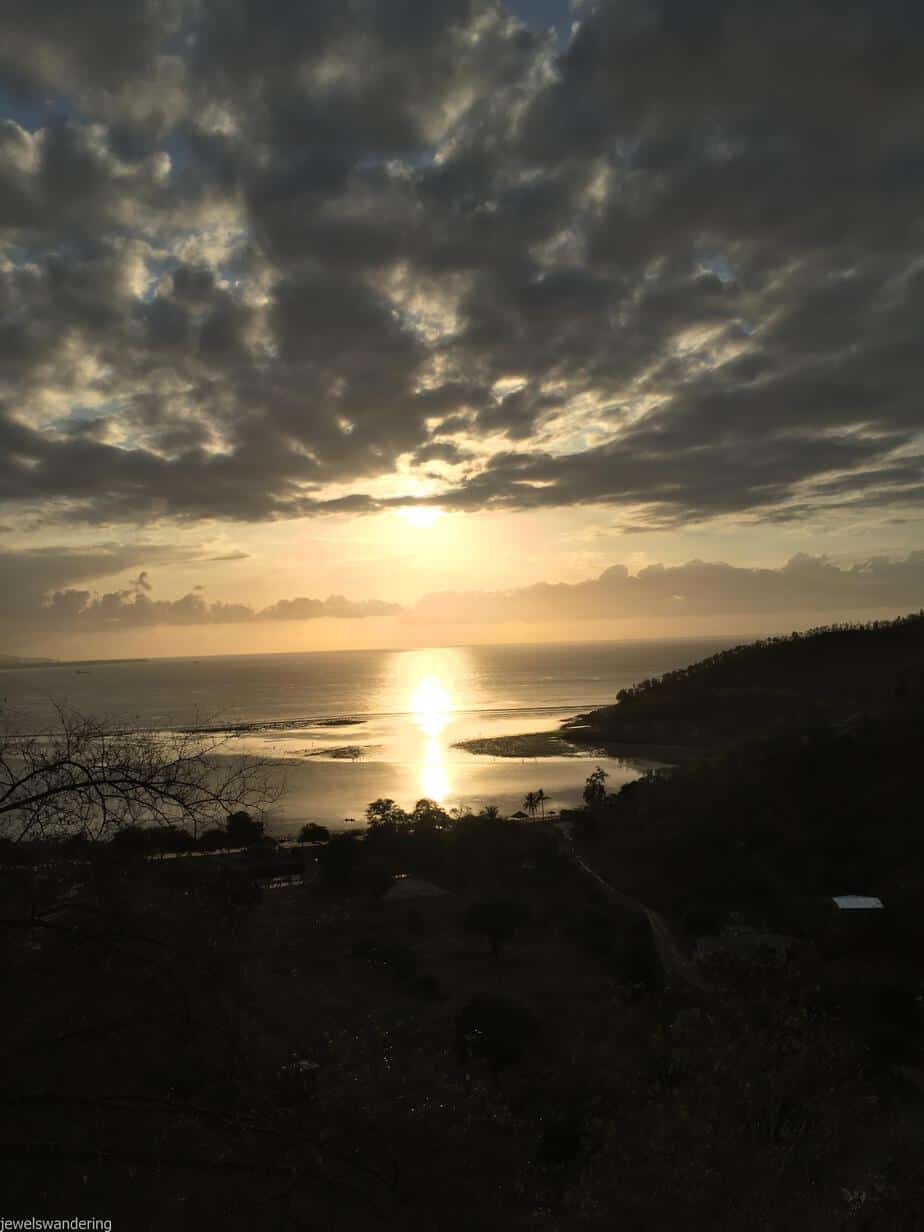 Even looking at these pictures, I get goosebumps.  Can you see why I fell head over heels in love with this place? Just. WOW. The raw, natural beauty was breathtaking.  Throw in that sunset and holy moly. I got ALL the feels.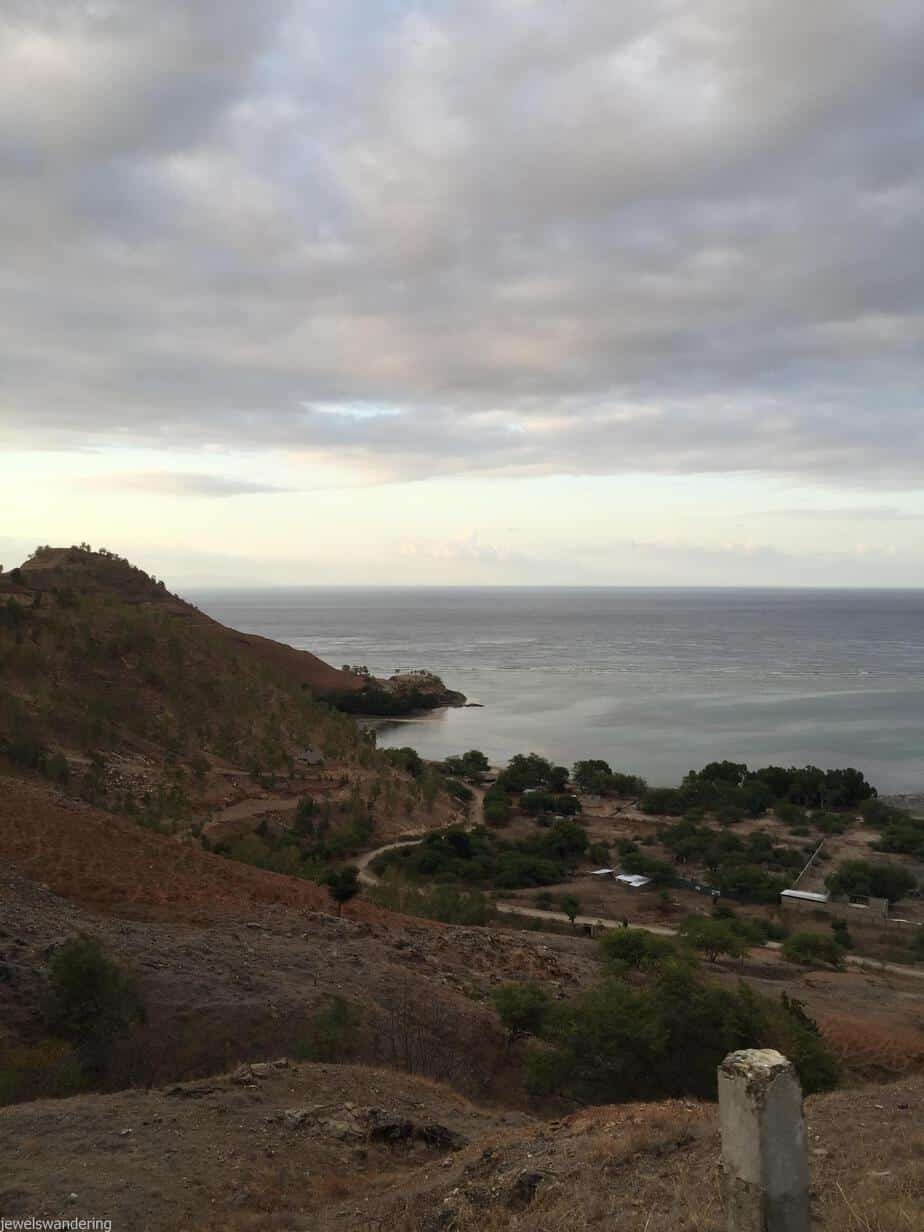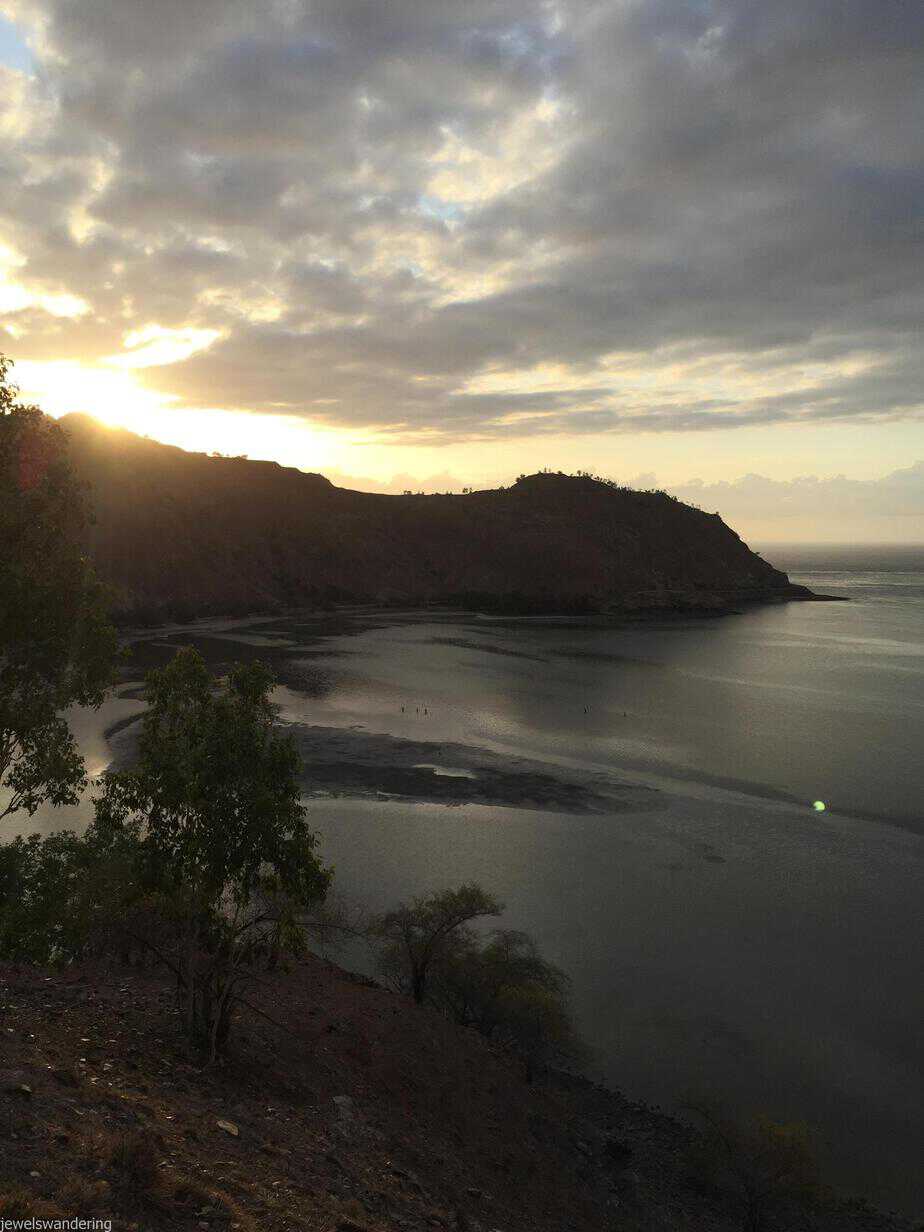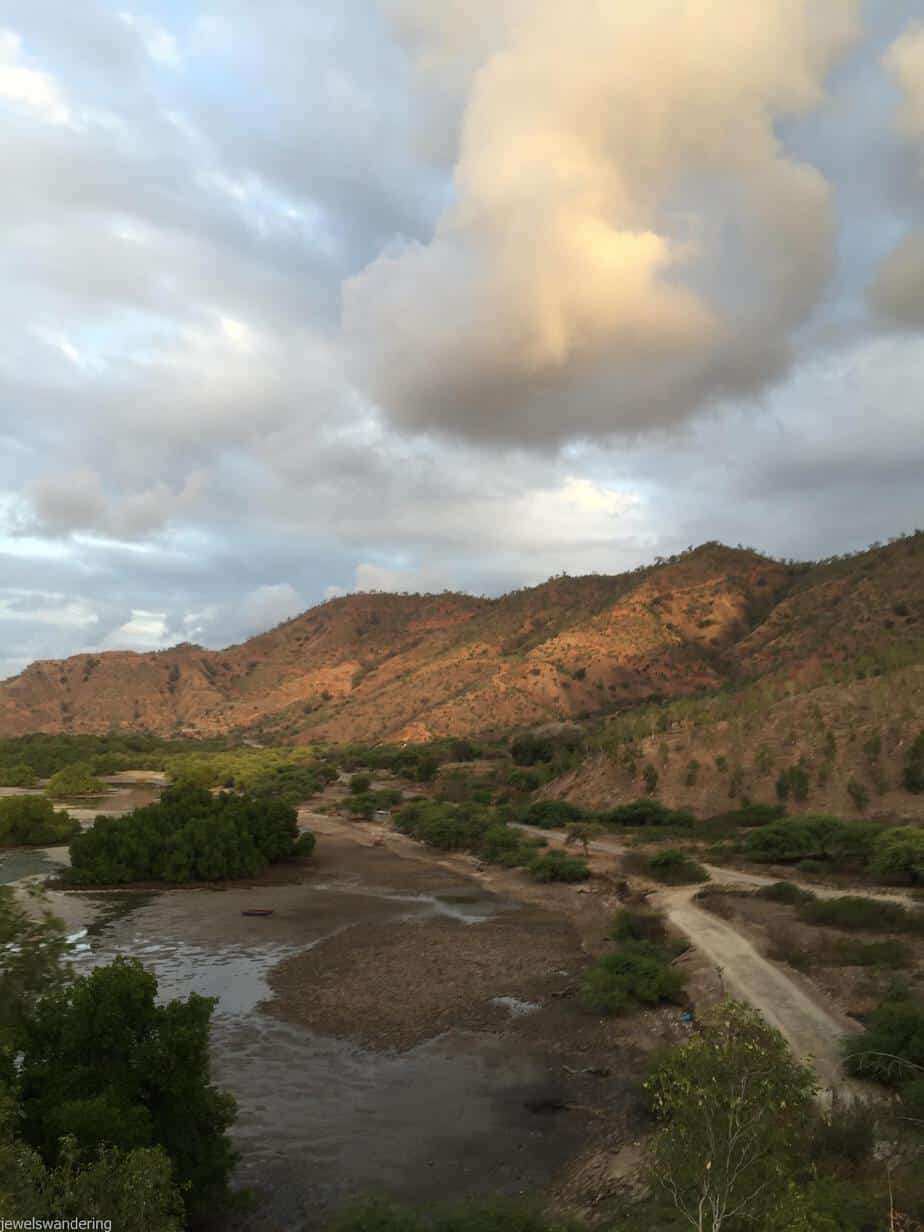 We drove down to Areia Branca towards Cristo Rei.  I made him stop the car every 5 feet or so because I couldn't get over the views.  I was in total awe of this moment; I was really happy to be alive and to be experiencing this moment in time.  Pure beauty, isn't this world a stunning place? 
My new friend dropped me off at the bottom of Cristo Rei after driving through Areia Branca.  I knew I wanted to get to the top and the race was on to get there before the sun completely set.  It didn't look too, too bad from far away, but once I started climbing those stairs.. Eek. They were steep.  And there are like 575 steps or something. But I always like a good challenge and I did it.  I ran up as much as I could with an occasional break.  Even though I'm in good shape, I guess my fitness still has room for improvement! 😉 
These are the pictures I capture from the base of Cristo Rei.  I made it to the top, one hot, sweaty mess but it was so worth it! I caught the last bits of the sunset and took it all in for a few minutes.  I then ran back down those stairs.  That moment will be one that I hold in my heart forever. Cheesy, I know, but… How many people can say they have experienced this view? After all, East Timor is still one of the world's least visited countries! Would you go?