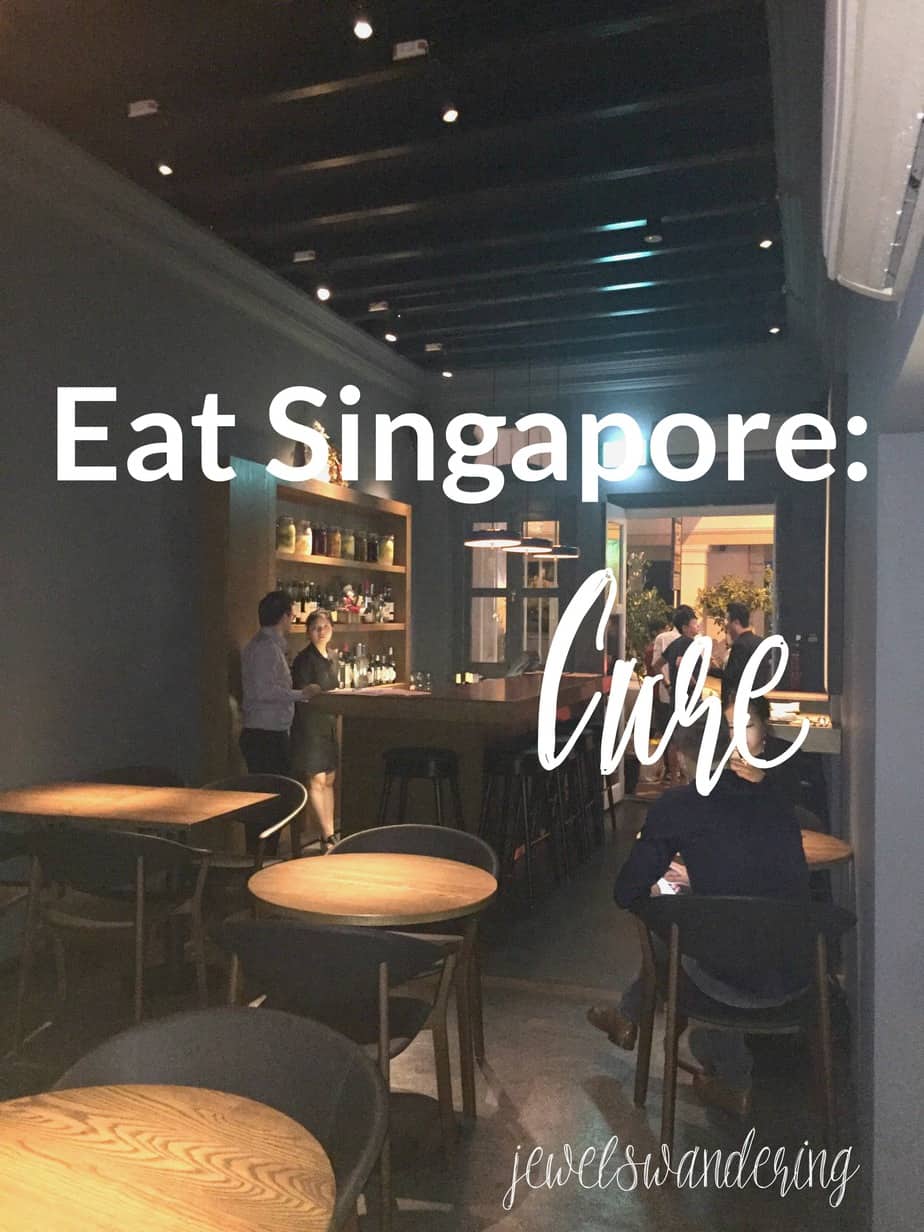 Eat Singapore: Cure
Sometimes, you just have to treat yourself.  It was my last weekend in Sing before heading off for the holidays and that's exactly what we did!  We met up for a lavish pre-Christmas dinner at Cure.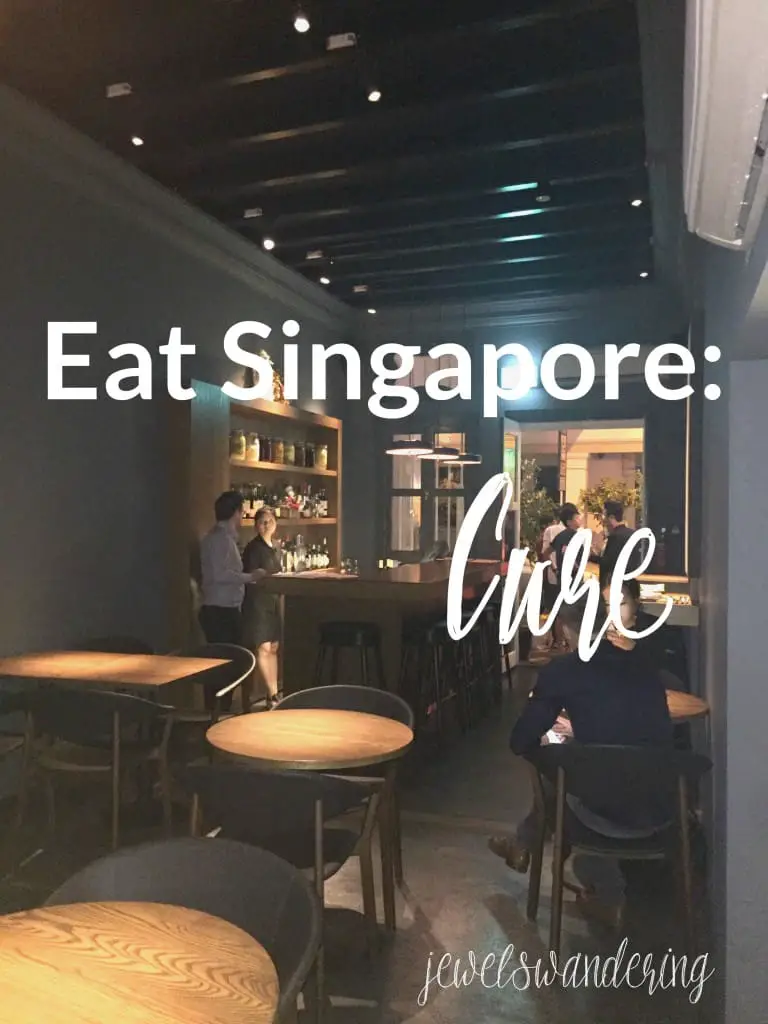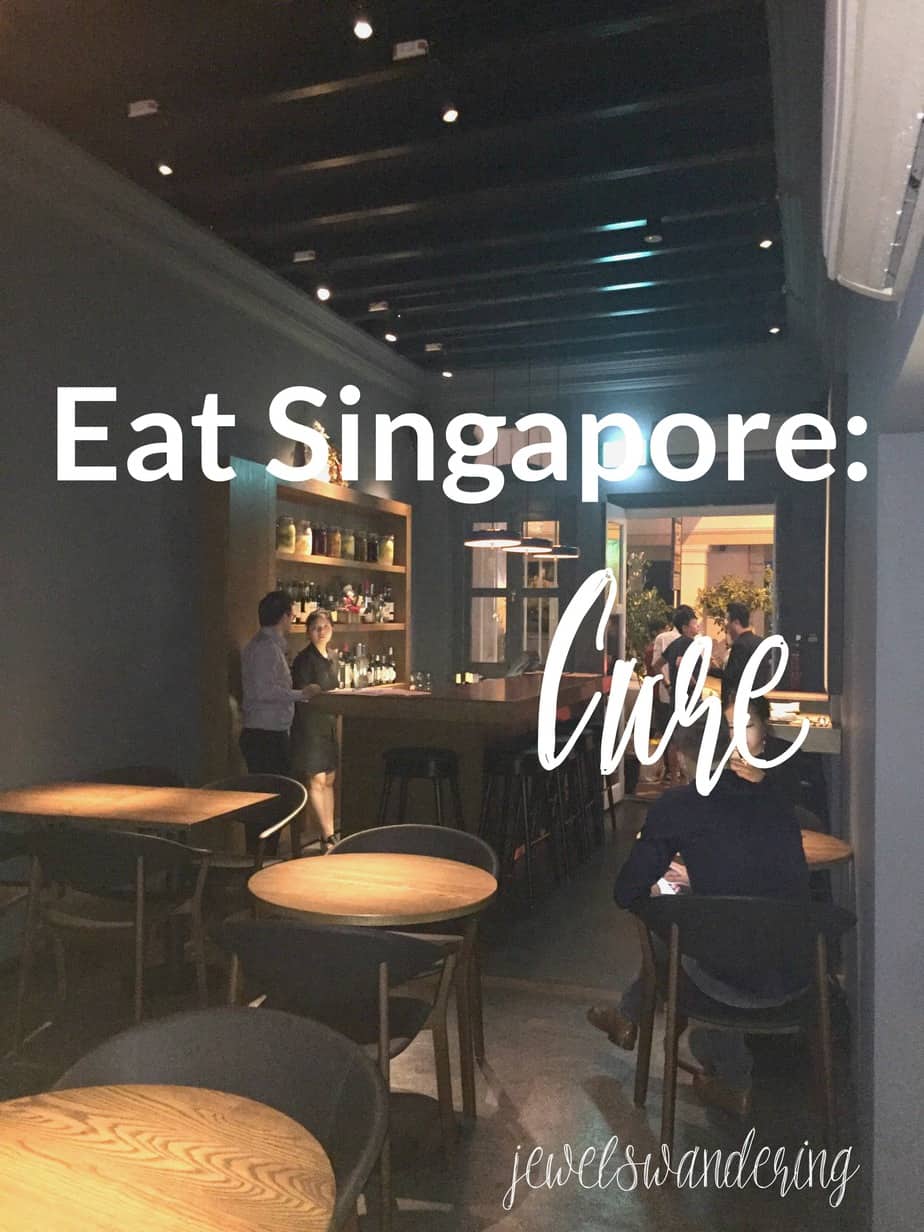 Cure is one of the new darlings on the Singapore restaurant scene, having opened its doors back in July. The Irish chef, Andrew Walsh, was most recently at Esquina by Jason Atherton but decided to follow his dream and open up his own restaurant.  Why not, right?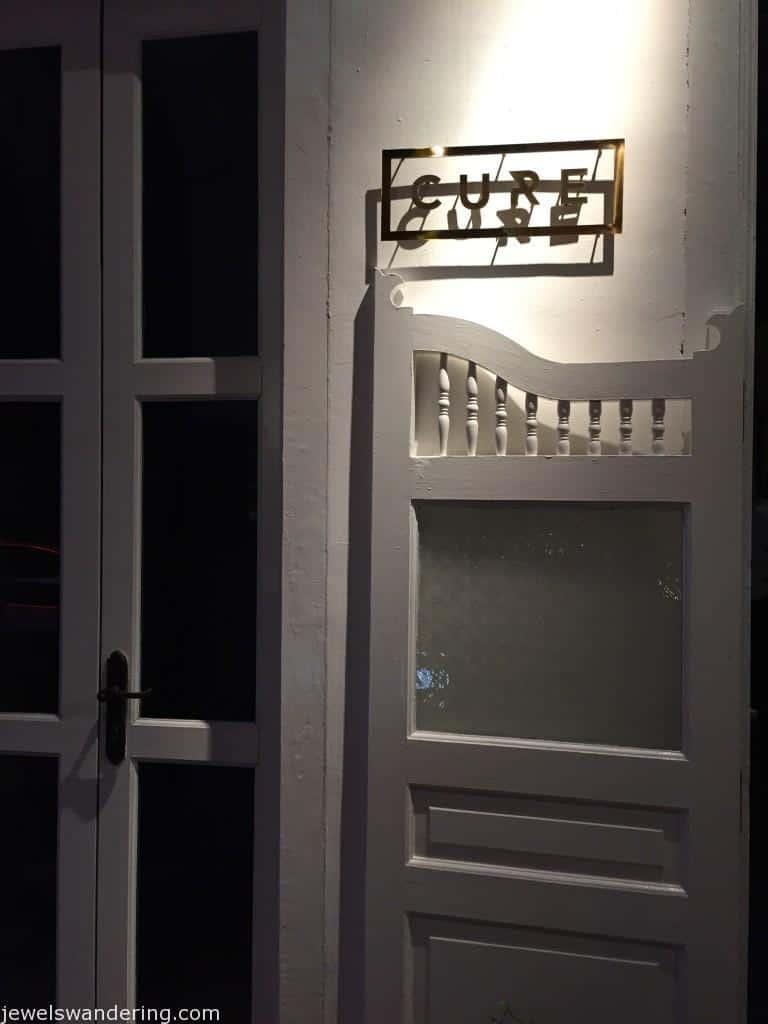 The thing with Cure is that their menu changes monthly and the 6-course tasting menu is built around seasonal ingredients.  Come to think of it, that's pretty amazing to have to build a new menu each month, but then the downside is, if you really fell in love with a dish, you won't necessarily get to eat it again.  And I'm definitely that type of person who goes to specific restaurants to eat that one dish I am obsessed with.  Am I the only one?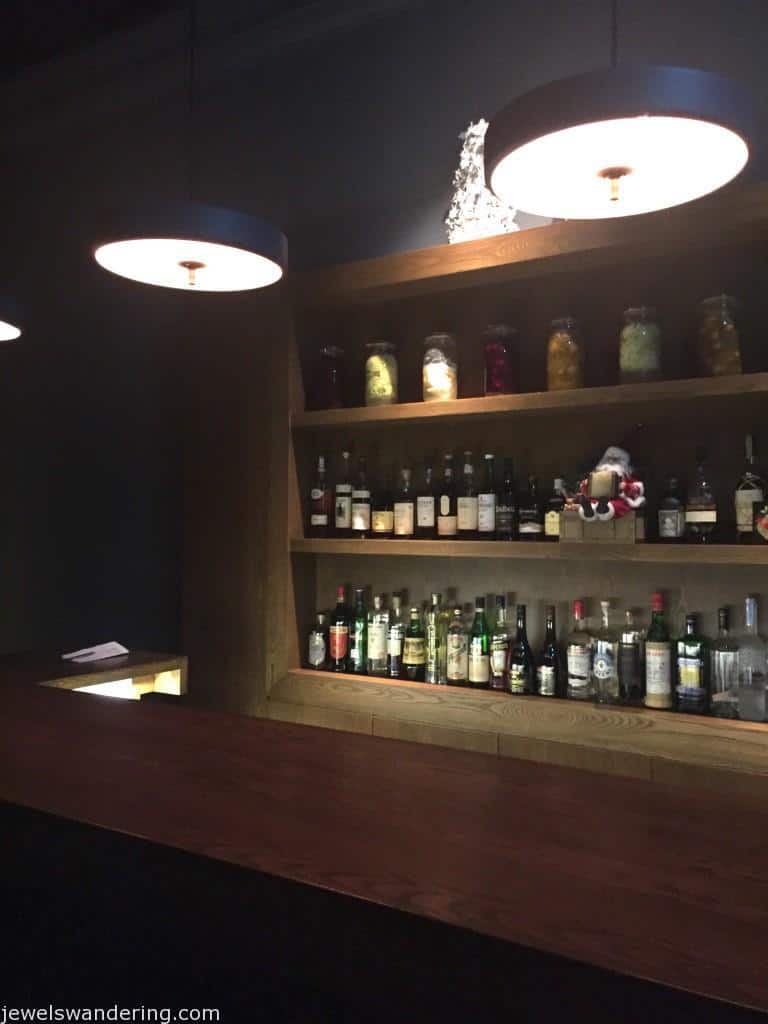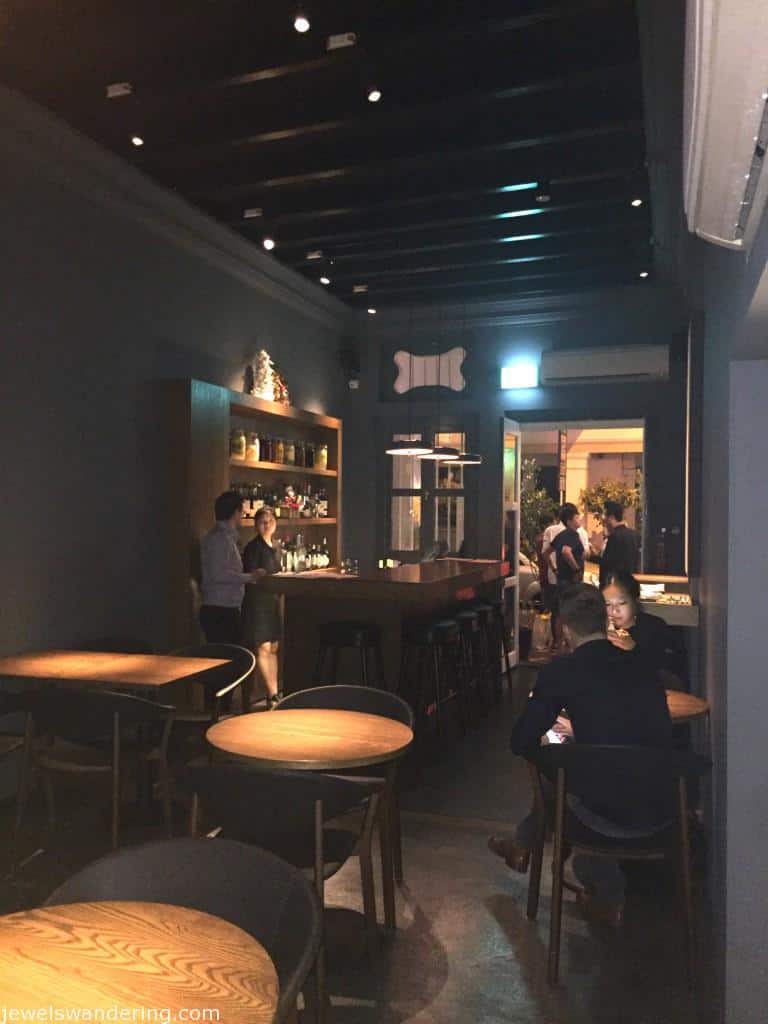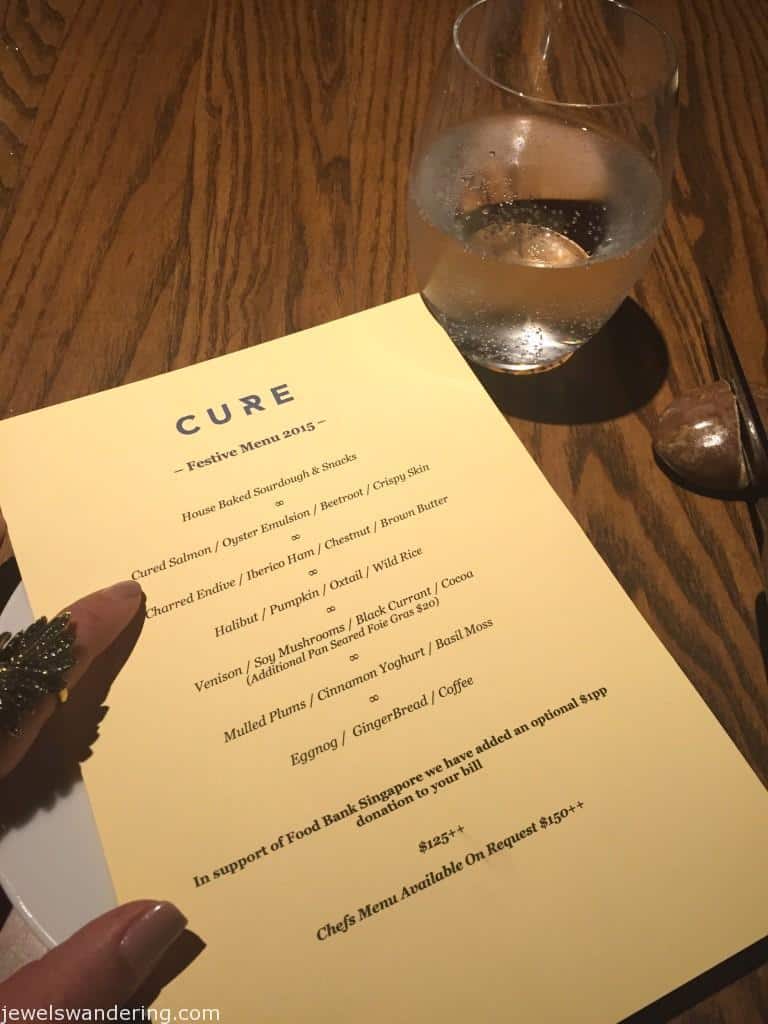 I was really looking forward to the venison – I love, love, love venison.  But I was looking forward to the whole menu and seeing what interesting concoction was going to come out.  Looking from the menu, you can almost be apprehensive of the ingredients but it's also a culinary adventure to see how it all ties in together.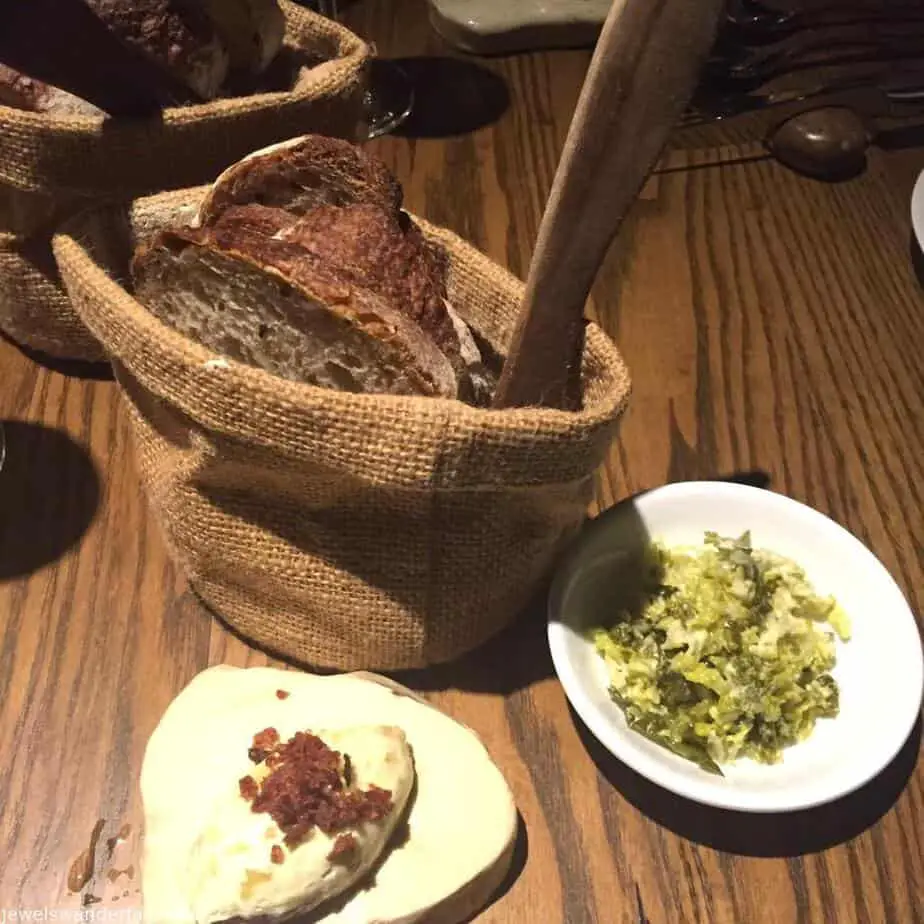 First up, well, technically it's not a course, but their sourdough is so delicious, especially with that bacon butter.  Umm, yes please, I'll have another serving, please! They also give you a side of pickled radish?, which is tangy and tart and it's good, but my vote definitely goes to the butter. Bacon! Gimme!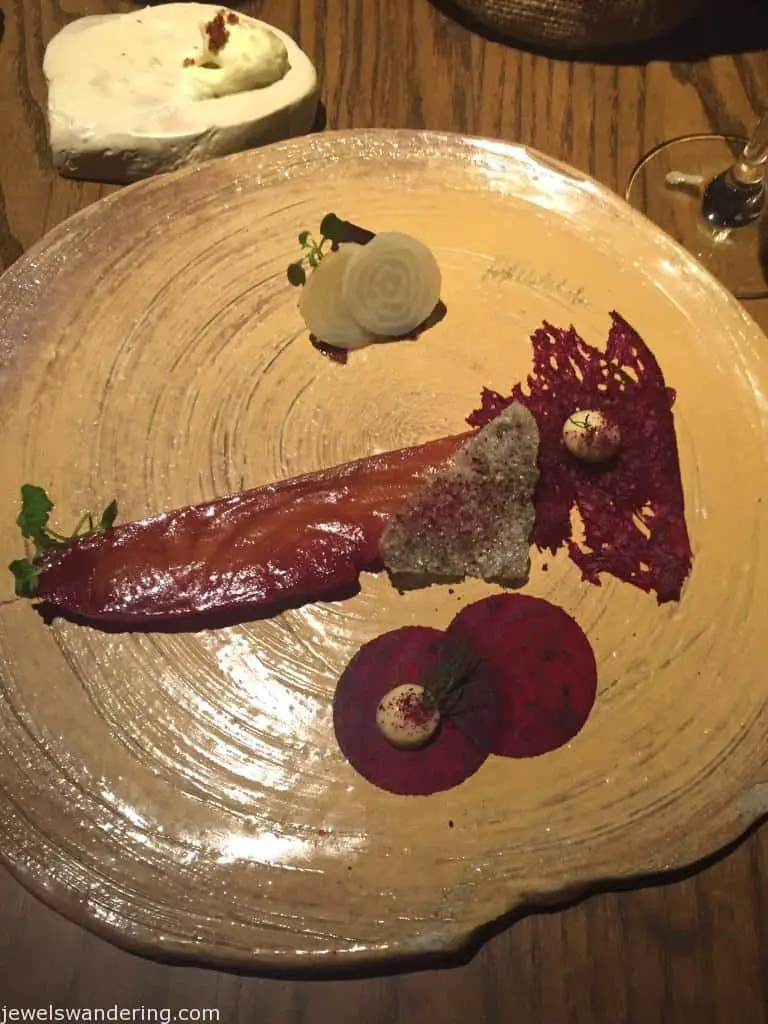 Don't you love how they positioned the food on my plate? 😉 Or am I the only one with a dirty mind in this room? Aannyway..  I am not a huge fan of smoked salmon, so this was definitely my least favorite dish. It was still good, if not a bit too fishy for me.  The girls loved it.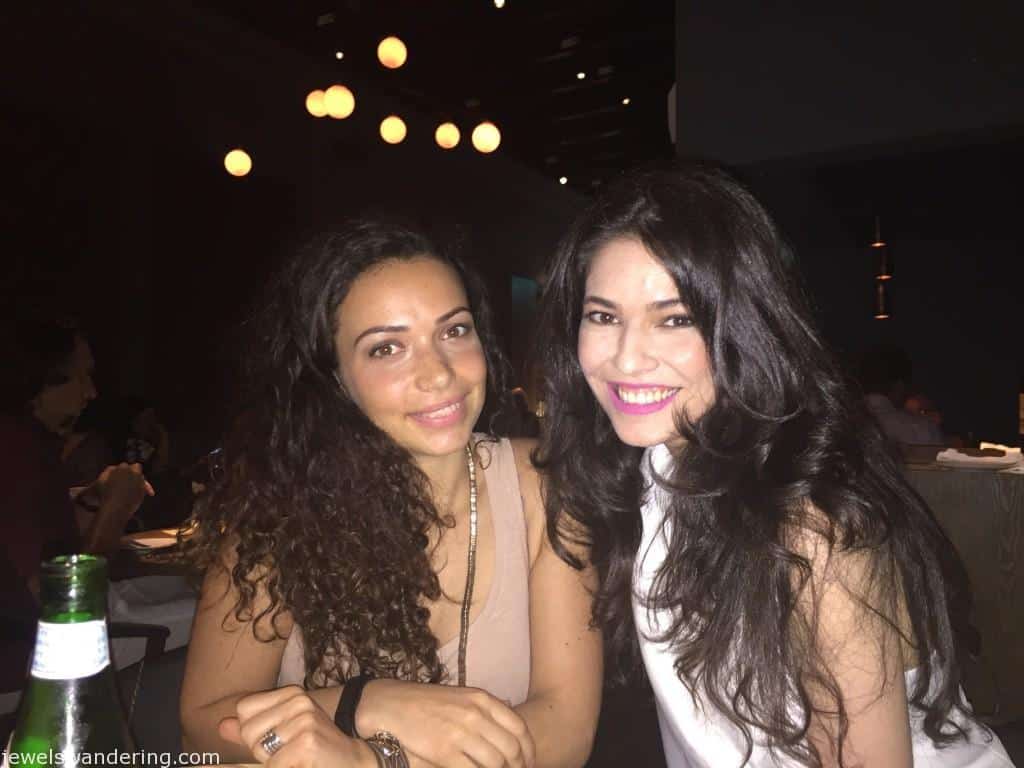 This was a complimentary offering.  I can't remember what they all were, but what I believe to be duck sausage was so damn good! After we gobbled these little bites of deliciousness, the second course came.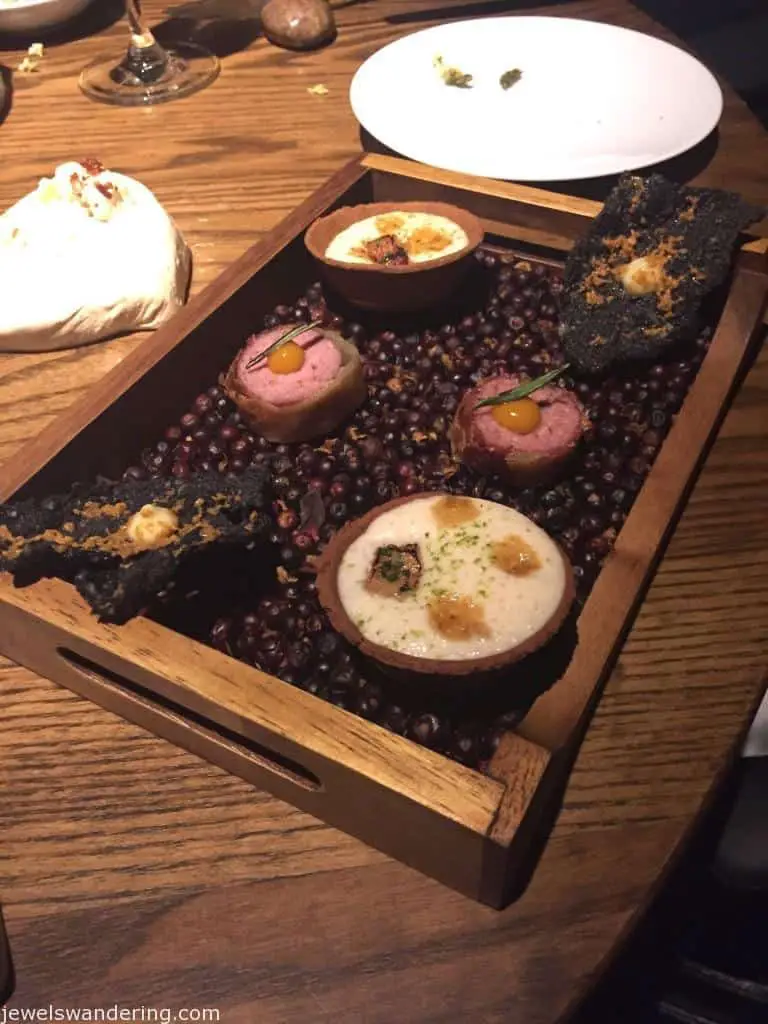 The second course didn't particularly wow me, but I guess because the charred endives were a bit tasteless even with the Iberico ham.  You really just tasted the ham. They also had endive granita to eat afterwards, to cleanse your palette. Sounds strange, but it didn't have much of flavor.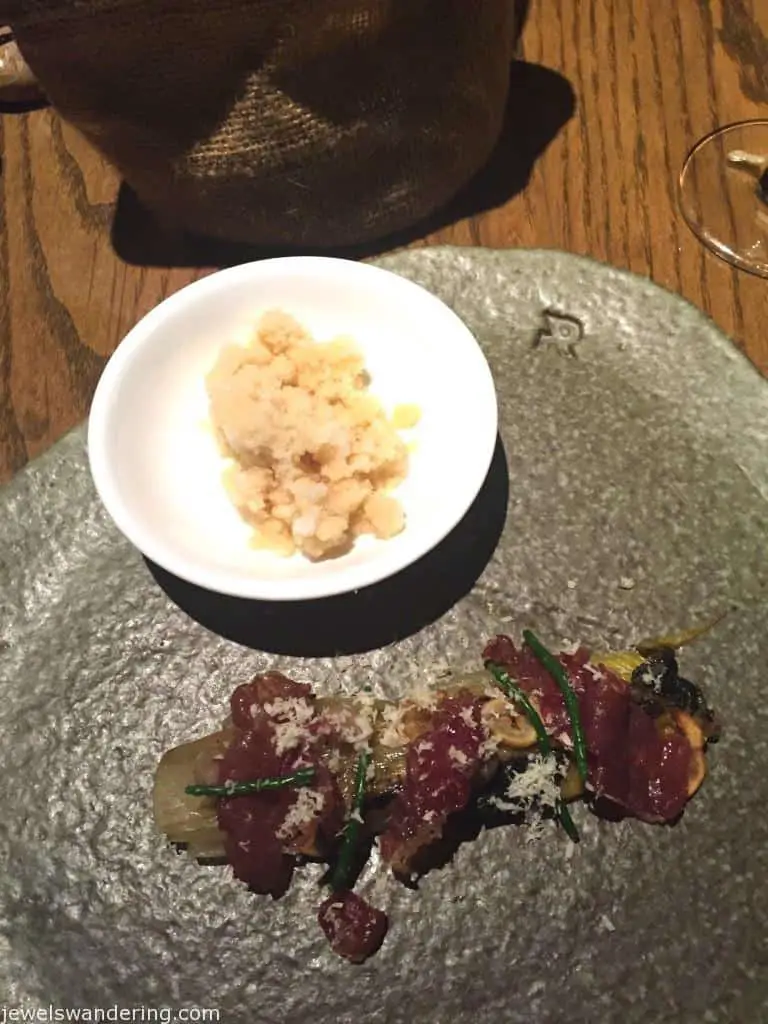 Before we moved on to the next course, we were given a creme brulee.  Now, I love me some creme brulee and this was absolutely delicious.  It wasn't your traditional creme brulee as this was not served as a dessert.  I thought it had a slight mushroom flavor but it turned out to be foie gras! The burnt sugar on top added a bit of sweetness to the foie gras.  I'm not huge on foie gras, but this was delicious!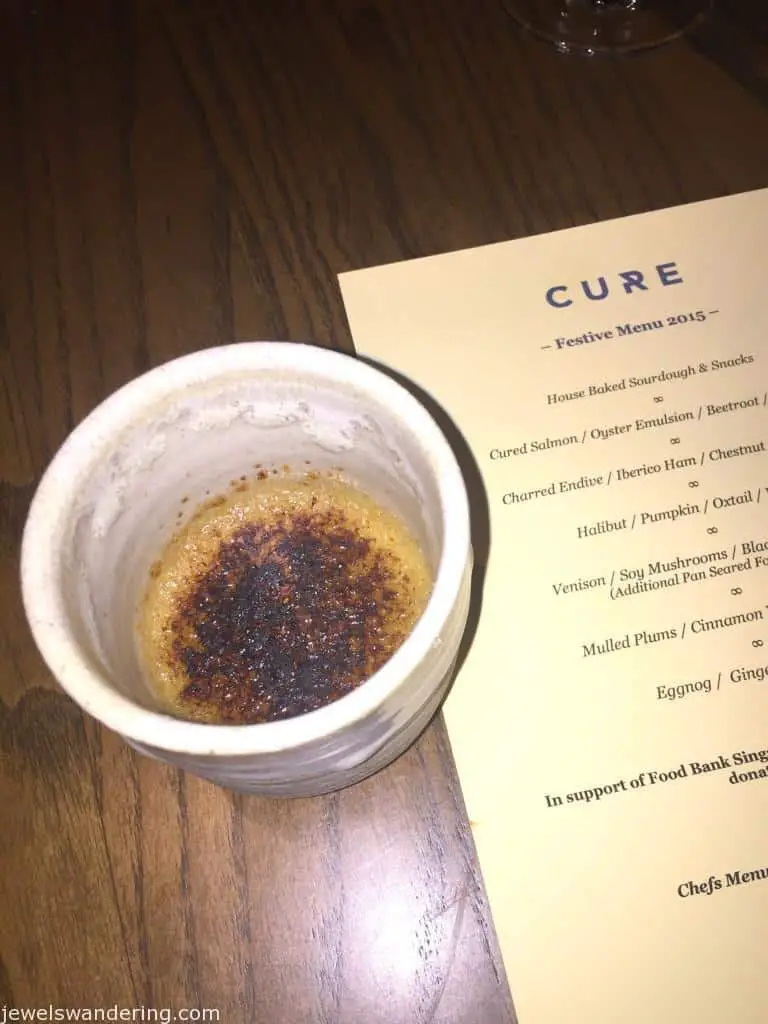 The third course came out and it was so beautifully presented.  It was the halibut with the oxtail.  Again, an interesting combination, not one I would this to put together but it worked really well.  This was one of my favorite courses. It was so delicious and one of those dishes I would love to eat again.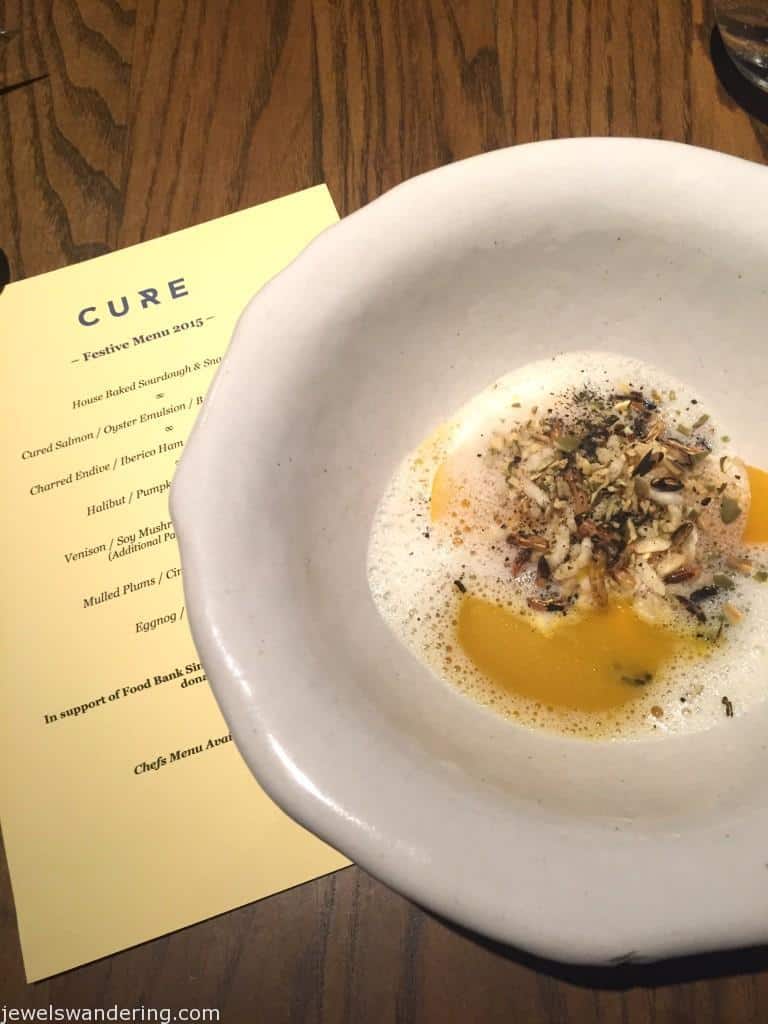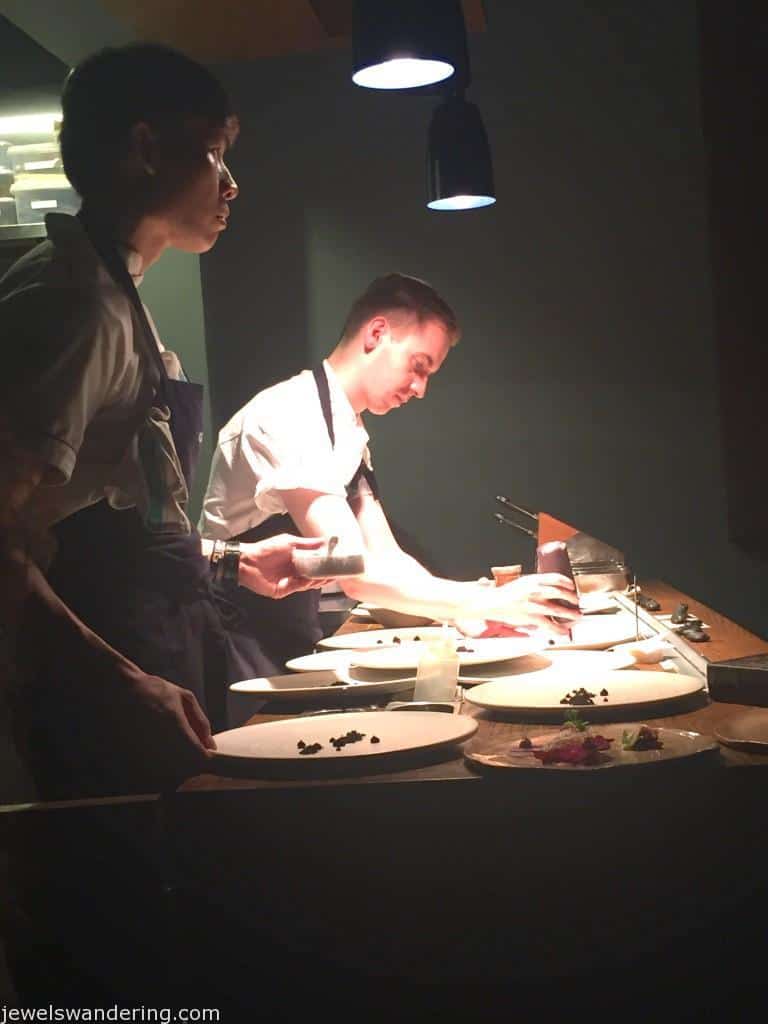 At this point, were getting a little full.  But next up was the venison. Oh my, it was so tender and perfectly cooked.  It was awesome.  I would definitely want to eat this again.  Yummy. Even though I was quite full, I would have gladly eaten another piece.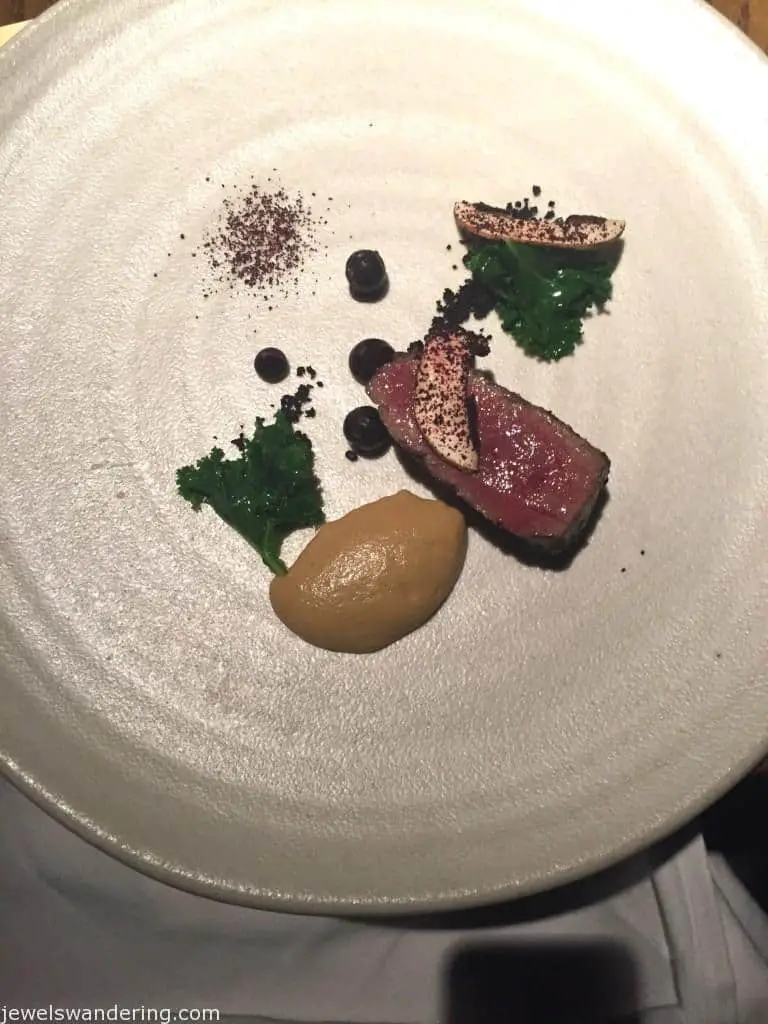 Can you start feeling the food coma, yet? At this point we were given the first dessert.  Mulled plums with cinnamon yogurt and basil moss.  The basil moss was more like basil flavored granita.  This dessert was actually really good.  A good combination of the tangy mulled plums and the unexpected basil flavor really worked, somehow.  I really enjoyed this dessert.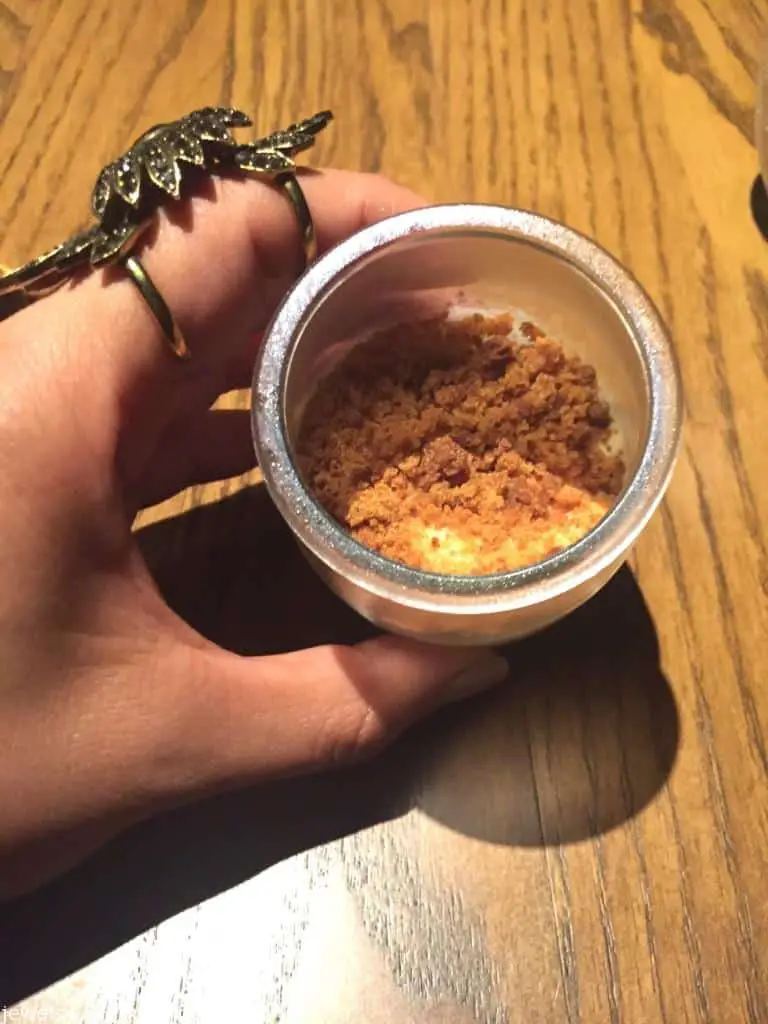 And you can't not have a festive menu without some eggnog, no?  Well, I was eagerly anticipating this dessert but I have to say, it fell a little flat.  It was ok, nothing special.  In fact, I couldn't even finish it. Maybe that's why. I was too full.  And it was quite late at night at this point. We were practically the last people in there.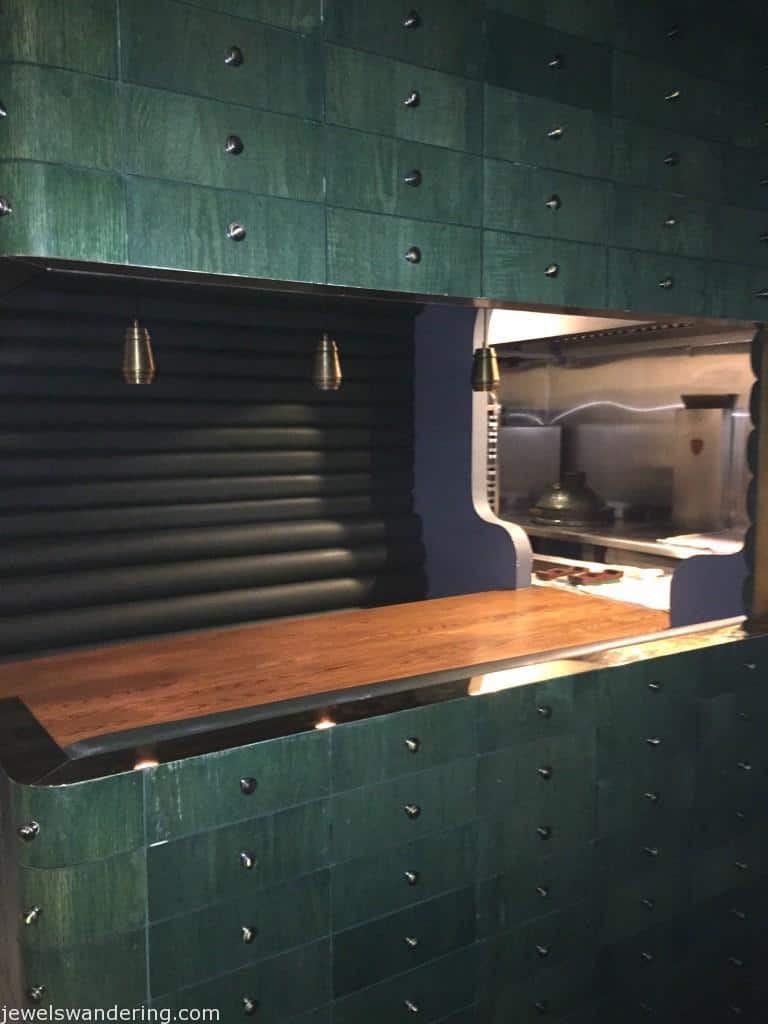 But we did manage to get one group shot! And here's to my girls! Many a laughs were shared that night and so many other nights!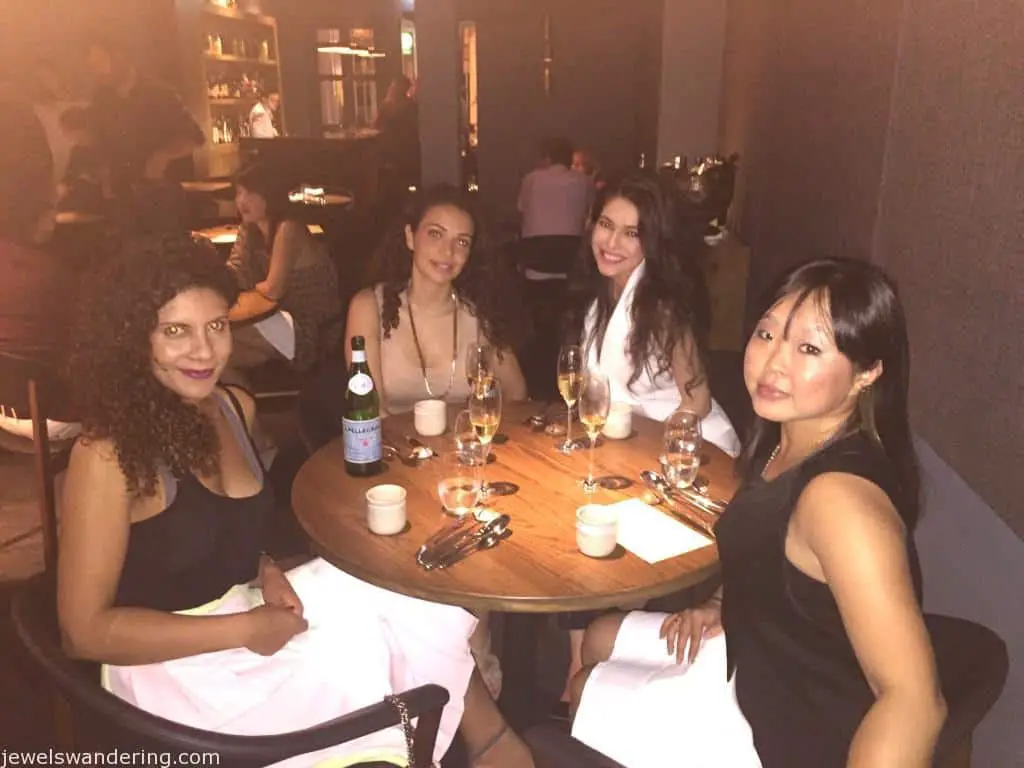 All in all, it was a great dinner.  The menu is fun and exciting and you just don't know what you'll get. It's not a restaurant I'll be going on a regular basis just because it's slightly expensive but for a special occasion, I would definitely look to book a table here!
What did you think of the menu? Would you check Cure out?
Cure can be found on 21 Keong Saik Road.