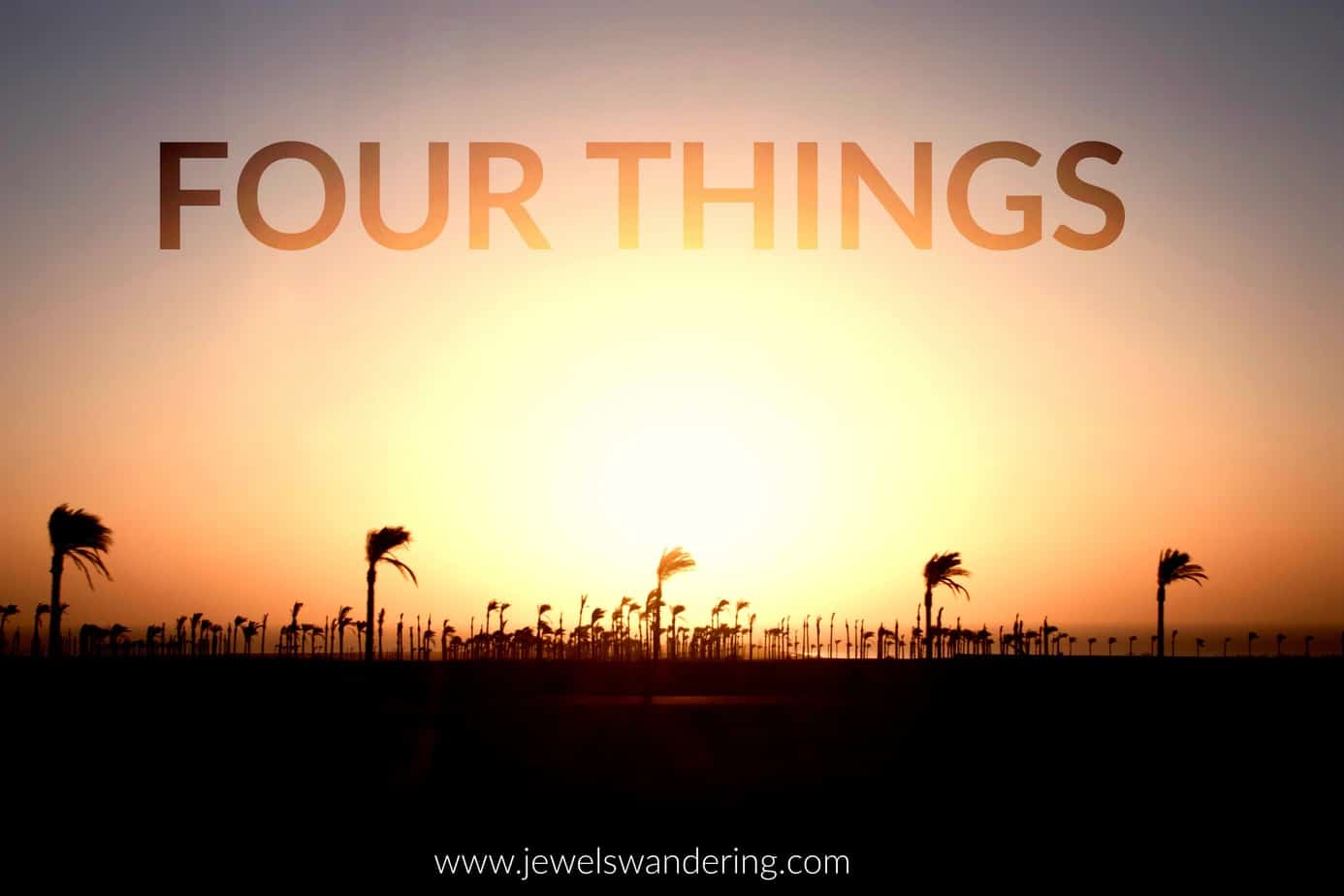 Four Things
Woop woop, it's Friday! It felt like this week dragged by, to be honest.  And I've been sick this whole week, so it's not been very fun. ARGH.  But finally, thank you, Friday, for gracing me with your presence!
I've seen this go around a while back and when Joslin recently did one, I thought I would do it as well, especially since it's a fun post and as there are some new faces around here (YAY!!), a fun way of getting to know me a little more … So, four things about me, here we go!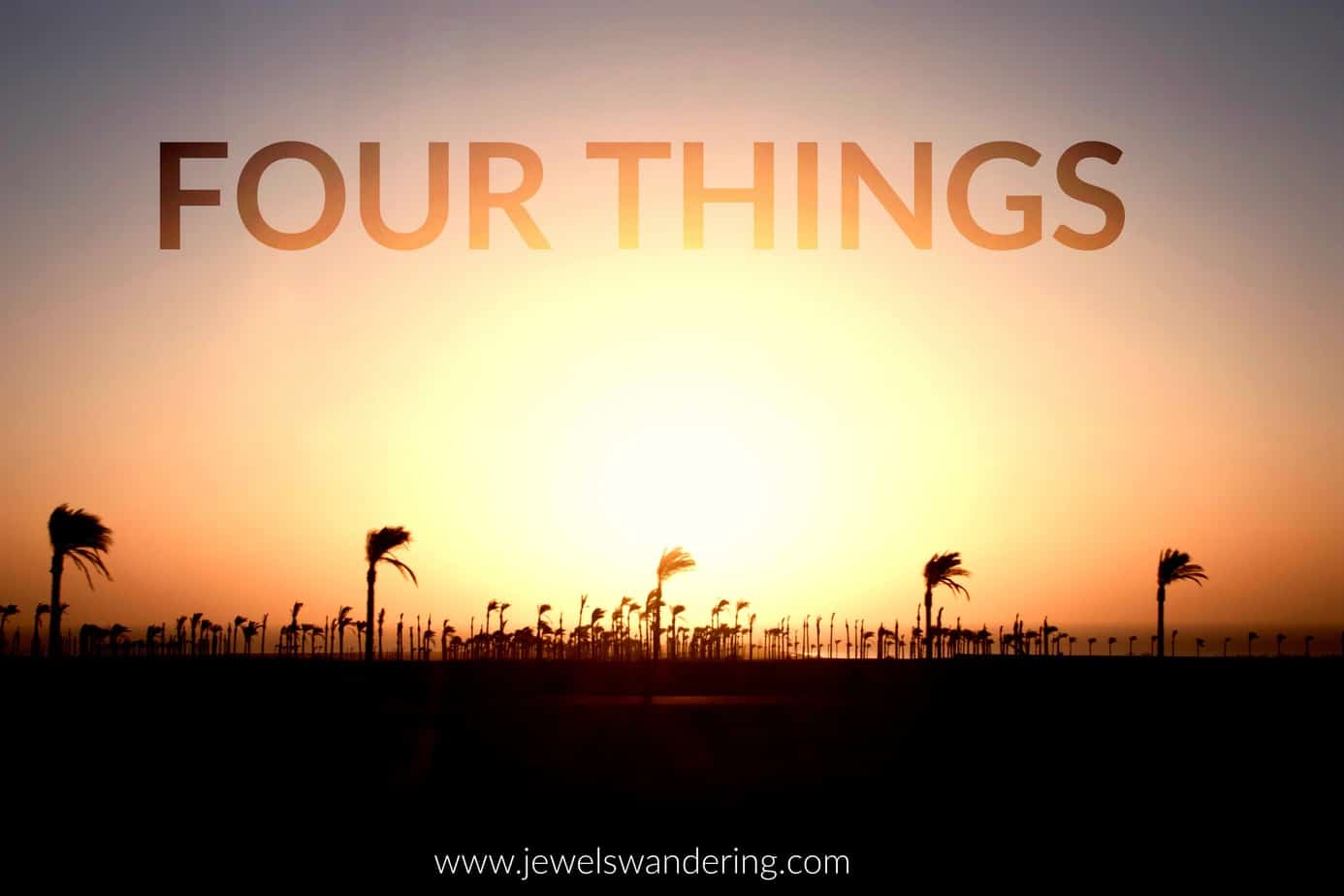 So anyway, here we go…
4 names people like to call you other than your real name:
Jules, Jewlz, Jewels, Jooles
Juju
Jujuba – my mom calls me that 😉
Hoolie Hutu – yeah, I'm not sure how my friend Emi came up with this, but there we go.  It's stuck.
4 jobs you've had:
My first summer job while in college was working at the law library.  I convinced my parents I needed to stay in NYC for the summer with the pretense of taking a summer class and getting a job.  This job… Ha! I would go to my desk and then claim I was looking for the books and I would take a nap on a couch somewhere.  It was a hard life back then.. HA
I spent a summer, actually, that's not right.  I lasted a total of 2-3? weeks working for US PIRG in DC.  Oh don't even do that!! Not sure why I thought going door-to-door in that blistering summer heat and humidity trying to persuade people to donate and sign the petition against oil drilling in Alaska was a good idea for a job.  Yeah. It was the worst job ever! Partly because I sucked and I can't even tell you how many times I got the door slammed in my face! There were some nice people who used to offer me popsicles and water.  But really I just wanted their money. AHAHA  The icing on the cake was when we were going to canvass neighborhoods in Philadelphia. On our way up there, we got into a huge accident in Delaware.  I honestly don't know how we all walked out of that car alive and fairly unscathed (I ended up with the worst whiplash of my life!), but here we are.  I made some cool friends that summer though, we hung out even though I threw in the towel.
Not sure how I ended up with this job, but I was a flyer girl in NYC.  I got to pass out flyers for gigs happening in the city, well, actually, it was for Underworld and I LOVE them.  And I was also passing out subway maps sponsored by Remy Martin.  "Remy Martin Subway Maps.." Ha. I froze my ass off doing that as it was November time and I wasn't dressed warmly enough.  If I remember correctly, I was so cold, I had to go into the Gap and buy an extra layer.  The sweater was more than I was earning.  #fail
Another total random job was temporarily working for Urban Outfitters.  But that was just a night gig where I had to fold all the freaking panties up for the next day.  I'm not sure how my friends roped me into this, but one of them did work there and they needed extra hands one night, so there I was.  Seemed like a good idea at the time. My only experience working in retail. HA
4 movies you've seen more than once:
Trainspotting.  Absolutely LOVE this movie. The story and the soundtrack – soo good! In fact, when I was a junior in high school, I had to sneak out to go see this movie with a boy.  Oooh. Sometimes, rules are just meant to be broken… 😉
Leon: The Professional.  Have you seen this? It's the film where Natalie Portman made her debut opposite Jean Reno, who is one of my favorite actors.  After seeing this, I totally wanted to be a cleaner.  Well, who knows, maybe that can still happen!
The Usual Suspects:  Ok, I love Kevin Spacey and he's absolutely brilliant in this film.  Need to watch it again, actually.
Cidade de Deus (City of God).  It's a Brazilian movie and it depicts life in the favelas of Rio de Janeiro.  Absolutely fantastic film.  And oh, Rio, I miss you so!
4 books you'd recommend:
The Shadow of the Wind and The Prisoner of Heaven by Carlos Ruiz Zafon – In fact, I love his works, they're beautifully, dark and intricate stories set in Spain.  The characters come alive in your mind and you can feel every breath and the air they breathe.
Catch-22 by Joseph Heller
Rebecca by Daphne du Maurier
Wildalone by Krassi Zourkova
4 places you've lived:
Rio de Janeiro
Brussels, Belgium
San Francisco, California
Tokyo, Japan
4 places you'd rather be right now:
Zanzibar.  Oh lord. Heaven if I ever saw it!
Barbados – I spent an amazing summer there before senior year of college!
Praia da Pipa, Brazil. So chilled and such a cute beach town with yummy food.
Greek Islands/Croatia/Myanmar – itching to go there
4 things you will never eat:
Escargot.  Snails and slugs creep the bejesus out of me, so to put one in my mouth. Oh kill me now. I have a serious case of goosebumps as I write this.
Cockroaches. Yuck.
Dog meat 🙁
Innards.
4 of your favorite foods:
Brazilian food – rice and beans; cheese bread; pastel; risoles; ice cream!
Gratin dauphinoise
Mac and cheese with truffles
Steak
4 TV shows you watch:
Homeland
Grey's Anatomy
Nashville
 Can't keep up with TV at the moment, so 3 is my limit!
4 things I'm looking forward to this year:
London and catching up with my friends
Being the boss!
Traveling – Laos and Myanmar, I'm looking at you!
My nephew's first Christmas and being there for it 🙂
4 things you're always saying:
Shut up!
Pak you, lah!
I'm so tired!
Where we meeting for drinks?
And have a great weekend!!!