London: Soho Nights
Hurrah, it's Friday and I am so jealous of the long weekend in the US!  It's kind of crazy how quickly January is going and how London seems so long ago now. Well, the second day I was there, I had a lunch with my mom up by Liverpool Street before heading to my cousins house in Pimlico.  We spent a lovely afternoon there where I got to play with her 8 month-old son, James! I can't believe she's a mom now!
I had plans to meet my girl Ali, who you "met" when I spent that day at Tanjong Beach for her farewell. <sniff, sniff> I also asked one of my best friends from my London days, Yasemin, to join us for the evening.  I met Yasemin that weekend I was in Istanbul for our friends wedding.  We were originally going to meet up at Borough Market (post coming soon!) but seeing that I was in Pimlico and Ali needed to take the train home from Paddington later, we decided to meet in Soho instead as it would be more central.  If you've been to London, you'll know that travelling from the East End to the West End can take a bit of time on the Tube and/or an expensive cab ride (I LOVE black cabbies though, they're the best cab drivers in the world! – I kid you not)!
I took the Tube to Piccadilly Circus from Pimlico – an easy enough ride – and walked out into the hustle and bustle that is Piccadilly Circus.  With any of the Tube stops, there are numerous entrances/exits from various locations relating to that stop.  I always like to get out of the exit where you come up to the Eros Fountain.  Unfortunately I don't have a picture because I guess it was under repair? So I couldn't see the little cupid on top of the fountain.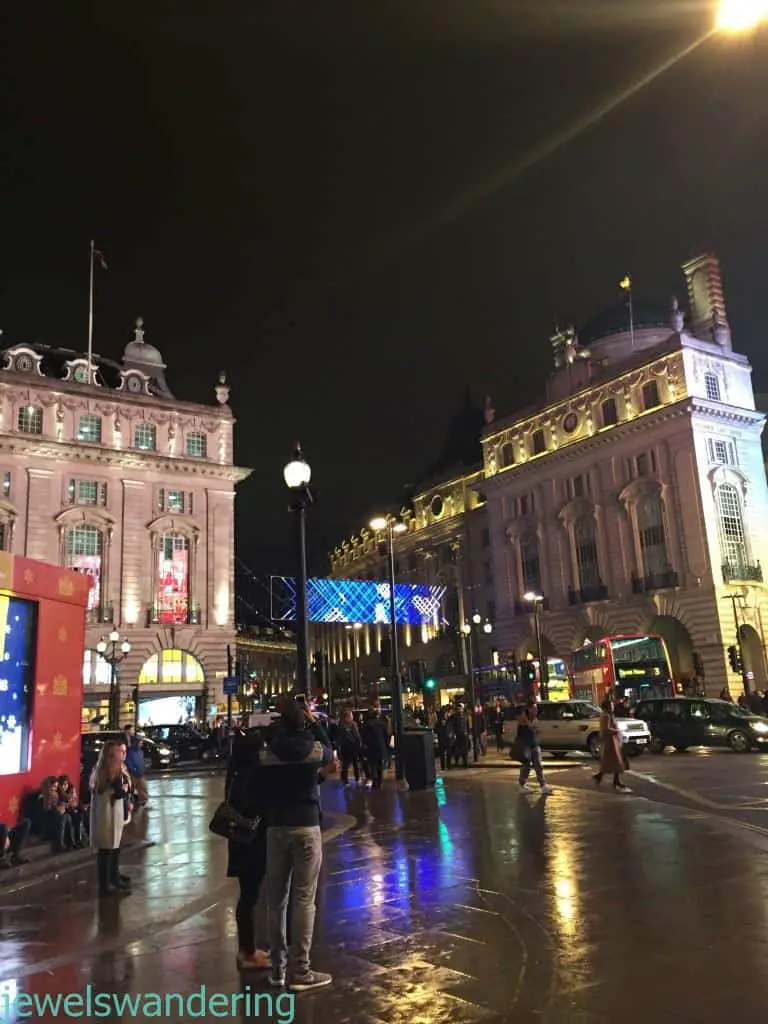 And even though a few years has passed and the street names are now a bit fuzzy, my body knew which was to walk towards Soho.  I am normally a fast walker, but this time, I walked that much slower just to take it all in.  It's been years, but it felt like a second since I had last been there.  My feet just lead me to Shaftesbury Avenue and I sadly noticed that Madame Jojo's was gone. Madame Jojo's was burlesque club and a fixture in the Soho scene that was always a guaranteed good night out.  In fact, Soho has changed a bit since I was living in London.  It's definitely more gentrified with cute little wine bars.  The grittiness of the area was what gave Soho its soul and now its just a normal-ish area where working professionals go for after work drinks.  
I  met up with Yas and Ali at Damson & Co.  A cute, little wine bar on Brewer Street. I do love me a good wine bar that has charm and character – something Singapore definitely lacks!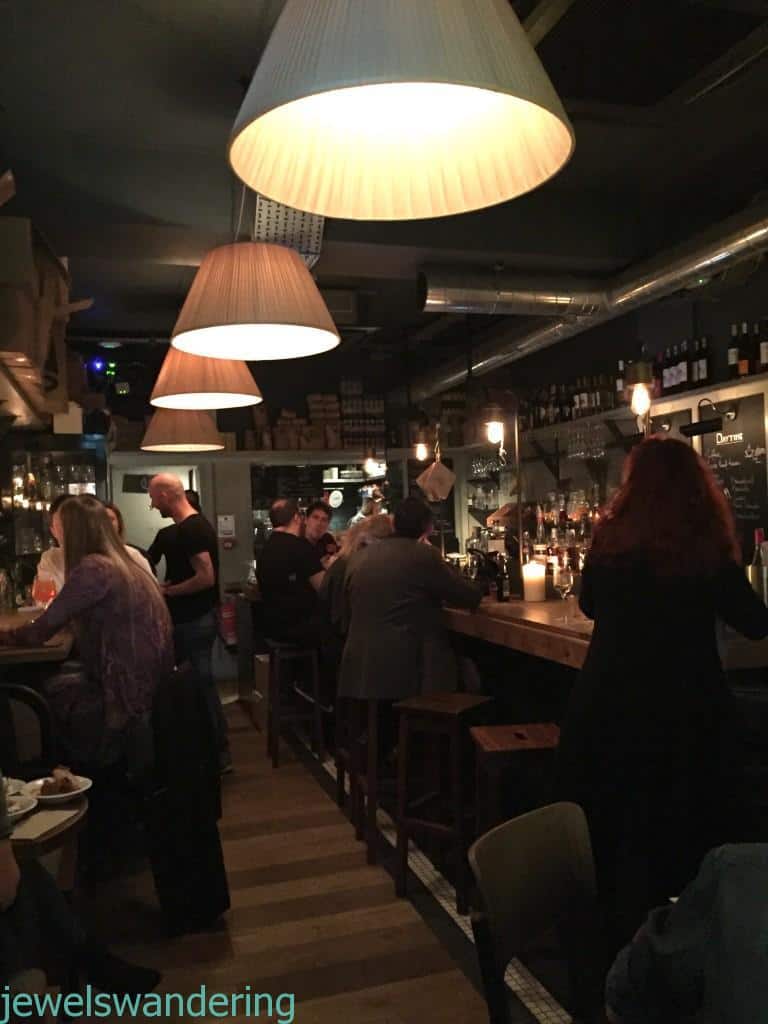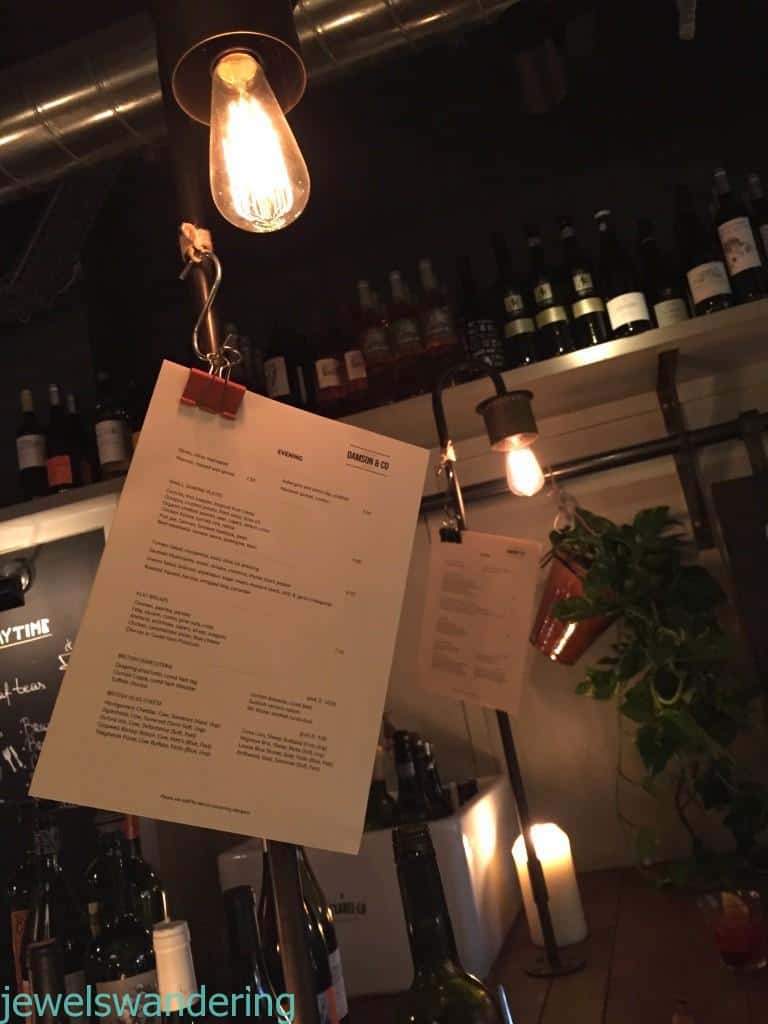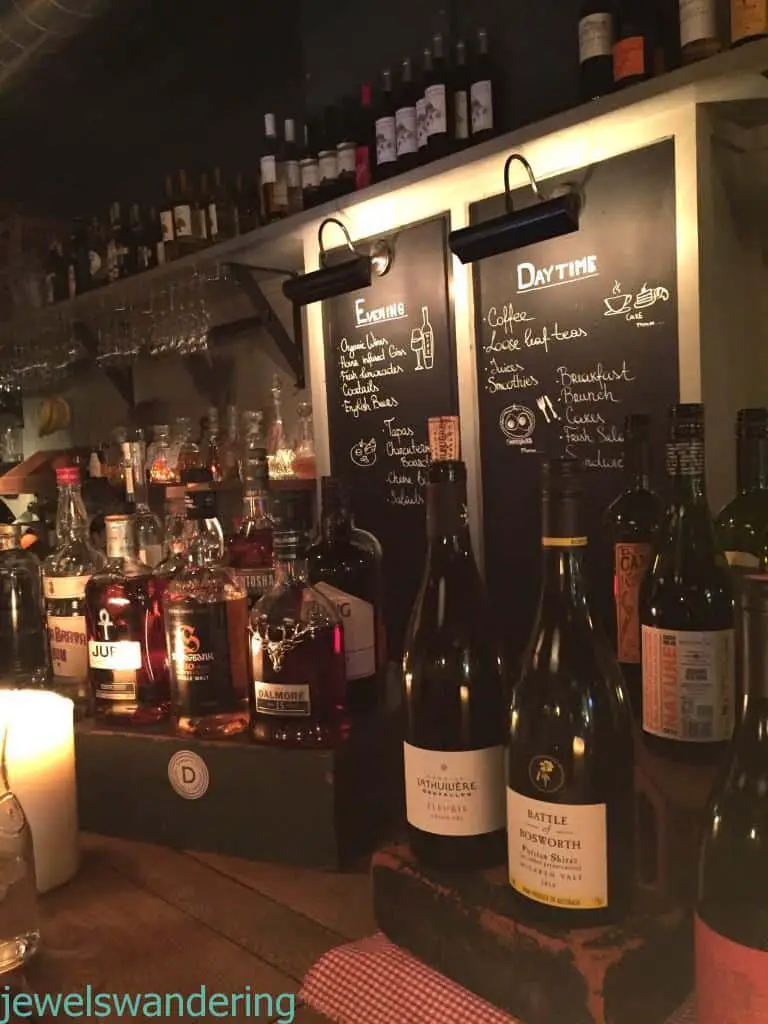 We ordered a bottle of Greek wine -who knew the Greeks made good wine?! – and we just talked and talked.  I'm glad Ali and Yas got on like a house on fire, or maybe some of the nectar from the God helped! But either way, it was a good evening at this wine bar.  Best of all, I love how they gave us the bill in a book! It's the little details that make you remember a certain place, right?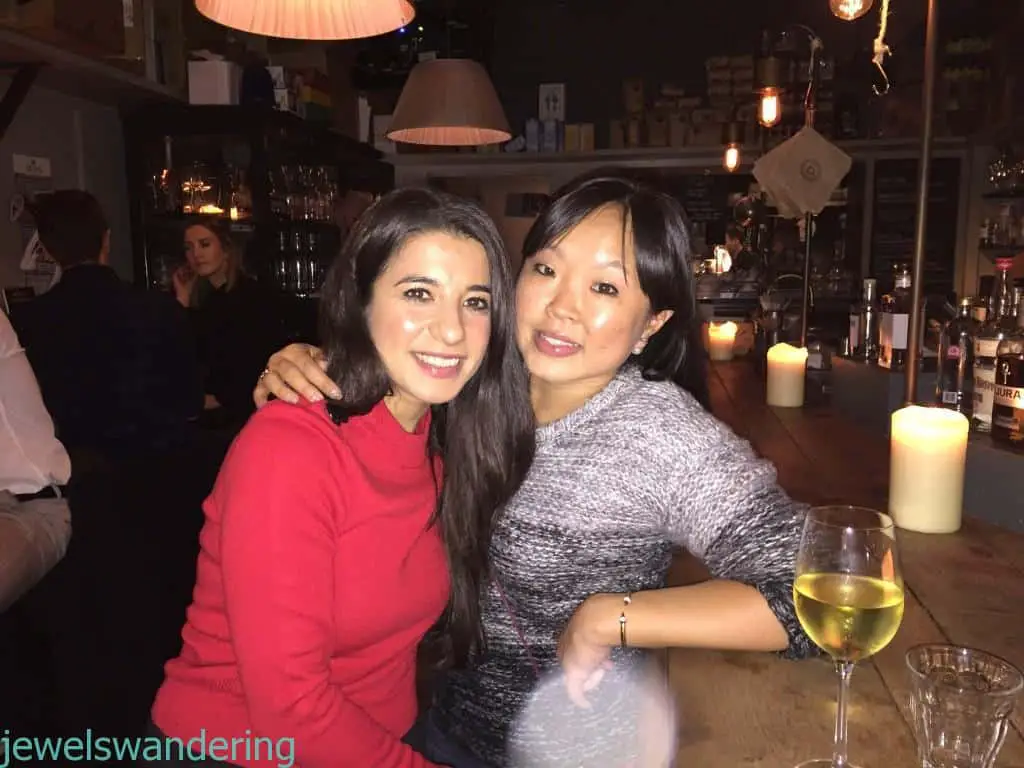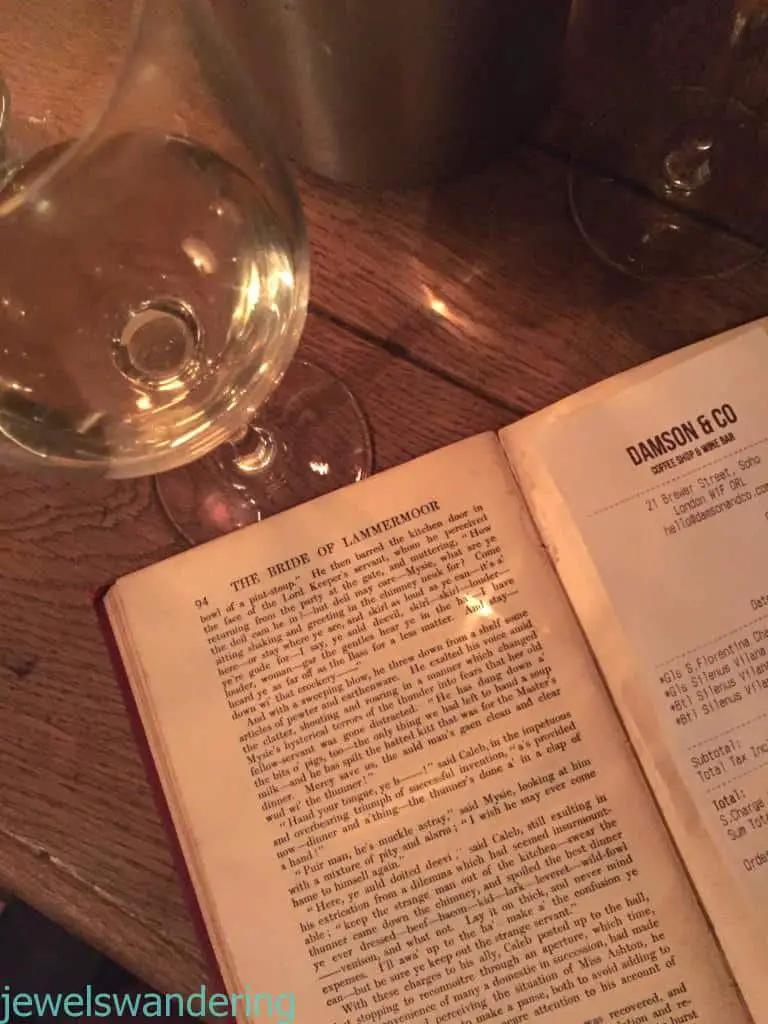 Next, Yas had managed to score dinner reservations last minute at Dean Street Townhouse, not too far from where we were.  It was packed! It was buzzing with laughter and chatter.  People were in festive spirits and it was so nice to see!  We were shown to our tables and we had a nice table tucked away in the corner.  Away from the main bar so we wouldn't have people bumping into us and hovering over us while we ate.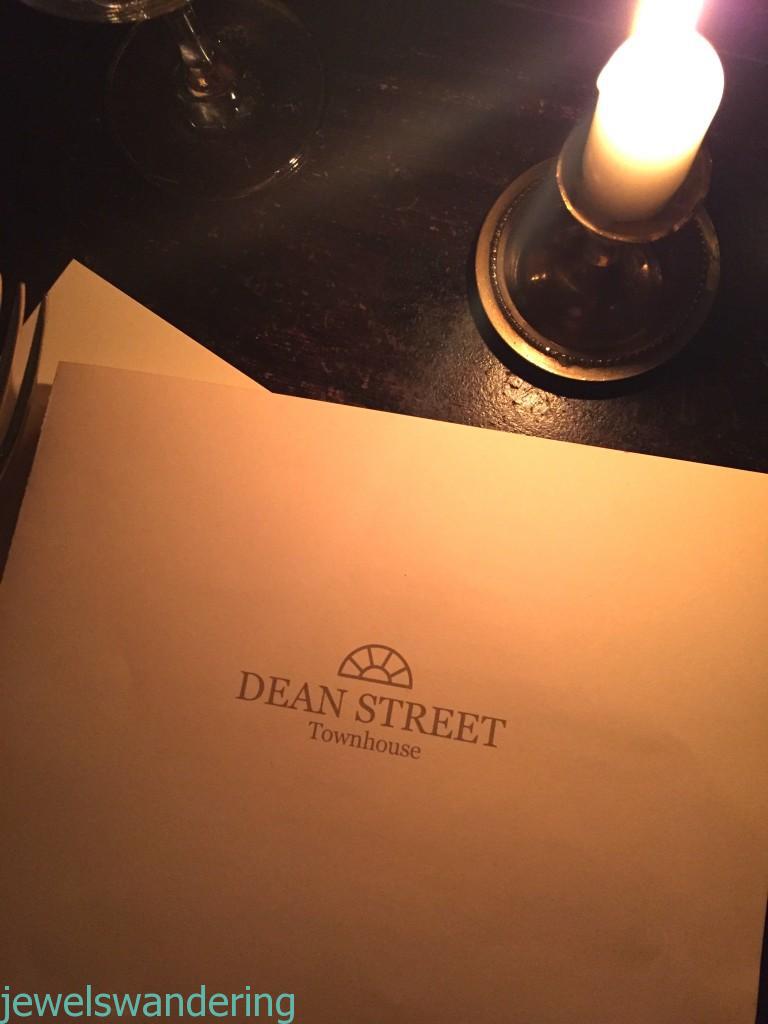 I was super psyched, they had mac and cheese on their menu, so that was an easy decision! I can't say no to good mac and cheese! I didn't take any pictures because it was too dark in there but it was delicious! Yas has the steak tartare – she seems to be on a steak tartare obsession! – and she enjoyed that.  And Ali got your typical British fare of fish and chips.  When in Rome… We also ordered a really nice bottle of Viognier. Guys, I think this is my new favorite now! But of course I have to go and like something that is not easily found in Singers. #fail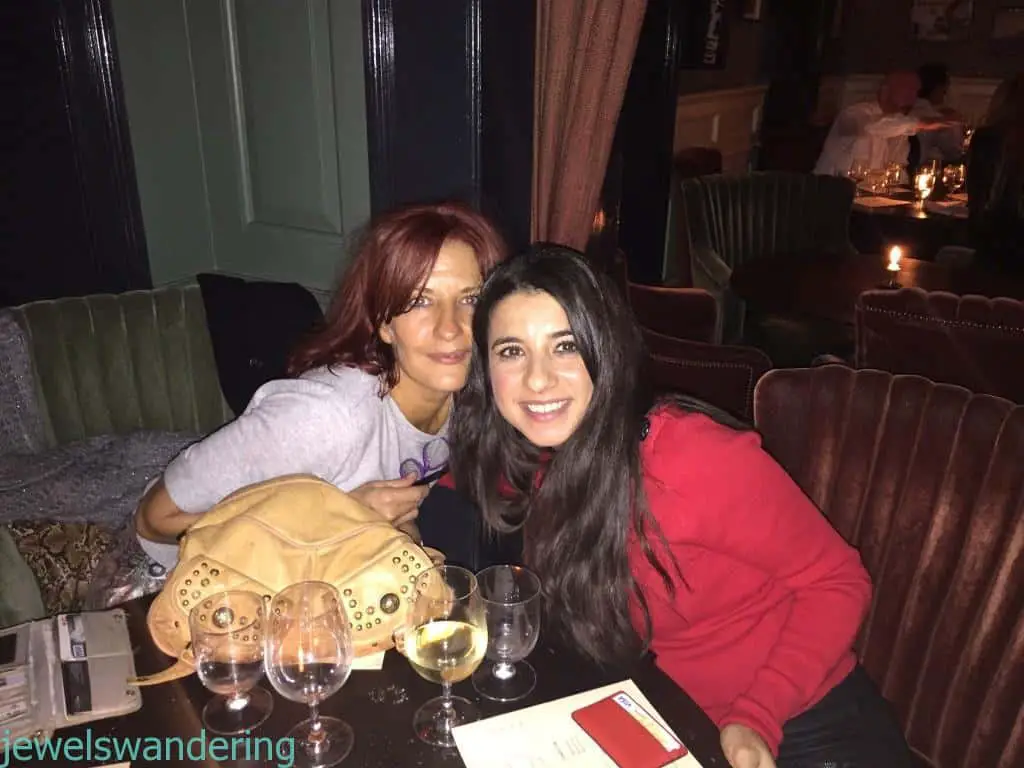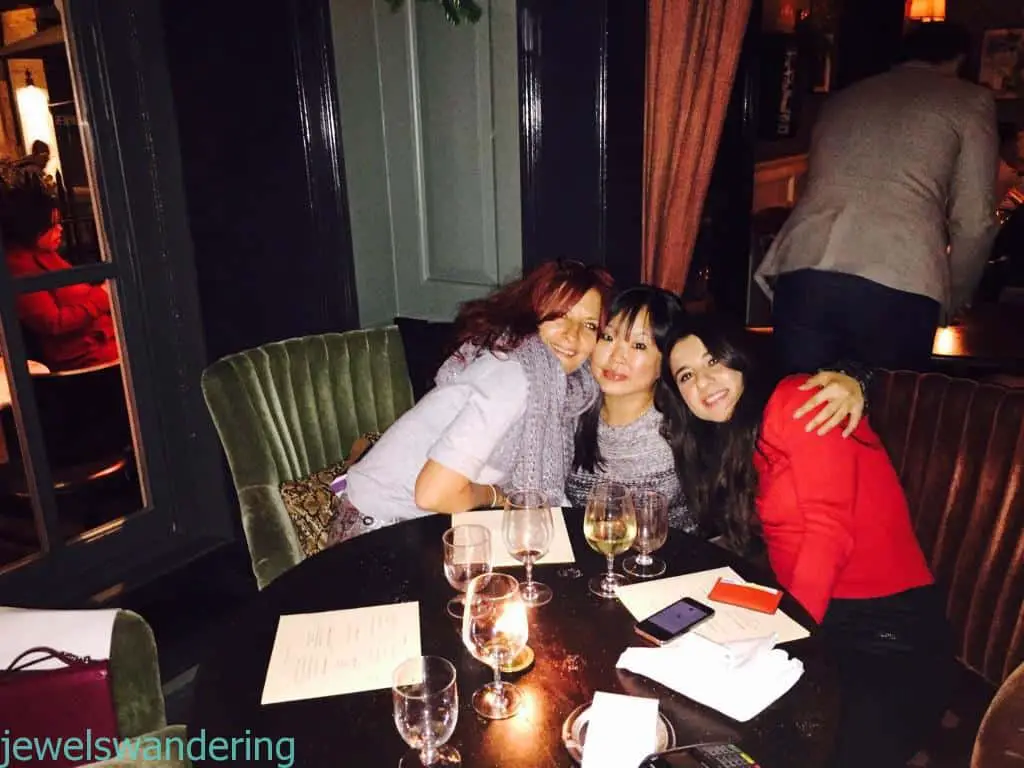 The three of us had a really fun night and it was so good to be reunited with my girls in one of my favorite cities in the world! After dinner, we headed off our separate ways.
I was a bit tipsy after that dinner and getting back to my hotel was a bit of a mare due to Embankment being closed off for the new bike lane.  But I didn't mind, I sat in the back of the cab and watched the world unfold in front of my eyes, drunken revelers swaying after having had one too many drinks as they went to their next destination.
Dean Street Townhouse is on 69 – 71 Dean St, London W1D 3SE
And with that, I hope everyone has a great long weekend! Be safe!